The League Cup has been viewed as a footnote for Liverpool in recent times, but it has arguably taken on more importance this season…
LET me start by asking you this…
Are four pieces of silverware an accurate representation of what will go down as one the best Liverpool teams ever?
The answer to that would be a resounding no.
We all want a seventh Champions League. We all long for another Premier League title. But this is a team that should be winning silverware at every corner. It is one that history will remember fondly as one of the best this league has ever seen.
It is a team that wants to win anything and everything. A collective group of players who are, by and large, quite good at winning football matches. The thrillseekers. The entertainers. The life of the party and then some.
Tonight is an occasion and Liverpool are a team that loves occasions.
The League Cup isn't everyone's cup of tea and I accept that. To some, it is an added inconvenience to an already relentless football calendar and represents only pennies in the coffers from a financial perspective.
But it is a competition that has provided some of the most memorable moments this season and may yet deliver more. Simply put, it is another chance for Liverpool Football Club to win silverware and that is a fact that should never be glossed over or ignored.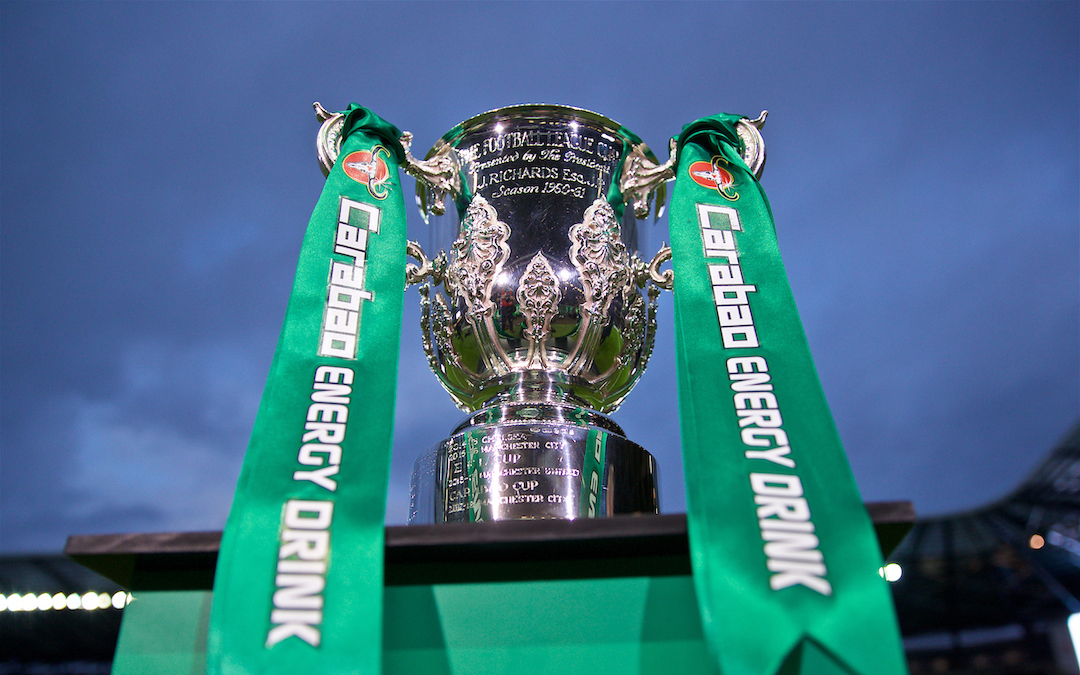 I want Liverpool Football Club to win every trophy possible this season. I want this Liverpool team to be greedy. I want them to chase every avenue and refuse to believe in the lost cause. When the day comes that Jurgen Klopp does leave, there can be no room for what might've been or the opportunities we failed to seize. Liverpool need to get while the getting is good.
The one thing we've been missing the last few years has been a domestic cup run. For one reason or the other, circumstance has often prevented Klopp from taking the competition seriously. Injuries, illness and two games in the space of 48 hours in different continents have made it impossible to pick a full-strength side, but this year feels different.
Even in what has been the most challenging of circumstances in terms of scheduling and factors out of our control, Liverpool have got themselves here. You might have felt before that this competition doesn't matter, but take a look around and you'll realise it absolutely does.
A glance at the players and the manager at full time against Leicester confirmed as much. The pat of the badge from Takumi Minamino after his last-minute equaliser. The snide in Diogo Jota's celebration as he nets the winning penalty. Caoimhin Kelleher's goalkeeping heroics that enable it all to happen, and the roar at full-time when they're sent packing.
It was a proper fight and a stirring revival from a team that so often refuses to accept when it's beaten. Every time you think you've seen it all, this group goes and finds a way.
This is a team that thrives on occasion. This is a side that revels in the theatre. Theirs is a spirit that never waivers.
The League Cup might be a competition for which you hold no currency, but the hard line is it's another one that can provide silverware — perhaps the best opportunity to do so. These players know the trophy is within touching distance and they will be desperate to get over the line.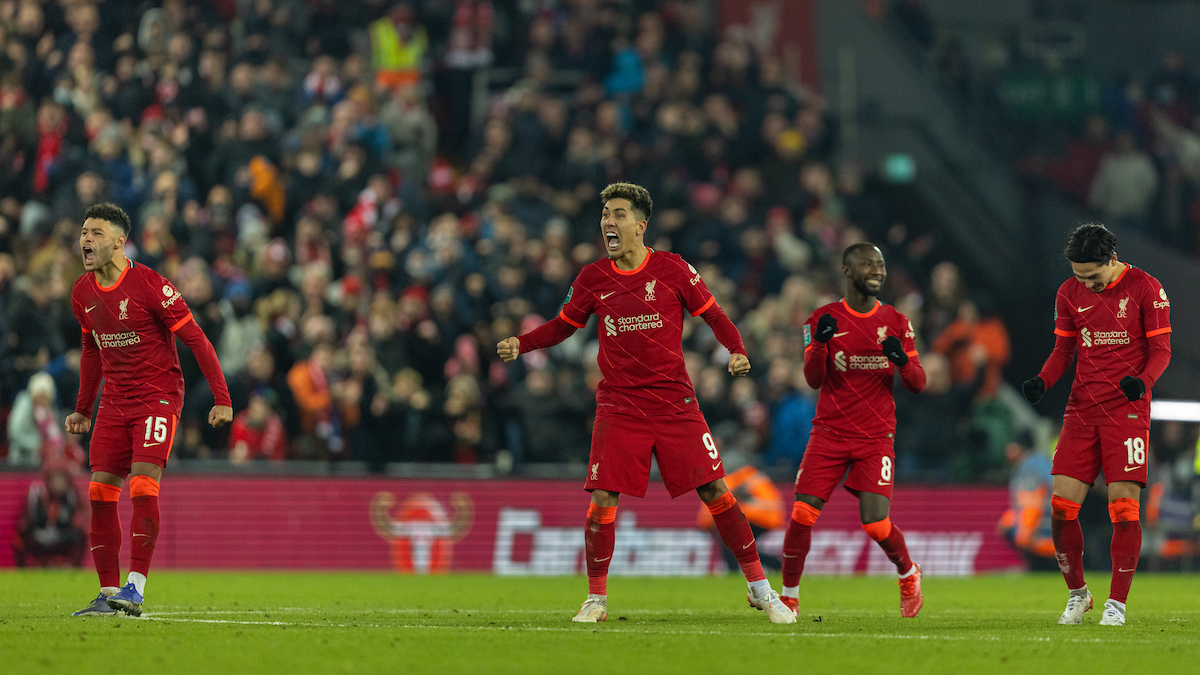 It's been 10 years since we last lifted a domestic cup, but Liverpool finally find themselves within an earshot of Wembley again. Should they lift the trophy at the end of next month, it'd be a welcome boost for the rest of the season.
I want Klopp to go strong tonight. Kelleher has helped us get here, but a first appearance in the competition tonight for Alisson Becker will get no derision from me. Trent Alexander-Arnold's return would be a major boost, as will the experience of Fabinho and Jordan Henderson in the middle of the park.
And then there's Minamino, the man with the most glorious hair in Liverpool. The League Cup has been a happy hunting ground for him so far and he could be key. Liverpool need him to be.
For the first time in a very long time, Liverpool have a chance to put one foot in the final of a domestic cup competition.
They play tonight for a shot at Wembley before going again at the Emirates next week. Should they progress, it'd be the first time Mo Salah, Sadio Mane or Virgil van Dijk have ever played for silverware at Wembley for Liverpool.
Tonight is a chance to be seized and an opportunity to be relished.
Once more unto the breach, Reds. There's a trophy to be won.
---
"Jota, Firmino and Minamino might be what Klopp has to go with and you can see them causing Arsenal problems. Game management over two legs will be important."

🎥 Our Arsenal preview show

1️⃣ Download our app
2️⃣ Enjoy FREE tokens
3️⃣ Access this video

👉 https://t.co/yTcwWTIbIT pic.twitter.com/B5m3lV3iMp

— The Anfield Wrap (@TheAnfieldWrap) January 13, 2022
Recent Posts: