After helping Liverpool thrive during a crucial period in their season, Alex Oxlade-Chamberlain has shown he can still do a job for The Reds…
THIS was supposed to be the month that Liverpool fell away.
Liverpool's previous record in January under Jurgen Klopp emphasised the challenge: P43 Q19 D10 L14.
This season, with AFCON, injuries and the general uncertainty of Covid still looming, there was a general acceptance that The Reds would stutter again.
January would be the month of all months. It would be a period that exposed the overreliance on Mohamed Salah, one where the movement of Sadio Mane would be sorely missed and the familiar complaints about a lack of squad depth would resurface.
Liverpool would go into February on their knees. They would be out for the count and there would be no miraculous return. It was a narrative felt both outside and within.
Few gave us a chance but everyone should know by now that that's exactly the type of scenario in which this team thrives.
In a month that was supposed to mark the end of the fight, Liverpool have emphatically silenced the naysayers. They have knocked it out the park with minimal fuss – and crucially minimal casualties – and in doing so, proven there is more depth to the armour than some may think.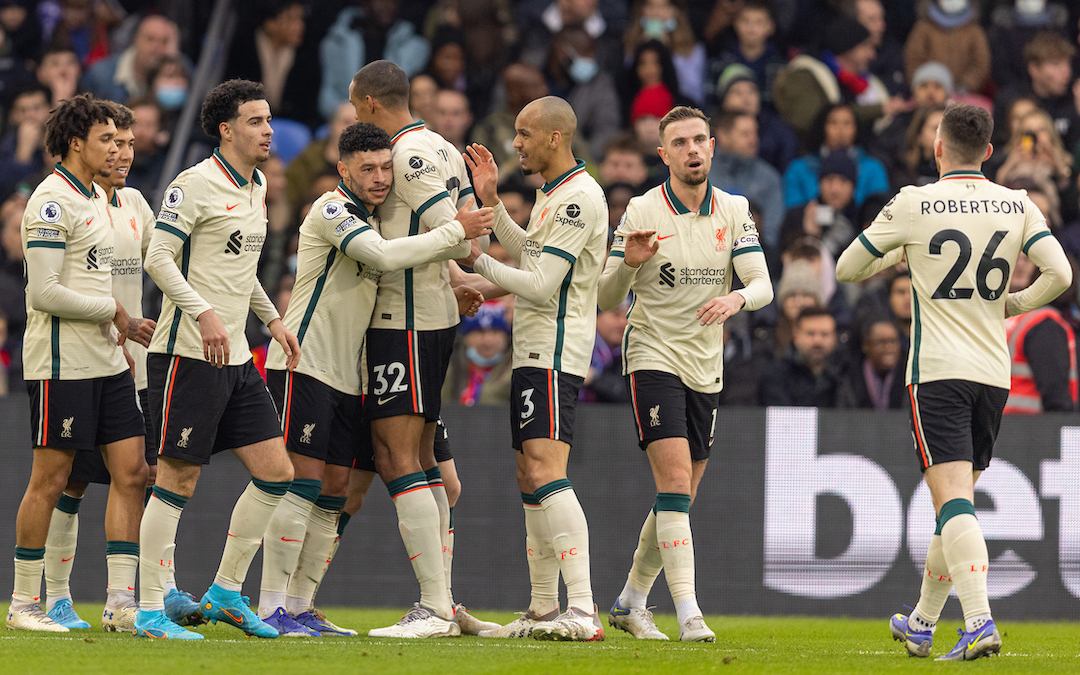 That they do so is in no small part down to Fabinho. The world's best defensive midfielder morphing into a goalscoring force when his team needed it most. But there is so much more than just him to admire.
The towering presence of Virgil Van Dijk, who looks like he's never been away. The goalkeeping heroics of Alisson Becker, Liverpool's very own cheat code. The world's best full backs who just so happen to play in red.
There are so many reasons why the month of all months became one in which Liverpool have largely thrived. This is a team that loves a challenge, and they've risen to the occasion brilliantly. Anyone who dared write them off was sorely mistaken.
One player few would have predicted to find form, epitomising this side's resolve in doing so, is Alex Oxlade-Chamberlain. A Liverpool career where the curtains appeared to have been drawn revived at the perfect time, he has really stepped up in recent weeks during the absence of others.
His role at the club has changed drastically in the last few years, pushing him from front and centre out to the periphery and everywhere in between, but I've always believed he can still do a job for this side.
For the first time in a long time, he is more than making his case.
Chamberlain has always been a footballer who needs to feel loved. He needs the arm around the shoulder from his manager and a string of games to find his rhythm. Having benefited from that in recent weeks, he is showing signs of a player regaining his confidence after seemingly losing his way.
He was the standout performer against Leicester in the first leg of the League Cup quarter final, a key factor in getting The Reds to Wembley, and was everything and more against Brentford. He calmed the game, was creative in possession while working tirelessly out of it and provided the necessary threat from deep. The perfect cross from Andy Robertson and a run timed to perfection. His first headed league goal of his career at a crucial moment.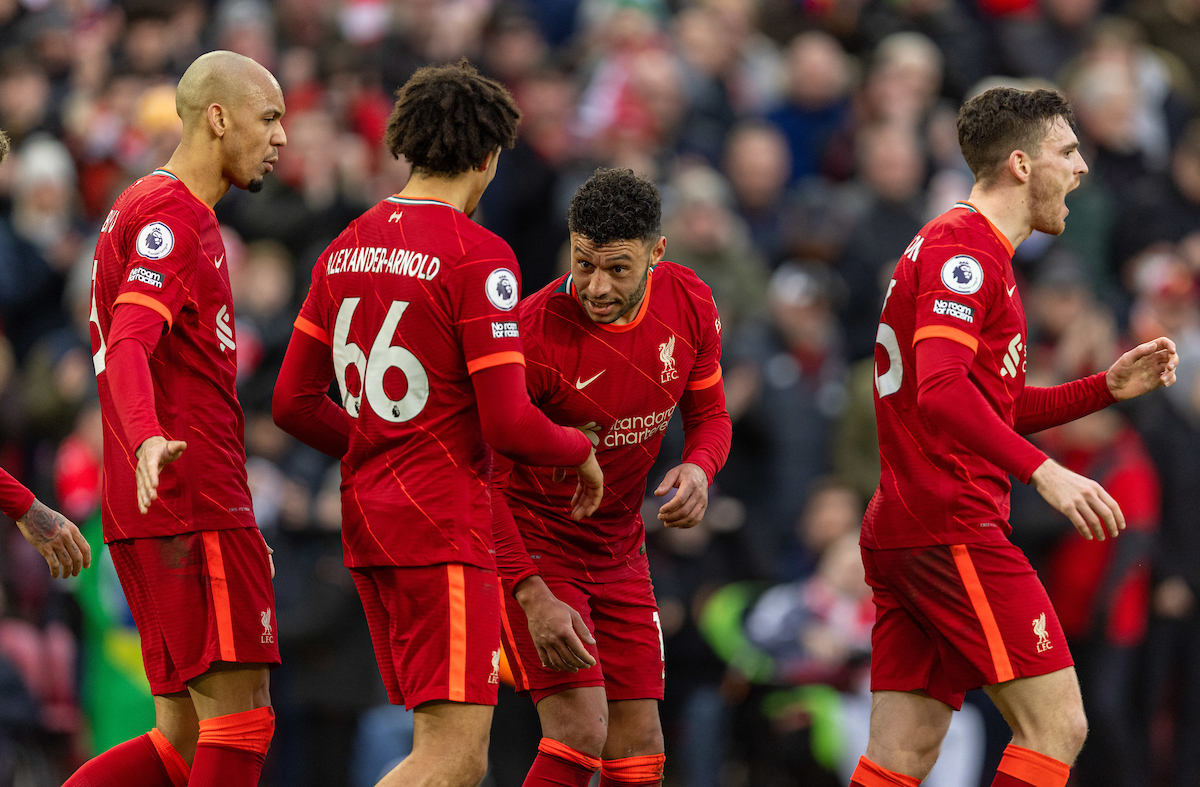 That he immediately returned to the line up after a minor injury against Crystal Palace is testament to his recent form and the trust he has from his manager. He made surging runs with the ball, closed down when required and beat a man wherever possible. Always engaged and assured.
At his best he's a player who thrives off instinct and his finish at Selhurst Park was the perfect example. A floated ball from Robertson, a deft first-touch and a ruthlessly assertive finish. He has now scored two goals in two games for the first time in what feels like forever, and the range of his talents – drive, vision, a propensity to shoot from range – have proved critical in breaking down the opposition.
Next summer feels like a pivotal one in terms of the evolution of Liverpool's midfield. James Milner seems likely to leave, Harvey Elliott and Curtis Jones are very much the next generation while there are questions still to be answered over the futures of Naby Keita and Oxlade-Chamberlain.
Given Chamberlain is out of contract at the end of next season, he'll know more than anyone that he has a point to prove. But over the last month, it is a point he is so far proving.
In a month where Liverpool have needed others to step up, Oxlade-Chamberlain has delivered in spades. Assured, assertive and unapologetic in front of goal, he has become Liverpool's unexpected element, playing his part and establishing form.
The clock is ticking, but Klopp's once trusted lieutenant has proved he can still do a job for Liverpool.
Whatever happens, his impact over the last month has been critical in navigating what appeared to be the perfect storm.
---
"What a ball from Robbo to Chamberlain…again. One thing that I am most positive about is as we go after the 4 cups our goals are coming from all of our attackers."

🎥 The Final Word

1️⃣ Download our app
2️⃣ Enjoy FREE tokens
3️⃣ Access this Video

📱👉https://t.co/yTcwWTZN7t👈📱 pic.twitter.com/Nzs08XmpWu

— The Anfield Wrap (@TheAnfieldWrap) January 25, 2022
Recent Posts: