Despite falling to a disappointing draw against Brighton & Hove Albion, Liverpool can bounce back quick so long as they keep showing humility…
I WAS in Brighton a few weeks ago.
My mate Matt lives near there so, as a birthday present, I bought us tickets to the Manic Street Preachers at Brighton Dome. The next day I took my girlfriend around the markets for some retro stuff as people of our age do. I love Brighton.
We parked in the NCP near the Channel for four hours. When we got back to the car I punched in the ticket at the machine and was horrified to learn that the four-hour charge was £22! Twenty-two quid! I hate Brighton.
NCP give you no method of communication. There's no Twitter account, no email on the website and only a feedback form which I imagine is ignored so I'm abusing this media to sate my fury. Not sure it'll work, to be honest.
Although I was ripped off by Brighton, Liverpool were not. If anything, we got away with a point as they were excellent in the second half despite the 20-minute pasting we gave earlier. They were organised, aggressive and fearless — everything The Reds weren't.
Much will be made of the injury to Naby Keita and the dismal display of Curtis Jones and Roberto Firmino in particular, though others weren't much better, but we just weren't at the races. When their lot sang '2-0 and you fucked it up' at the end it was hard to argue. We were and we did. 
The only smile came when the lad behind me who quietly mumbled 'I hope you pricks get fucking battered in town later' as they danced below us.  Of course, he didn't wish that really, but we say things like that when things go wrong and we have no defence. We deserved nothing and got a point. It could have been worse.
I bumped into Ste Kelly after the game. He's the erstwhile founder and former editor of Through the Wind and Rain — Liverpool's greatest fanzine (it hasn't existed for 12 years and I still feel the need to advertise it). He took my sour post-match verdict with good humour and pointed out that teams draw occasionally and humility is often a good thing. Again, I couldn't argue.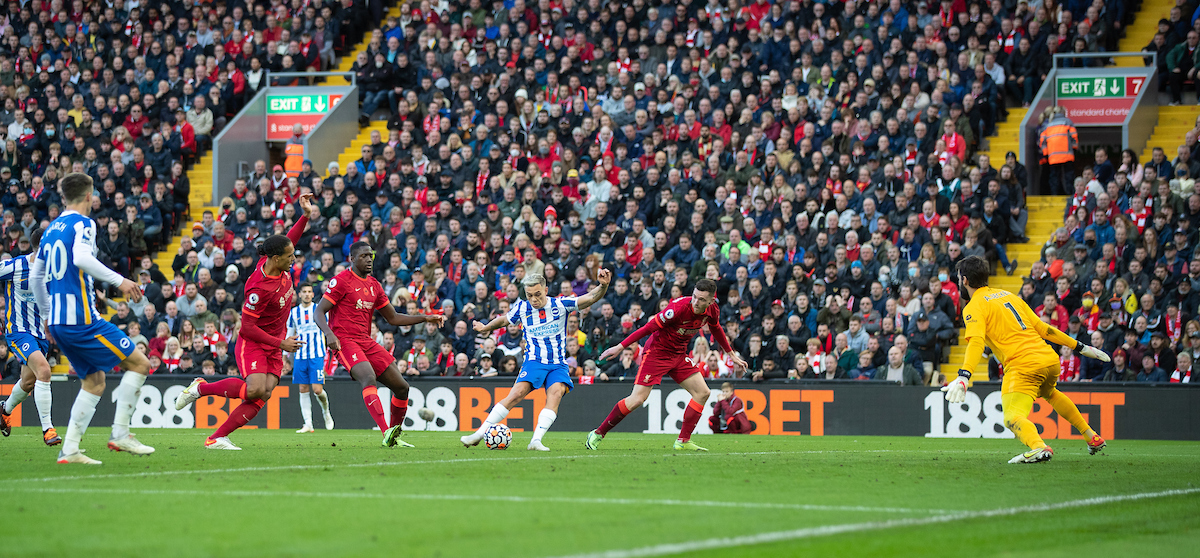 Jesus, I hate it when people are both reasonable and right when I'm shaking with the righteous indignation of a spoilt toddler.
His words struck a chord as I'd recently been watching a Jurgen Klopp documentary where the great man discusses the reaction to the League Cup final defeat to Manchester City in 2016 and the Sevilla game in Basel. He tells us: "The only reason for a defeat is to react in the right way. You learn from then it's just a result, you don't learn from it and it's just a disaster."
He's right. Jurgen will learn from this and maybe, rage aside at the sheer injustice of us not winning such a game at a canter, we will too.
Ste was too. Humility is a good thing and protects us from complacency or getting above ourselves when we think that every game will be a 5-0 rout. One minute you're battering Manchester United on their own midden and the next you're wondering how your 3-0 lead has become a 2-2 draw.
And we didn't lose. It just feels like it. We've set the bar so high that perfection is all we can hope for and when it doesn't arrive, lips curl in frustration.
It depends on where you are on the negative/positive chart. City lost so it's a point on them and though Chelsea won, it was against the soon-to-be most annoying club in the world. Plus, though I've nothing against them, it would be quite funny if they were to become the richest side in the history of the Second Division. It was just hard to take every time one of our shots sailed harmlessly over the bar or ended up in Robert Sanchez's gloves.
Sometimes we forget what these lads have given us. Sometimes we think it's easy to go through games like this and think that the name will be enough to bring home the points, but now Brentford and Brighton have shown others that standing up and having a go can do. 
It might sound odd saying this while the bruises are still fresh, but it can be a good thing. Liverpool will have to play better than that. Humility hurts but it's often the best type of hurt.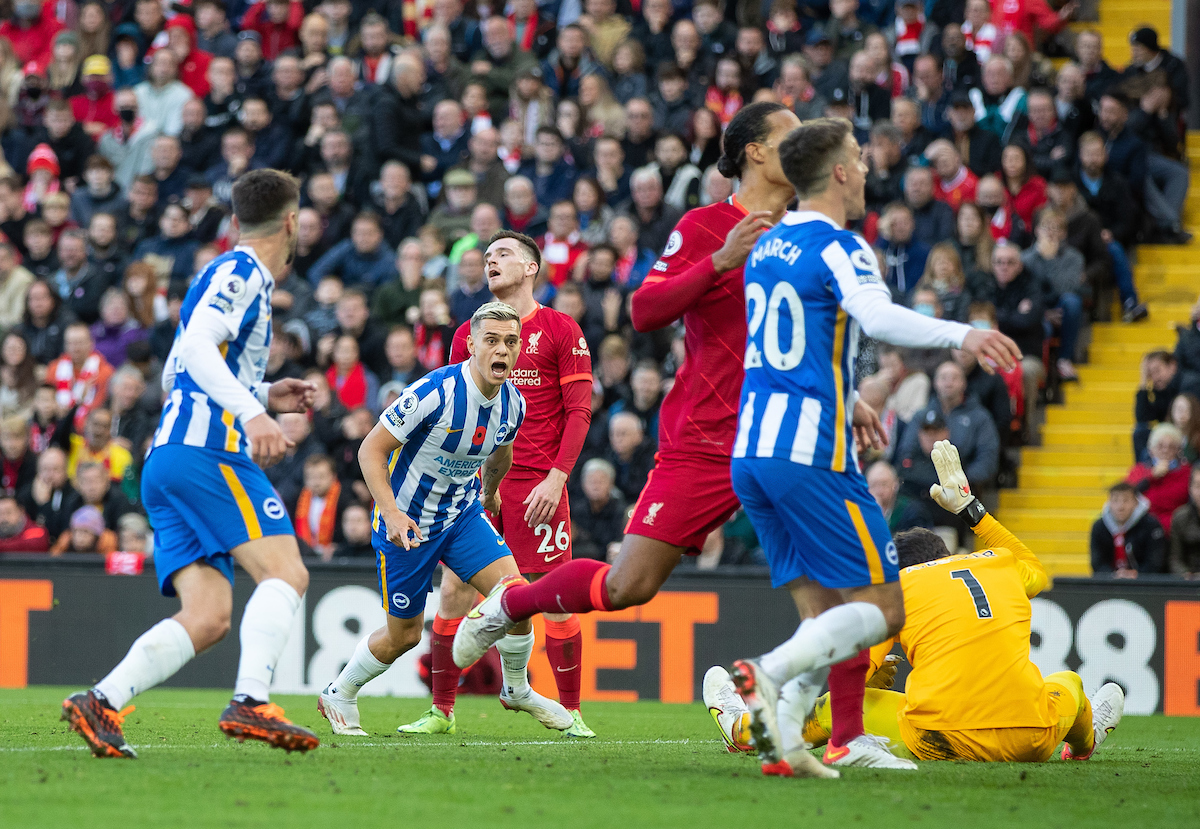 And we'll need to learn those lessons. Atletico will be spoiling for a fight (literally if their cheerleader of a manager is anything to go by), Moyes will want to snot our noses for obvious reasons and Arsenal might remember that they're Arsenal again at some point. Even though we've faced Chelsea and the two Manchester clubs so far, it seldom gets easier. The next three games are huge.
What is worrying is the lack of midfield options. Naby, Fabinho, Thiago Alcantara, James Milner and Harvey Elliott are all putting the treatment tables to use and the remaining lads are starting to tire. Maybe we should have spent some money or something on augmenting the midfield. I don't know.
But there's little we can do now and there's still plenty to be excited about. We're still unbeaten and only a draw away from qualification to the knockout stages of the Big Cup after just three games. That's something worth celebrating. And remembering when dickheads like me sulk at a draw.
Yeah, we were poor on Saturday but with a generous sprinkling of hubris and humility it just might be the push we need to dig in a bit more and not believe our own press so much.
Maybe we can listen to ourselves and accept some fair criticism, unlike certain car park companies who ignore the woes of penurious writers and blithely charge through the nose for no reason other than that they can. Seriously! £22!
I'll get over it. Eventually. So will Liverpool.
---
"The draws are frustrating but Liverpool are still in a great position this season."

Liverpool 2 Brighton 2: The Anfield Wrap

🗣 @Knox_Harrington hosts @HarrietEPrior, @Ian1892T & @IanRSalmon…

🎧 Listen 👉 https://t.co/MNn4Es4RPL
🎥 Watch 👉 https://t.co/1TydptC66H pic.twitter.com/hnQEdd0OY9

— The Anfield Wrap (@TheAnfieldWrap) November 1, 2021
Recent Posts: