Jurgen Klopp says Liverpool rely too heavily on luck and Alisson Becker recently, but our holy goalie has again been The Reds' lucky charm…
LUCK is often defined as something black or white. You're either lucky or you're not, you either believe in luck or you don't.
The concept, though, takes on an entirely different role in a footballing context. At times players can create their luck by, say, being in exactly the right position to tap in a goal or the ball rebounding in just the right direction. Other times they have no say in the matter due to VAR, bad refereeing… The list goes on.
However you choose to look at it, most will agree that we're lucky to support this football team. So much so that when we draw a game to a strong Brighton side, it feels like a defeat. The manager said as much himself after the game.
As always context is important. If we'd clawed back a point from 2-0 down the conversation would be different, but that wasn't the case and we're left with a feeling of frustration — no one more so than the players themselves.
Rewind to the pre-match press conference and even in a state of euphoria post Manchester United, Jurgen Klopp had preempted some of the problems that might arise for us at the weekend.
"You win 5-0 against United and everything is perfect, but it was not. United had clear cut chances which we gave them and we shouldn't rely on luck or Ali in these moments. We have to play better, otherwise we open up the game for them."
Luck or Ali. Sometimes I think we're guilty of overestimating the role of the former and underestimating the importance of the latter.
It's clear our defence and game management hasn't been perfect at times, but the goalkeeper has remained solid through it all. When questioned about our defensive fragility, the manager highlighted that Alisson Becker has already kept five Premier League clean sheets this season.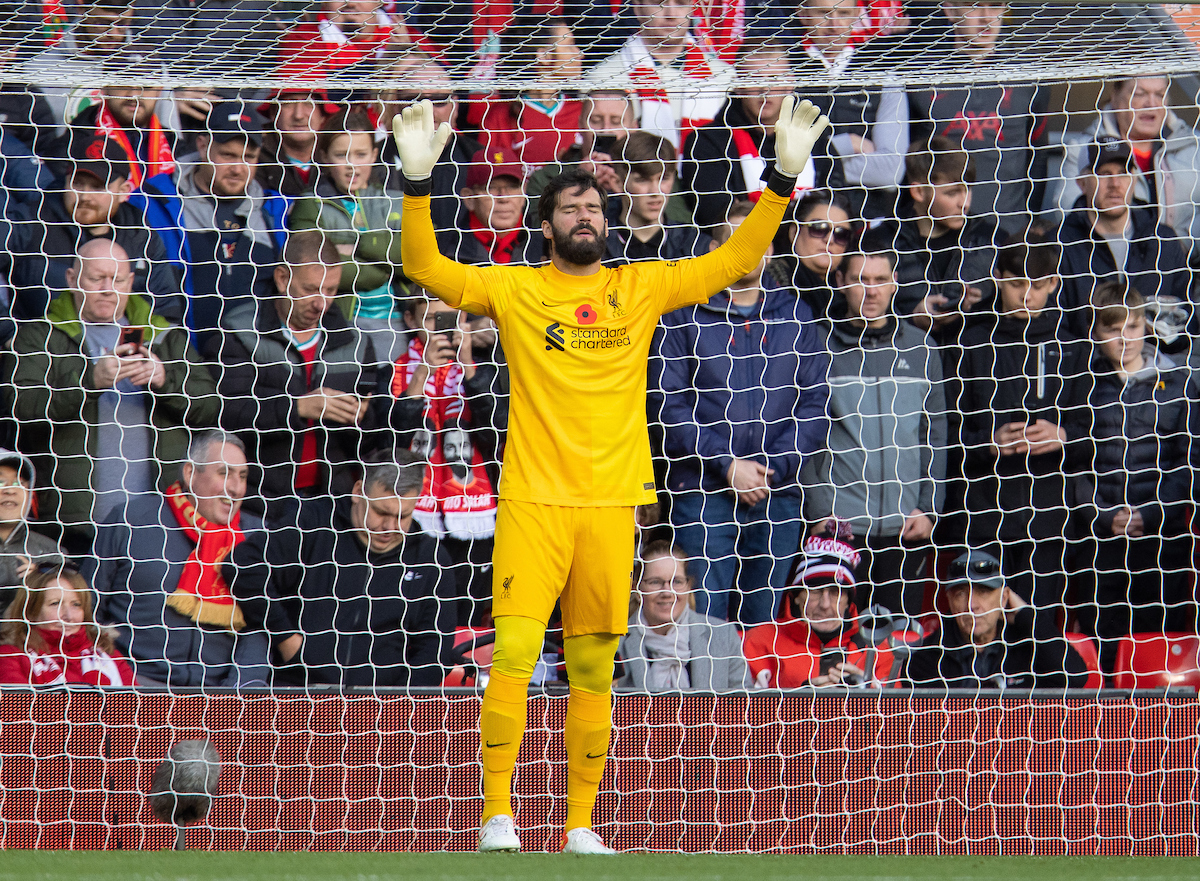 It's easy to see why. In the opening minutes of the Brighton game, Alisson found himself in a one v one with Solly March. It speaks volumes for the confidence we have in the keeper that within the ground I didn't pick up on a notable feeling of tension.
Noticing Robertson coming to support, he quickly tracked back to hold his ground, read the direction of the shot perfectly and got a hand to it. It goes without saying that it's a goal we could have easily conceded to change the outlook of the game.
There seems to be a similar scenario in the opening phase of most games, and Alisson is there to bail us out 99 per cent of the time. These moments can get forgotten in the context of 90 minutes, but, especially in a position we lacked stability in for so long, we should never take it for granted.
As we look ahead to Atletico Madrid tonight, I rewatched parts of the away fixture. In a game with five goals, it's surprising that Alisson making saves takes up so much of the highlights.
When the flag stays down against Griezmann, Alisson comes out and makes himself large to deny what should be a certain goal. But, nothing is certain when you're up against our goalkeeper.
He made another vital save on 48 minutes to deny what would have taken Atletico 3-2 up and changed the outlook of the game, and our Champions League group, entirely.
There's also no denying his ability on the ball and distribution is among the best. As Virgil van Dijk continues to work towards getting back to 100 per cent, Ibrahima Konate adapts to playing in this Liverpool side and we hopefully see Fabinho back in the team tonight, Alisson adds a feel of solidity and security through it all.
Oh, and he scores the occasional header, too. Aren't we lucky?
---
"I'd like to see Gomez and Matip tonight so Van Dijk can get a bit of a rest." Agree?

🎙 Liverpool v Atletico Madrid: Under The Lights

🗣 @robbohuyton hosts @jsexton24, @samevans1906 & @PhilBlundell to preview tonight's UCL game.

Listen 👉 https://t.co/RZ5ckXeglW pic.twitter.com/UMAmz2vvx8

— The Anfield Wrap (@TheAnfieldWrap) November 3, 2021
Recent Posts: