Gareth Roberts' preview ahead of Liverpool v Atletico Madrid in the fourth game of the Champions League group stage at Anfield…
AS matches go, this group stage showdown with Atletico Madrid is chock full of storylines, from sporting to society, from football to freedom of movement.
Purely on a sporting level, a victory over Diego Simeone's syndicate of shithouses would guarantee Liverpool progress to the next stage of the Champions League and that should be motivation enough for the players to perform and for supporters to support.
And given the current rash of injuries in the middle of the park and concerns about the depth of the squad, that would be just the ticket, allowing Jurgen Klopp to field peripheral players against Porto at Anfield later this month and in Milan in December. Tyler Morton getting the San Siro on his football CV feels like a wholesome result for all concerned.
Easier said than done, though. As so often seems to be the case to these 45-year-old eyes, not enough was made of just how good Liverpool's result at the Wanda Metropolitano was last month.
The Reds beat the Spanish champions in their own backyard, where they were unbeaten for four years in Europe. It was also Liverpool's first meaningful win against Atletico because no one is counting the second leg victory of a Europa League semi that Rafa Benitez's Reds lost on away goals in 2010.
It was a hostile atmosphere out there, one that came alive when they pulled a goal back. It was against a side schooled in the dark arts, which were on show once more. And it's a club that has a record at home and abroad that deserves real respect.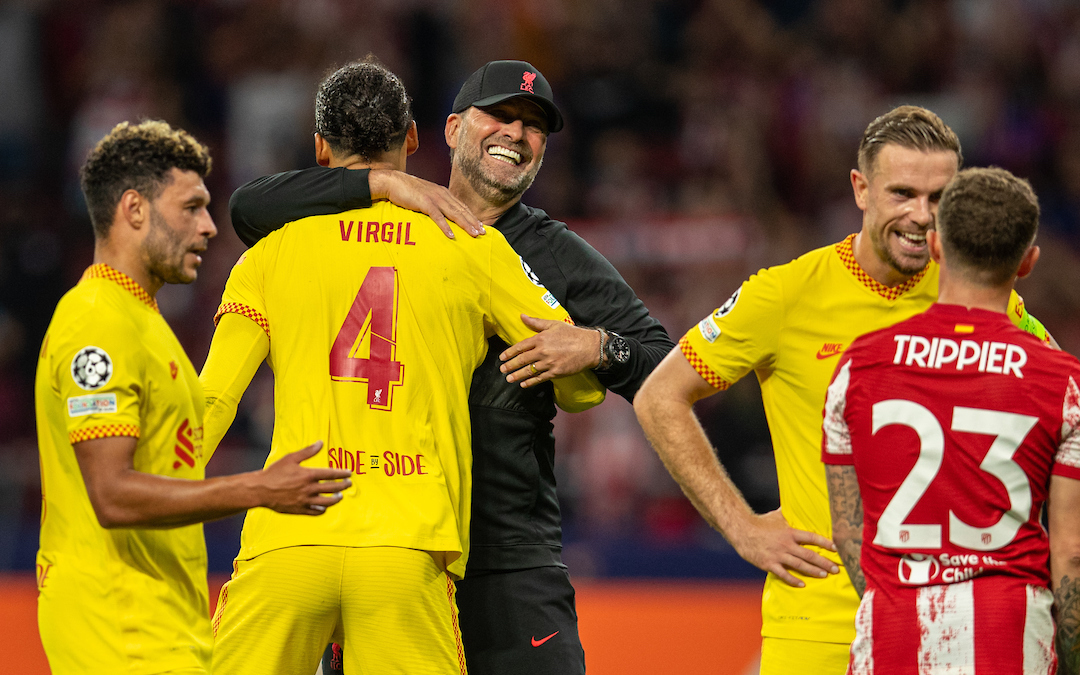 There was much focus on goals conceded and manner of. Of penalties awarded and not. And of the red card for Antoine Griezmann, who had earlier scored two goals and is a big miss for Simeone in this match.
Yet what Klopp called "dirty points" were delightful points. A win is a win is a win. And this was a win that put some ghosts to rest while also deeply pissing off the opponents, who it is fair to say are not among the most sporting out there.
What is not to love?
It also got a bit lost how much The Reds dominated early on. Liverpool were 2-0 up after 13 minutes and had enjoyed 80 per cent of the ball. It didn't last. But should it have been expected to last given the calibre of the opposition?
In the pre-match press conference for the Anfield return, Klopp, who rightly described Atletico as "one of the best, most determined and motivated sides in the world", spoke of expecting the match to be "a game of waves"; a match when you have to take your chances during those waves.
Thomas Lemar, who is expected to miss Wednesday's game through injury, and Joao Felix, a £114m forward, alongside Griezmann, caused Liverpool clear problems in Spain. But Liverpool are hardly alone in that fact.
Meanwhile, Mo Salah was scoring two goals and Keita another.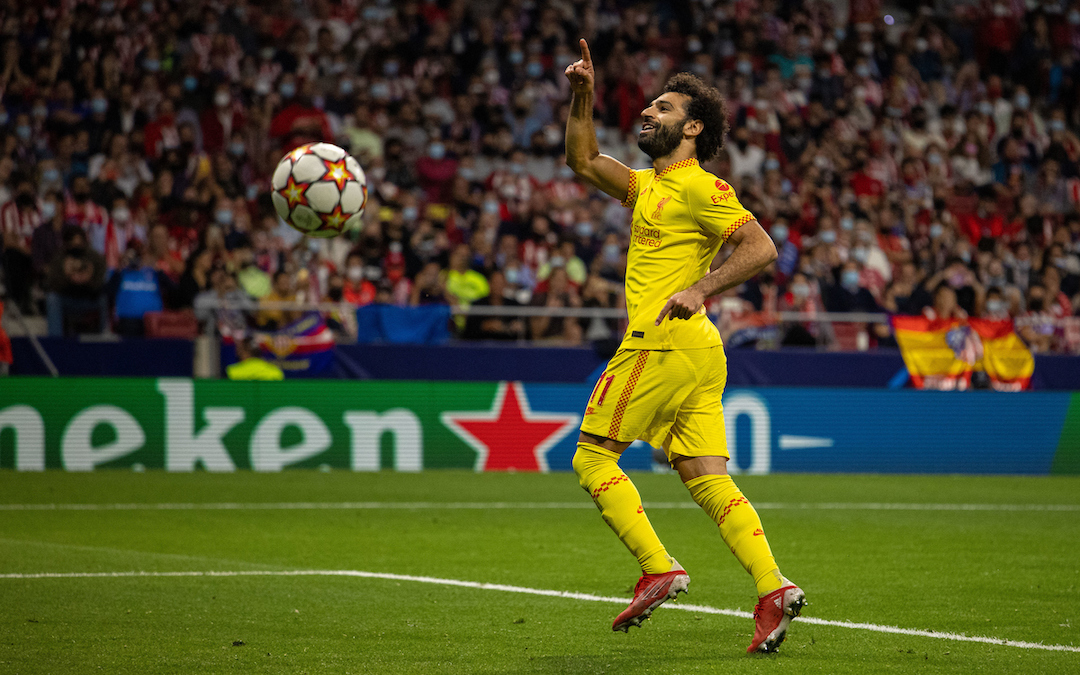 Putting the pantomime performances from Simeone, who has doubled down on his handshake snub saying he will do it again, aside, it is clear the Spaniards will fear The Reds as much as The Reds fear The Spaniards. And rightly so.
Throw in Luis Suarez likely starting in Griezmann's absence and the stage is set for more drama. Jordan Henderson was asked whether he should be given a good reception similar to that which Adam Lallana received at the weekend. He said yes. But sorry skipper. No. No he should not. And why? You really have to ask. I've done that already here.
Just to add that piece from way back when, he's clearly been a cunt in games against Liverpool since. So no. A big no. A no no. Fingers crossed for another Fabinho reducer.
So that's the sport. And that's the drama. But what of that last game against the same opposition at Anfield 19 months ago?
The Athletic's Si Hughes has written an excellent account of that game, the strangeness around it, and the grim links detailed by a House of Commons committee report to 37 lives lost that have been made as a consequence of it taking place.
Just to add that I'm of the opinion that coronavirus deaths in the city should be marked at the game. I think it would be respectful. This game and that opposition offer an opportunity to mark it for families that have lost that will also make the link between that game and what followed.
Others disagree as I found out when I shared that view. And that's fine.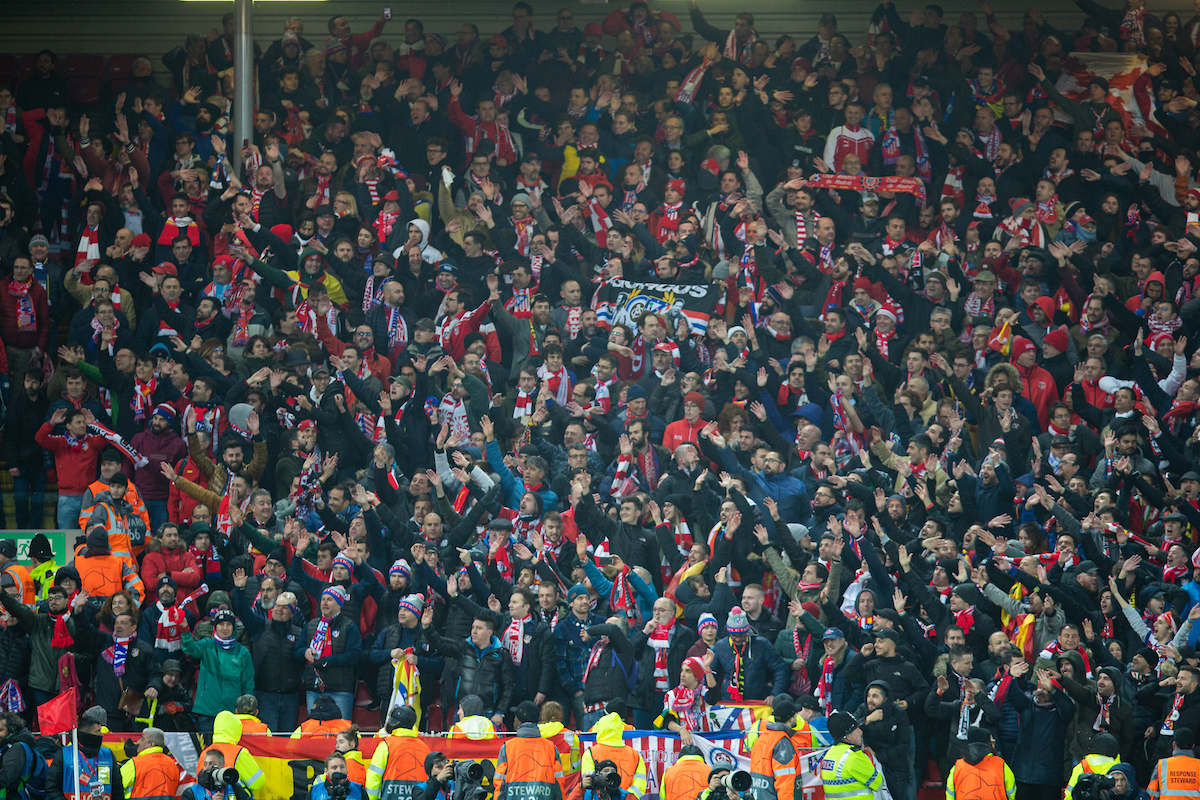 With hindsight, though, knowing what we know, the game should never have taken place. The actual football from that night feels largely inconsequential. It was strange being there. An odd vibe, a weird atmosphere; a growing guilt almost.
Those paid to lead and protect did neither. They let us down. It's not on us or on the club. It's on them. The experts and those who are supposed to make decisions based on their knowledge.
Creeping memories of that night will be hard to avoid when once more a Liverpool side takes on an Atletico Madrid side in the same competition at the same stadium with a packed crowd in attendance once more.
Some of our numbers haven't survived to see the return. Plenty of their numbers are staying away because of concerns about travel and the number of Coronavirus cases in the UK. Then, 3,000 travelled from Madrid. Now it will be closer to 200, according to reports.
A big match, a big occasion, but signs still that all is not well.
It's life, Jim, but not as we know it.
Predicted 11: Alisson; Alexander-Arnold, Matip, Van Dijk, Robertson; Henderson, Fabinho, Jones; Salah, Jota, Mane
---
🗣 Liverpool v Atletico Madrid: Under The Lights | #NewPodcast | #LFC

Previewing Liverpool v Atletico Madrid, with @robbohuyton, @PhilBlundell, @jsexton24 @samevans1906, @johngibbonsblog and @emctear…

Listen 👉 https://t.co/kVvyK8K3R9
Subscribe 👉 https://t.co/oaOWcUzrlr pic.twitter.com/E2931nsVyr

— The Anfield Wrap (@TheAnfieldWrap) November 3, 2021
Recent Posts: