Rob Gutmann's preview ahead of Manchester United v Liverpool at Old Trafford, with Jurgen Klopp having to negotiate another three-game week…
MAYBE I'm just being a buzz killer, but I don't enjoy the prospect of the needle of occasions like the derby or this fixture.
In anticipation, I'm all business — the results business. Of course beating Manchester United would be a bigger event than winning at Norwich, but that's because the bigger sides are always the yardstick against which progression can objectively be measured.
My ruthlessness, my nerves of steel, my cold-hearted pragmatism are exposed for the delusions that they are once I'm actually approaching that citadel of theirs, as I will be once more this Sunday. Only then will I be reminded that when two tribes go to war, points are side showed, and the prize is pride. 
The snarling and the loathing, the howling and the frothing, they can all keep though till around 4pm on Sunday. For now, I'm on Jurgen Klopp's shoulder plotting how to beat Solskjaer's Man United and taking a substantive step towards regaining the league title.
There are always good and bad times to face sides. I've bitched in recent times about how often we seem destined to forever face a team on the crest of whatever wave they happen to be surfing. For about 18 months we always come up against a side in a bit of form, even if only in relative terms. Not so Manchester United this weekend.
They scraped a needed but unconvincing victory over Atalanta in the Champions League on Wednesday night, but their general run of results and performances are convincing no one.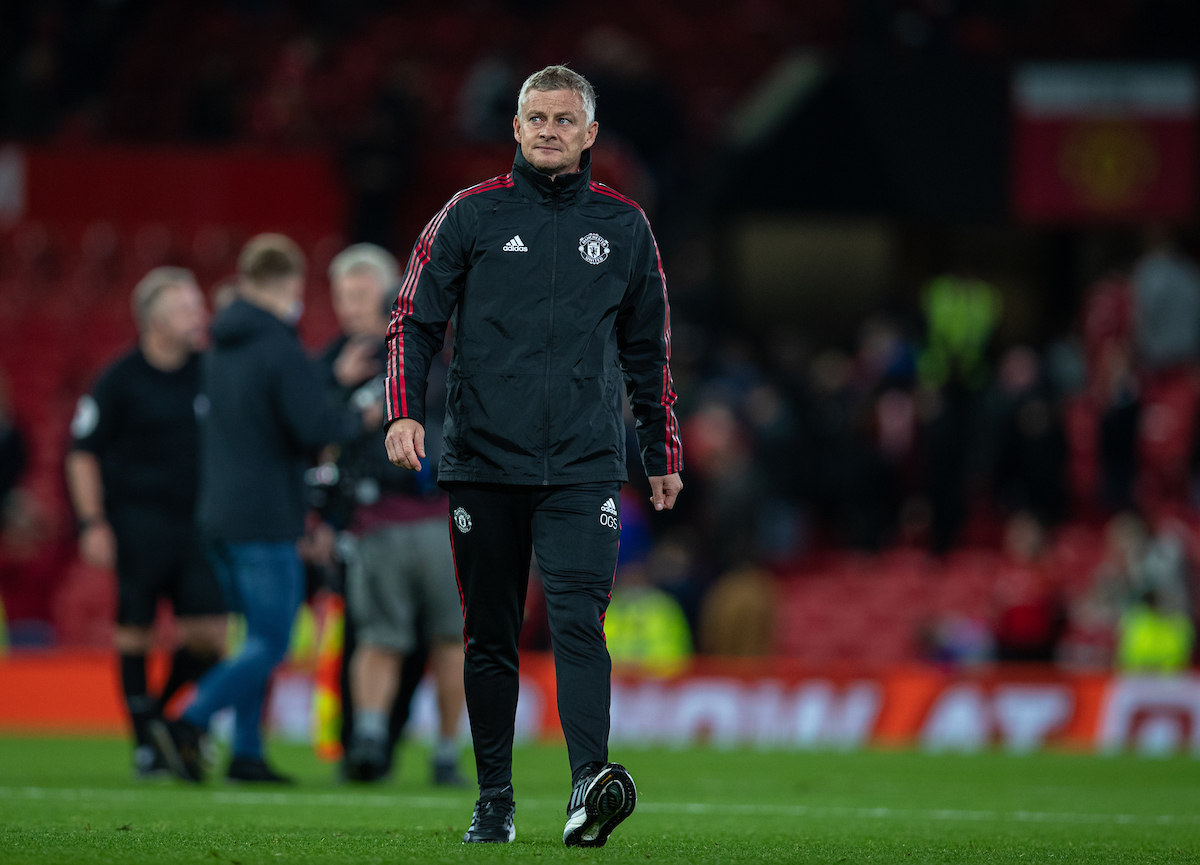 It isn't too bold to suggest that manager Ole Gunnar Solskjaer's tenure at Old Trafford would be as good as, if not actually, over should Liverpool triumph on Sunday.
None of this is our direct concern, but the truth of the fragility of Solskjaer's status may reveal itself in yet another nervy United display. Of course, the players may come out swinging. The manager will urge defiance and character from his wounded lads. Jurgen Klopp will know that 'playing for the shirt' will serve to motivate the home side. He'll also know that, if that's all they've got, then Liverpool will emerge as winners.
Planning for Solskjaer's starting 11 will not be straightforward. There's injury whispers around the likes of Rashford, Fred and Fernandes, and we know that Varane definitely misses out. United have a strong and deep squad, though. They don't have a bodies issue, they have an application issue. Media pundits have questioned their work rate and, by implication, desire. These are serious slights. Again, the wounded beast factor is the one that Liverpool will be most mindful of.
There is a contradiction that Solskjaer must wrestle with in sending messages to his players. On the one hand 'fight like lions boys, tear their throats out'. On the other, the more supine suggestion that his lads must stay compact, disciplined and cautious in the face of Liverpool's attacking power. When all is said and done, expect United to take a very conservative approach. A draw is no disaster for them, a win would be received like a trophy of sorts.
Last time Liverpool faced three games in eight days with a European away tie the meat in the sandwich, Jurgen Klopp opted to play virtually the same 11 for all three fixtures. Arguably, and perhaps unsurprisingly, Liverpool looked at their least fresh in their final outing of that week, at home to Manchester City.
I think Klopp will not be quite as determined to preserve continuity this time. It seems near certain that Fabinho will reclaim his midfield birth, but at whose expense is not clear. He replaced Naby Keita at half time in Madrid and many will suggest that this is the most obvious change for Sunday. James Milner is 35 and is playing a lot more football for Liverpool than even he would have imagined, though. Jordan Henderson is a pivotal player for Klopp and the team but is prone to an injury if overplayed.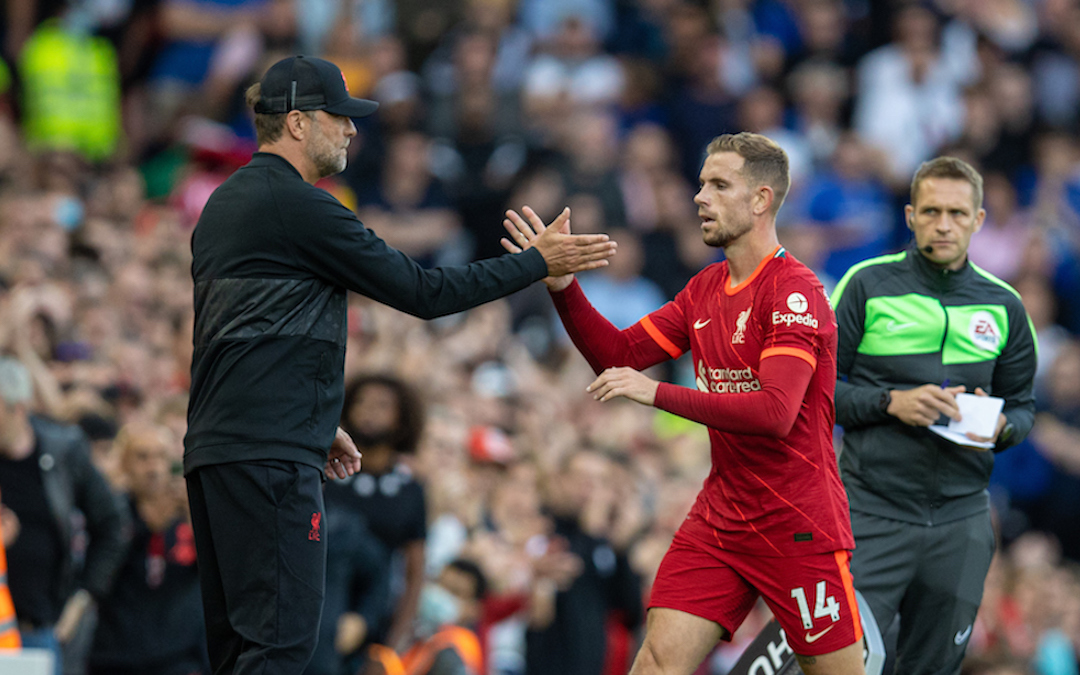 These uncertainties suggest to me that the fit again Curtis Jones will join Fabinho in freshening up the midfield. I'll guess, on balance, that Henderson will join them.
Liverpool won 4-2 at a crowdless Old Trafford in May, and both Diogo Jota and Roberto Firmino started up front with Mo Salah, with a then disgruntled Sadio Mane confined to the bench. All three starters scored that day and its eminently possible that Klopp rests Mane again, although psychologically he may not want to return either himself or the player to a place of rare friction between them.
So often these games between historic rivals are won and lost in the mind. Tactically Liverpool and United are unlikely to surprise one another. The home side aren't blind to the form Mo Salah is in, Liverpool aren't unaware that Cristiano Ronaldo, despite his waning powers remains a constant goal threat. Solskjaer will target space behind Liverpool's supremely offensive full backs, Klopp's team will be more aggressive in the press and look to claim every second ball.
Above all else, Klopp will urge his men to harness a confidence borne of being the country's form side for a run that stretches back to early April. Solskjaer, by contrast, will appreciate that his outfit are the top flight's latest 'crisis club'. Ole will above all else not want to lose. Liverpool will need to be patient and composed.
We won at Old Trafford in front of some empty seats and a worldwide TV audience in May, now is the time for Liverpool to show what they're all about in 3D.
Bring on the true Reds.
Predicted 11: Alisson; Trent, Matip, Van Dijk, Robertson; Fabinho, Henderson, Jones; Salah, Jota, Mane
---
"I've been watching Manchester United Liverpool games for 40 years and I know form goes out the window."

"It's not a derby, Man City is a derby. But it's even bigger than a derby. Anything can happen."

The Preview Show from Manchester 🎥

Subscribe 👉https://t.co/oaOWcUzrlr👈 pic.twitter.com/SuhKpEzX1H

— The Anfield Wrap (@TheAnfieldWrap) October 22, 2021
Recent Posts: