Analysing Liverpool's squad harmony, the balance between morale and quality, and how The Reds got it right again after another quiet summer…
I'VE run into something of a problem this past few weeks.
My most recent Tuesday column for The Anfield Wrap was an article about how Thiago Alcantara can become a part of the 'tried and trusted' group for Liverpool. That was September 14, the day before AC Milan. He proceeded to not play that game, get injured against Crystal Palace, and remains out weeks later.
The week before that, September 7, I had written about how Liverpool supporters needed to start learning to trust the process around our lack of signings in order to let talents like Harvey Elliott shine. Just days later he suffered that horrific injury against Leeds United.
In all honesty, the week after I was terrified to write about anything or anybody, and the week after that I was sunning it up in Porto, drinking too much to worry about all of this nonsense. I did think about doing something on Kaide Gordon on the day of the Norwich game, but if anything had happened to him I'd have probably never made a comeback from it.
However, this week I do need to get back on the horse. So as not to jinx myself I've decided to write about the very thing that has undermined the majority of my published work this season.
Injuries.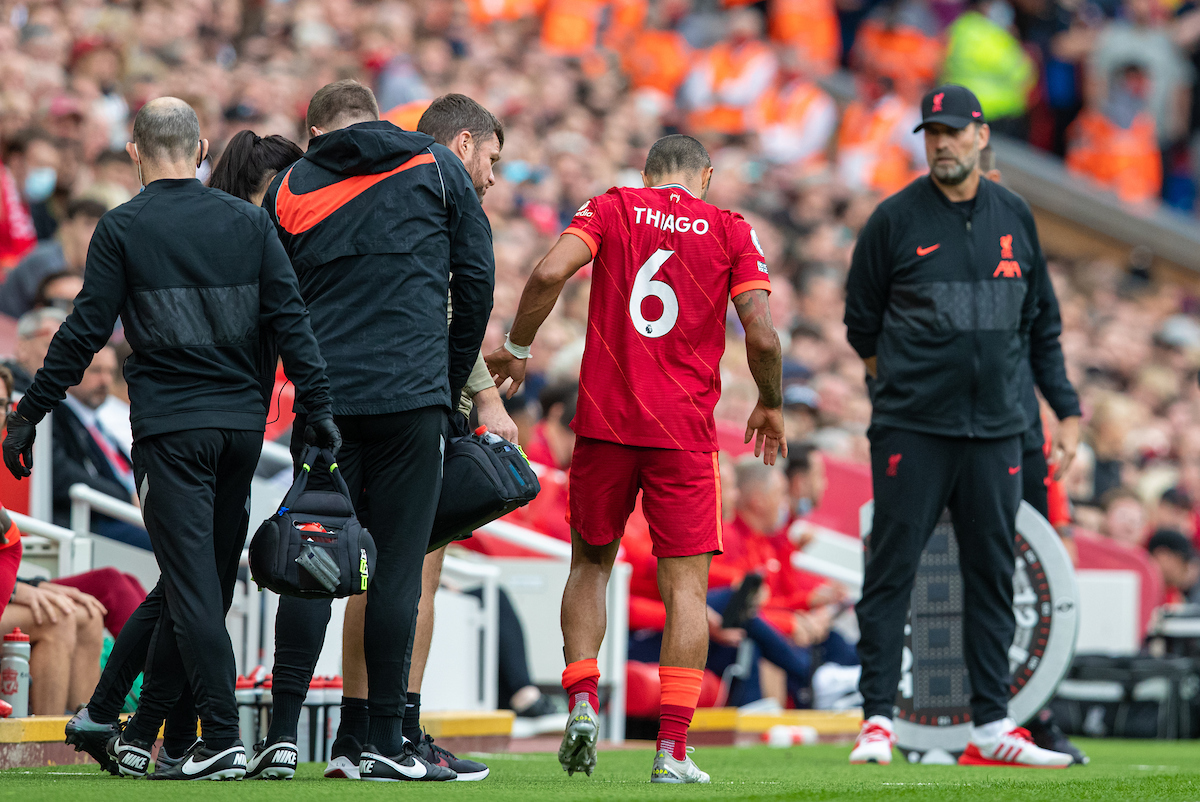 Whether it's my fault or not, The Reds have already suffered a number of them this season. Obviously it happens to all teams over the course of a season, but we've just been particularly stung by our best players being sidelined for far too much of the past 12 months.
With that being said, I don't have any issue with some supporters wanting more insurance policies in place should lightning strike twice. I'm the same, to an extent. Yet I do have an issue with us letting the fear and worry that we haven't signed a couple of extra squad players blind us from seeing just how good this team (and, dare I say it, squad) actually is.
They've shown it in abundance in recent weeks with the amount of changes we've been able to make to the lineups while maintaining our unbeaten start to the season. For context, the last time a Liverpool side reached this stage of the season unbeaten in all competitions was the 2008-9 season under Rafa Benitez.
It's not been the relentless winning start that we saw in the league campaign of 2019-20 (in which we were beaten by Napoli in our first Champions League group game), but it shows we've been impregnable on all fronts so far, and that doesn't happen without being able to being able to rely on lads lower down the pecking order.
Some of that reliance has been forced too. While Trent Alexander-Arnold's injury has been one of the few that this column didn't foreshadow, it was one which Liverpool needed to adapt to and adapt they did. James Milner may have struggled against the tide of Jack Grealish and Phil Foden on Sunday, but he still dug deep for the second time in a week.
That's one thing you can guarantee within this squad from top to bottom. There's a real 'next man up' mentality and that has come from Jurgen Klopp and his backroom team continuing to harbour a family feeling among the players and staff. If your brother falls you step up and give it your all, and that will usually be good enough for us.
Some will harshly point fingers at specific individuals for results not going our way, but the mentality within the team has always been that it's on the team as a whole. Win together, lose together (though draw together would be more accurate so far this season).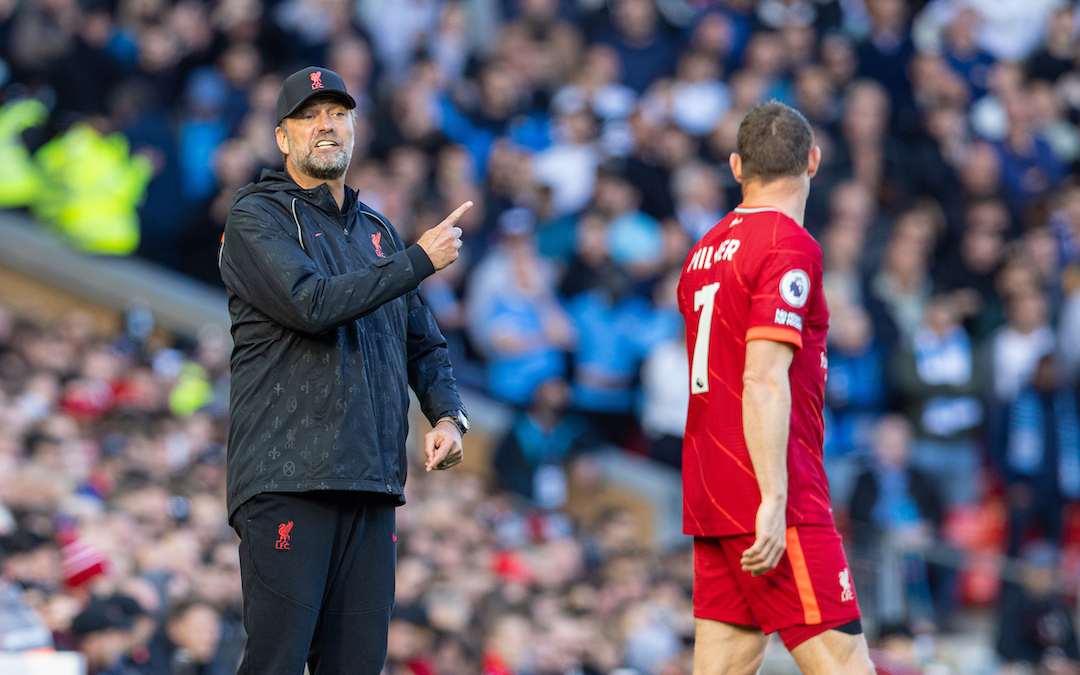 I personally thought Milner's level against Manchester City was passable. Some didn't, which is fine, opinions and that. But you better believe there would've been a few other players in that dressing room after cursing their own displays and feeling as though they could've made their teammate's struggles far less of an issue.
And Milner has plenty of credits in the bank anyway, which should absolutely count for something. Nobody among Liverpool's number will be writing him off, that's for sure.
Whether I write about them or not, injuries will continue to happen this season. Klopp has said since the day he came in that he isn't a manager who likes to deal with big squads, and this is by far the deepest squad he's had at Anfield. He's adapted during his time in England and yet he's still been proven right that it's impossible to keep everybody happy.
Just look at the other squads around us. There's nobody among our rivals whose balance between bench quality and squad harmony could possibly be classed as enviable against ours.
At Liverpool there seems to be a happy equilibrium. Nobody is publicly kicking up a fuss about their game time, throwing pitchside tantrums or having a pop at the manager, the benches are looking relatively healthy, and The Reds are still fighting on all fronts.
In this day and age especially, it's crucial we don't let fear and worry blind us from the facts.
---
"I think one of those two teams on Sunday is going to win this league."

Liverpool 2 Man City 2 | The Anfield Wrap Podcast

🗣️ @Knox_Harrington hosts @Ian1892T, @emiliabona & @jsexton24

🎥 Watch for free 👉 https://t.co/BGPucfjHQ2
🎙️ Listen for free 👉 https://t.co/wNT76Q0q1h pic.twitter.com/3pV2G3exTy

— The Anfield Wrap (@TheAnfieldWrap) October 5, 2021
Recent Posts: