In the aftermath of Liverpool's win in Madrid, all the chat surrounded The Reds' midfield as it continues to divide opinion among supporters…
PERCEPTION. It's a funny old concept, isn't it?
Football is a game of opinions. More often than not, two people can watch the same game of football and yet come away with totally opposing views.
There are few things, though, that divide people like Liverpool's midfield.
Marmite? No chance. Crocs? Give over. Neil Atkinson's jumpers? That may take some more thought.
It's a debate that's rumbled on for as long as I can remember. That some are pining for the return of a player who arguably epitomised the divide most tells you all you need to know.
No matter who Klopp chooses, someone is usually left unhappy. Too defensive. Too functional. Too rigid. Too open. Too weak. They are just some of the retorts you'll see doing the rounds.
Fitting then, that on a night The Reds slayed another dragon in the supposed 'group of death' to make it nine points from nine, much of the post-match reaction has centred on the midfield.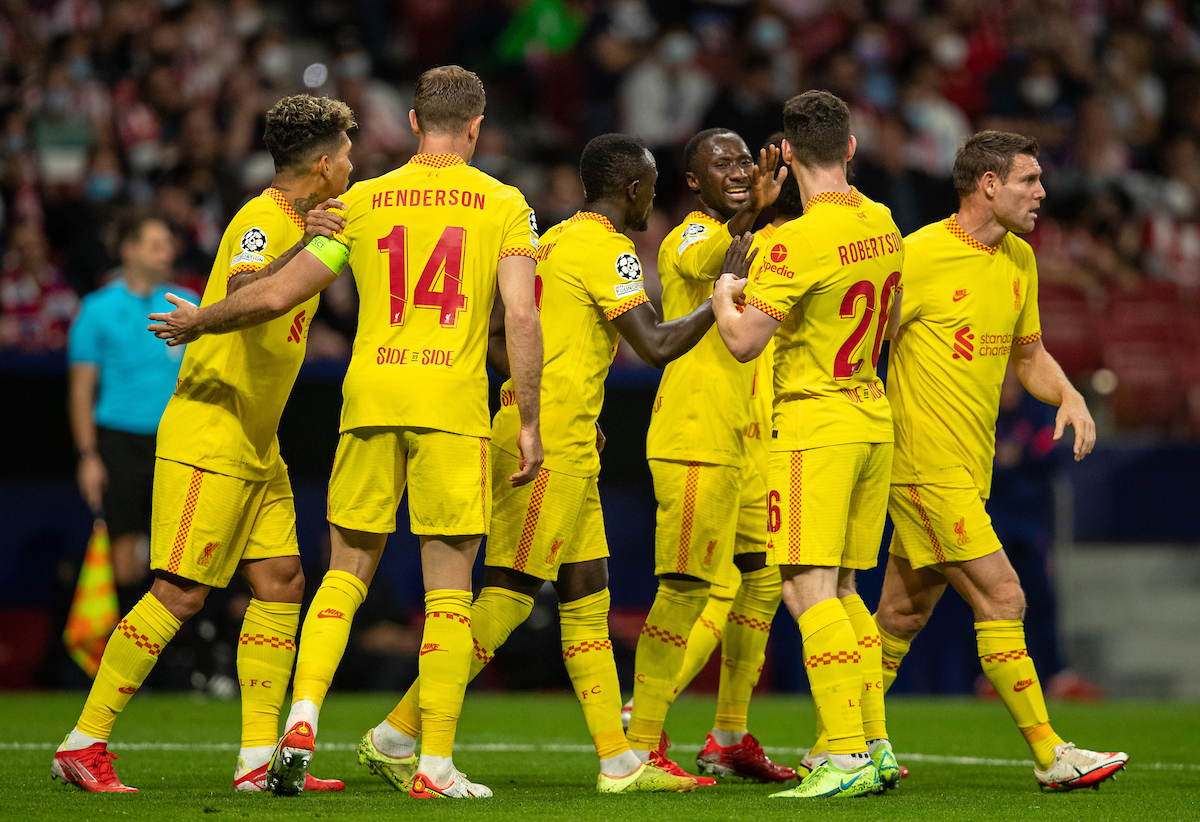 It goes without saying that it was far from perfect. Jordan Henderson was more reactive than proactive as the six, but much improved as the eight after Fabinho's introduction. James Milner was solid in the main but reminded us that he is 35 after all as the game wore on. Fabinho was a huge miss in the first 45.
Then there was Naby Keita, the night's biggest victim as he continues to polarise opinion. Some will argue he had a good game, lit up by another superb volley. To others, it was a performance that underlined four years of frustrations, having been culpable for both Atletico Madrid goals, easily bypassed by Thomas Lemar and Joao Felix in the build up.
He is one of the club's most enigmatic figures, having so far failed to replicate his performances for RB Leipzig, but a quality player who can make a difference nonetheless. One who thrives in possession and commands in games where Liverpool are in top. There are occasions that will suit him more than others — Watford proved us as much — but he can more than play a part.
The aftermath of Tuesday's game has led to the latest chapter in the Liverpool midfield debate, but everyone in question has played their part this season and will do so again yet. This is a Liverpool team that remains unbeaten in all competitions. This is a team that even when not at their absolute best, find a way.
They suffocated Atletico for 25 minutes, then were suffocated themselves. They never re-established total control and were too easy to cut open at the back. All these things are true and yet Liverpool get another huge three points.
They still find a way. And isn't that the most important thing? That on a night that had just about everything, The Reds got the job done. Another three points on a big European night.
Liverpool beat the Spanish Champions and played them at their own game. Three goals away from home for the eighth successive time — the first instance Atletico have conceded three-plus goals at home in a European game under Diego Simeone.
It wasn't stylistic football, nor was it a game where it needed to be. This was all about endeavour and determination, patience and fortitude. Liverpool grafted against the very definition of snide. They battled, they scratched, and they clawed, and in doing so showed another page in their playbook.
Klopp described Tuesday night as a 'dirty win' and that's exactly what it was. That is what the very best football teams do. There will be a few more of those this season if we're to be crowned Champions come May.
Onto Old Trafford then.
Collectively, Liverpool's midfield will need to be better, but we all know they can be. Fabinho will be back in the starting 11 at the weekend and that'll make a world of difference.
Liverpool are by far the better side, but games at Old Trafford have little care for logic. Ole knows he's on his last legs and Manchester United require a response. Take the game to them and they won't know what's hit them. Get sucked into a battle and we'll show them snide and needle in force. Leave nothing to chance, Reds.
Liverpool have more in every department. It's time to show it.
---
"The idea that Keita can control the match and be integral against the bottom twelve means he can still be hugely important."

"He's struggled in a couple of bigger, more intense games but I think it's important not to act like he can't contribute."

👉 https://t.co/oaOWcUzrlr👈 pic.twitter.com/8jFUDyUCZM

— The Anfield Wrap (@TheAnfieldWrap) October 20, 2021
Recent Posts: