Gareth Roberts' preview ahead of Atletico Madrid v Liverpool at the Wanda Metropolitano in the Champions League group stage…
REVENGE. How much are professional football players motivated by revenge?
Among fans, it's something that comes up a lot. We owe them one. We need to put that right. We need to show them what we're really all about.
Supporters, too, love an emotional game. Hostile atmospheres. A feral feel. Booing, whistling, giving it bifters when the opposition's hate figure gets a touch of the ball.
It's the kind of stuff that makes you feel alive, involved in something, part of it. Especially after having to bear witness to the soul-destroying concept of football without fans.
Atletico v Liverpool at the Wanda Metropolitano will be only the second game the Madrid side have played in front of a full crowd in recent times, as capacities have slowly been raised following the severest stage of the pandemic in Spain.
And Diego Simeone — no stranger to hostility — has made sure he has reminded Atletico's fans of the power of crowds.
"Let's not forget, the last time we played Liverpool in the Champions League, we were already winning that game before it even kicked off, I would like the fans to remember that tomorrow," he said.
He refers, of course, to The Reds trip to Madrid in February 2020, when Atleti's team coach was passionately cheered into the ground along flare-lit streets. It was a welcome we would have been proud of. And from their perspective, they will tell you it worked.
https://twitter.com/btsportfootball/status/1229850929916260354?s=20
An early goal, then, in that first knockout round first leg clash sealed a 1-0 win for the Spanish side. And Simeone's celebrations ruffled a few red feathers too.
We assumed Liverpool would raise their game for the return. And they did. Yet somehow — aided and abetted by Adrian's mistakes — it was Liverpool that crashed out, losing 3-2 on the night and 4-2 on aggregate.
It was one of the strangest nights in Anfield's history. Not just for how the game unfolded, but for the fact that it took place at all. Hindsight tells us now that it should not have ever kicked off and allowing supporters to travel from Madrid was a major mistake that stemmed from poor decisions by the Government.
From a purely football perspective, Jurgen Klopp was raging post match. The Reds had racked up 34 shots, taken a 2-0 lead, and still managed to blow it. The manager was less than complimentary about Atletico's style and approach — a fact that was used to stir the shit in the pre-match press conferences this time around.
So revenge then? Beef? A bit of an edge to it all?
I remember — and love — Jamie Carragher talking about seeing a football match as going to war. He pumped himself up, found a competitive edge by seeing the opposition as the enemy, and sent himself out there fired up accordingly, as Steven Pienaar and Nani can no doubt corroborate.
Carra bemoaned the matey stuff we often see on display these days — the laughs and jokes in the tunnel between opposition players, the hair ruffles, the cosy chats.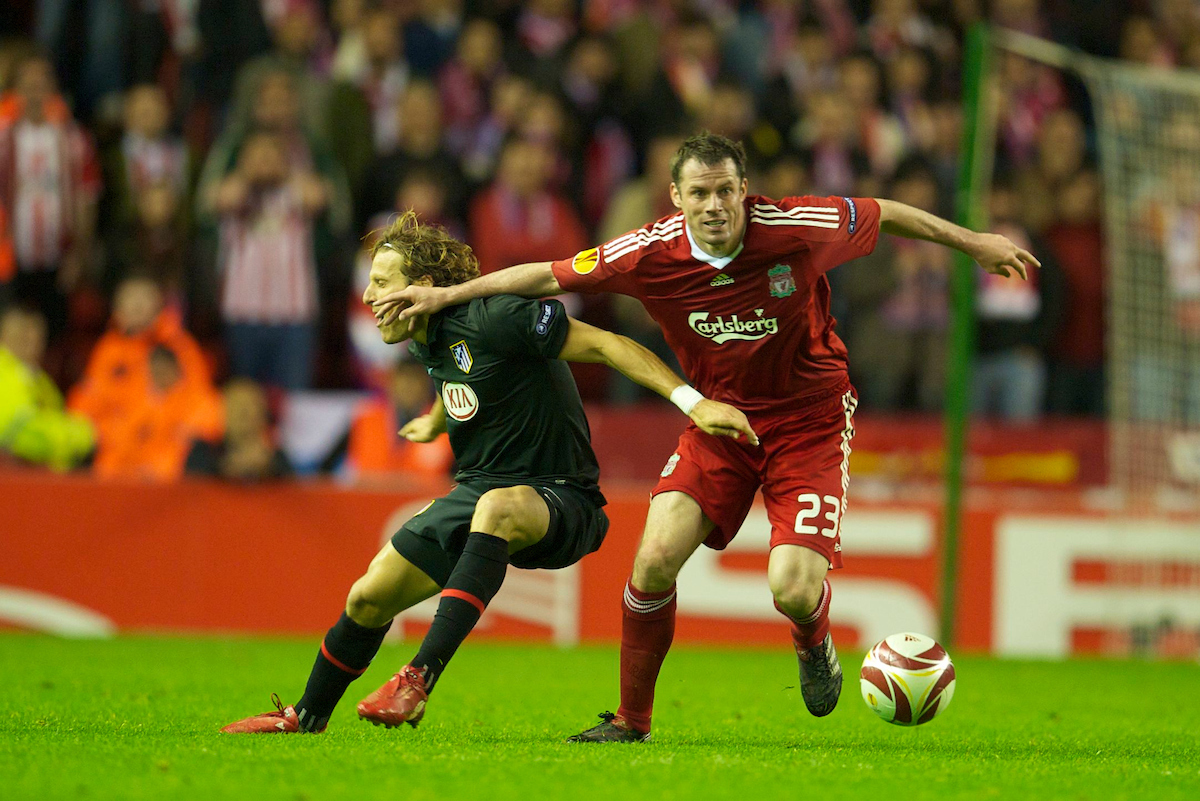 Fact is, things have changed a bit. Get too pumped up these days and you'll likely see red quicker than Jonjo Shelvey did on Sunday. But there are still darker arts to the game and Atletico and their manager are well versed in them, as is, of course, a certain Luis Suarez — their top scorer so far this season with five goals.
We've got a few on our own team who can dish a bit out, too, though. Andy Robertson is the first to spring to mind. Virgil van Dijk is another. And for a match like this it will be fantastic to have Fabinho returning to the ranks. Between those three alone there should be a bit for Suarez to get his teeth into. He won't need reminding what happened when Barcelona came to town.
The managers clearly have contrasting styles and have exchanged words via the media, albeit Simeone just said the word "nothing" when asked what he had to say about Klopp's assessment of his style.
And back to us, the fans (and their fans, too). Both sets of supporters will want to put on a show. At this stage of proceedings it can never have the edge of the later rounds, but there is some pride at stake around putting on a show for a European night. They've done it well, we've done it well. And off we go again.
"Revenge" will always be played down publicly, but behind the scenes there must be a will to give these some back. Fact is, while Wanda Metropolitano will always hold fond memories for being the scene of Big Ears number six coming home, The Reds have struggled against the keyholders of the stadium that provided the setting.
The sides have met six times in history, all of it relatively recent, and while the records show one Liverpool win it was a hollow 2-1 victory nobody celebrated, coming in the second leg of a Europa League semi-final in 2010 that saw Atletico progress on away goals.
The first leg ended with a 1-0 defeat at the now demolished Vicente Calderon.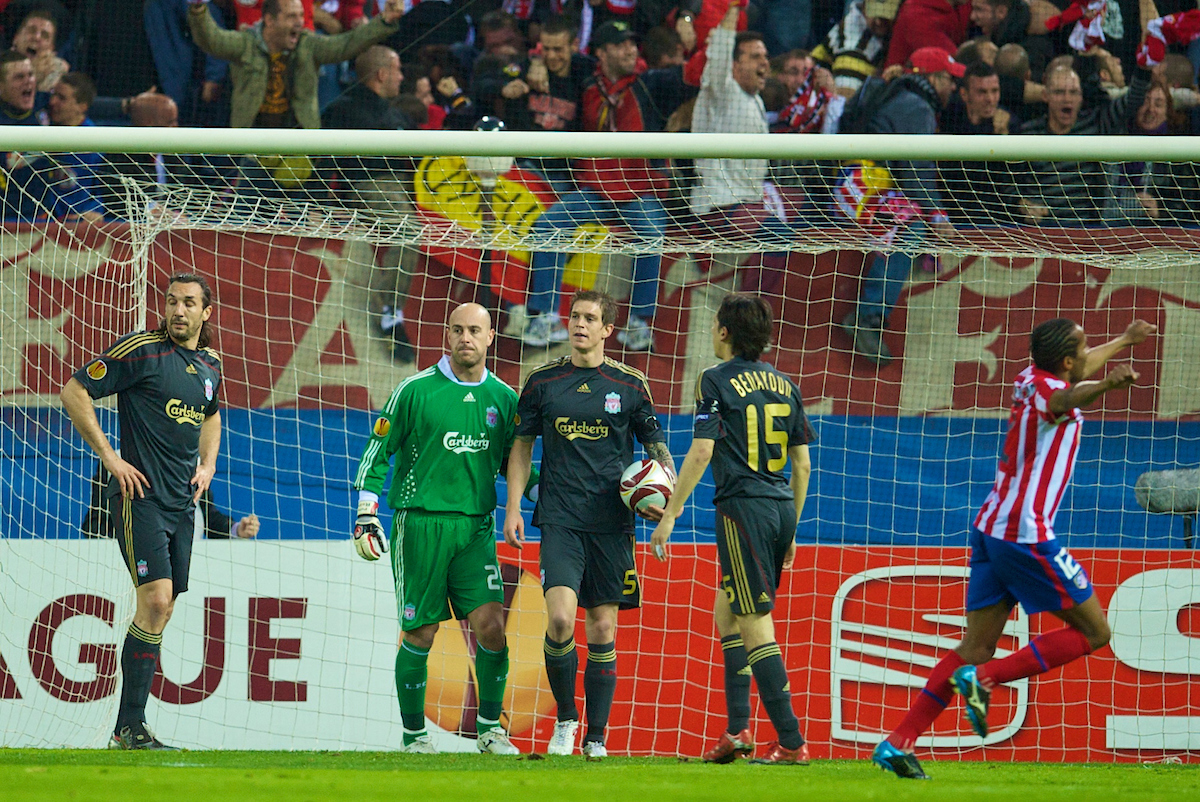 Throw in last year's 4-2 defeat over two legs, both victories for Atletico, and two 1-1 draws in the Champions League group stages of 2008, and it's high time The Reds started to stamp some superiority on these games.
Liverpool are favourites to conquer the Spanish champions and are in superb form away from Anfield, scoring three or more goals in seven successive away games in all competitions.
Atletico, meanwhile, will have been out of action for 17 days when the sides meet, their weekend fixture at Granada cancelled by La Liga because of players involved in South American fixtures. Imagine that kind of consideration in the Premier League? Me neither.
Nevertheless, they remain a big threat, their last two games being a comfortable 2-0 win over Barcelona and a 2-1 win away to Milan.
But back to us. While — rightly — all the focus has been on the world-class performances of Mo Salah, which have yielded 10 goals already this season, Sadio Mane and Bobby Firmino are quietly finding form under the radar, plundering six goals each of their own this season.
Klopp also has the fresh legs of Diogo Jota to call on if needed, with the Portuguese sitting out Saturday's 5-0 victory at Watford.
There will be much talk of rotation for this game, and Klopp has plenty of options should he wish to do just that. Joe Gomez and Ibrahima Konate could freshen up central defence if required, while Kostas Tsimikas has shaken off fears of being a transfer dud to show he can stand in for Robertson if needed.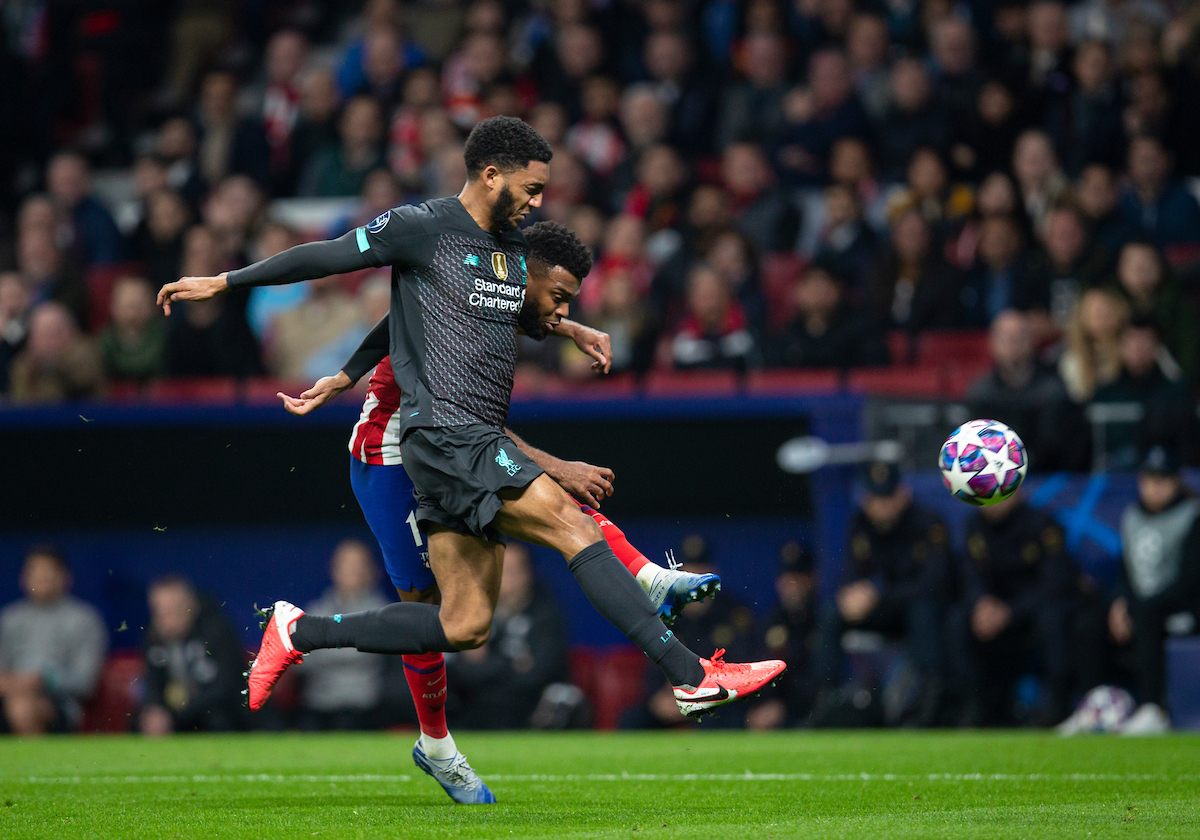 In midfield, Fabinho will surely start, but Curtis Jones and Thiago remain out of contention.
Alisson will return between the sticks after Caoimhin Kelleher once again proved his credentials as a number two at the weekend.
It may be that Klopp decides this is no game to make too many changes, though. Yes, Manchester United at the weekend looms large. But with 24 hours rest advantage over the Mancs, who take on Atalanta on Wednesday, and the game at Old Trafford not being until Sunday at 4.30pm, the manager may decide rhythm is a dancer and stick with the majority of the regular starters.
The Reds, finally, are getting some real credit for their form at the back end of last season and their start to this. (Where are those BBC pundits now?)
There is a determination on show, a meanness, a grit and, above all, supreme confidence. They know how good they are, how strong they are, how fit they are — and that they have done it all before.
The stats say the best of the performances so far are outstripping those that won the league. The sample size is small so far. But it's growing by the game.
Revenge. A first win over Atletico that really counts. And victory at Old Trafford with the fans in place to feel it. The aims for the week are clear. This Liverpool is more than capable of another perfect week.
Bring it on, Simeone.
Predicted 11: Alisson; Trent, Matip, Van Dijk, Robertson; Fabinho, Henderson, Keita; Salah, Firmino, Mane
---
"Alisson and Fabinho will allow Liverpool to be brave in Madrid."

🎥 Atletico Madrid v Liverpool | The Preview Show

🗣️ @johngibbonsblog & @kevwalsh_ preview Liverpool's return to the Metropolitano. Filmed at @Lunya on the Albert Dock.

Watch in full 👉 https://t.co/RZ5ckXeglW pic.twitter.com/LFObceFhPJ

— The Anfield Wrap (@TheAnfieldWrap) October 18, 2021
Recent Posts: