The Anfield Wrap's flagship podcast: Trent Alexander-Arnold's new contract, Ibrahima Konate's progress during LFC pre-season, plus the return of BOSS Nights and TAW Live.

John Gibbons hosts Josh Sexton, Andy McCann and Kieran Molyneux
The boys discuss Trent's new contract, what they hope to see before the end of pre-season, Kieo's new single and the return of BOSS nights and The Anfield Wrap Live on stage.
---
---
Trent Alexander Arnold New Contract Details
The scouse heart of Liverpool's Champions League and Premier League winning runs, Trent Alexander-Arnold pens a new deal with Liverpool. The panel discusses the good news of Trent's new contract extension, what it means for Trent to be among Liverpool's top earners and the impact of his contract extension on Liverpool's Academy.
"To extend and make sure I'm here longer is always a good thing." – Trent Alexander-Arnold
Trent's probably the best right back in the world and is a Liverpool player through and through, having been identified by LFC at just six years old. Now at just 22, he's been entrusted with greater responsibility for the reds having already scored 10 goals, and provided 43 assists across all competitions from the full-back position. His dynamic style of play, discipline, tactical prowess and passing range make him a joy to watch for any football fan around the world.
LFC Pre-Season 2021 – What Have We Learned?
The panel discusses LFC's pre-season so far, and what do we want to see between here and Norwich?
We talk Liverpool's centre-half options, take a look back at Ibrahima Konate's performances and discuss who else has impressed in pre-season so far. We also chat about LFC's fringe players, such as Takumi Minamino to see if anyone's impressed enough to break into the side.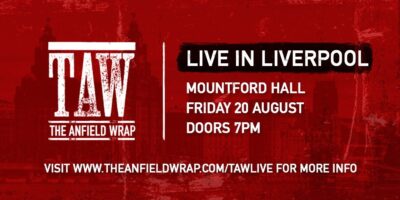 BOSS Night and The Anfield Wrap Live Returns
Kieran Molyneux talks BOSS night as the phenomenon returns after Chelsea on August 28th. The lineup features our own Kieran, Jamie Webster, Timo Tierney, and Ben Burke. Tickets are available here for the show at Eventim Olympia.
The Anfield Wrap LIVE is back once again in Liverpool Friday, August 20th, 2021. Get you tickets here!
Recent Posts: