The Anfield Wrap's flagship podcast: Jamie Carragher is a special guest as TAW recaps Liverpool vs Bilbao in their preseason friendly, the issues with LFC's new NFC ticket scheme, and summer transfers across the football world.
Liverpool 1 Atletico Bilbao 1 – Difficulties getting inside the ground made things complicated but worth it for many going to Anfield for the first time to see the reds in over 18 months. The panel talks about key performances vs Bilbao by Liverpool players including Harvey Elliott and Owen Beck, plus the frustration surrounding LFC's new digital ticketing. They also talk summer transfers as Liverpool look to move players on in a summer where every big club is trying to sell. Neil Atkinson hosts Gareth Roberts, Damian Kavanagh and special guest Jamie Carragher for this episode of The Anfield Wrap.
---
---
Liverpool 1 Atletico Bilbao 1 – Key Performances
Being back at Anfield was absolutely brilliant. Seeing familiar faces, going to the pub before the match, fans greeting the coach as it arrived outside the ground. It was a special day for so many who live and breathe Liverpool Football Club and it meant a lot to us, the players and Jurgen too. We chat about key performances in the day including Alisson Becker, Fabinho, plus:
Harvey Elliott
Jurgen has made clear that Harvey Elliott is to stay with the Liverpool first team this season and not be sent out on loan, and the young attacker looked to prove Klopp's faith in him is well placed at Anfield. The panel discusses his performance, development and the breathtaking goal that almost was.
Mohamed Salah and Sadio Mane
Mo Salah and Sadio Mane looked undoubtedly sharp, a great sign for Liverpool going into a new season. Sadio Mane will hope to shake off the rust that plagued him during large parts of last season, and all signs look like he's ready to get back to his prolific goalscoring vs Norwich. Mo Salah hasn't lost a beat and will be looking to be amongst those challenging for the Golden Boot, we discuss his form and potential this season.
Andy Robertson's Injury and Owen Beck
Andy Robertson will undergo a scan today to reveal the extent of ankle injury picked up during Sunday's friendly draw vs Athletic Bilbao. It was not a pretty sight watching the no-nonsense defender, who rarely shows any emotion besides intensity, cry out in pain on the pitch. It took some time for the medical team to assess him before helping him off the pitch. Kostas Tsimikas is Liverpool's only other registered left back in the first team, but it was Owen Beck who came on to replace Robinson and did not look out of place. The 18 year old has some great Liverpool DNA, and the great nephew of Ian Rush will be looking to fight for a place in this Liverpool side that needs squad depth in his position.
Frustration with LFC's New Digital Tickets
With all the joy around finally getting to the match, there were many frustrations for fans trying to get into the ground at Anfield due to Liverpool's new NFC digital ticketing rollout. Lines wrapped around the ground hours before kickoff, leading the match being delayed so more people could get to their seats. Some fans ended up returning home after waiting for hours. NFC has been tapped as an answer to ticket touting which has been a problem for years, but it doesn't seem like a solution in its current state. There are a lot of changes that must be made before another match kick off in 24 hours. The panel discusses the ground being closed for the best part of 18 months and the other operational challenges at Anfield
Challenges For Liverpool In The Transfer Market
Liverpool look are trying to sell the likes of Takumi Minamino, Xherdan Shaqiri and Divock Origi in a transfer market where many are looking to do the same in order to free up space on their wage bill. What's the likelihood of these players moving on this summer and who would be interested in buying?
Messi Leaving Barcelona
The panel discusses the biggest story in football at the moment: Messi leaves Barcelona. Financial struggles at the Catalan giant see Messi unable to sign a new contract that had been agreed for months between the player and the club. What will be the impact of Messi's departure from the Camp Nou? If PSG acquires Messi, what will that mean for Kylian Mbappe and the other big money strikers available for the right price this summer?
Previews of LFC vs Osasuna and Premier League Opener vs Norwich
The Anfield Wrap LIVE is back once again in Liverpool Friday, August 20th, 2021.
Get you tickets here!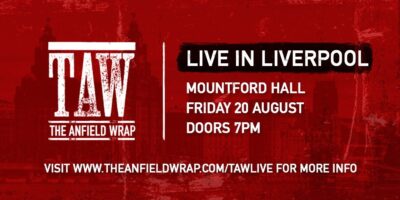 Recent Posts: