It's 20 years since the 2000-01 season in which Liverpool FC won the treble, and Karl Coppack looks back on the heroes of that campaign…
I WAS 31 at the start of Liverpool FC's 2000-01 season and got back for home matches whenever time and spare tickets allowed.
Liverpool had ended the 1999-2000 season in terrible form, throwing away a Champions League place by failing to score in the last five league games.
That was then though.
Since then Everton's best player had announced his desire to cross the park, Gary McAllister came on a free to give us such much needed experience in the middle of the park and Markus Babbel had finally arrived. We knew things were on the up. 
I made it up for the pre-season game with Parma in August and it was enough to banish the fury and frustration of the previous season.
We tore the Italians to pieces that day – 5-0, the kits looked great, Nick Barmby and McAllister looked like they'd be here forever and the new programme was the business.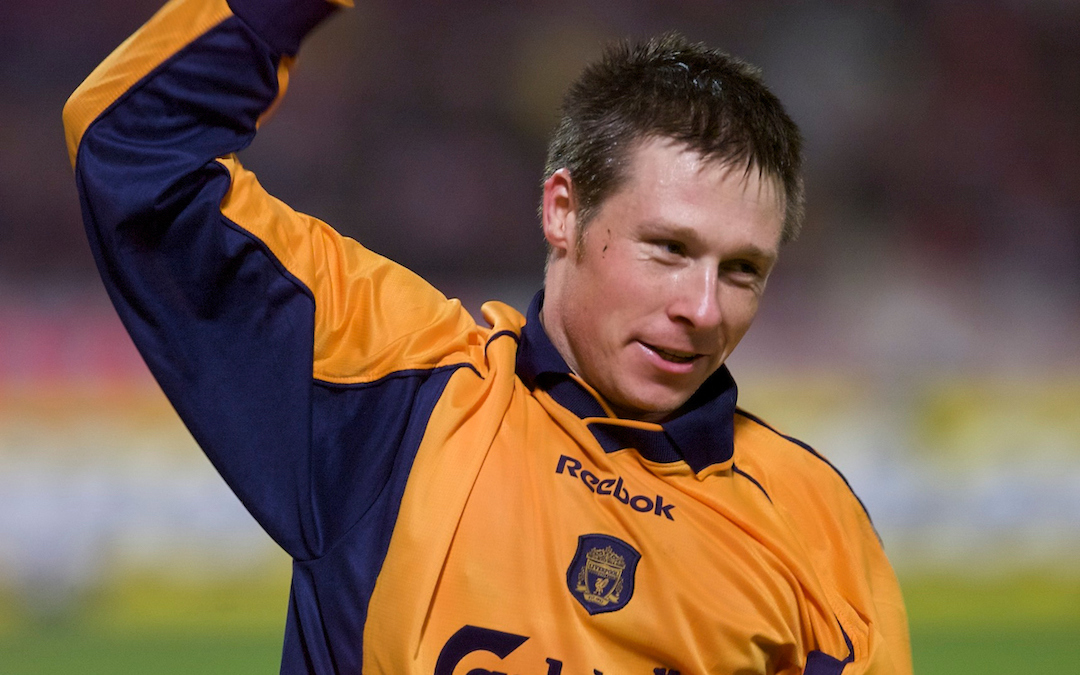 The highlight of the day was being verbally abused at Euston Station upon my return by what must be the fattest, drunken man I've ever seen. United just lost the Charity Shield to Chelsea (Keane was sent off) and he'd noticed my shirt as I crossed the concourse.
I'm not exactly small but this balloon blocked out any daylight behind him. I'd have been in danger had he the ability to stand while calling me a Scouse cunt. It was one or the other. He must have bounced off every shop as he vented his slurred spleen at me. It's funny the things you remember.
The new season didn't start too well. The Highbury game and sendings off were ridiculous and the surrender of Southampton still irks me to this day. I was offered a ticket to that but couldn't go as I was DJing at a mate's party in the posh gardens of Kenwood that night.
She'd told me the clientele was Scouse heavy, so I stuck on You'll Never Walk Alone at the end. Three men immediately rushed the booth and told me to 'Get that shite off, ya redshite' and 'Stick Z-Cars on'. She'd not told me what hue of Scouse it was.
Anyway, I feigned ignorance, said that footy wasn't my thing and that I just liked the song. No harm done. They calmed down until I shouted something pro-Red out of the taxi window as I sped off. Brave, that's me.
No one else threatened me for the rest of the season. Promise.
It's hard to cover that entire season in just a few paragraphs but the three finals aside any mention of it makes me think of Barmby's derby goal, Michael Owen in Rome, Babbel's through ball to Emile Heskey at home to Leicester, Jari's performance against City in the FA Cup, the United games, the Gary Mac goals, the Goodison derby, the final day etc., but I want to talk about the two main strikers.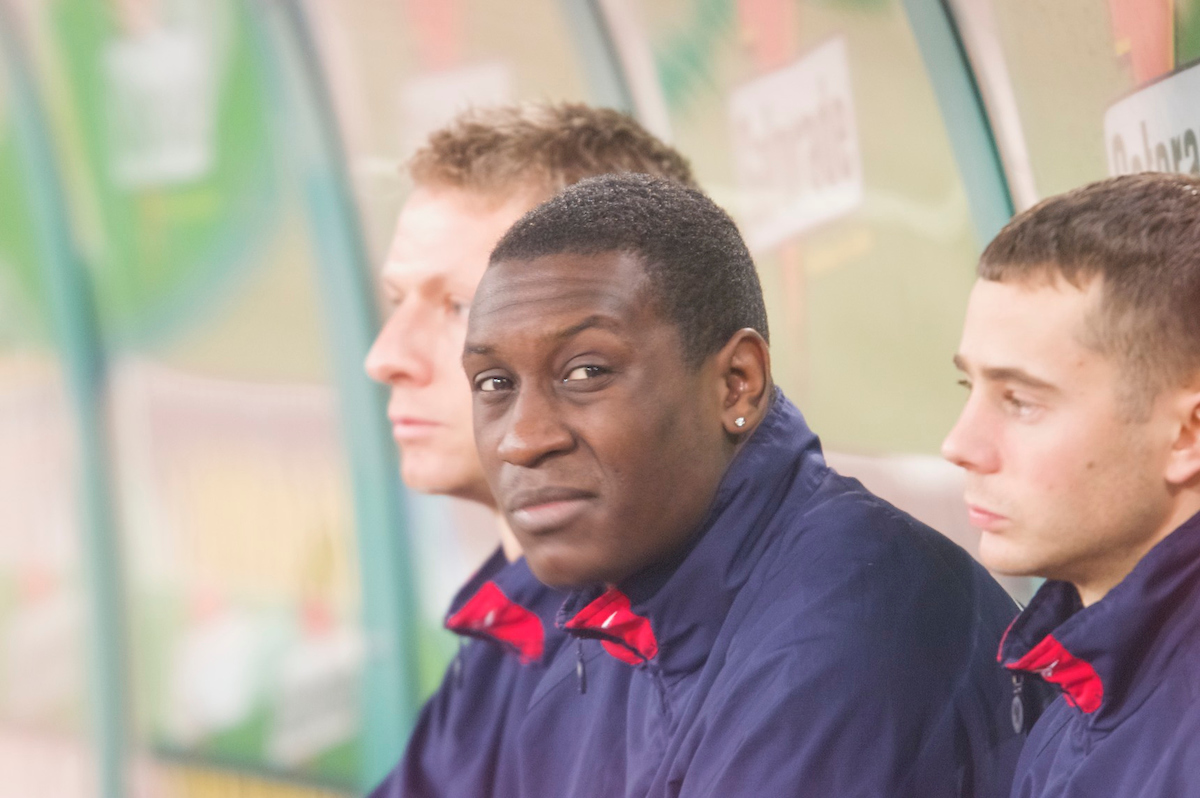 Both Owen and Heskey have been maligned in recent years. Michael for obvious reasons, and I for one can never forgive him for running his contract down while publicly declaring otherwise, while Emile ended his Liverpool career as a figure of fun for the tabloids with his missed chances and low strike rate.
Make no mistake though. Both were absolutely unplayable that season. They may have had Gerrard – the skinhead version – pulling the strings behind them and a free-scoring midfield to create opportunities, but their contribution to that side was vital.
We can all sneer at Owen the United player, the brand guru, the England player and the Ambassador, but we must also remember just what a talent he was. Never as popular as Fowler, he was far more ambitious than the other players.
He gave an interview with Alan Hansen when he first broke into the first team and talked about his love of the game as well as horse racing and pretty much every sport going. Hansen too was no slouch at golf and played volleyball to a high standard before choosing footy, so the two goaded each other for a while. The older man then mentioned snooker. Owen's face lit up…
'I'll give you a game of snooker if you want.' Of course, he was shit hot at that too.
And that's what he was like in 2001. Good at everything. Yeah, he was clean cut and an England poster boy already at that point, but he was good at everything. He realised that his left foot wasn't as good as his right, so he worked on it all season. It's the foot which wins the FA Cup. He knew he was good but wanted to be better. He destroyed teams that year. Destroyed them.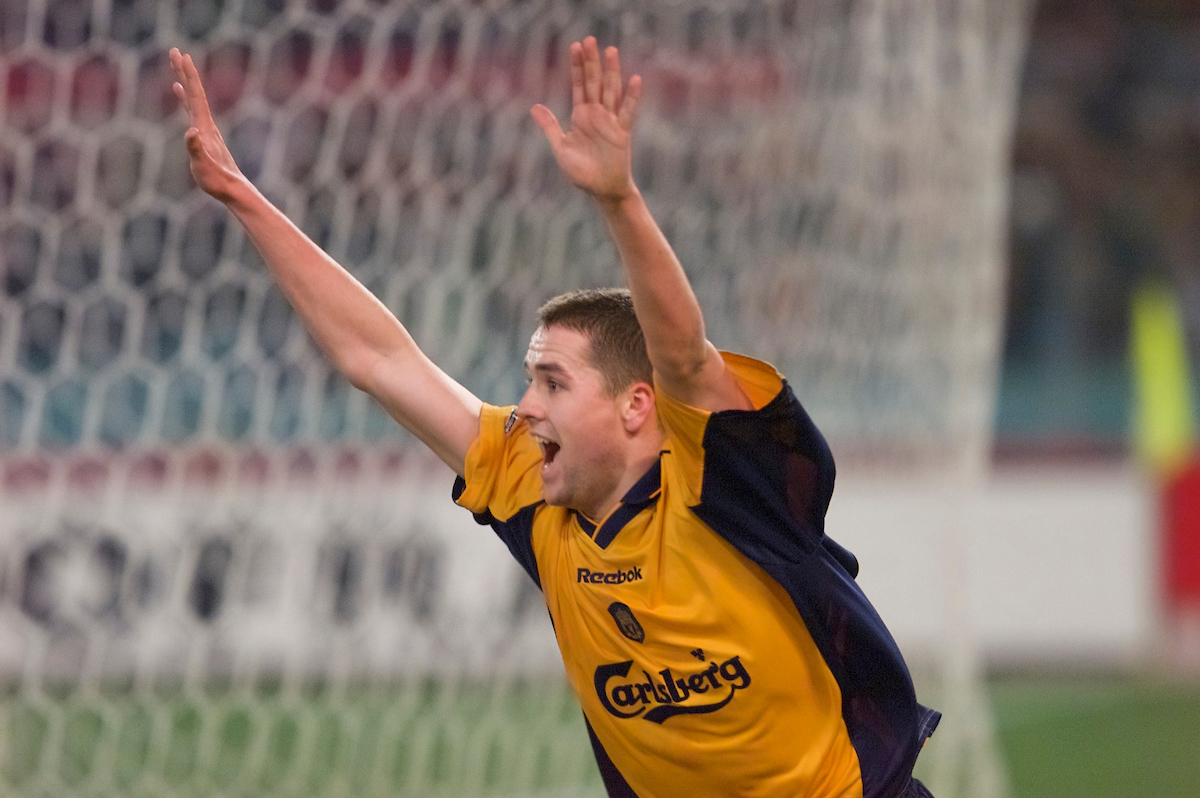 Heskey was always the quieter man of the two but no less important. Rio Ferdinand hated playing against him.
He was on a World Cup Match of the Day once talking about Mario Balotelli. He said the best way to play the Italian was to anger him, to lean on his petulance. A sly kick, the odd shove and a bit of verbal would be enough to get into his head and watch him blow up.
With Emile though the opposite was the case. He'd tell him he was great, shake his hand at the start of the game and compliment him whenever possible. That way he'd stay quiet. 
'You never made him angry,' he said. 'He'd kill you.' 
It's such a shame he was mocked when he lost form. His hat-trick against Derby County in October 2000 was one of the best performances of the season and one of my favourite games ever.
It wasn't just the power he had or his heading ability, but the way he used the space around him. Watch his work in the Arsenal game for Owen's goal at Anfield.
He runs into the channel to take the ball from Carragher and battles with Martin Keown who has to come and mark him. You'd expect a man of such brute strength to hold it up and pass it back into midfield, but he wrestles with Keown and cleverly backheels it into space. His shot is saved but there's tons of space for Owen to knock in the rebound.
You could look at that and think that it was just a Michael Owen goal, but it was just one of many that was created by his mate.
They got 46 goals between them that season, but that only tells part of the story. We love watching goal-scorers run up massive totals, but partnerships are somehow more pleasing. Heskey and Owen may not have the allure of Dalglish and Rush, Keegan and Toshack or even Gerrard and Torres, but watching them dovetail together so beautifully is still an enduring memory from that incredible year.
Of course, that treble was mocked in some quarters. It may not have carried the gravitas as United's 1999 treble or our own in 1984, but without 2001 there'd be no Istanbul. That season was the start of everything and this club should be proud of everything those lads achieved. Even the lads we don't like so much anymore. 
It was worth being threatened at train stations and in DJ booths. Maybe my sacrifice will be remembered too.
---
The Treble Season | 📅 7th June#2001week 🏆🏆🏆

Gary Macca, @Robbie9Fowler, Phil Thompson, Alex Miller, @Carra23, Supporters, TAW Contributors and much more…

⏪ Relive those fantastic days across Video, Audio, and Writing.

Subscribe for 🎥 🗣✏
👉https://t.co/8NRc2Aljnq pic.twitter.com/LX0pDGSpIK

— The Anfield Wrap (@TheAnfieldWrap) June 5, 2021
Recent Posts: