After one of the wildest weeks in football history, Karl Coppack assesses what's next for the game, for Liverpool fans and for FSG…
WELL, that was the European Super League.
How was it for you? I've been to house parties which have lasted longer.
The project may be dead in the water, but we've learned a lot from it.
Firstly, there was how Fenway see us. There's the demarcation of fans. The owners clearly don't see us as one homogenous mass. We're divided into groups.
There are the 'Legacy Fans' who have been with the club for years and whose support is so entrenched that it can always be called upon even at the most trying of times. And then there's the new group from emerging markets who would have added some revenue had they seen the champions playing in the new moneyed competition. In theory, at least.
When the news hit on Sunday it came more with the sense of disappointment than anger, though that changed with every passing minute as the owners hid under their desks with their fingers in their ears. They didn't even put a name to their statements. Joel Glazer got more of a mention than Messrs John Henry, Billy Hogan or Tom Werner.
Disappointment and a feeling of inevitability. It was always coming. If changing the kit to blue and moving the ground to Singapore would guarantee them an extra £100m they'd announce it in days and hide from the fallout.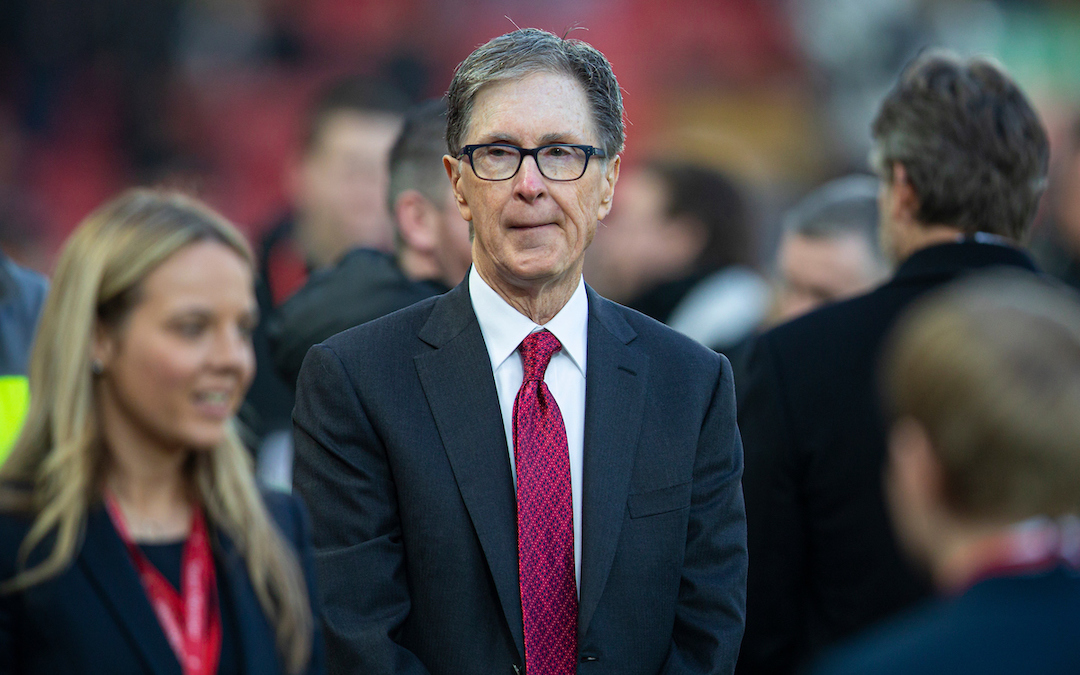 And why did they hide this time? If the new Super League was meant to be that good, why didn't they appear on screen and shout about the glory of this new-found project?
Because they knew it was shit. They knew it was pernicious. They knew it was crass. But it was also money. An awful lot of money and our dignity is always for sale if anyone has the necessary funds. Oh, they knew we wouldn't like it, so they didn't tell us about it until they were safely hidden away. They knew the criticism would be loud, but they did it all the same.
And speaking of criticism, a side note here as this has come up a fair bit of late.
Though the club is always for sale, The Anfield Wrap is not. Time and again I've read that FSG bankroll TAW. That we pay for our access to the training ground and press conferences by turning a blind eye to their shortcomings. It's bollocks from start to finish.
There isn't a single one of us who has been told what to write and what to dodge. Access is given as we're a media platform and nothing more. The writing team wouldn't be here if we were told to go easy on FSG when they fuck up.
I've only had one piece rejected in nearly a decade and that's because Steve Graves wrote a better piece on the same subject on the same day. That's it. Once since 2012.
That said, my 24-part series on Ray Kennedy is yet to be given the go ahead. I know they're busy in the office though and will get around to replying soon. Any day now.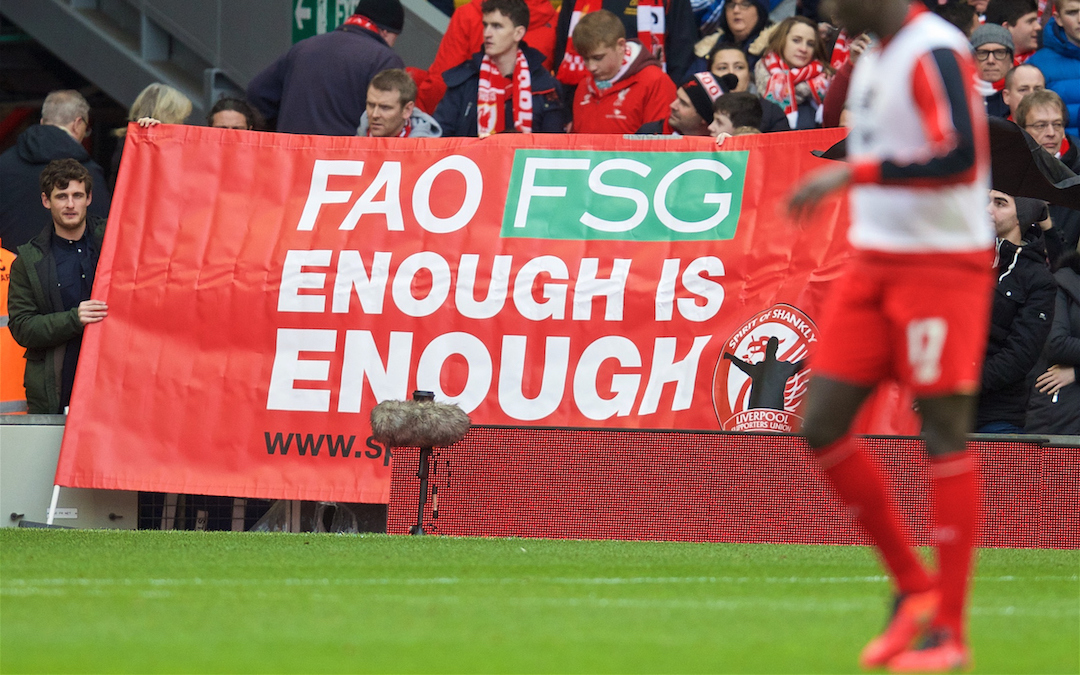 What's more disappointing is that they can sometimes get it right, but for every step forward they make, Fenway retreat a mile.
The coverage around the Madrid final was second to none. The Inside Anfield clips are magnificent and as they've sat on high when we finally won the Premier League and the Champions League, you'd think they'd turned the corner and understood what they've bought. Apparently not.
I can't work out if their attitude to us is naive, contemptuous or just plain unfortunate.
I mean, where to start? The furlough payments, Project Big Picture, the walkout on 77 and now this. All of those decisions were made without talking to anyone other than themselves, including their own manager according to Jürgen Klopp who only found out about the ESL on Sunday as we did.
We can add to that the Clint Dempsey fuck up, the initial decision to not leaflet the ground when the Hillsborough Inquiry called for witnesses, the copyright issues etc…
You can argue that we like a fight here and all owners are treated with suspicion, but the truth is this: We just want them to stop fucking about with our club. That's all.
Actually, that's the same message to the overseers of the game. Stop fucking about with it. VAR, the handball rule, the offside rule. Stop trying to improve something that doesn't need a quickfire 'solution'. Football is great. Football can be awful. We all know that and it doesn't need fine tuning every 10 minutes.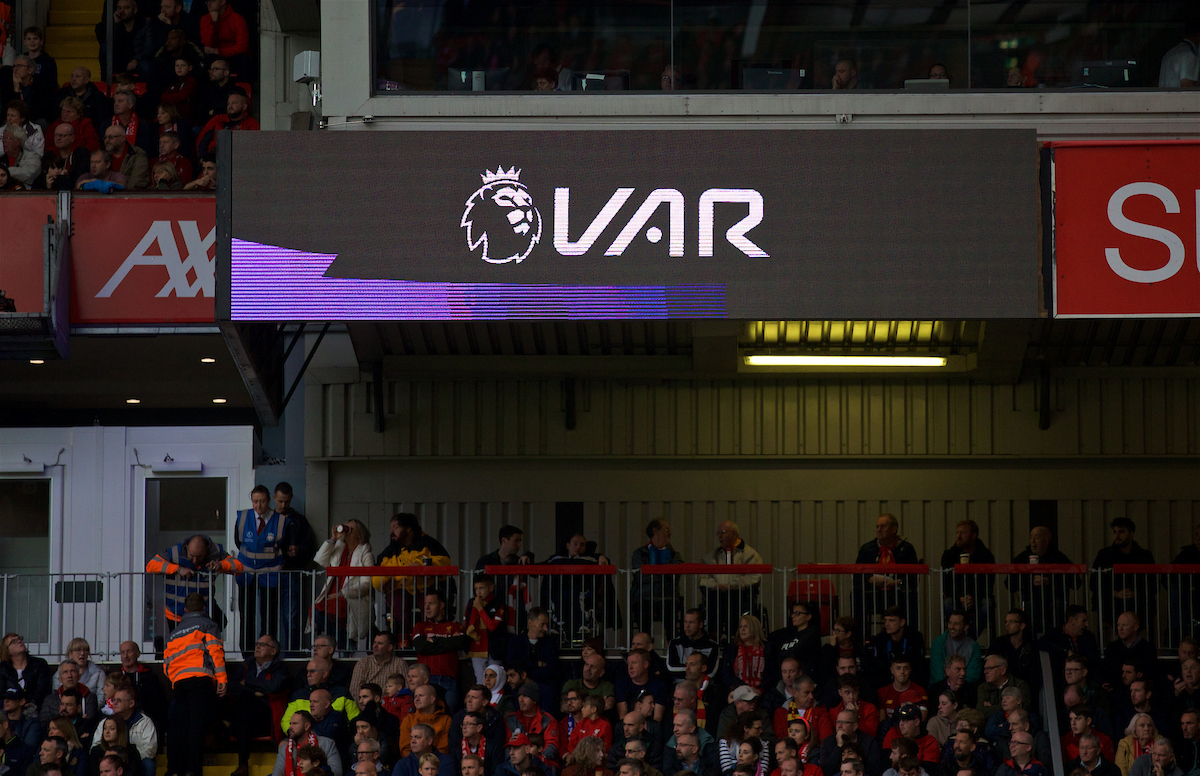 Personally, the worst thing about all this came on Monday night when our lads – the league champions – came out against Leeds United at Elland Road in an effort to try to move up to fourth place and I simply didn't care. I watched it but I read my phone for Line of Duty theories more. (I still reckon 'H' is one of the people in the posh office but maybe it's looking more like the Welsh bloke now.)
I was watching as someone who loves the lads on the pitch but the spirit surrounding the club had been whisked away like smoke.
It's a genuine love and I don't think I've ever been prouder of my team when the players released their statements to the world. It was two fingers up to their bosses and they did it all the same.
Think about Ozan Kabak there. He's not even a full signing and probably wants to make a permanent move, but he too released that statement knowing full well that it may bite him on the arse at the end of the season. That took more balls than the cowardly board mustered between them.
Is there a way back for the owners now? We can say no now as we're still wrapped up in the middle of it, but the walkout was soon forgotten though not necessarily forgiven. Maybe they can ride it out by just shutting up for a bit and not try to reinvent the wheel.
It's been a trying couple of days and one that's really shone a light on the greed that pervades the game. None of those at the top come out of this looking well besides the players and manager.
The game and its governing bodies need to do better, though. Much better.
---
"What these men have done is they've made themselves ridiculous. If you allow yourself to get upset by them then you give them power. Lets take that power from them and point and laugh!"

🎥 Liverpool Leave the ESL | TAW Special📍Anfield

Watch 👉 https://t.co/T9dwONN7zn pic.twitter.com/MenzoJuLBk

— The Anfield Wrap (@TheAnfieldWrap) April 21, 2021
Recent Posts: