It's been a sobering season for Liverpool fans, and Josh Sexton writes that all we have left is hope of what lies ahead beyond this season…
"IT has been a relentless campaign by Liverpool Football Club.
"PGMOL, Fenway Sports Group, the Premier League, UEFA, Sky Sports, BT, the injury fate gods, Matt Hancock and Covid have clubbed in week after week after week trying to break my spirit.
"I think yesterday, yesterday was the day they finally got me."
THAT was Neil Atkinson on The Anfield Wrap's weekly free podcast yesterday, summing up his mental state in the aftermath of Liverpool 1 Newcastle United 1.
It perfectly encapsulates mine after Liverpool 0 (1) Real Madrid 0 (3), but of course we've had an extra helping of football absolutely eating itself to contend with since.
I could not get myself up for Leeds United 1 Liverpool 1 before the game kicked off. I got up for it during the game, but that only served to floor me even further when Leeds United made it Leeds United 1 Liverpool 1.
The events of the past week which have, in the most literal sense possible given my line of work, kept me up nights had redressed the balance for all the madness we've seen this season.
Then Liverpool 1 Newcastle United 1 happened.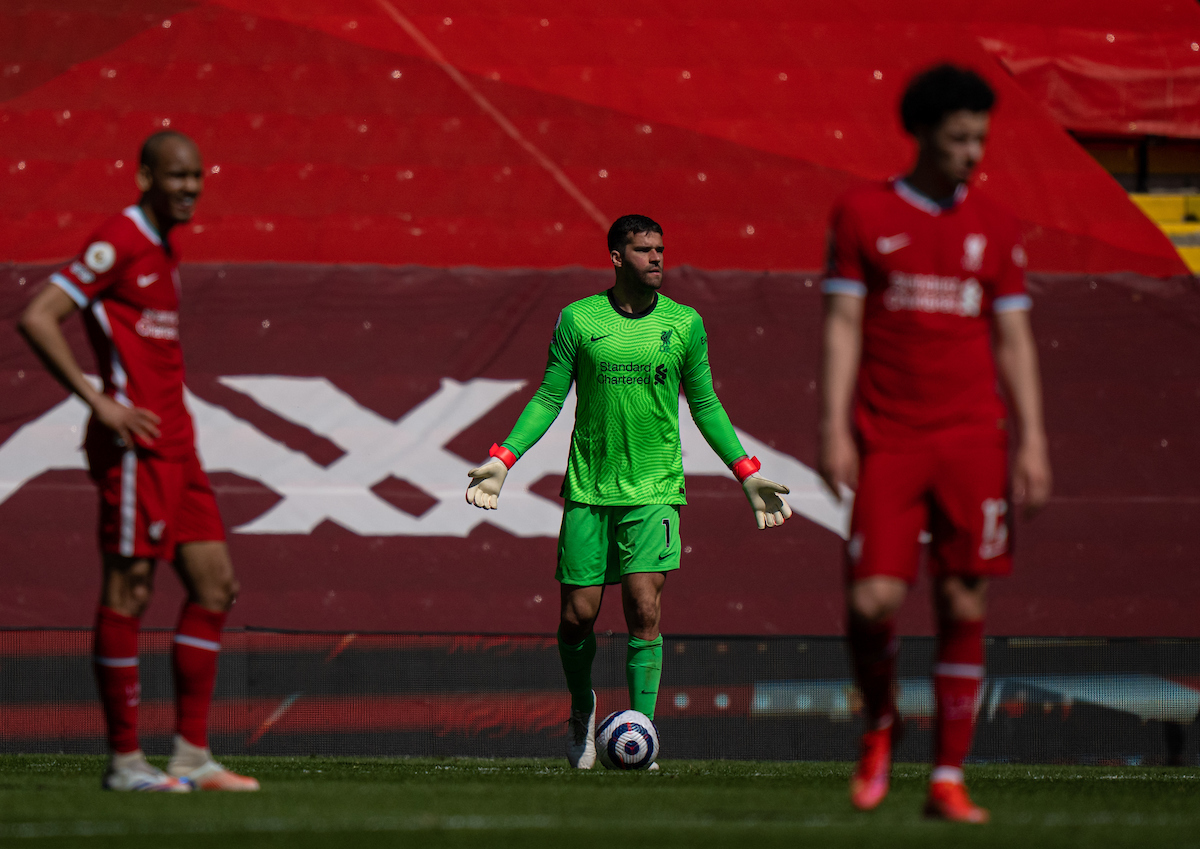 My spirit has walked over several rakes which have flipped up and eventually knocked it unconscious. My spirit has been bundled into the back of a white van. My spirit has been taken out into the woods and my spirit has been loudly shot with only a flock of fleeing birds around to hear.
All I want is for this season to end, a feeling I think most can relate to, but then I feel like I've also been starting to worry for the first time about what comes next for Jürgen Klopp and co.
Can we still casually say this has just been a mad season and that – with the return of crowds, Virgil van Dijk, Jordan Henderson, a proper pre-season, a normal season start date and any semblance of normality whatsoever – things will be better for Liverpool Football Club?
I'd love to say I still do, but I have genuine concerns.
For a start there's the obvious: the lack of goals. You could argue it's an upward curve given that we could barely register a shot just a few weeks ago, but it still makes for a tough, tough watch.
The Reds have gone from being one of the most clinical sides this league has seen, to a side who look like they'd struggle to slot if you told Martin Dubravka and his mates to take the day off and made the goals the size of The Kop end.
It's clearly become a mental block and maybe that's why so many are confident it will turn around with the promise of a fresh start in August, but you have to wonder whether it goes any deeper after the events of the past 13 months.
But another thing that came up in my usual post-match autopsy with my mates in our Reds group chat at the weekend was that this is a side who now looks like they lack leadership.
Now that is mad given what we've seen the past few seasons, but with some of the meek showings so far in 2021 it's hard to argue with.
Missing Henderson and Van Dijk would obviously leave a big dent, but perhaps the way things have been going have taken it out of the likes of Alisson Becker, Trent Alexander-Arnold, Andy Robertson, Gini Wijnaldum and so on – lads who we'd have previously expected to step up when required.
They can be forgiven for feeling hard done by with everything the world has thrown at them, as I wrote about in my column a fortnight ago, but I'm sure I'm not alone in worrying about how deep these cuts are.
The wounds from this season are open right now and they may still be sore as we move into the summer – especially if the unthinkable but likely scenario of missing out on the Champions League comes to pass.
Hopefully the scars from this mad, mad season are nothing more than motivation to bounce back at the first time of asking.
If there's anybody who knows how to recover from a fall, it's Klopp's mentality monsters.
---
"The manager's vindicated in terms of what he selects and how they go about it – other than they can't score."

"They have chance after chance. Klopp's got it right."

The Review @Dan_Morgan3, @Knox_Harrington, @Sean_Rogers 🗣

Subscribe to listen 👉 https://t.co/oaOWcUzrlr 👈 pic.twitter.com/zKPmXfcO1e

— The Anfield Wrap (@TheAnfieldWrap) April 26, 2021
Recent Posts: