After Liverpool edged their way to a win at Wolves, David Segar writes that The Reds must use it to make a big push in the league…
IT was the sort of win that took Liverpool to the promised land last season.
The Reds went to Molineux on Monday night and fought their way to three points. Boss Jürgen Klopp described them as "dirty points", which seemed to make him happier than a more routine win would have.
Klopp knows that if his team are to make a late run at finishing in the top four, they will need to repeat the trick several more times. Due to the turmoil that has been a main feature of the 2020-21 season, it's too much to ask that this depleted and exhausted Liverpool squad put together nine perfect performances to collect all 27 remaining points on offer.
After back-to-back defeats at home to Chelsea and Fulham, many wrote off Liverpool's chances of claiming a Champions League spot through the league, but football is nothing if not fickle. Following a victory after a weekend in which Chelsea, West Ham, Everton and Tottenham dropped points, all of a sudden, the league campaign isn't quite the definite write off many had condemned it as.
Neil Atkinson was correct in his post-match review last night that we shouldn't be fixated on the league table just yet. I have always found the obsession with the table throughout the season baffling, and it still isn't really worth focusing on until May. If Liverpool are within reach then, we can start doing some important maths.
Following the win at Wolves, the Champions of England have a three-week break until their next game, which is an ideal an opportunity for them to prepare for one last big push to make something of the remainder of this seemingly cursed season.
Some have compared the incredible fall from grace that has occurred at Anfield since Christmas to Klopp's final year at Borussia Dortmund. It should be remembered that Dortmund turned things around back then after a winter break in which they were able to rest, reset and rediscover their true level.
BVB had six weeks off in that time, while Liverpool will have just three, and two of those will be taken up by many of the squad travelling and competing in international games.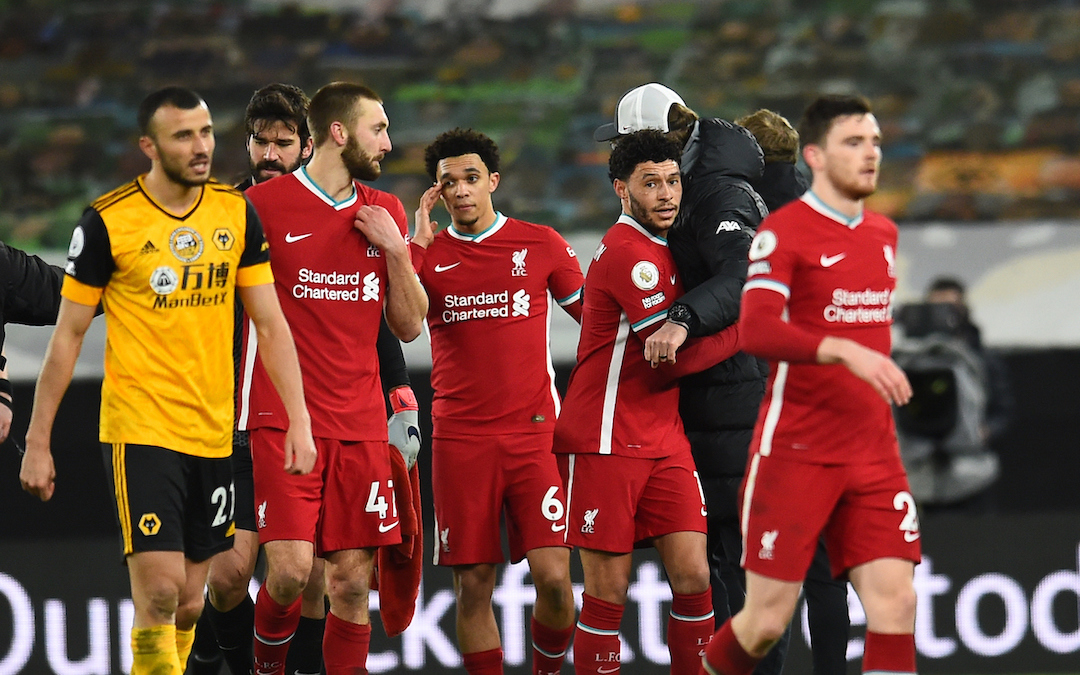 They can still use the long break from domestic games though, and crucially, they go into that period on the back of a confidence boosting week in which they comfortably dispatched of Bundesliga title challengers RB Leipzig in the Champions League, and took three points from a tricky trip to Wolves.
With Diogo Jota back in the team and back in the goals, Nat 'Hyypia' Phillips and Ozan 'Henchoz' Kabak keeping another clean sheet and looking as reliable as could be hoped, and Fabinho taking up his favoured role as the team's "lighthouse" in midfield, the seemingly returning self belief that has been absent for the last few months could take Liverpool on a points-filled ride as they finish off a season that we'd all like to see the back of.
It could be argued that the only hurdle to a strong run of form that The Reds need to leap over is to get back to winning at Anfield. Despite everything, the away form hasn't been all that disastrous.
Since their last home win in mid-December, Liverpool have played 12 games away from Anfield (including the 'home' game against Leipzig in Budapest), winning eight, drawing one and losing three. You could also argue that they played pretty well in two of those three losses.
If they can get over their home form hoodoo, a run of fixtures between now and the end of the season in which they only have one game against another top eight side could find Liverpool with plenty still to play for in May.
They would still of course be reliant on rivals above them dropping significant points, but those teams have tougher looking fixtures, and many still have to play one another.
Manchester United may be out of Liverpool's range already, but do have to play Spurs, Leeds, Aston Villa and Wolves away, and face Klopp's men at Old Trafford in early May, and then Leicester at home after that.
Brendan Rodgers' Foxes have picked up form of late, but themselves have Man City (home) and West Ham (away) up next, and end the campaign with trips to United and Chelsea, and a home clash with Tottenham.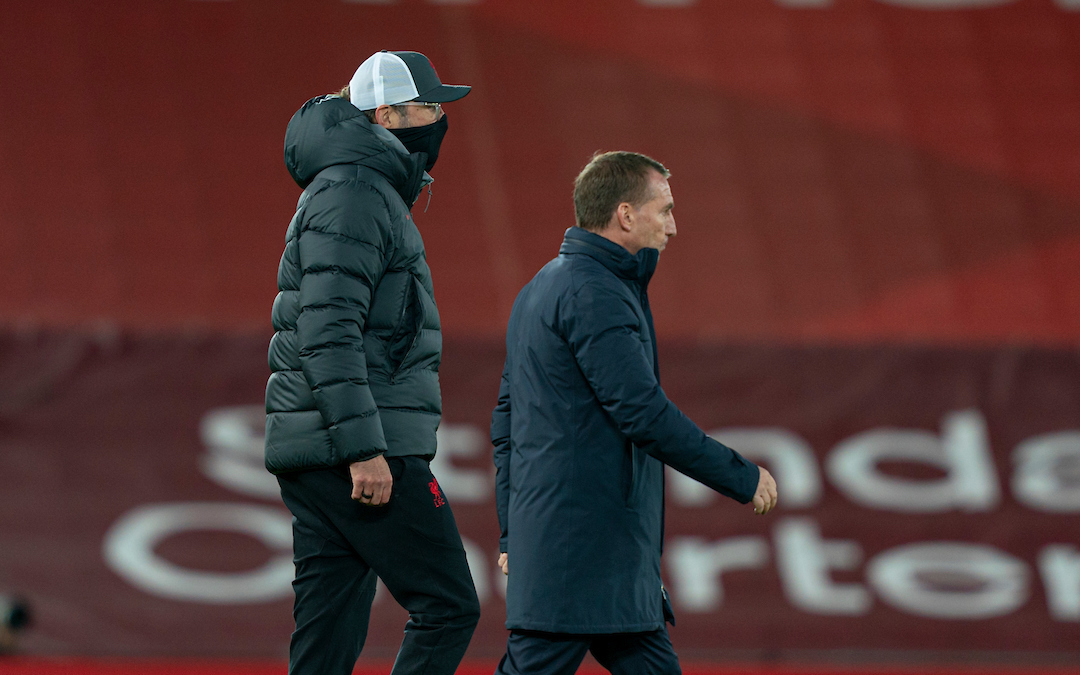 Chelsea have been impressive since Thomas Tuchel arrived, but have a tough looking final six games, with Fulham, Arsenal and Leicester at home, and West Ham, Man City and Villa away.
Of the teams currently around Liverpool in the table, it should be noted that West Ham and Everton still have to play one another, as do Everton and Spurs.
This is not to say that Liverpool are in any way likely to finish top four. Most betting experts will tell you to continue to back the current top four, but they have given themselves a glimmer of hope, and how often has that been all that this group has needed?
The bad news for Klopp is that there aren't many more players likely to come back before the end of the season, but the bad news for the rest is that this group of players – sellotaped together as it is – is starting to look a little bit more like the Liverpool that collected points for fun between 2018 and 2020.
The dominant performance in both legs against Leipzig followed by the sweaty win at Wolves were the sort of things we saw across both of the previous seasons, and if Klopp's men can rediscover their aura of invincibility at home, there could well be plenty more points making their way onto Liverpool's total.
Will it be enough? Who knows? The important thing is that they give themselves a chance.
Even if it means collecting points that are so dirty, the club has to start paying royalties to Christina Aguilera (that's still an up-to-date reference, right?).
---
"Business end of the season, two things to play for. Nine games to go, Champions League run in, lets see where it takes us."

Subscribe to watch the Post Match Pint and more reaction to Liverpool's win at Wolves – on video and podcast 🎥🗣

👉https://t.co/oaOWcUzrlr👈 pic.twitter.com/E8p16K3uXc

— The Anfield Wrap (@TheAnfieldWrap) March 16, 2021
Recent Posts: