Neil Atkinson's post-match review after Wolves 0 Liverpool 1 in the Premier League at Molineux…
ALL solidarity to Rui Patricio.
Everyone will be wishing him the very best, and his family and loved ones too who must have been terribly worried watching the final minutes of the game. We hope that he will be as OK as he can be well as quickly as possible.
Nothing matters more than that, as Diego Jota put it at the end of the match, life is more important. The Wolves manager tells us after the game that he is okay and conscious, but it is right that the medics take every second they need to make sure he's safe. It was good to see the protocol work as it was intended.
It was, across the hundred-odd minutes, a strange affair, a game which constantly had another twist, another 50-50, another press, another miscontrol of the ball. It also had another moment of quality, another threat, another great ball into space, another turn to go with its twists.
It is rare to get to play football quite like this, to feel it quite like this – the game where there isn't a great deal riding on it. This sort of game remains rare and that is a good thing for Liverpool Football Club but it was enjoyable tonight.
There's a chance that turns again this season; a slim one. But don't look at the table just yet. Don't let it distract you. Don't look it in the eye. We can play more games like this one if we just block it out. Look at it at the end of the season. Look at it in May.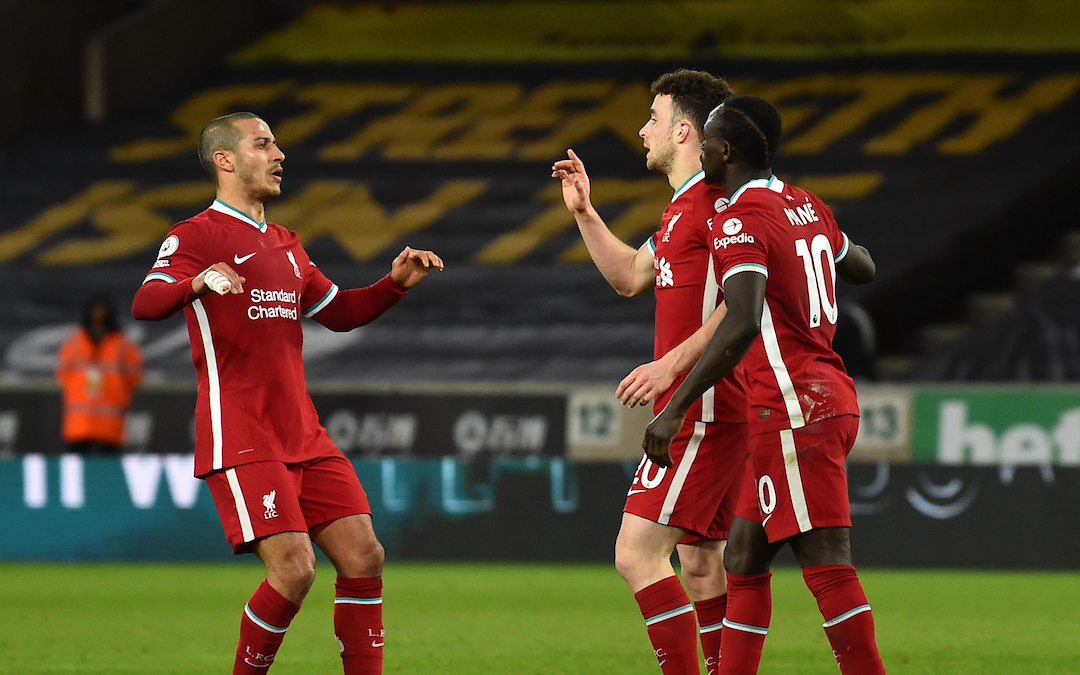 Playing Wolves at Molineux should be fun pure and simple. Fireworks, a DJ, something of a party. Of course we know this is not that. We aren't there for a start. And what's more, this isn't a stress free game for Liverpool the team. For us perhaps but for them they will feel they have so much to prove.
Possession wise we just give the ball away too much. It is noticeably bad still. That bit too slow, that bit too discombobulated, and we are still way too loose on the ball. We do not win the battle for possession in this game, not statistically or mentally, and that is still a problem.
There are other fundamental problems, related to players still missing. But let's talk about what went right for Liverpool tonight…
1. The defenders…
Nat Phillips was excellent tonight, and had a look of being settled with Ozan Kabak. Kabak was quite possibly the man of the match. He anticipates danger expertly across the extended game. Clean sheets don't lie and the goalkeeper does excellently throughout after his early spill.
Trent Alexander-Arnold and Andy Robertson are even better. Trent makes strategically important clearances that help deal with the onslaught that comes from the lack of possession. All season his defending on the cover has been improving but tonight it is as good as any full back past or present you care to mention. Andy Robertson is better still going forward. He looks faster than he has. Having these two players back on form is all the world for Liverpool tonight.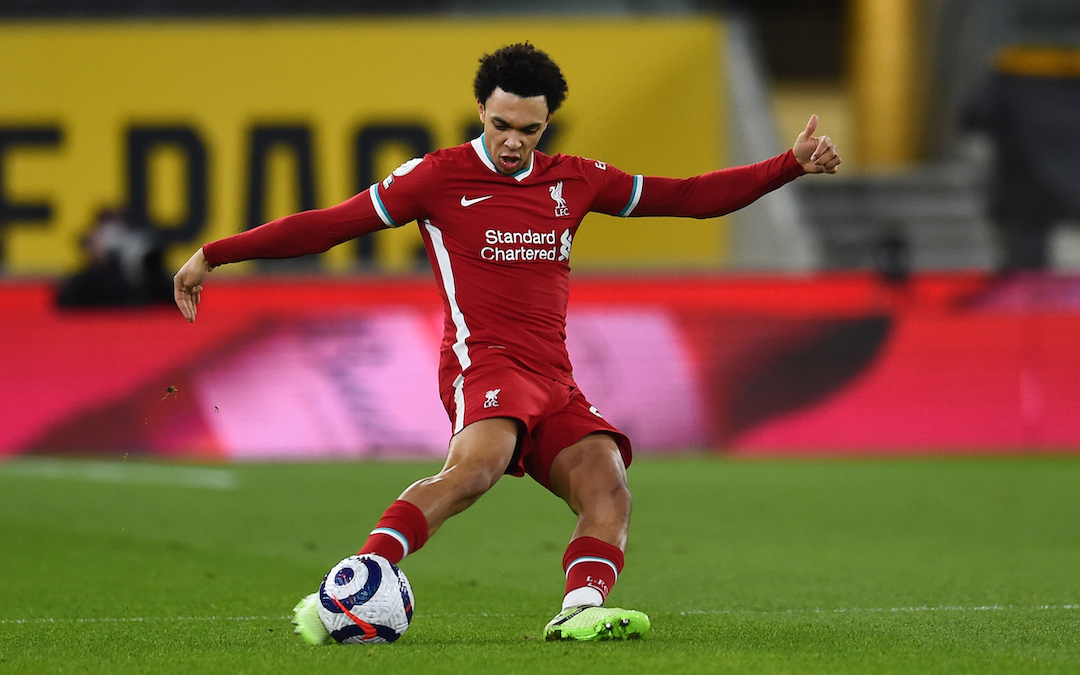 2. The attacking players…
Tonight is full of chances despite the lack of possession. Striding runs from Salah breakout and should result in more chances. There are still opportunities missed, but it feels like we are getting closer. And you can't help feeling that the return of a former Wolves player is at the heart of it. Not least because the Jota goal is a tricky shot into the side of the goal right at the end of the first half, which could have been easily missed on recent form.
Liverpool drag Wolves to one side of the pitch then pass beyond them quickly. The pass back to Jota enables him to strike the ball low and hard such that all Patricio can do is get his fingers to it only to tip it into the back of his own goal. We want a second goal really but let's be grateful we didn't rely on it for the three points.
When Salah smacks one in only for it to be ruled offside, it is disappointing but not crushing. We just need to win here, and it feels like the movement of Mane, Salah and Jota causes enough problems for Wolves that we are able to beat them back.
Sadio Mane's use of the ball is strange, frankly. What is constant is his ability to get on it. To paraphrase the greats – you have to get in position to do something mad. He does that. He gets into position. He gets on the ball. He then does the mad thing. But his ball for the goal is excellent. We use our pace upfront to move into space that Coady and co leave us.
Long may it continue.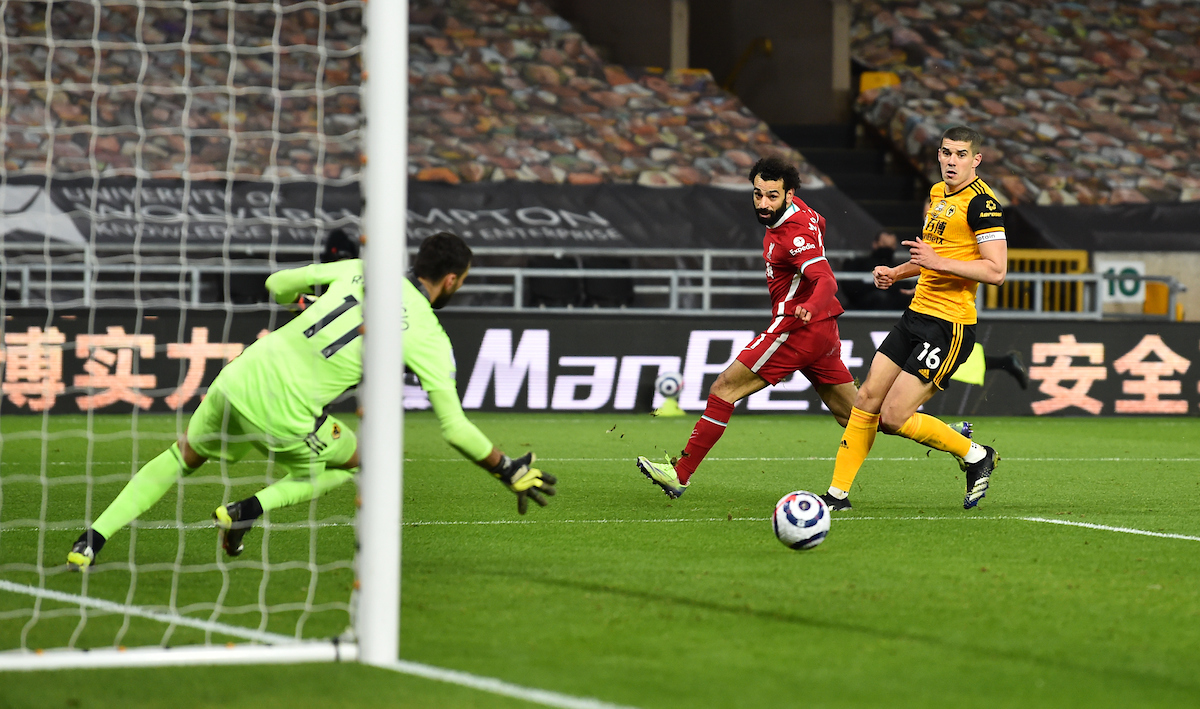 3. The substitutions…
Jürgen Klopp makes three substitutions on 67 and 82. Klopp makes these substitutions not out of desperation but in order to save legs. This should be a relief to everyone.
Naby Keita coming on to up the tempo, rather than players being thrown on in a last-ditch attempt to make something of a game is a relief. James Milner coming on to bolster defence to protect a lead rather than to deal with panic on the pitch is a relief. But Alex Oxlade-Chamberlain is a man possessed. He throws himself around the pitch, a whirling dervish. It was his best performance of the season and he is desperate to be part of a winning side.
Wolves are a decent side who play well. Certainly they take the game to Liverpool and make the most of our sloppiness. If Liverpool are 10 per cent worse, they could easily equalise. But Liverpool, as a unit, are desperate to be a winning side. They see out the early charge and the late charge and any mini charges in between. They pick their moments. Wolves are waiting to see if there is a weakened Liverpool.
But we aren't weakened to the point of being weak. We are, thankfully, OK. This is not a party. It is not a riot. But it is OK. A game of football broke out, there were only cameras there to see it, and the side with the better players shades it. There probably should have been more of this.
Now for a break as the players go off to international duty. A change is as good as a rest as they say. Well, yes. No injuries please though, Redmen. No injuries and no upsets. Just come back to us and get ready to scrap our way through the rest of this awful season.
We'll see you soon. Everyone just get home safe. We've got a job to do in April. Don't look at the league table. Don't look it in the eye.
But the draw on Friday, be prepared to stare it out.
---
"We looked good, and it was contained….The boys were assured I thought in their play; and they didn't panic."

🗣 Wolves 0 Liverpool 1: The Post-Match Show | #NewPodcast | #LFC

Subscribe 👉https://t.co/oaOWcUhPWR
Listen 👇https://t.co/YqJrfvdOqx pic.twitter.com/KzbIe7OEKb

— The Anfield Wrap (@TheAnfieldWrap) March 15, 2021
Recent Posts: