Ben Johnson highlights five things we learned from Liverpool's 1-0 loss to Fulham in the Premier League at Anfield…
1. Honestly sat here looking at my laptop. Five things we learned. Number one…
I would rather someone broke into ours, twatted me all over the house with the laptop and I submitted whatever mad letters made it onto the page from the keyboard breaking my fucking face in half than having to sit here and regurgitate that shite.
I mean, what the fuck have we learned from that that we didn't fucking learn last week, or the week before, or the week before that. This current version of this Liverpool side might be the second worst team in the league. They are the easiest team to play against for fucking sure.
Honestly. You would lick your lips getting the opportunity to go to Anfield now. No fans, and fucking do what you want on the pitch. Pack the edge of the box, twat it up the pitch, run riot. Score, let them other soft cunts have the ball as they will do shite all with it. They won't lose their temper and volley you, you will hardly know you have been in a game.
It's almost beyond what the human mind can understand, some advanced physics bollocks what's going on here. What is happening? Genuinely. I am asking cause I sure as shite haven't got a clue.
2. I don't think I have ever known anything like this, you know…
These, in the main, are good players. The best we had ever seen this time last year. These, in the main, are good enough to at least create some fucking chances. What is happening to them when they set foot on the pitch is of genuine concern at this point. They are finding new ways to be the worst version of themselves time and again.
My main concern now is whether they are able to shake this malaise off next season or whether the psychological scars will travel with them, because something somewhere is missing. Whether that comes from the players themselves or the manager is one thing but this needs to stop.
The best thing about The Reds for the last two years was that they had forgotten how to lose. These fuckers are remembering that with Gusto now and the worry is that that is a mindset that can linger like fuck. Does this just go away when fans are back, or Virgil van Dijk is back, or Jordan Henderson is back? Let's fucking hope so, eh?
3. Is it just as simple as that the players think lockdown footy is just as shite as the rest of us do?
It's like a fucking chore at this point. Like going to church when you are a kid. Made to go, got to turn up, fucking dance out of there with the body of christ still in your grid, fucking made up that that's done with for the week.
Is it just that Jürgen Klopp built a side so in tune with the fans, with the way we play reliant on the waves of support that Anfield offers that they are genuinely lost without it? They look like they don't want to be there. Aliens in their own gaff.
How many times has that happened to a Jürgen team in the whole time he has been here? I'd say six or seven and they have come all come since Christmas.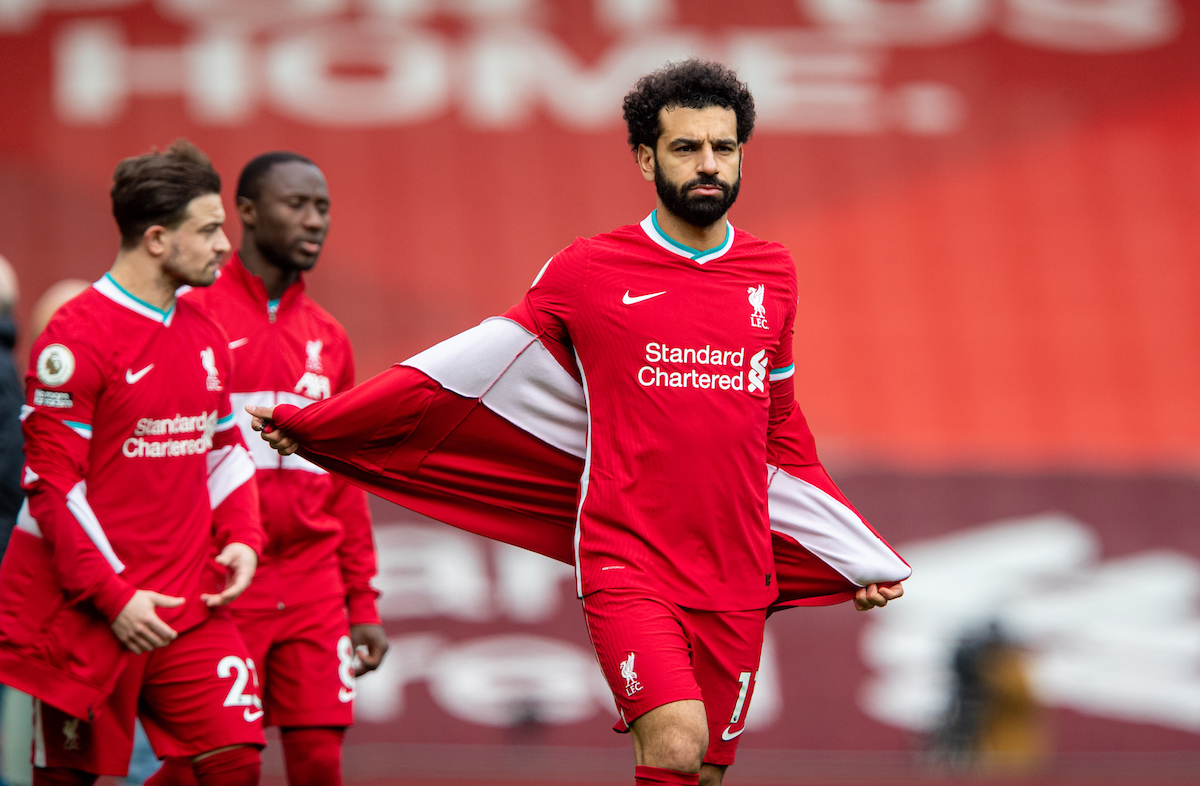 4. We got a glimpse, just a glimpse of what it is to play like with some semblance of presence in midfield…
Fabinho come on and won the ball back time and again. A little glimpse of how we used to build pressure, to pen teams in, until they offered up a chance.
It didn't work today, but fucking hell I can't wait till he can play his proper position.
5. Anyway, enough of this maudlin shite. Onto Wednesday. The biggest game of the season…
The Reds have got to find a way to get into the quarters. I was looking at it before. The second leg is the middle of April. Can we get a friendly draw, stay in the tie until Henderson comes back for the second leg and doesn't stand for anymore of this shite and somehow find ourselves in the semis?
Unlikely as that sounds at this point, seen as though we are on form the second worst team in the frigging league, could we roll out of this fucking season Champions League winners? Worse teams have won European Cups. Clutching at straws at this point but frankly what else is left to do?
Up The Reds.
---
Every time you think Liverpool have hit rock bottom, they find a way to sink lower. It's now *six* home defeats in a row. Pure unadulterated shite.

Subscribe to TAW Player for the reaction, analysis and inquest on audio and video 👇 https://t.co/oaOWcUzrlr pic.twitter.com/xbcV0hlK3n

— The Anfield Wrap (@TheAnfieldWrap) March 7, 2021
Recent Posts: