Neil Atkinson's post-match review after Sheffield United 0 Liverpool 2 in the Premier League at Bramall Lane…
NO more tears. At least for now.
I mean, you never know. But at least today has no more agony watching this side remotely. Instead it helps build towards next season.
It threatens it for a split second. For a moment or two. You panic for the goal that was offside and you are dismayed at the fact that Liverpool don't score in that first half. It feels like the yesterdays. It feels like the same. But it isn't the same.
There is something in the selection as well. You wanted it to be different. You wanted the bench to be different. Not more of the same but less good.
The Liverpool team that takes on Sheffield United today is still one held together by sellotape and bits of string. Just when you think we haven't got any players left to get injured, the captain Jordan Henderson is now out for what could end up being months.
Our defensive pairing today must be the least experienced defensive pairing with red shirts on for many, many years. It looks less shaky than it should tonight.
Perhaps that is because others around them are stepping up. Trent Alexander-Arnold and Andy Robertson are high up the pitch, and the midfield looks strong today.
If not for the goal, it is arguable that Wijnaldum should be man of the match and not Curtis Jones. He charges forward and creates pace and space that allows the team to break from the Blades' press. He is calm and deliberative and then uses his pace to create the movement that makes Liverpool look a danger to Sheffield United despite the lack of goals in the first half.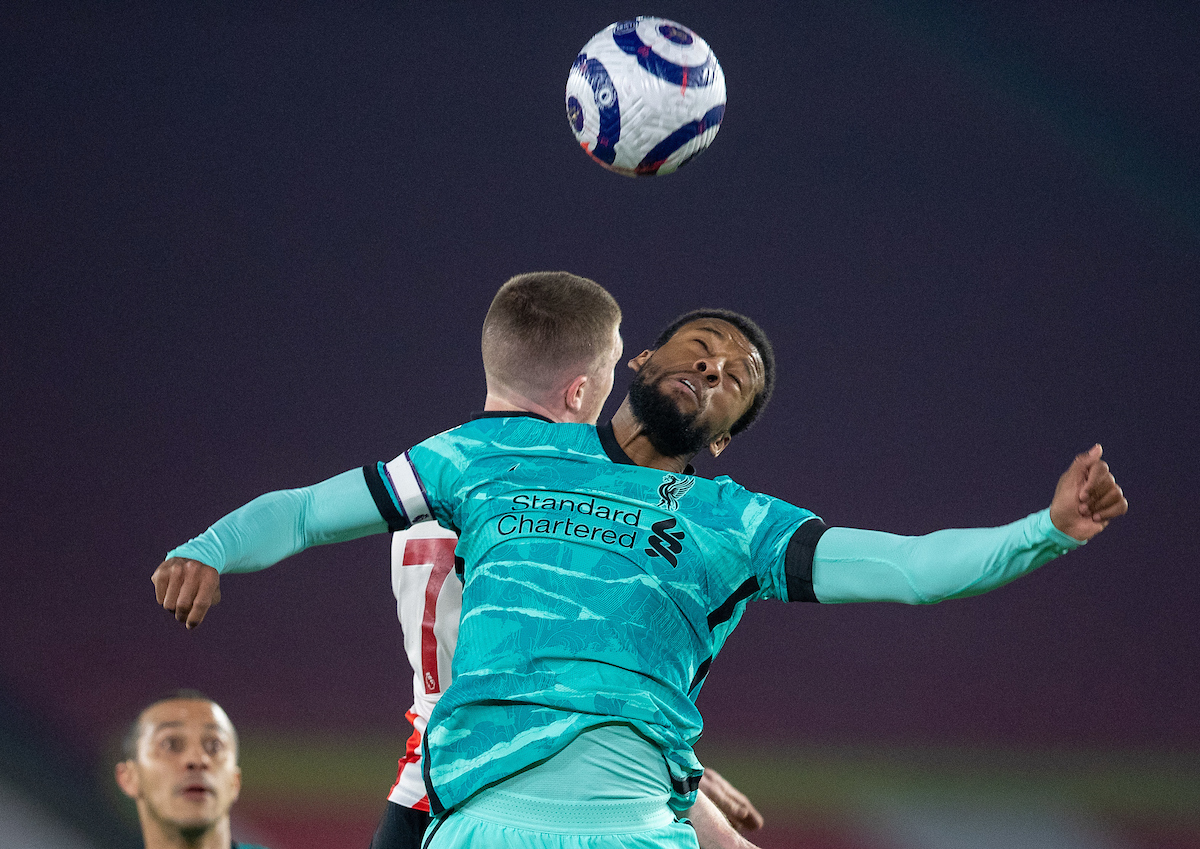 Roberto Firmino is similarly dynamic. There will be debate about whether he should have shot more often, scored more often – he should have scored and should have shot. But then we are distributing well and look fierce through the game, and that is Bobby as much as anyone. He plays ever so well in a tweaked shape.
The in-possession shape is really interesting. Sadio Mane plays off the left only from the point of view of where he defends. When we win it back he goes central and goes there quickly.
Curtis Jones joins the front three and goes very high indeed. I haven't seen any average position stuff yet but Roberto Firmino appears to tuck in right. Mo Salah comes narrow some of the time, goes wide others.
Thiago Alcantara and Gini Wijnaldum take turns to break forward. Andy Robertson makes the pitch huge and Alexander-Arnold playmakes from very deep indeed.
It was quite different. There was a lot of chat that it was more of the same from Liverpool at half time and that wasn't quite right, wasn't quite fair. It isn't the same. Not in planning, not in execution and not in the way it plays out. No more tears.
There is this sense of anxiety that spreads quickly amongst us. It's funny, the "us" part, because of how it is different. Doing the HotMic or checking on social or just looking on the WhatsApp and seeing people just on the floor. I understand why. Everything bounces back at you. Every emotion is inward. We don't share them conventionally now.
When the game finishes I want Liverpool within that group to be able to share conventionally. I want them bouncing into training tomorrow. I want the bangers to be on over Snake Pass. I want them feeling it as they always would. We can't, not quite, but we're not that relevant. We will keep.
On our opponents, they look like they have so much accumulated fatigue. In both halves the legs fall off them. This isn't a cheap dig at Chris Wilder on his five subs position, just an acknowledgment that what sides do year after year mounts up as much as anything.
Last season Manchester City suffered from it and they have all the money in the world. Bernardo Silva 18-19 to 19-20 to 20-21 tells an enormous story. This season it is possible Liverpool may have, but the injuries make any assessment tough.
These Sheffield United lads have dragged themselves through three big seasons and you can see that wear and tear at times.
Sheffield United's goalkeeper deserves credit for keeping out a number of front three efforts. Ramsdale is one of those keepers who could have a really great game and stop all comers, despite Sheffield United's poor form. He does well given how well Liverpool get to his area. That he doesn't get a clean sheet is due to two solidly good strikes that make his life too difficult.
At the other end of things, McBurnie imposes himself on our newbie centre backs to some effect but with no clear cut chances.
Curtis Jones on the other hand sees a clear cut chance and takes it.
The focus is on if the ball is out but Firmino's flick back is magnificent, not dissimilar to Leicester City. The ball flies past several players and hits the back of the net with certainty. The only uncertainty isn't from Curtis but the VAR check verifying the build-up play hadn't involved the ball leaving the field of play.
Jones doesn't even look worried. Maybe it is the confidence of a 20-year-old who just broke into Liverpool's first team. But he never looks worried.
Firmino's goal halfway through the second half ends up being declared an own goal which is slightly irritating for him, but you get the impression that neither he nor the team are worried. They shouldn't be.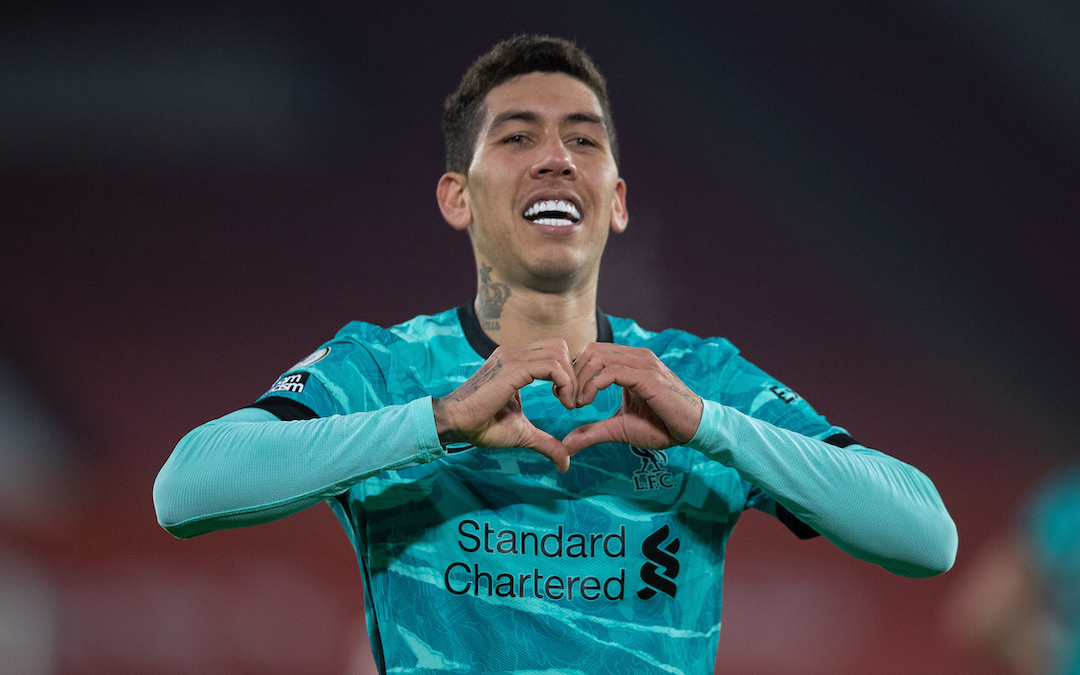 This is a game that feels as good as the result. Liverpool have nowhere near our best players on the pitch but we play brightly and score good goals. It may not be a warm summer yet. There is a long way to go and Liverpool have a hard battle ahead, not for title glories but to make the best of what has been the bleakest of winters. This might – might – just be a sign that spring is here.
A few weeks back I mentioned watching the women's game and then the men's and being driven mad by both. Not one but two Liverpool FC wins today feels good. One swallow doesn't make a summer, but two is a ray of sunshine after what has been a cold and lonely time.
Post match the manager says there is a job to do and it is all results. This is true right now in the league for this side. There is just a job to be done for us all. Because we want and need Champions League football next season.
Enough of feeling sorry for ourselves. I want us pushing this season in Europe, of course I do. But my eyes are on when we could just be together, welcoming the cream of Europe to our patch.
The job is about giving 2021-22 every chance to be special for all of us and for them too. They deserve it. So do we.
Onwards to Thursday.
---
"He's got a potential 10 or 12 year Liverpool career ahead of him, with plenty more special moments."

🗣 Sheffield United 0 Liverpool 2: The Post-Match Show | #NewPodcast | #LFC

Subscribe 👉https://t.co/oaOWcUzrlr
Listen👇https://t.co/dwJZO4yN3d pic.twitter.com/oyk9aBJq0G

— The Anfield Wrap (@TheAnfieldWrap) February 28, 2021
Recent Posts: