Rob Gutmann's match preview ahead of Liverpool v Manchester United at Anfield, with a perfect opportunity for The Reds to arrest their recent slide…
SUPPORTING Liverpool has always been, for me, an act of faith.
It's hardly an original observation to view devotion to the concept of a team as being equivalent to blind loyalty to higher beings.
It is no coincidence that in a life that I have chosen to lead, devoid of religion, that in LFC I have found my religion. Truly religious people will tell you: 'Faith is not a straight line. It is tested. Time and time again.'
It's a bit like when one minute you believe your team to be the best in the world, then the next you have a nagging fear that they may not be all that. You'll be getting a feeling of where I'm going with this by now.
I date my conversion to LFC to the autumn of 1977. Kenny Dalglish, a vision of Reds and golds and goals, showed me the light. From that season onwards I was a devotee with unshakeable faith.
During my first 13 years of worship, that faith was occasionally tested, but always majestically restored. Time and time again. As a fan in those days you became conditioned to understand that the low ebbs were merely essential precursors to the glory that was to inevitably ensue. The pattern was clear – rise, fall, redemption, rise, rise and rise again. It seemed like we, Liverpool, were eternal.
In a bad phase, when the team was playing poorly and injuries were mounting, it was tough to deal with. It hurt then as much as it does now, but then there was a sense that patience would be its own reward. Yes, we could expect turbulence in any given season, but eventually there would come a correction and a smooth passage assured.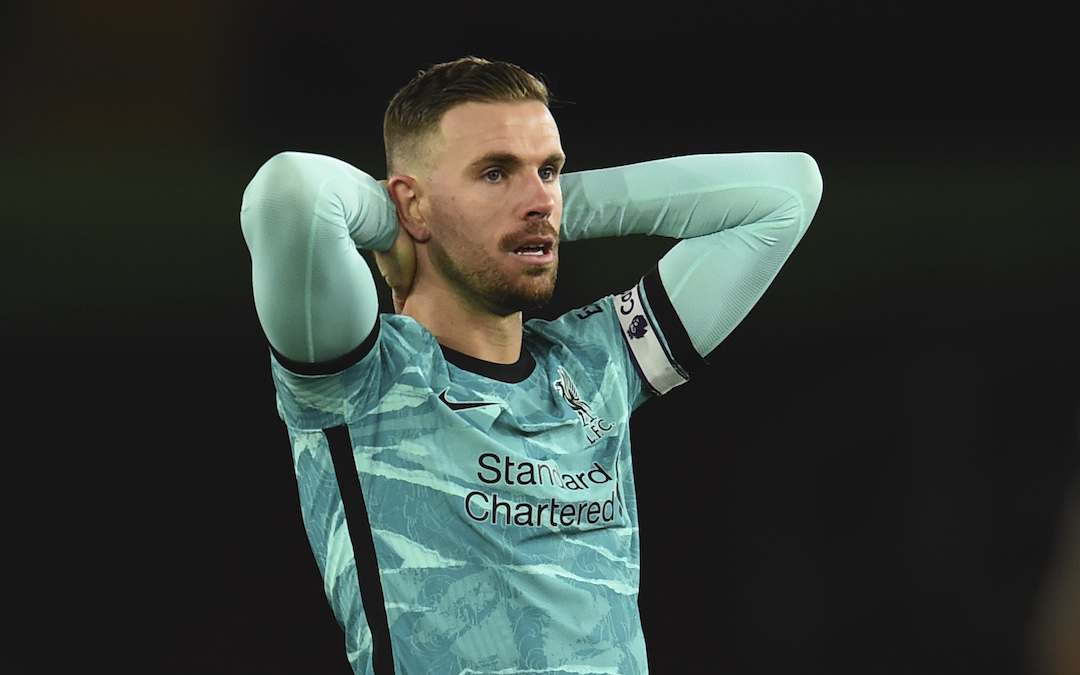 In the post-1990 decades I think we all lost our faith, or at the very least we had to readjust what our thinking as to what our faith represented. In the past 20 years we were more likely to view a winning streak as the false imposter and the barren patch as nearer to a default to the norm. We had lost faith in Liverpool as football team that wins.
That is not to say 1991-2018 Liverpool were a bunch of losers, it's simply that we could never trust that any of the teams that era produced were the 'messiah' team. In all those up/down years we dreamed of a side that could hold its own with Shankly, Paisley and Kenny's super teams. Teams that didn't just win, but won again and again and again.
The messiah team is the current Liverpool team. It has done enough in the past three years to be ranked with the immortals. It is now, however, at a crucial cross roads. Or so it very much seems.
If this was 1983 and the scene at the top of the table was set as it is today, I would know how it all plays out. I'd know that Liverpool were the best and would soon find a form that would demonstrate that, and once discovered that form would be a relentless entity that would sweep us to the title. And should we fall just short, no matter, we would simply reclaim our crown the following campaign.
We felt we were living within a Disney movie about a football team. You didn't know exactly how the plot would unfold but you knew that good would triumph over evil.
Today things aren't so clear. I want to have faith in this current Liverpool manager and team. God knows they've earned it. But our story is still young. We are up against an opponent that has its own reasons to be unshakeable in its belief in itself.
That team isn't Sunday's opponents – Manchester United are as flakey an outfit as any 1991-2018 Liverpool incarnation – I'm talking about Manchester City, of course.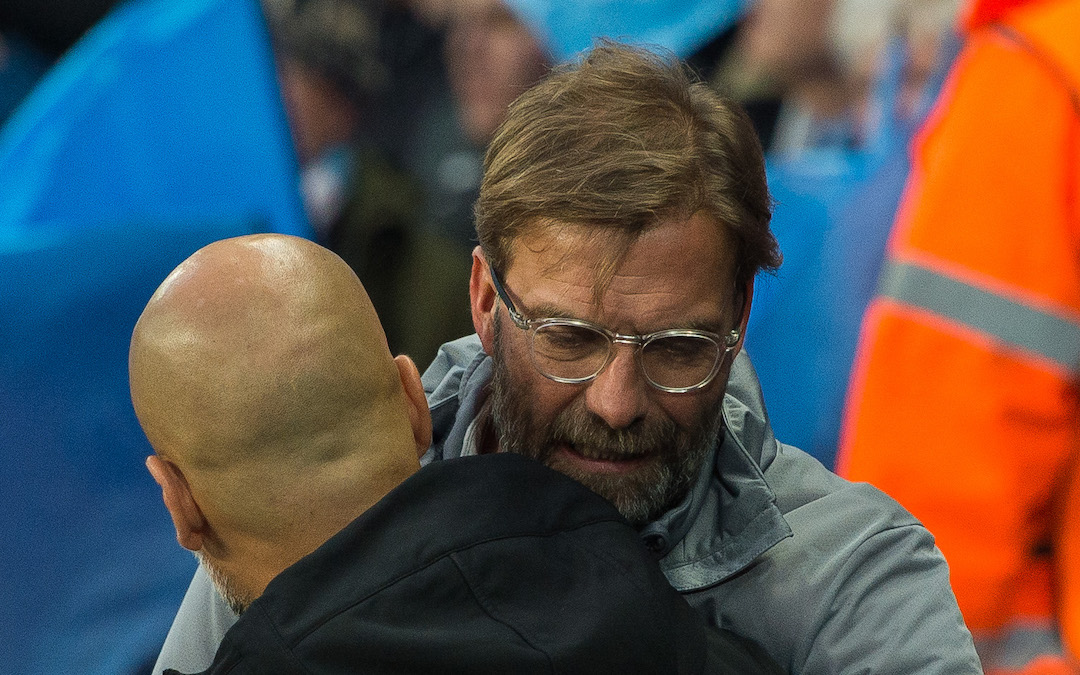 Their temple is built on the rock of eight years of on/off title winning and, of course, upon Sheikh Mansour's endless resources. City fans have every reason to view Liverpool's recent success as merely a diversionary chapter in their epic modern story.
In terms of point winning, this season's Liverpool have fallen some way from the standards set by the LFC winning machines of 2018-19 and 2019-20. We are running at a points average that may not even suffice for Champions League qualification.
Something has to give here. Liverpool are either washed up and those two years were all but a dream or we're about to kick for home. The setup for either scenario is perfectly encapsulated in this weekend's match up between the two great northern red powerhouses.
No one yet thinks this Man Utd are as good as this Liverpool, but if they win at Anfield and open up a six-point lead over the Champions then some heads are going to get a serious scratching.
Of course the biggest beneficiaries of Liverpool dropping any points to United would be Man City. They will be rooting for their neighbours and not fearing any lead United might establish at this stage of the season.
So let's dwell no more on point dropping and get our minds set to Liverpool getting medieval on Mancunian arses.
Reasons to cheerful – part one – Thiago Alcantara is back. One shudders to think what last season would've looked like if we'd had a fit Thiago all campaign. We wouldn't have dropped a point and won the Champions League too. There, it's said.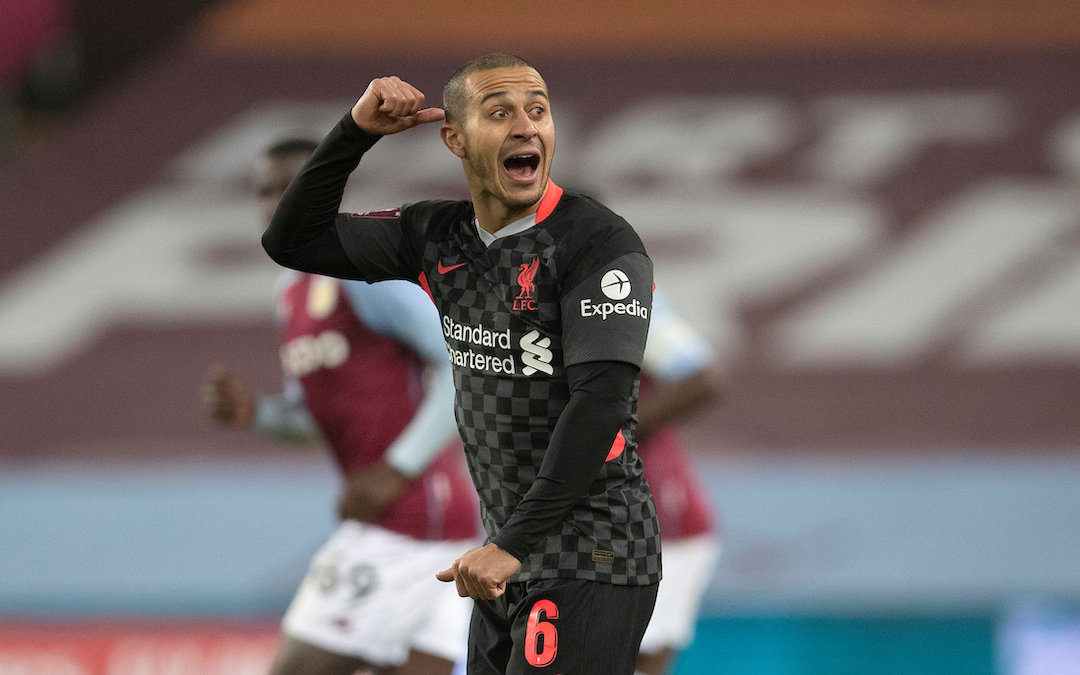 Thiago looks like he could solve most of our problems, cure most of our ills. He probably had a hand in developing the Covid vaccine. There's no limits to capabilities and influence. We just need to keep him fit.
Whilst the absence of van Dijk still manifests like a massive great hole blown in the side of a Napoleonic era ship by a cannon ball, the LFC vessel itself is still remarkably seaworthy. There have been some impressive wins without Virgil, and the setbacks haven't been obviously as a consequence of his absence. Thiago won't fix our defence but he gives us other new weaponry at a time when we need it most.
The side Jürgen Klopp will put out to face Manchester United will, on paper, be as strong a Liverpool team as there has been in any era. The keeper is the world's best. The full backs too. Thiago is top three in his position in Europe. The forwards are amongst the world's top 10. Liverpool's side is better than Man United's. The decisive moment/opportunity to prove that point has arrived.
Solskjaer will give the greatest speech of his short United managerial career in the visitors' dressing room at Anfield. He will tell his resurgent team that a historic life-changing moment is in front of them. Treat it as your cup final, boys. Ole will summon up the spirit of his mentor Alex Ferguson. He may even muster a Glaswegian accent. This is your moment, Ole. No one is laughing at you now, he's thinking.
I could say that this is a 'must-win' game for Liverpool but in saying that I would just be exposing my own insecurities and lack of faith. Klopp and his team deserve us to hold our collective nerve and show some belief that the tide is going to turn.
It may not happen on Sunday but it surely will soon and when it does it will be a mighty swell that will cruise the red machine to deserved destination.
Predicted 11: Alisson; Trent, Matip, Fabinho, Robertson; Henderson, Wijnaldum, Thiago; Salah, Firmino, Mane
---
🗣 Liverpool v Manchester United: The Team Talk | #NewPodcast | #LFC

🔴 @jsexton24 hosts @Andrew_Heaton, @Ian1892T & @kevwalsh_
⚪️ @Knox_Harrington with @anthonyfdshaw

Subscribe 👉 https://t.co/cXuFmbDvp3
Listen 👇https://t.co/e5cGsZtxb8 pic.twitter.com/S3FvCjg7kW

— The Anfield Wrap (@TheAnfieldWrap) January 15, 2021
Recent Posts: