David Segar writes that Thiago Alcantara's timely comeback could be the catalyst for Liverpool to rediscover their form from earlier this season…
ONCE upon a time, we were allowed outside.
We did all kinds of things like see other people, visit establishments and breathe fresh air. Honest, we did. I've seen it in plenty of Netflix box sets.
There were some occasions where we'd even be in a bar with friends, having a bit of a dull night. Just one of them where you're not feeling it. The music is terrible, the conversation is tedious and the drinks are watered down.
Going home and watching a box set actually seems like bliss in that moment, but then things pick up. You see a gorgeous woman/man across the bar, 'Dream Weaver' by Gary Wright plays in your head like in Wayne's World, and suddenly the music is better, the conversation is interesting and the drinks are stronger.
Back in the days when we could meet new, 3D people, sometimes that would be enough on it's own to take a night from boring to memorable. The mere presence and vibe of this new person changed the dynamic of everything around them.
When Thiago Alcantara came on for Liverpool at half-time at Aston Villa on Friday night, he had that same effect, except instead of Gary Wright, we all had The Gibson Brothers in our heads.
It was widely assumed that when the Champions of England took to the field against players who would miss their bedtimes if the game went to extra time, that it would be like the episode of South Park where Stan manages a peewee hockey team and they end up facing the Detroit Red Wings.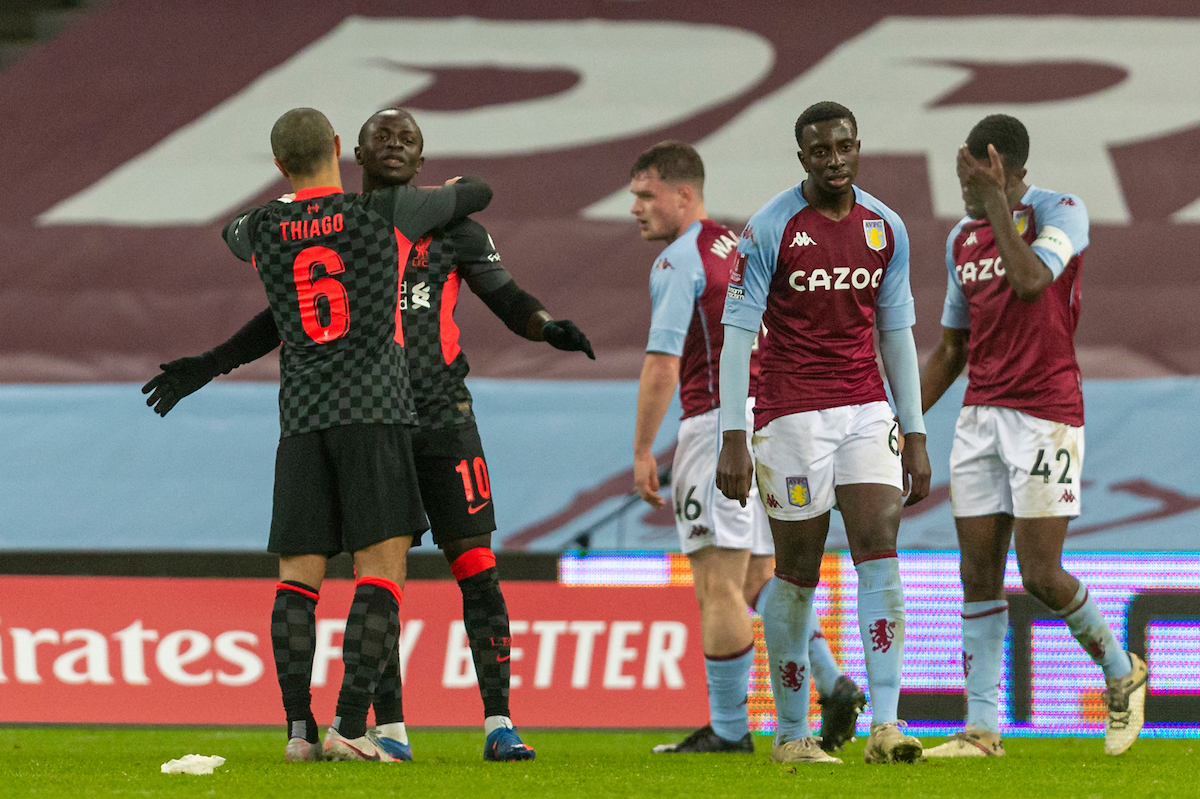 The Red Wings take the game very seriously and score 32 goals before celebrating wildly and tearfully to 'We Are The Champions'.
However, despite an early Sadio Mane header to take the lead, The Reds otherwise laboured in the first half, getting to the Villa penalty area and seemingly forgetting what the next bit was. Turns out gently chipping the ball towards the goalkeeper wasn't it.
With the game inexplicably at 1-1, Thiago's arrival at the break immediately upped the tempo, the intensity and the intelligence. It was his assists before the assists that he specialised in so often at Bayern Munich that unlocked the home backline again and again to put the game to bed.
It was more for Thiago's fitness and match sharpness that he was brought on, which is why it was so satisfying to see him unleash his portfolio of tricks. The long pass, the short pass, the no-look pass, the weighted pass, and even a hooked pass over his own head.
No disrespect was meant to the Villa pups, who in fairness, will have probably enjoyed it as much themselves getting to see last year's Champions League final man of the match up close doing his thing.
It is a sight that Liverpool fans have been robbed of up until recently, thanks to the unnecessary injury he picked up on his full debut in October's Merseyside derby.
An exciting albeit fruitless cameo in the goalless draw at Newcastle was followed by an underwhelming start in the 1-0 loss at Southampton last week. Thiago was on a relative hiding to nothing at St Mary's as he clearly lacked match sharpness and was asked to be the sole defensive midfielder against one of the fiercest pressing teams in the Premier League.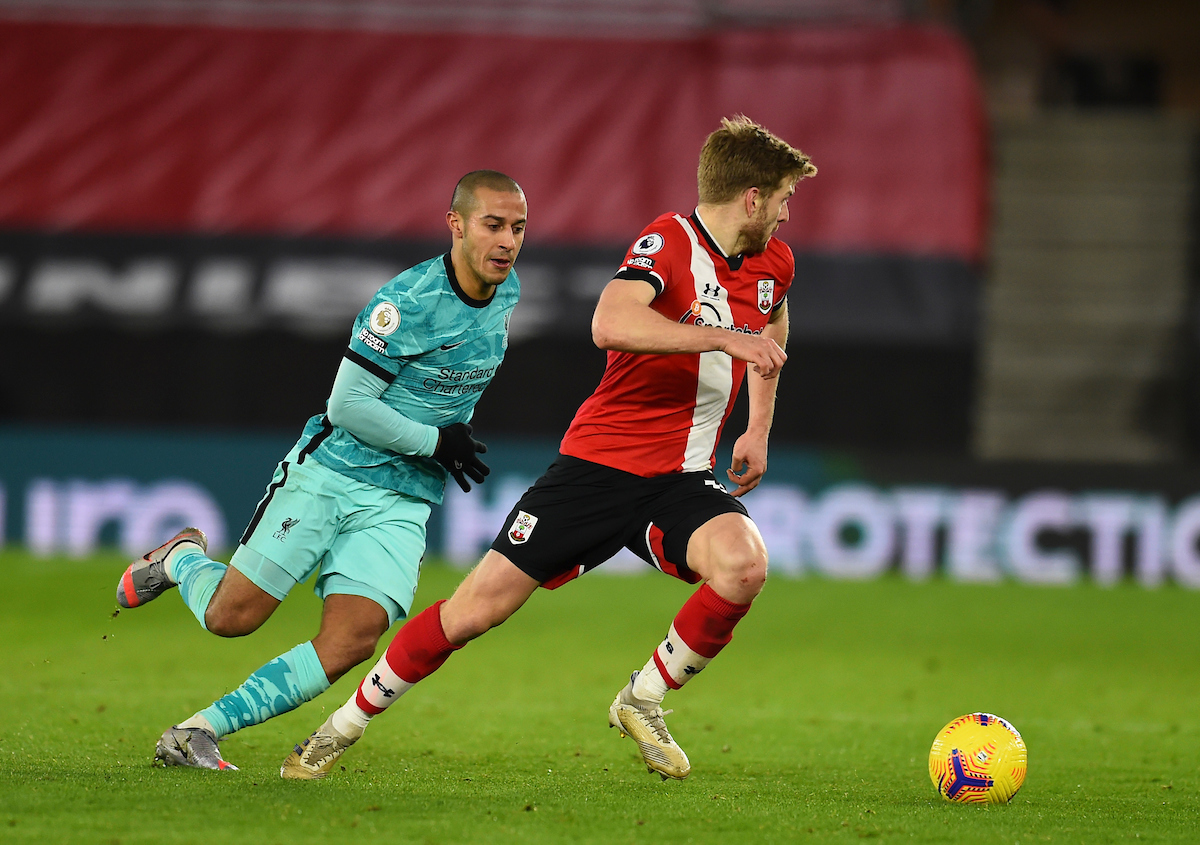 He still showed his class when he could, though, and shone further in the role when he was able to get further up the pitch against a young Villa team that was understandably retreating.
The Champions have been wobbling of late, failing to beat any of West Brom, Newcastle or Southampton, scoring just once and not creating all that many chances to score more. The first half against Villa's kids was more of the same, albeit some quality goalkeeping from Akos Onodi ensured they were left frustrated further.
The lack of fit centre backs has been noted many times – including in this very column last week – as a reason for the lack of fluency in Liverpool's play. However, with the club suggesting that there are unlikely to be any arrivals in the January transfer window, they will have to look for solutions from other areas.
While the return of Thiago may not plug those gaps at the back, it could at least provide alternative methods of getting back to something like title-winning form.
The former Bayern and Barcelona man's ability to switch play, or even intent to do so and then disguise a pass elsewhere, will mean that opposition teams cannot set up to press the backline. Similarly, they cannot just rely on sitting deep as West Brom and Newcastle did, given Thiago's ability to unlock a defence from nowhere.
Steve Bruce's side in particular were very comfortable keeping The Reds at bay until the introduction of the current European Champion. He caused all sorts of chaos in the 20 minutes he had at St James' Park, and you felt that if the game had gone on five more minutes, Thiago would have found a way through for his team.
Jürgen Klopp has increased options now that he has one of his newest toys back. Thiago primarily played in a two in Munich, dovetailing beautifully with Leon Goretzka in the main last season as Bayern strode to a treble, and Klopp may wish to see if he can do similar by pairing him with Jordan Henderson or Gini Wijnaldum for certain games.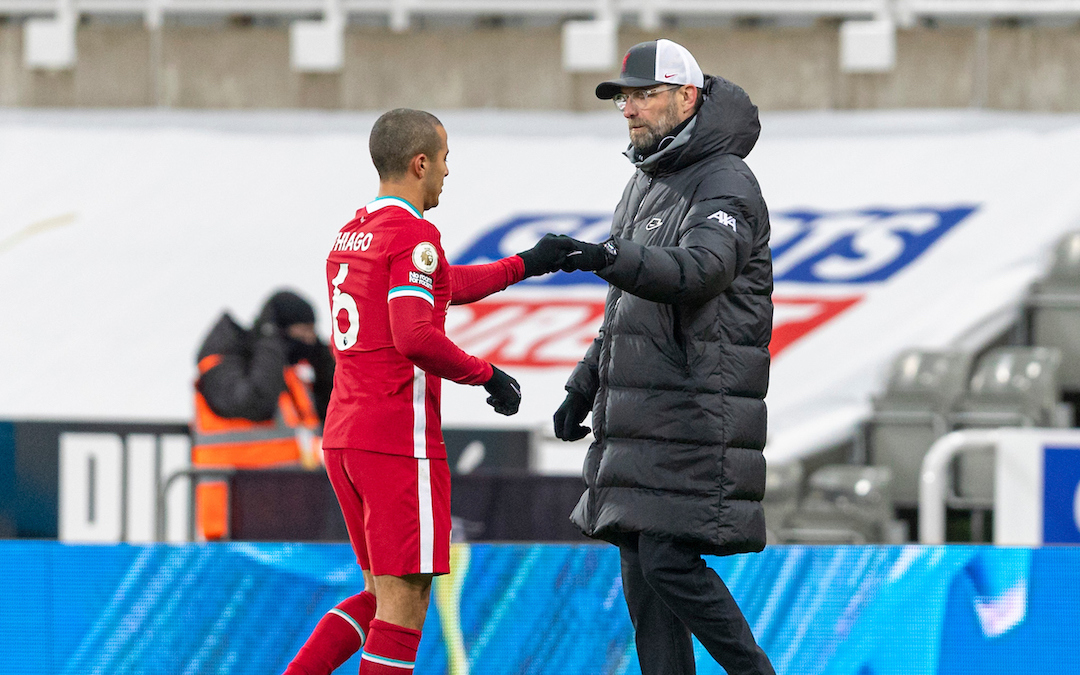 This could even allow him to play a front four again once Diogo Jota is back, or if he wants to give Xherdan Shaqiri or Takumi Minamino a start with the main front three.
It is not just the tactical benefits that Thiago brings, though. It's also the boost that the aura of a player like him can give to everyone else.
Not only have Liverpool looked tactically blunt in the last few games. The players have all just seemed a bit devoid of inspiration. Not necessarily in a 'they're all knackered' way, but perhaps more in a 'could do with something to get us going' way.
Even taking into account the obvious inexperience of the opposition, you perhaps saw this on Friday as Thiago's introduction seemed to lead to Mane making better runs, Mo Salah remembering how to control the ball, and even Wijnaldum scoring from a much harder shot than the effort he inexplicably missed in the first half at Villa Park.
We cannot put all of our eggs in the Thiago basket. We did that at Southampton and look what happened. We can hope, though, that this world class player being introduced to a team that, up until recently, were still the pacesetters in the Premier League despite missing so many key cogs, will get them back to something approaching their best.
This can start with Manchester United on Sunday, where astonishingly, Thiago will make his Anfield debut for the club he joined back in September. Another man of the match showing from Liverpool's Numero 6 would be a great way for him to mark it.
If he does, then I for one will want to stay out all night (by which I obviously mean staying in and just drinking all the leftover Christmas beer while whistling Cuba at the cat).
---
"On top of Thiago's obvious gifts and how he'll become a massive part of this team and its system…"

"He adds a real freshness, so quick in the mind. I reckon the players are going 'wow' as well, not just us."

🗣 Listen to The Anfield Wrap FREE Pod 👉 https://t.co/JqmCcjaZwJ pic.twitter.com/QeqjrAsWH2

— The Anfield Wrap (@TheAnfieldWrap) January 11, 2021
Recent Posts: