FOUR years is a very long time in football.
Four years ago, Jürgen Klopp was the manager of Borussia Dortmund.
Four years ago, a 23-year-old Xherdan Shaqiri was on the fringes of the Bayern Munich squad.
As Bayern visit Anfield for the first time since 1981, they will recognise their former player. Those calves still bulge out of red socks at violent angles and he may well even be sitting in the familiar territory of the dugout at the start of proceedings. However, things are fundamentally different now.
Shaqiri never played more than a minor role for Bayern after they forked out around €10million for the burgeoning Swiss star back in 2012.  He'd starred for FC Basel in the 2011-12 Champions League campaign and helped his side defeat Manchester United in a crucial group stage match. That appetite for downing the Red Devils would stand him in good stead in the long run.
He was always going to have a tough time at the Allianz Arena breaking into a team featuring the likes of Franck Ribery, Arjen Robben, Toni Kroos and Thomas Muller. And so it proved. The first two were particularly problematic for Shaqiri, with their inverse wing partnership a formidable barrier to the starting lineup.
Shaqiri was a small part of arguably the club's best ever squad, winning nine major honours during his three seasons at the club, including the only treble in Bayern's history in 2012-13. Many of those honours came at the expense of his future boss Klopp's Dortmund.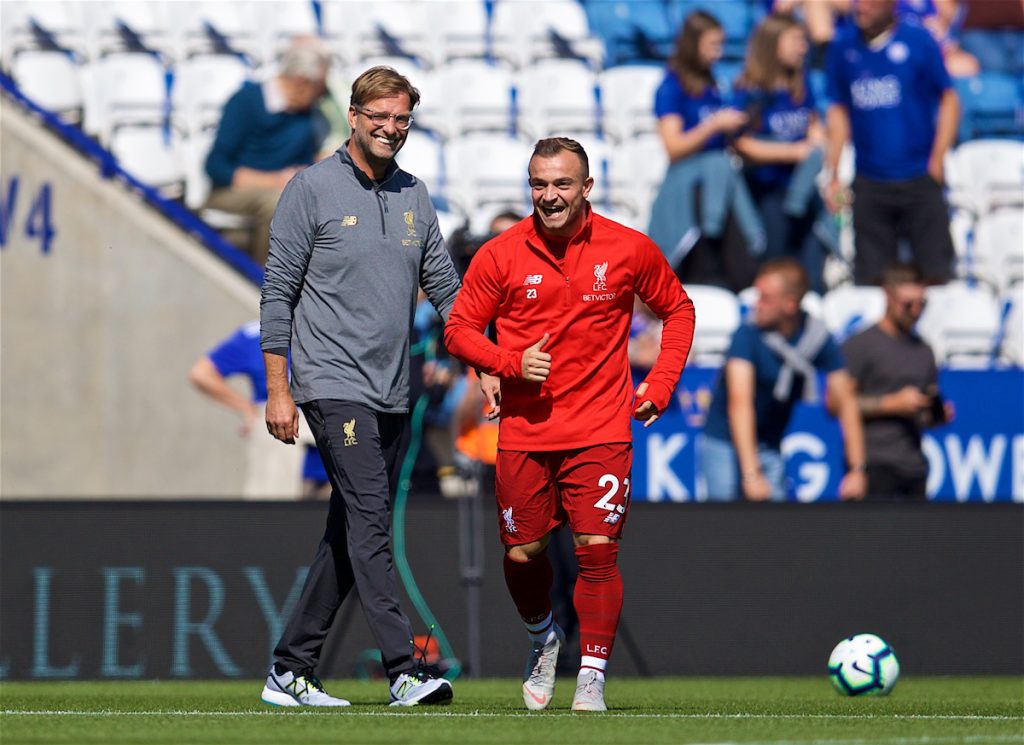 His appearances became increasingly infrequent after Pep Guardiola took over, making Shaqiri's return of 17 goals and 19 assists in 81 appearances somewhat respectable in the circumstances. He joined Inter Milan briefly in January 2015 after a move to Liverpool was blocked by Bayern, but would eventually arrive at Anfield via Stoke City in July 2018.
In an interview with Swiss newspaper Blick three months ago, Shaqiri hinted at how his time in Bavaria taught him to persevere. "At Bayern, after three, four games without commitment, I called my brother, felt misjudged and wanted to leave," he said.
The subsequent three-season stint at Stoke seems to have made Shaqiri realise that being the big fish isn't as enjoyable if the goldfish bowl in question also happens to be occupied by Charlie Adam.
He's proved to be an undisputed hit with The Reds so far, particularly impressing with his attitude and application. Ironically, the pre-season suggestions were that exactly those traits would let him down, with the Neville brothers chipping in alongside Adam to condemn Shaq's character.
What caught the eye initially was perhaps not all that surprising – his clear football intelligence is befitting of someone of his European pedigree. His self belief was immediately evident every time he got on the ball. But after the opening weeks of the season it would perhaps still have been easy to foresee this initial eagerness erode and a retreat to the peripheries of the squad.
That he has become a key part of Klopp's game-winning strategy in so many matches is a testament to his application. Those years at Bayern seem to have perhaps made him aware that he could have done more to maximise the limited game time he was afforded. At 27, he looks to be living in the now and recognising that this is his time.
Encouragingly, Shaqiri has hinted at similarities between the mentality of that all-conquering Bayern side and this Liverpool team. However, just as Robben and Ribery were in the way then, Salah and Mane are just as obtrusive now. But that is football. There is no shame in not starting ahead of such elite forces. It's not necessarily a case of accepting one's fate, but maximising opportunity.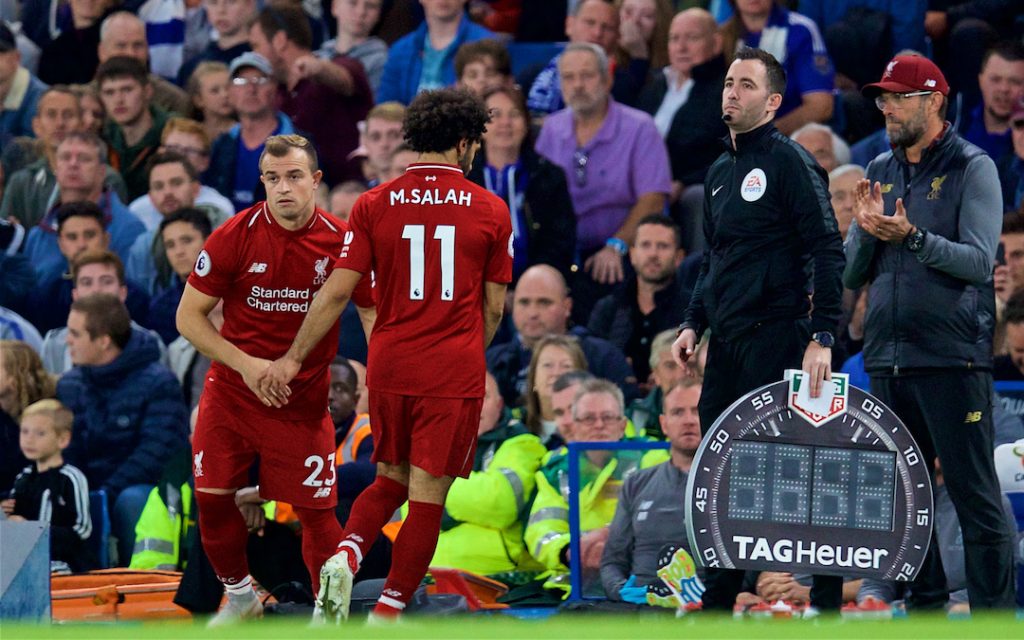 Previous Shaq may have baulked at the idea of playing away from the wing, but he has presented himself as a genuine creative midfield option for Klopp. This drive has been characterised by his extremely effective game-changing appearances off the bench. He helped to secure wins against Fulham and Burnley before sending Jose Mourinho on his way back in December.
He missed the recent resurgent victory against Bournemouth due to a slight abdominal strain, not featuring in the squad. Yet his influence was still there, with Salah copying Shaqiri's folded arms, stand and deliver style celebration, an indication of how much he is respected by his teammates.
The nonsense about nerves, whether we like it or not, is bound to return. And while the experience of "being there before" in regards to titles often gets overstated (everyone has to do it for the first time once, don't they?), the stocky Swiss sorcerer doesn't seem like the sort who will be flapping.
Bayern are integral to so many of the major stamps and setbacks on Klopp's CV and so could be the case again. Shaqiri may not feature heavily against his former employers, but you can bet that he will before May is out.
As we become increasingly acquainted with fine margins, let's be glad that this fine pocket rocket is in our ranks now.
"Klopp has played Keita into form. I'd definitely start him tonight." 👏

🎥 Watch our Bayern Munich 'Preview Show' in full here on our YouTube channel 👉 https://t.co/DuLEVOxSoY pic.twitter.com/Bt6K3HXWiG

— The Anfield Wrap (@TheAnfieldWrap) February 19, 2019
Recent Posts:
[rpfc_recent_posts_from_category meta="true"]
Pics: David Rawcliffe-Propaganda Photo
Like The Anfield Wrap on Facebook