I DON'T take defeat well. I don't take not winning well.
Three games of only this makes me blue. Like a Blue.
They're calling Liverpool v Manchester City a "title decider in October". Actually, I might be the first to have dubbed it this, but what the heck.
The Liverpool results of the past week and a half have only served to ratchet up my personal football-related anxiety levels to, as yet, unforeseen heights. I'm not in a good place right now. This season has hardly begun and I'm already a man mess.
Ilkay Gundogan is out of this game with an injury. Kevin De Bruyne definitely won't be making the cut either. These are both good things. These are helping restore some equilibrium to a my fragile mentality.
I'll be sweating on Naby Keita's fitness a while longer it seems, and although he was by no means a guaranteed starter, even if in perfect health, he has a quality that you feel we'd like to be able to call on at some stage over the course of Sunday afternoon.
Just right now, I'm more in love with Liverpool's potential substitutes bench than the lads in the first 11. At Chelsea, a week ago, Naby, Daniel Sturridge and Xherdan Shaqiri leapt from the sidelines into the fray and saved us from what would've represented a very damaging defeat. Those boys fired from the off, where the main men had floundered.
We've seen quality already this campaign from Mo Salah, Sadio Mane, and Bobby Firmino. But only glimpses of it, and usually on a man-to-man basis, not harnessed, not in tandem, in the way we were so used to seeing last season.
Liverpool's front three are fantastic, supremely gifted individuals, yet remarkably, they still managed – in 2017-18 – to be greater than the some of substantial parts. A summer apart has not suited them though. They were all at the World Cup, but in different camps. It was only for a few weeks but it seems to have served to break that magical spell between them.
The offset has been the emergence of a Liverpool defensive unit to be reckoned with. Sure, the new supreme back five are due a combined bad day at the office, but it is upon their rock-like solidity that Liverpool have built such a strong start to the 2018-19 season. Few would have predicted that back in early August.
The bonus has been Joe Gomez. We knew Virgil van Dijk was becoming our man main in every sense, that our young full backs were on a stellar trajectory, and that we'd signed the world's best goalie, but we didn't see Gomez adapting to the all new requirements of becoming a centre back with such consummate ease.
Joe is a very mentally strong young player. He was an incredible prospect at 18, then dealt with a career-threatening injury that saw him through to 19, before fighting back from being all but written off as an under-23 league player, to establishing himself at right back. Further injury saw him lose his place to Trent Arnold, and consequently few saw anything but a bit-part role lying ahead for the player this season.
But here we are. Here he is. The mighty Joe Gomez. He's got a long way to go, but he already looks like he's built for the distance. Man City remain the country's best team until we, or others, prove otherwise. They will represent a massive test of the resolve of Gomez and our all-new, often near impregnable line of defence.
In beating City three times last season we did well at keeping them away from our goal. That was because we were able to overwhelm them with our energy and hunger. Flailing in our storm, they were there for the taking by our front three. Those lovely boys who stop Pep Guardiola from sleeping as soundly as he should.
We've managed ourselves through games well this season, more often than not, but without the intensity in performances that became a hallmark last season. I'm hoping that the collective muscle memory of those three wins over City serve to remind us just who we are. The identity we looked to have lost in periods this term can be rediscovered in the face of the challenge presented by City.
City will want revenge. "Revenge" gets talked about around football, but within the game itself you suspect it's not a factor. Revenge is an intangible. Sport is not about intangibles. It's about results. Apart from when it isn't, and this is very much one of those moments.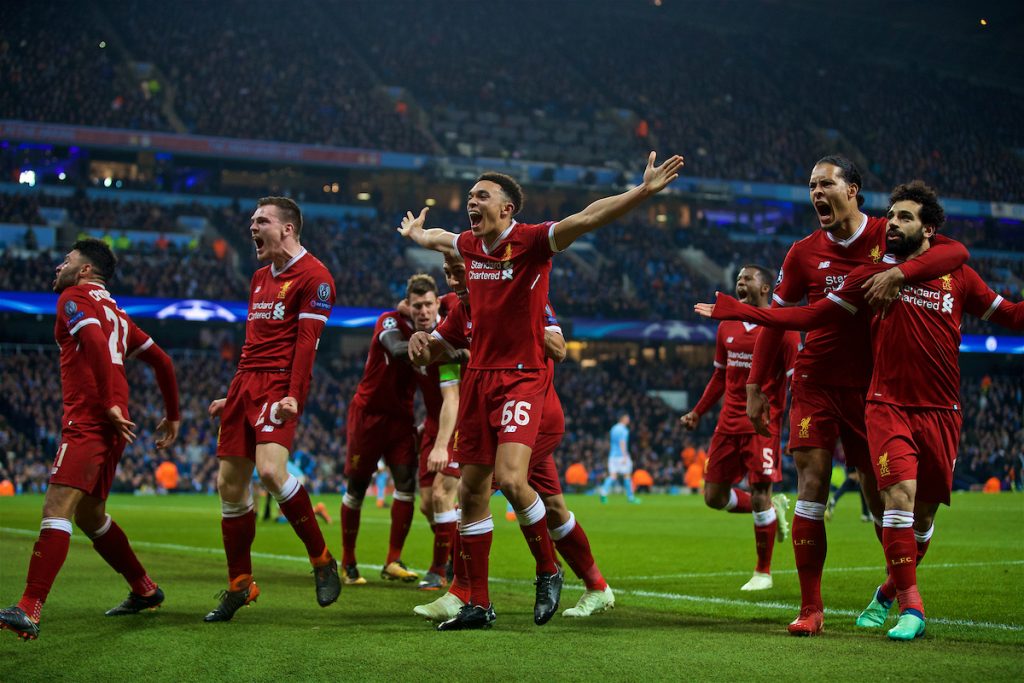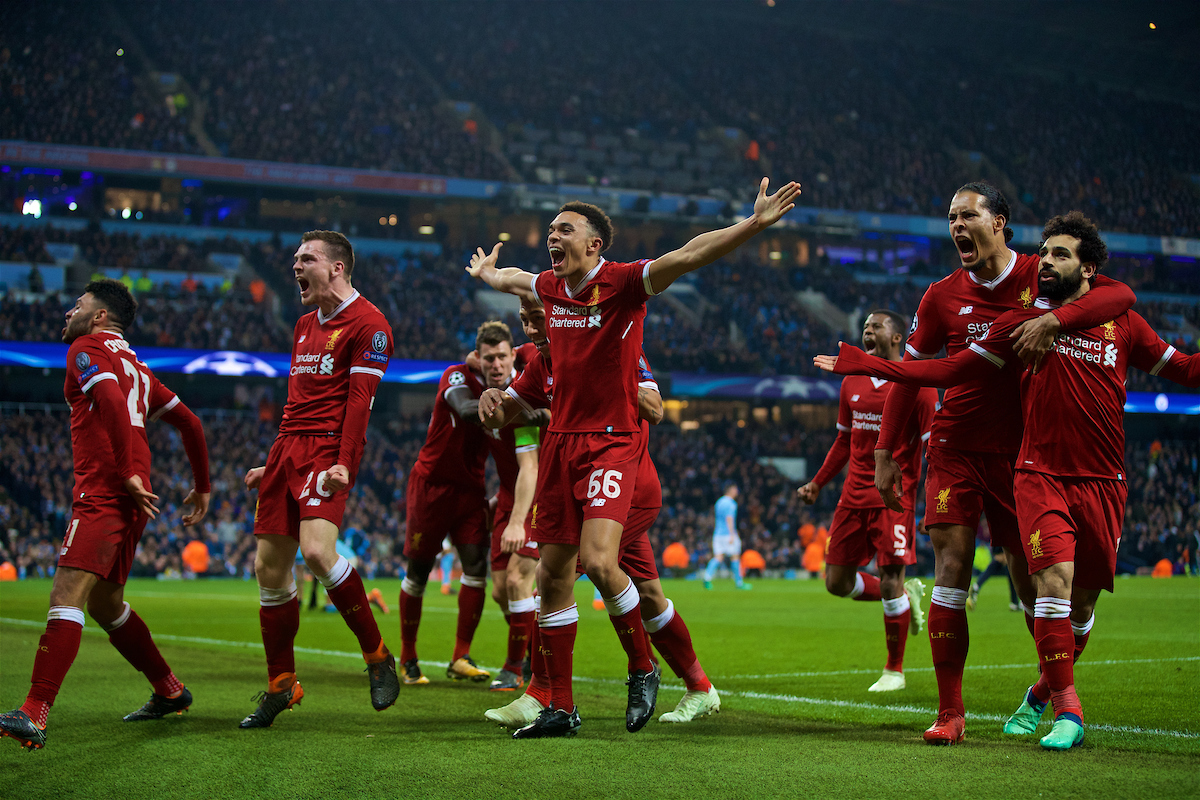 The desire for revenge can work two ways. It can fire, it can motivate, it can fuel, but equally it is imbued with fear. In their lust for revenge over Liverpool also rests City's fear of Liverpool. Those light blue lads are scared shitless of what we can do to them. They know that we are singularly the only side they have faced who have looked equipped to rip them apart, to order. They also know that knowing this has not served them well in the recent past.
Liverpool raced into a 4-1 Anfield lead over them in January. Guardiola was therefore ready for Liverpool when the sides were paired in the Champions league in April. Liverpool win again. 3-0. They saw it coming, but only in the sense that rabbits in headlights do.
My hope is that the importance of this fixture, and the adrenaline it will stimulate, will serve to truly galvanise what remains a potentially awesome Liverpool team. None of Salah, Mane or Firmino are content with their seasons to date. All are looking to properly kick start.
Liverpool have won six out of seven league games, the club's best opening sequence since when, but the abiding feeling is that we need to get into gear and soon.
As golden opportunities come, they don't come more glittering than this.
Predicted 11: Alisson; Trent, Gomez, van Dijk, Robertson; Henderson, Wijnaldum, Milner; Salah, Firmino, Mane.
Kick off: 4.30pm, Sunday
Referee: Martin Atkinson
Odds: Liverpool 8-5, Draw 51-20, Man City 7-4
"This is exactly the sort of game that Salah will be looking forward to." 🇪🇬👑

"A European away where we should be looking to break fast." 🗣

🗣Subscribe to listen to our Champions League preview show, Under The Lights 👉https://t.co/q0tg7SFik9 pic.twitter.com/X3xxFG0A5j

— The Anfield Wrap (@TheAnfieldWrap) October 2, 2018
Recent Posts:
[rpfc_recent_posts_from_category meta="true"]
Pics: David Rawcliffe-Propaganda Photo
Like The Anfield Wrap on Facebook