THIS time last year, Liverpool's first-choice full-backs were Joe Gomez and Alberto Moreno.
Turn the clock forward five years from now and it wouldn't be a surprise if Trent Alexander-Arnold and Andy Robertson were still the men in possession. It already feels like they've both been around forever. One of the most exciting aspects of Jürgen Klopp's careful team building is the sense of permanency that is taking shape.
It was an injury to Moreno in early December that belatedly ushered Robertson in from the cold. A year ago, you couldn't even say that the jury on him wasn't "out", it hadn't even been selected. The promise of Alexander-Arnold was very evident but, despite the long-term absence of Nathaniel Clyne, the West Derby flyer was still no more than an occasional starter going into February this year. They have both come a long way since. And fast.
When greying bores like me play the impossible game of trying to select their all-time Liverpool 11, the two full-back spots provide a convenient opportunity to try to squeeze the likes of Emlyn Hughes, Mark Lawrenson, Steve Nicol or Jamie Carragher into the mix. Maybe the finest full-back display ever seen in Liverpool colours was the stint that Steven Gerrard did on the right to negate Serginho late in the 2005 final. Phil Neal will hate me for saying this but Liverpool have just never had truly great full backs.
There is even an argument that today's full backs represent two of the team's weaker links. If you were an opposing manager trying to plot Liverpool's downfall, you may just target the spaces behind Trent and Robbo when they roar forward. But the licence to raid that Klopp has granted them is the strongest evidence of the faith and trust he places in them both. That is only going to grow as they grow into their futures with the club.
Both appear to be early learners. The best valuation of the worth of a football manager is the degree to which he or she improves the players in their charge. Klopp improves players on his terms. Progress is measured by the degree to which they "get" what he demands from them in order to fit into his plans. Front-foot full backs are key to those plans. It is one of the reasons that he has invested so much patience in Moreno. Klopp's full backs carry the fight and Trent and Robbo have not only got the message, they love delivering it.
There could still be occasions when Alexander-Arnold needs to "come out" for a game or two and take stock. Wednesday night may even be one of them. There was a careless looseness in his personal performance in Naples. But what there wasn't was even a hint of a backward step. He didn't shrink or shirk, he didn't start to play it safe or play it back. For that reason, he will surely be celebrating his 20th birthday at Anfield on Sunday in the team to face Manchester City.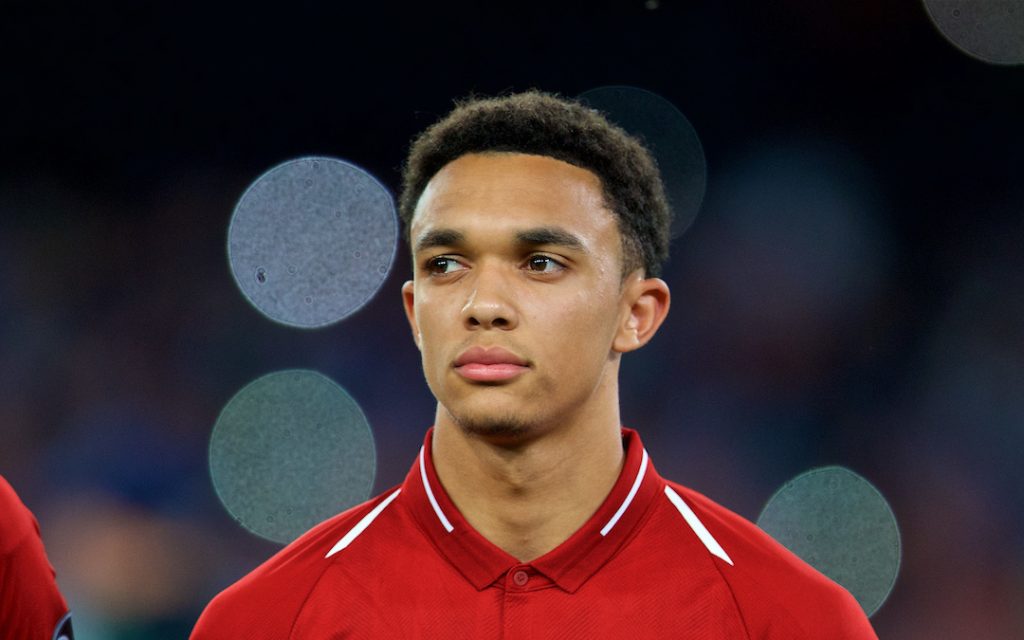 Six months ago, Pep Guardiola targeted Trent mercilessly in the opening skirmishes of the Champions League quarter final. The youngster's burgeoning reputation had just been dented in ambushes by Marcus Rashford and Wilfred Zaha, and Clyne was fit again. But if anything focuses the mind of a right back, it's Leroy Sane. Alexander-Arnold came of age that night with a display of total concentration way beyond his years. Like an opening batsman who'd just been beaten by a couple of demon deliveries, he simply took guard again and reapplied himself. He's 19, going on 25.
And it's not as if he is the only one who will have had cause to take a look in the mirror ahead of Sunday. Napoli's late winner was as deserved as Liverpool's late equaliser at Chelsea. Klopp would rather have brought home a pokey point than a timely reminder from Italy, but it was a nudge to anyone who thought Liverpool had suddenly become good enough to pick up points without playing well. Not against the best and the Premier League table says City are still that.
The best do find you out. If you're hiding a weakness or you're taking liberties, the best exploit them and usually make you pay. Not every time. Liverpool themselves have failed to cash in on too many promising counter attacks this season. They are still to unload one of those scoring bursts that twice blew City away earlier this year. Their marvellous record against the champions at Anfield won't just extend itself. They will have to recreate the same near-faultless intensity that Trent found when he needed it most against Sane last spring.
Alexander-Arnold and Robertson both play on the edge. Remember that penalty Raheem Sterling should have had when Robbo slid in at The Kop end in during the quarter final? Pep does.
The margins are slim on the edge but that is where Klopp orders them to go. He coaches them not to be full backs but to be half forwards. To be watchful of opposing wingers, but to meet them on the front line and run them back down the field if possible.
He wants them to make a difference, to leave their mark on a game and he clearly sees them both doing that for years to come.
"Liverpool got exactly what they deserved!" 😩

"Absolutely nothing."

Subscribe to listen to our Post Match Show: https://t.co/UlqKvwZIWy pic.twitter.com/qCOG06FIdn

— The Anfield Wrap (@TheAnfieldWrap) 3 October 2018
Recent Posts:
[rpfc_recent_posts_from_category meta="true"]
Pics: David Rawcliffe-Propaganda Photo
Like The Anfield Wrap on Facebook