IT was a big weekend on Merseyside.
The Giants from the French arts company Royal de Luxe were drawing the crowds in the city centre of Liverpool, while two giants of the Premier League were ready to clash at Anfield.
The hostile welcome Manchester City were expecting as their Super Grassbus 3000 made its way to the ground was almost as badly misjudged as Virgil van Dijk's late challenge on Leroy Sane that gifted the visitors a penalty, but in both cases, it came to absolutely nothing.
Both sides cancelled one another out in what was a much higher quality game than the average observer seemed to give it credit for.
No win in four isn't an ideal end to what has been an incredibly tough run of fixtures for Liverpool, but nor is it all that bad, particularly when you consider this. Chelsea have 20 points and their best players are on fire, especially Eden Hazard. City have 20 points and they very much look like they've picked up where they left off from last season. Liverpool have 20 points, and all anyone can talk about is how meek they look up top.
There would be justified concern if The Reds had been electric but were only level on points with City at a time when Sergio Aguero, Raheem Sterling and Hazard were having a bad patch. Liverpool have clear gears to go up, while Chelsea look like they're at full throttle, and though City have Kevin De Bruyne coming back, they didn't seem to miss him much when he was gone thanks to the performances of their spare Silva.
It is fair to say though that Jürgen Klopp needs his front three firing again before long, in particular Mo Salah, but there's one other area that has been identified by some as a hole in the Liverpool team at the moment.
The Reds' midfield has largely performed well this season, at least in terms of individual showings. James Milner is deservedly earning all sorts of plaudits, Gini Wijnaldum has thrived in a deeper role than usual and Jordan Henderson has mainly been impressive (or terrible, depending on which part of Twitter you happen to be).
As a unit though, they don't offer quite as much thrust going forward as they did when Phil Coutinho or Alex Oxlade-Chamberlain were around. The front three of Sadio Mane, Mo Salah and Roberto Firmino have all been short of form lately, but the supply line to them also doesn't feel as potent as it was last season.
With Coutinho gone and Oxlade-Chamberlain out for the majority of the campaign, Klopp needed another to step up into the role of midfield creator this season. A lot of people, myself included, assumed that "another" would be newboy Naby Keita. However, the £52m signing from RB Leipzig is yet to live up to the hype that followed him from Germany.
It seemed to be a good sign that Klopp, a manager famed for allowing his signings – no matter how expensive – time to settle, decided to throw Keita in straight away by starting him in the first game of the season against West Ham. The diminutive firecracker was impressive, and gave a glimpse of what fans could expect. The following week he produced THAT turn against Crystal Palace and in an instant, Reds seemed to fall in love once again.
Shortly after that turn, Keita was in a similar area of the field and gave a loose pass to van Dijk that nearly handed Palace a run on goal. Ever since then his confidence and form seems to have dipped. Klopp has understandably rotated him more than others, but it's difficult to tell whether it is down to allowing his new signing a gradual introduction, or if it's because he's noticed how much the 23-year-old has struggled (or both).
Having taken to the French second division as a teenager at FC Istres seamlessly, and then the Austrian Bundesliga with Red Bull Salzburg, and the German Bundesliga with RB Leipzig without any struggle whatsoever, it appears that for the first time in his career, Keita has found a league that might just take a bit longer to master.
Some concerns have started to creep into the fan base (let's face it, it doesn't usually take long) that Keita perhaps isn't quite as good as advertised when he arrived, which would be a concern given the needs that Liverpool have if they are to maintain the pace in the Premier League and progress in the Champions League.
His sub appearance at Chelsea gave hope as his energy late in the game at Stamford Bridge did have a positive influence, and as a result, he was given a start in Naples a few days later, only to spend 15 minutes giving the ball away time and again before ultimately going down with a back injury and having to come off.
It could be that the injury was the reason for his iffy touches, and he was far from the only one who had a bad night in the 1-0 defeat, but it was an alarming – albeit short – cameo.
Then on Sunday, in the biggest game of the season, he was on the other side of it, having to replace a teammate unexpectedly in the first half, and he struggled to get up to the pace of the game. It wasn't a bad performance per se, he showed some nice touches and produced some good dribbles. He also misplaced some simple balls though and didn't show the usual energy not only expected of a Liverpool player, but also of him after the levels he showed in Germany.
And that's the thing. The Keita we have seen since the Palace game has been practically unrecognisable from the Keita who dominated the Bundesliga. All the plaudits he received in Germany were fully deserved.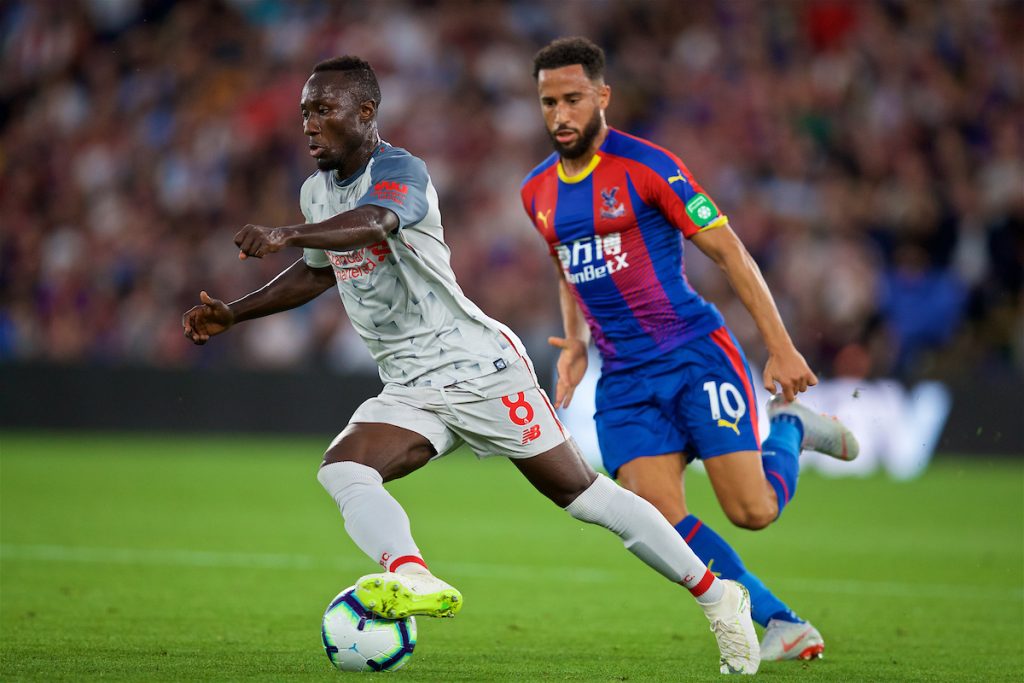 He was a phenomenon in his first season at Leipzig, comfortably the best player in the league outside of Bayern Munich's squad, which is why Liverpool made the deal for him a year in advance, and why Barcelona tried to usurp them at the last minute.
It's also why Leipzig sporting director Ralf Rangnick insisted time and again after the deal was done that he was worth more, and that if it wasn't for his release clause, they would have rejected any and every offer for him.
You could tell from the effusive words used by Klopp when the signing was confirmed that this was a signing that the manager was particularly excited by. It was almost like interviewing a 10-year-old at Christmas to see what he thought of his new puppy, games console and remote-controlled Ferrari.
"Naby was two years ago, together with maybe Thiago Alcantara of Bayern, for sure the best player in the Bundesliga by far," Klopp told the Liverpool Echo in pre season.
"It was unbelievable how he played and then we wanted to get him in, but Leipzig didn't think that was the best idea in the world so they kept him.
"And then last season he was still good. Not as good as the year before but still good. He is young, he is full of football skills, very stable, very good in small spaces, endurance wise fantastic, quick, good finishes, good runs in the box."
The thing that struck me most about watching Keita in the Bundesliga was his decision making. Whether it was something simple or something intricate, he almost always did the right thing for any situation. That is something that he has struggled to replicate so far in England, probably due to the increased speed of the Premier League, and is therefore likely to be something he improves on, even if it's gradually.
His teammates have seen Keita's talents up close as well, with Daniel Sturridge telling the club's website when asked about his new teammate in July "I love that guy. I'm surprised how good he is actually, if I'm honest. I knew he was good but I don't watch German football too often.
"I haven't seen a midfielder like him for a while, he is something different. It's crazy. The things he can do with the ball, he can defend, he can pass, he can dribble, he is fast, he is strong. He has got everything. I'm excited to see what he does."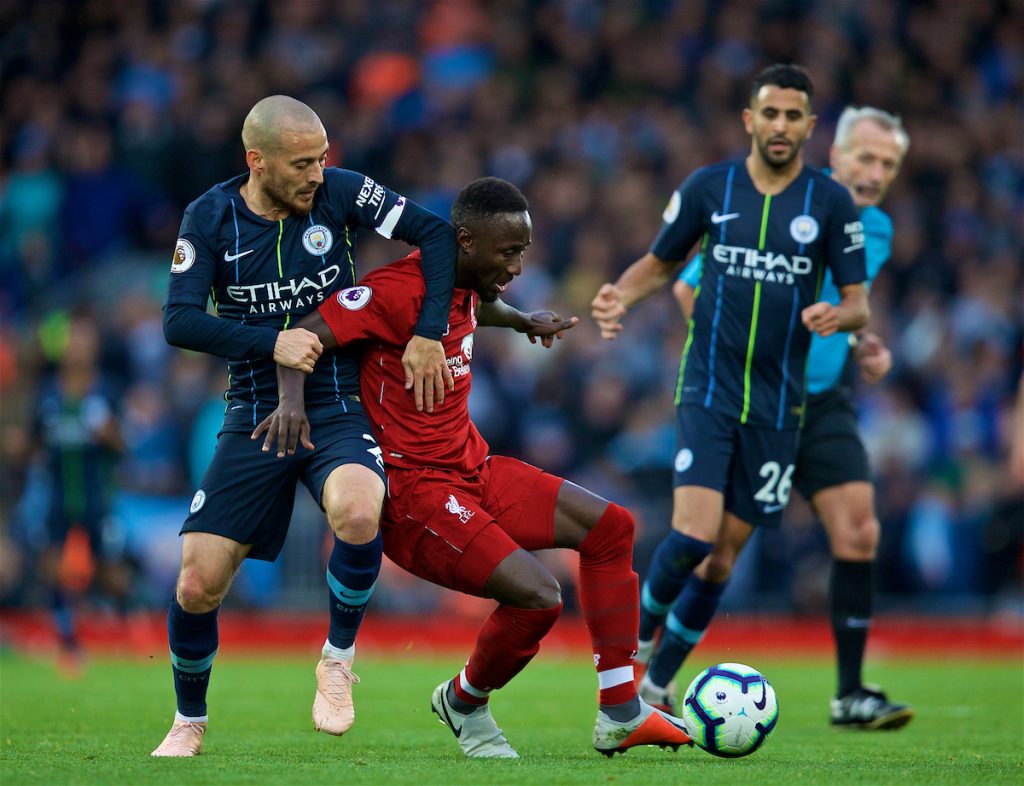 Those who have seen enough of Keita know just how good he is once he gets going, and trying to build up form in a new team, a new system and a new league is hard enough, but more so when you're playing the likes of Chelsea, PSG and Manchester City every few days.
However, after this international break, Liverpool have a run of games that could be an ideal opportunity to give Keita plenty of starts and allow him to get up and running. The sort of teams The Reds are set to come up against will be more like West Ham in the first game of the season when he had more time on the ball, less pressure on him and could put things together to build up his confidence.
With Milner out for a few weeks, now is the time for him to step up and show everyone exactly what he's about.
Once Keita is up to full speed his link ups with Salah, Firmino and his mate Mane, it has the potential to be game changing, and exactly what has been missing from the team so far this campaign. Just ask Leipzig stars Emil Forsberg and Timo Werner what playing with him was like when he was in form.
In 2015, I wrote an article for this very website about how exciting it was to be signing Bundesliga hipsters' favourite Roberto Firmino from Hoffenheim. A few months later I had to write another article reassuring everyone that he wasn't anywhere near as bad as he appeared to be from his first few games, and that with a bit of patience, he'd come good.
Admittedly, Bobby had to go through the end of the Brendan Rodgers era which couldn't have been easy, but he came through it to become a key part of Klopp's team, and just yesterday made it to the 30-man shortlist for the Ballon d'Or award.
Consider this my article on Naby's behalf. He'll be fine and will come good. As with Bobby, he's too talented and determined not to.
Like the giants, once Keita rises from his slumber and starts marching through midfields, kids and grownups alike will look on in awe. Great swathes of onlookers will gather to gaze on his cultured magnificence.
And they'll probably stop the bloody trains again.
"Keita has just had eight games playing against some of the best players in the world… Huddersfield and Cardiff will do him the world of good." ✊

🗣 Subscribe and listen to this week's 'Review' show, after the Reds' 0-0 draw with Manchester City 👉 https://t.co/lmNtBz4ADz pic.twitter.com/xHUd5gfKzX

— The Anfield Wrap (@TheAnfieldWrap) October 9, 2018
Recent Posts:
[rpfc_recent_posts_from_category meta="true"]
Pics: David Rawcliffe-Propaganda Photo
Like The Anfield Wrap on Facebook