"IF it is an open game at Anfield, you don't even have one chance, not even one per cent of a chance.
"Up and down I'm pretty sure they are the best team in the world in these transitions, offensive, defensive. It is built for that. In that situation, they are much better than us."
A lot has been said about the amount of respect shown by both sides at Anfield when Manchester City came to visit on Sunday afternoon. That was reflected in both manager's post-match reaction.
Jürgen Klopp's comments smacked of a manager who knows that his side have come out of a nightmare run unbeaten in the league, while Pep Guardiola's spoke more of a man scorned by lessons of the past few seasons.
In the early stages of his reign, praise was heaped on Guardiola's style of play. However, there were question marks over whether his side had a 'Plan B' when things went wrong. The easy answer always seemed to be if your Plan A is so strong you won't need a Plan B. City proved that to be the case by winning the Premier League with 100 points last year, but that's clearly not enough for Pep.
City were beaten three times out of four by Liverpool last season — two of which came at Anfield. The first game was chaotic, Liverpool's knife-edge, attacking football putting them into a strong enough lead to see out a 4-3 win.
By the time City returned to Anfield, Klopp's side were a completely different outfit. With a solid foundation provided by the arrival of Virgil van Dijk, and consistency in the full-back areas for the first time in a long time, it gave Liverpool's front three the license to wreak havoc, knowing that those behind them were far less likely to let them down.
What we saw from Man City on Sunday was as close as you'll get to Pep's Plan B. The main goal was to stop The Reds having it all their own way, and hope they could strike lucky on the break — and they came as close as a Riyad Mahrez missed penalty.
Whether Liverpool are indeed "the best team in the world" in transitions is up for debate. It is a lesser-spotted side of their play this season, partly due to the fact teams of increasing quality are happy to just get out with a point.
That is testament to what Klopp has done with this team in his three years, to the day, as Liverpool manager. But it's been far from an overnight process.
After taking over from Brendan Rodgers in October 2015, it's fair to say it took a few months for the German to find his feet in the Anfield hotseat. Although his methods had clearly had an immediate impact in terms of the distance covered in games — the Gegenpressing that so much had been said about clear in his first game — the results were inconsistent at best.
Disappointing defeats away at sides in the bottom half of the table were combined with losses at home to Crystal Palace and Manchester United, and losses in the League Cup and Europa League finals.
For all the positive press around Klopp's supposed 'gung-ho' attacking style, his side were suffering on the defensive end. They conceded 50 goals in the league, more than anybody else in the top eight besides West Ham, 15 of which were conceded from set pieces.
The Reds went flying into Klopp's first full season, though. The signing of Sadio Mane had given Klopp's side another dimension in attack, with Roberto Firmino also beginning to excel in the central striker position.
Liverpool had become known for their relentless pressing and topped the Premier League in terms of distance covered. Their rivals were struggling to cope with trying to go toe to toe — in fact, Jose Mourinho's United side were the only top-six side to not taste defeat across two meetings with The Reds, which tells a story of its own.
Klopp's side went the season unbeaten against the rest of the top six, picking up 20 points in the process. Their issues came against the league's lesser lights, with six losses at the hands of sides outside the top eight.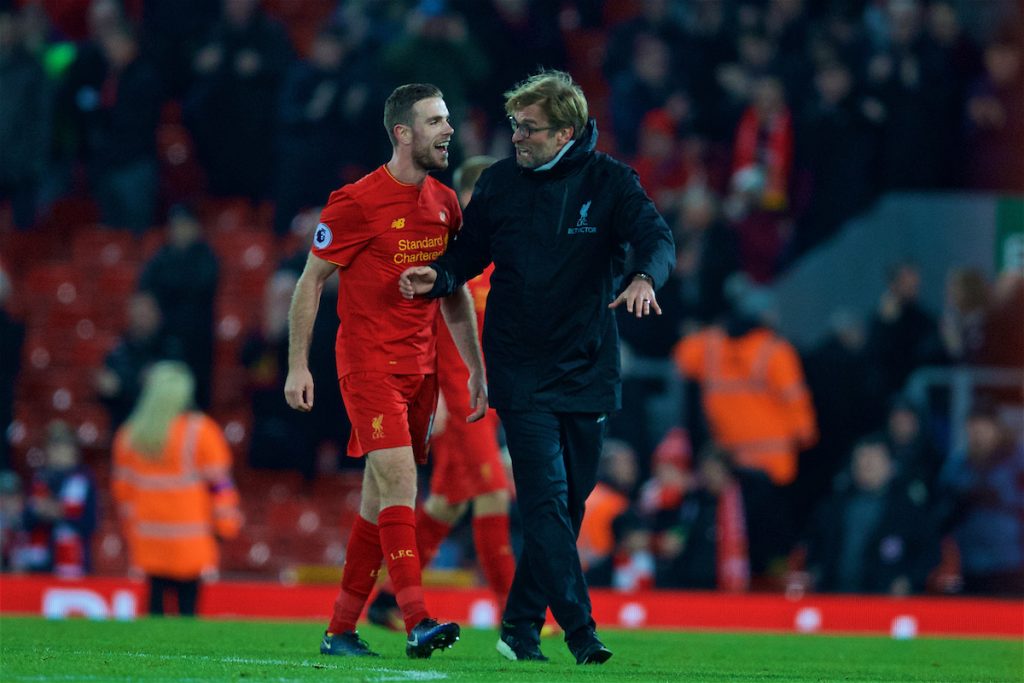 The defence was still top of the agenda for all the wrong reasons, with the signings of Loris Karius and Joel Matip doing little to shore things up. While Liverpool had become a side that had more of the ball than in the previous campaign, being so in the ascendancy often worked against them — the low block proving an all too easy antidote to their domination.
Despite being absent from European football during 2016-17, Liverpool's glaring lack of depth cost them as the domestic calendar began to stack up during the winter. After beating City on New Year's Eve, they went on a five-match winless streak in the league — with an FA Cup replay win at Plymouth the only salvation in the cups.
By the end of February, The Reds had not only spurned their chances of challenging for the title, they were out of all domestic cups and had even fallen out of the top four.
The 2017-18 season started slower than the previous campaign. Crucial Champions League qualifier wins over Hoffenheim were mixed with impressive displays against Arsenal and Leicester. But by contrast disappointing draws at Watford, Newcastle and home to Burnley, were teamed with batterings at the hands of Man City and Tottenham Hotspur.
The Spurs defeat was to be a lesson, though. The Reds went unbeaten in 18 games across all competitions before two defeats in six days at the hands of Swansea in the league and West Brom in the FA Cup just after the turn of the year. The signs of progress were clear, with Liverpool brushing aside the league's lesser lights in a manner they had struggled to achieve before under Klopp.
The summer signing of Mohamed Salah added yet more quality to an attacking unit, which became unstoppable. The January arrival of van Dijk would make Klopp's side look much more assured in defence, though progress had already been made before the Dutchman had even donned a red shirt.
Even with the departure of Philippe Coutinho, Liverpool had a starting 11 capable of competing for major honours for the first time since the title run under Rodgers four years prior.
However, the loss of Liverpool's Brazilian magician was a worry. To add to that, Liverpool struggled against their top-six rivals, picking up just 10 points across 10 games compared to the 20 in 2016-17.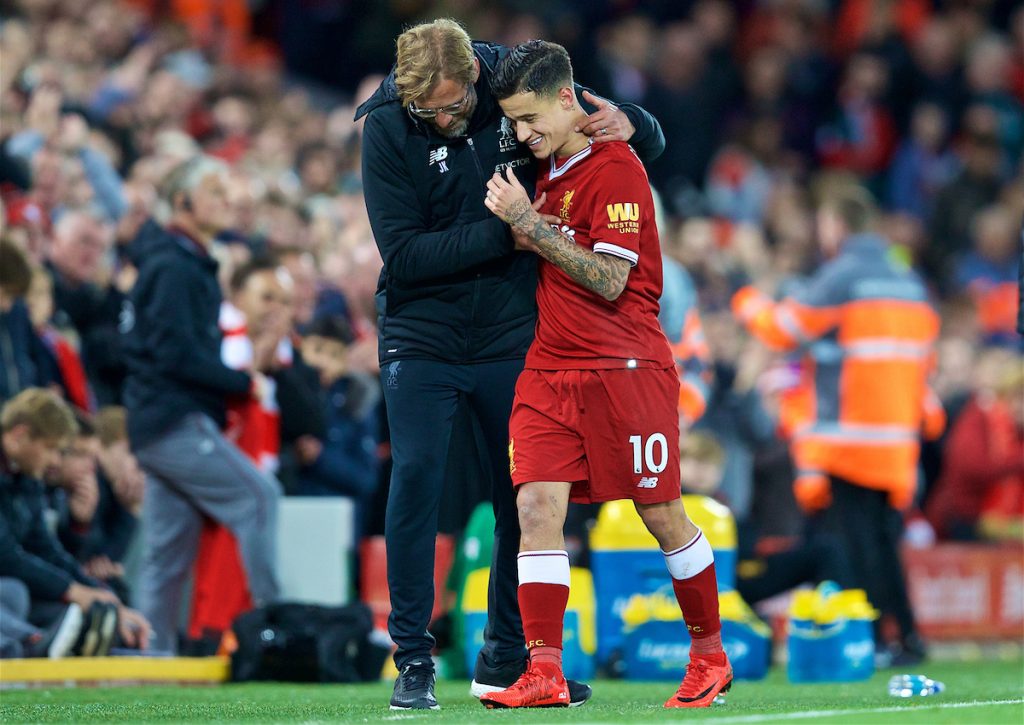 While the absence of Coutinho hadn't done much to derail the red juggernaut, as it cemented its place back at the top of the European scene, injury to summer signing Alex Oxlade-Chamberlain among others had The Reds running on empty by the time they took on Real Madrid in Kyiv.
Liverpool's attempts to rotate also had them suffering in the league. A fourth-place finish was only confirmed on the final day of the league season with a win over Brighton at Anfield.
Fast forward to today and Klopp appears to have learnt valuable lessons from his three years in England. Results of that can be seen throughout the team now.
Though the attacking fluidity is wanting more than it has in previous seasons under the German, Liverpool's defensive organisation and ability to pick up results in all different types of games has improved dramatically.
The Reds are at the stage of their evolution where wholesale changes in the playing staff or the system are no longer needed. Instead, Klopp has been working on fine tuning. The hiring of throw-in coach Thomas Gronnemark is an example of the manager trying to make marginal gains to give his side the edge over rivals.
Questions marks over aspects of the starting 11 are long gone, and the steady improvement by Klopp means he now has a squad capable of challenging on several fronts.
Crucially, the German has maintained his core values from his first day to his 1,095th. He's not afraid to make necessary changes and remove those who don't align with his vision for the club. That is transmitted down to the players, who have clearly bought into his ways.
With the right balance of attacking potential, defensive solidity, first-choice and reserve quality, and complete buy in from players and supporters, who's to say Klopp can't make his third year a successful one?
"We are ready for a big, big fight." ✊

Three years ago today, Jurgen Klopp took over as Liverpool manager… 🇩🇪

🗣 Subscribe and listen to our exclusive, 30-minute interview with the boss 👉 https://t.co/lmNtBz4ADz pic.twitter.com/rcBep6b55a

— The Anfield Wrap (@TheAnfieldWrap) October 8, 2018
Recent Posts:
[rpfc_recent_posts_from_category meta="true"]
Pics: David Rawcliffe-Propaganda Photo
Like The Anfield Wrap on Facebook