IN the buildup to Sunday's match between Liverpool and Manchester City there was again much talk of a "rivalry" between the clubs and supporters.
Be it "the battle bus", as the camera-packed team coach was described by one tabloid, the bizarre song about Liverpool's Champions League failings in a season when City swept to the title with 100 points, or the continued bleating of manager and fans about seemingly anything and everything Merseyside red, it was hard to ignore whatever your take.
While in the here and now the suggestion ticks the box of the dictionary definition of a rivalry: "a situation in which people, businesses, etc. compete with other for the same thing", for many it doesn't quite scan because of the club's respective histories.
The traditional rivalries for Liverpool are of course Everton and Manchester United, while a more recent rivalry (of sorts) cropped up through the sheer number of clashes between The Reds and Chelsea, with many of those matches played for the highest of stakes: cup finals, Champions League games and the like.
Manchester City, though?
For many, City are still associated with a set of lads running round Wembley in play-off finals with Paul Dickov. A club that fed "The Goat" so he would score.
They were always the harmless brother to the hard lad, the kid whose hair you could ruffle and move on if he was a throwing a snarl your way. You didn't really have to take them too seriously.
Times have changed though, and with the Middle East millions City have been transformed from the club that once infamously got its wires crossed and played for time, and a draw, against Liverpool at Maine Road when they needed to win to avoid relegation.
That bizarre situation just added to a defining characteristic for those that looked in from the outside, and one that could be summed up with a simple phrase: "Typical City."
"Typical City" was once poor players, poor decisions, mediocrity and mayhem, and for all the soar in status that three Premier League titles, an FA Cup and three League Cup brings in recent seasons, it's still worth remembering that they were playing Championship football as recent as 2002 and at League One level in 1999.
As the pounds and pence from foreign bank accounts slowly transformed their fortunes, Liverpool didn't really stand in their way too much and good feeling – or at the very least mutual apathy – remained.
While The Reds enjoyed a two-legged League Cup semi-final win over City in 2012, the same season saw Roberto Mancini's side secure the club's first league title in 44 years, pipping Manchester United on the final day in the most dramatic of circumstances.
It wasn't our fight, but most Reds took City winning it over United as the smallest of small wins.
Liverpool, meanwhile, finished eighth that season, winning only 52 points – a whopping 37 points behind City.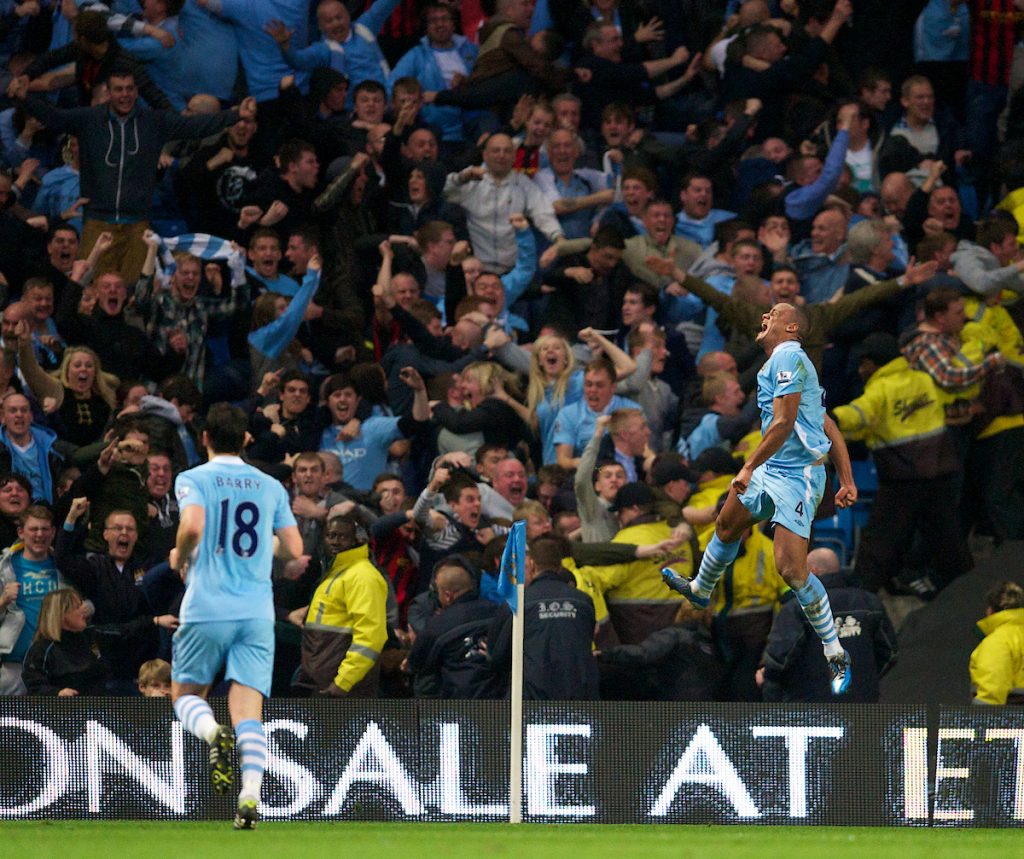 We weren't particularly annoyed about them, and they definitely weren't annoyed about us.
Come 2013-14, the challenge from Liverpool was much more real, but as we know all too well it didn't turn out as we wished. Yet the record books still show a season when City pipped The Reds by only two points, with both sides scoring over 100 goals.
Celebrity Blue Manc Noel Gallagher may now be displaying questionable politics while aiming a string of snipes at Liverpool FC and its supporters, but that wasn't the case when he spoke to The Anfield Wrap in 2014.
He spoke then of preferring Liverpool to win the league if it couldn't be City, adding: "It would be great to have Liverpool back in the game. It's been a long time coming and I think it would be good for football. To have City and Liverpool right up there challenging for the title right to the end is a wonderful thing. Anyone but Chelsea. And United."
How times have changed.
From our perspective, we've got to be honest about our part in this. With City now high flyers, and Liverpool still seemingly swinging from high to deep, it's worth remembering how we celebrated a November 2015 win at the Etihad in the early days of Jürgen Klopp.
It felt like a statement that night, it felt like a fuck you, it felt like the start of something. And we celebrated accordingly as Phil Coutinho and Roberto Firmino orchestrated a 4-1 victory that few had predicted. It might have been November but no one left the away end cold after celebrating that one. It was one to savour, and savour we did.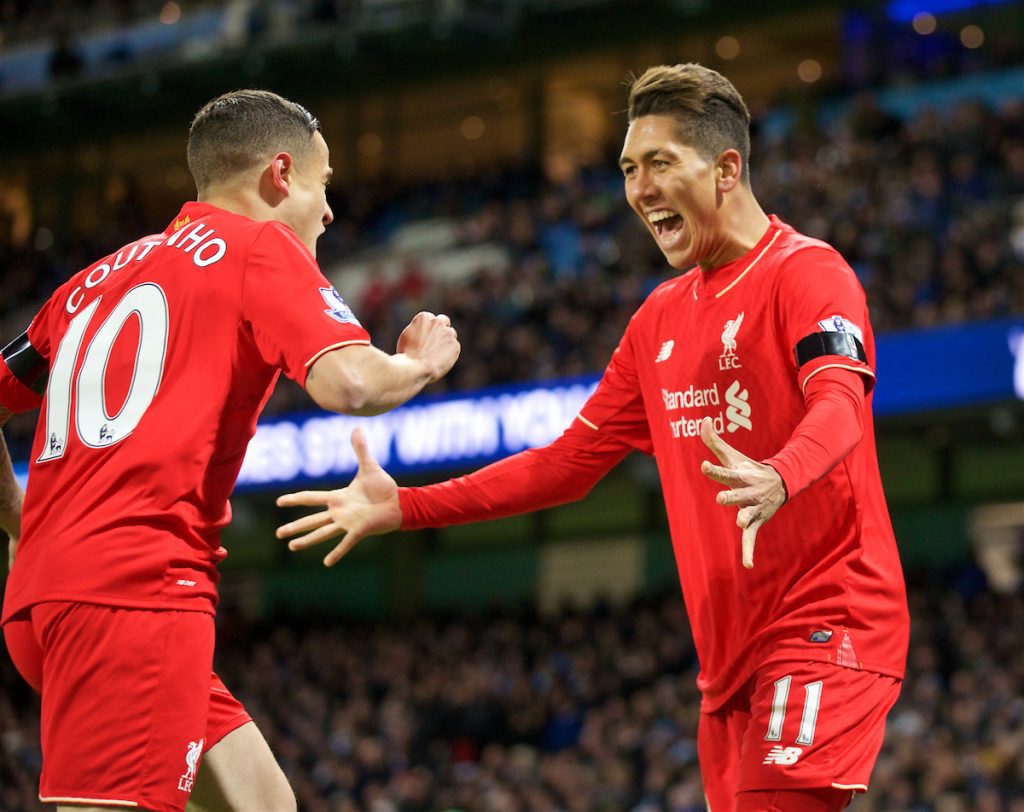 A League Cup final between the sides followed in 2016, with Liverpool losing on penalties at Wembley, before City won the title last season, when Liverpool were fourth and 25 points off the blistering pace set by Guardiola's side.
However, a hat trick of wins over City – two of which knocked them out of The Champions League – clearly got up noses at The Etihad, along with the now habitually referenced "welcome" of the City coach.
This season, the Premier League table shows the clubs neck and neck on points, alongside Chelsea at this early stage.
And what we witnessed on Sunday was a world-class manager in Pep Guardiola giving Liverpool loads of respect. Klopp did the same to City.
Their post-match interviews were full of it, their pre-match selections also showed it. Both managers know the other has a team and a squad that can do something this season and approached the game accordingly.
And so now back to rivals. Back to the sneering and sniping. Back to the frankly bizarre behaviour of some Mancunian journalists. It's all there for a reason. And the reason is here, now, this moment – we are rivals. Not in the traditional sense. But in the sense of aims, of ambitions, of behaviour, swagger, belief and more.
In 2015, early in Klopp's reign, it felt like Liverpool had bobbed and weaved and planted one on the nose of City in that freezing November air. The Reds had a puncher's chance of knocking out (metaphorically speaking, of course) any football team and did just that to City. But going the distance? No one was backing Liverpool.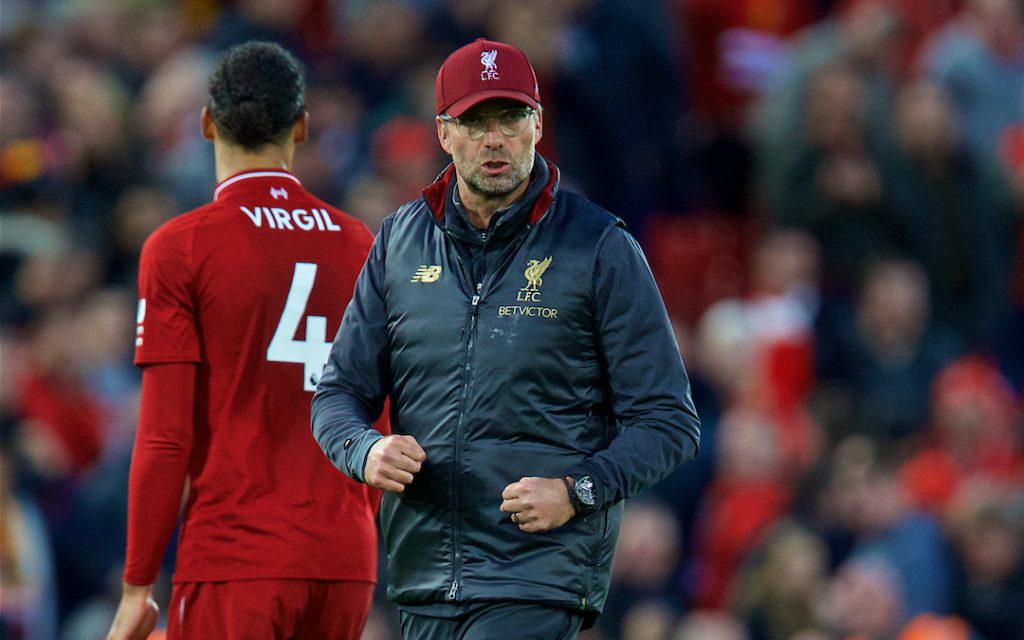 Now? City still have the cash. Still have the squad. Still have the greater strength in depth and remain odds-on favourites to win the league. But three years into Klopp's reign, Liverpool are walking the walk of a rival that could go toe to toe much more than they were when the manager arrived on Merseyside. Staying with the bookies, The Reds are second favourites for the title right now.
It's not just the results, the football, or the style of it, either. It's the feeling around the club, and how the club acts. Manchester City would love a defender like Virgil van Dijk, so why didn't they buy him? Because Klopp got there first. Chelsea wanted Alex Oxlade-Chamberlain, so why didn't they sign him? Because he wanted to play for Liverpool. Naby Keita's signature was much coveted and Alisson Becker's name was also linked to a string of clubs.
All of the above arrived at Liverpool because Liverpool are thinking big, aiming high and right now, after the toughest spell of fixtures so far out of the three teams that sit on 20 points, are on pace to challenge for the Premier League title.
City and Liverpool hasn't really been a rivalry because one hasn't bothered the other enough. Now though, if we're bothering them, and they're bothering us, given their squad, their standing, their resource and their manager, it's because Liverpool are doing things right – a lot of things right.
And that's what you heard from Guardiola's mouth on Sunday evening.
So don't bemoan the songs. Let them keep on griping and sniping. You know you're doing something right when you're no longer ignored.
"This time last year we were 8 points behind Manchester City… now we're potentially going into November level on points." ✊

🗣 Listen to this week's FREE Anfield Wrap show in full here 👉 https://t.co/7virisggDD pic.twitter.com/Ag4iHDJymz

— The Anfield Wrap (@TheAnfieldWrap) October 8, 2018
Recent Posts:
[rpfc_recent_posts_from_category meta="true"]
Pics: David Rawcliffe-Propaganda Photo
Like The Anfield Wrap on Facebook