BIG deep breath… Are you ready? Here we go.
A huge month of football awaits, one many have described as possibly season defining in its infancy for Liverpool. Yet this is indicative of the levels set by this season's quest for domestic and European supremacy.
Jürgen Klopp's men begin a sumptuous cluster of encounters away to a Tottenham Hotspur side currently still sleeping on the sofa at Wembley while work on a new ground continues. It seems Spurs never accounted for having a roof on their stadium when they initially pencilled this fixture in as the competitive birth of their new home. Easy thing to overlook, I suppose.
Still, this is a place where Liverpool will want and need to exercise some demons if they are to prove they have the minerals for a title challenge. Given that last season's fixture ended in a disastrous 1-4 defeat in October 2017 — one which followed a 0-5 collapse to Manchester City in the September of last term also — The Reds should be brimming with a desire to ensure this doesn't happen again.
Last season's fixtures had their own context, of course. With Dejan Lovren's horror show at Spurs and Sadio Mane's sending off at City having a huge effect on the outcome of both games, however Liverpool could and should have managed those fixtures better. They didn't, and ultimately a season wide underwhelming performance against the top six manifested.
In last season's encounters against the league's elite, Liverpool had a nine-point return across 10 fixtures compared to 20 points in 2016-17. Although Klopp's men added more points in games outside of these fixtures than they had in the previous year, you feel that the aim will be to combine the two on a consistent basis from now until May.
As mentioned, themes can be set from early on in a season. Liverpool have already expressed an air of resolution this term, conceding just once in their first four fixtures. Already it feels that going into games against rivals may not be as such a high-wire act this season as it was last.
Klopp will set his team up to win every encounter, yet the reality is Liverpool could lose a game of football against a rival through a variance of factors in or out of their control. This is a perfectly reasonable viewpoint.
Maybe the difference is that Liverpool are now a lot less susceptible to the type of collapse we saw early last season, the type of defeats which can be numerically and psychologically damaging to the team.
You feel Liverpool have exerted more control over their fixtures so far this season, no longer having to blow a team away in 20 minutes and score four goals on the premise they might go on to concede three later on.
Goals at the end of the first half against Crystal Palace and Leicester, an even spread of four goals against West Ham and a solitary strike at home to Brighton suggest The Reds are displaying a more measured approach across the 90 minutes in fixtures.
A different type of test will come in big games. Successful seasons can be built on colossal victories to those you consider your equals. Going back as far as 2001-2 and remembering Liverpool take apart Manchester United at Anfield or 2008-9 and dogging a cathartic 1-0 away to Chelsea are just a couple of early season victories in the past you have felt the momentum be built on the back of.
Another reason to be hopeful and optimistic going in to top-six fixtures is that Klopp's Liverpool now seem as close to fully equipped as they can be for these encounters, with a squad that can give the manager a range of options in the buildup to matches, as well as in game.
There have been times where a lack of options have pegged The Reds back in games, and ultimately affected the result. So far this term, the diverse range of options available to Klopp has ensured he has had a contingency for every possible scenario, if needed.
Klopp no longer has to look behind him and decide whether he should jeopardise a youth player's development, and the result of a football match, by bringing him into the fold. He can look at experienced internationals who have so far been starved of opportunity to help the team and who should be aching to do so.
All of this supports the notion that Liverpool are set up to compete this season. Much has been made of this next run of games. People debating what an acceptable points return would be.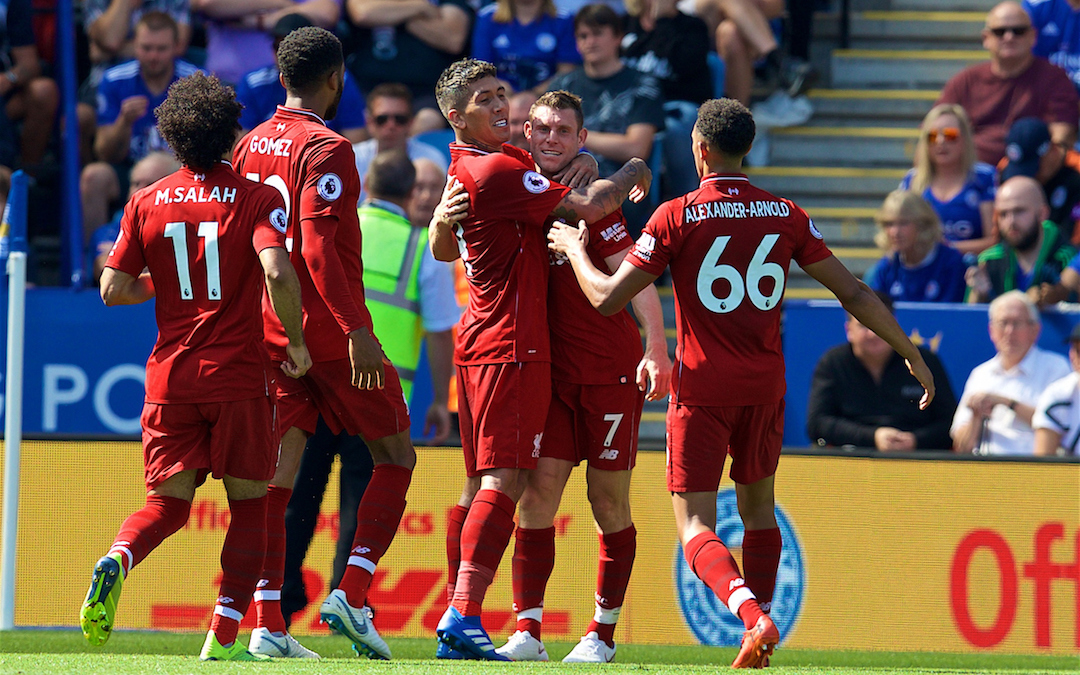 Personally, I can envisage a scenario of the team successfully setting up to win every game and for whatever reason coming up short in one much more than I can ever imagine them being set up for two wins and two draws in a more formulaic, Jose Mourinho-like fashion.
In many ways, Liverpool must now adopt a mentality of "what would the best team in the league do?" In doing that, they can do a lot worse than casting an eye at what Manchester City did at Wembley last season.
In April, City penetrated Spurs constantly and were imperious in their possession retrieval and penetrative passing. Liverpool must always do things their way, of course; however, the fundamentals of bravery, technical superiority and decisiveness at key times remain pivotal to success against your rivals.
When The Reds take to the Wembley turf tomorrow, they will be a different proposition to those who meandered onto the pitch with an air of slight uncertainty and self doubt last season. Joe Gomez is likely to be the only starter in the back five from this fixture last October.
At this stage of Liverpool's evolvement under Klopp, we as supporters now get to look forward to games against our domestic rivals as well as Europe's elite, under the blanket of reassurance that the team are both technically and mentally adept to be successful on all fronts, if they perform to their best ability and other factors fall their way.
Starting from tomorrow, Liverpool have the chance to add real substance to the positive reinforcement being sounded internally, and by those around them through fear and trepidation. The hope of all of us is that they can capitalise and conquer.
To coin the manager's favourite quote of late, Liverpool will need to be "spot on" in these fixtures moving forward.
"A few years ago Chelsea in the League Cup would have been a really big game… now you're thinking 'what's the weakest team we can get away with and still qualify?'" ✊

🗣 Listen to this week's FREE Anfield Wrap podcast in full here 👉 https://t.co/fuxOdwWB6T pic.twitter.com/etsI0bHm2B

— The Anfield Wrap (@TheAnfieldWrap) 10 September 2018
Recent Posts:
[rpfc_recent_posts_from_category meta="true"]
Pics: David Rawcliffe-Propaganda Photo
Like The Anfield Wrap on Facebook