IT has been a terrific start to the season for Liverpool.
With so much hype and hope in pre season, it was vital that Jürgen Klopp's tricky Reds got off to a flyer, and they did just that with four wins out of four in the opening month of the campaign.
However, following the first of three international breaks before December (oh joy), The Reds have the sort of impending list of upcoming opponents that would make even Maximus Decimus Meridius go "nah, I'm good thanks mate".
Between now and the next gap in the calendar where we all try and work out what the UEFA Nations League actually is, Liverpool play seven games in 22 days. The next three and a bit weeks will see The Reds come up against Tottenham (away), Paris St Germain (home), Southampton (home), Chelsea twice (home and away), Napoli (away) and Manchester City (home).
By comparison, all of Liverpool's rivals have much simpler looking fixture lists, certainly in terms of the Premier League. City face Fulham (home), Cardiff (away) and Brighton (home) before travelling to Anfield. Chelsea have Cardiff (home), West Ham (away) and Southampton (away) as well as hosting Klopp's men. Manchester United have Watford (away), Wolves (home), West Ham (away) and Newcastle (home), while after the clash with Liverpool on Saturday, Tottenham have Brighton (away), Huddersfield (away) and Cardiff (home).
This is potentially a make or break period. Klopp's men didn't do too well in the run of games between the first and second international break last year, losing heavily to City while also dropping points against Burnley and Newcastle, as well as in their first two Champions League games. It meant they were playing catchup and that is something you don't want to be doing at this early stage given the strength of the Premier League and their Champions League group.
However, it must be stressed that big games are not to be feared. They are to be enjoyed, savoured and, if victory is secured, celebrated wildly. They are the best pints, the best days/nights when things go well, and the biggest confidence boosters to a team that can never have too much belief.
The first four games were all good wins for Liverpool, but as The Anfield Wrap's John Gibbons pointed out on this week's free podcast, all four were fixtures that they won last season. Of the next four league games, they won two and lost two, so anything more than six points from this period will technically be progress, although players, manager and fans will of course be hoping for more than that.
The Reds didn't have the best of records in league games against top six rivals last season, winning just twice in 10 clashes, losing four of their five away games and drawing three of five at home. If they are to make the steps forward they need to, they'll have to improve drastically on that showing this time out.
Klopp has admitted that squad rotation is needed in the coming weeks. Players such as Xherdan Shaqiri, who has shown fine form for Switzerland, will be invaluable. The nippy Swiss breadbox should get at least two starts from the next seven games.
There is also the eventual introduction of Fabinho, who has been kept behind the curtain up until this point. It has the potential to be like that episode of The Simpsons where Marge's friends hire the Yakuza to fight the Mafia in the battle for snack supremacy. The fans are like Homer saying "that little guy hasn't done anything yet, and you know it's going to be good," before being dragged into the house and missing what sounds like a spectacular assault on numerous foes. I could imagine Fabinho doing similar to his international mate Neymar next week at Anfield, only we'll all have eyes firmly glued to it.
It's unlikely he'll play at Spurs given the shortage in preparation time following the international break, but he knows PSG well from his time at Monaco and so, in theory, there will be less of an adjustment needed if he were to make his Reds debut in the mouthwatering Champions League opener. That could also lead into him playing some part against Southampton and in the Carabao Cup against Chelsea to get his Anfield career up and running.
These also feel like the sort of games where Alisson Becker could shine. The £65million man hasn't had much to save so far in his Liverpool career, but barring his much-discussed error against Leicester, he has done what's been required of him. The focus will be on how confidently and accurately he uses his feet after the King Power incident, but it may well be good, old-fashioned shot stopping that will be called on more during this run of games. He won multiple points for Roma last season with his large paws and frame, and it's big games like these where he could make the difference for his new club.
This would also be a tremendous time for Mo Salah to find top form again. The Egyptian hasn't exactly had a bad start to the season, scoring the opening goal of the campaign, being integral in the win at Crystal Palace and scoring the winner against Brighton, but we've all seen how much he is capable of when at top speed, and having him on fire in these big games could make the difference. His two goals for Egypt against Niger in African Cup of Nations qualifying will help his confidence, while Roberto Firmino followed up his header at Leicester with a goal for Brazil against the USA, and Sadio Mane has started the season like a house on fire.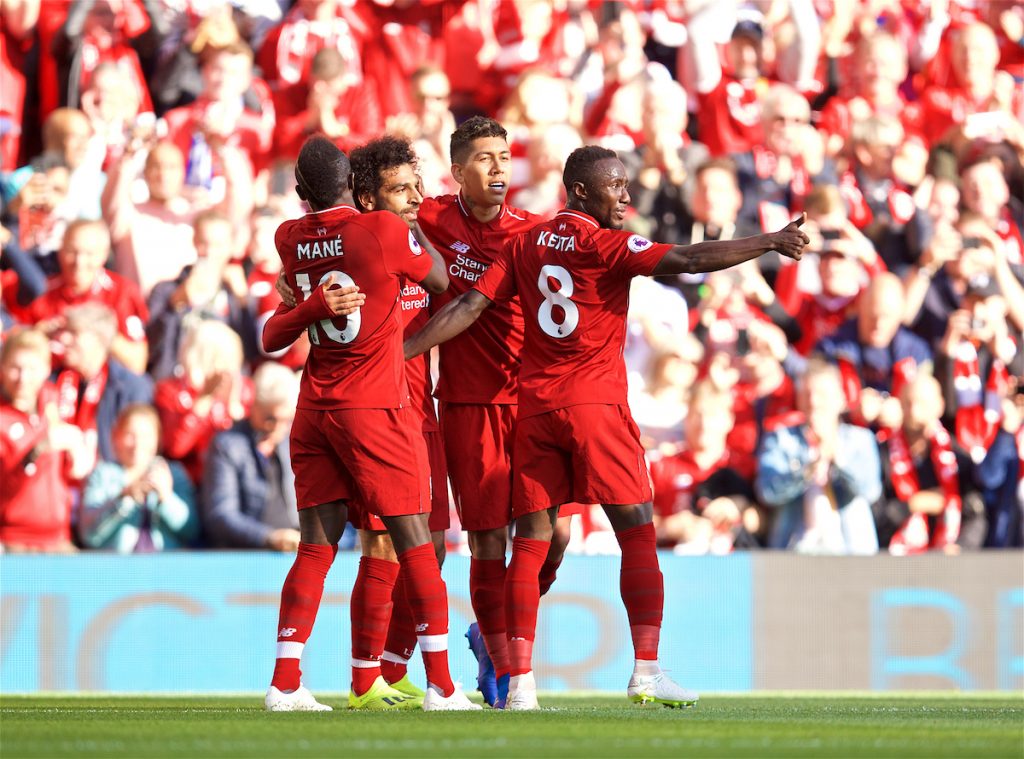 It will be a big ask, but just imagine if Liverpool come through this run of games still ahead of their rivals, or better yet, with four more wins from four in the league, into the next round of the Carabao Cup and in a strong position in the Champions League. It would give such a boost to the whole club, as well as spreading anxiety to rival teams who were hoping that the pre-season hype was just that.
The first calling point in this frankly barbaric run of fixtures is Wembley Stadium, somehow still the home of Tottenham Hotspur. Mauricio Pochettino has developed an outstanding team, but they haven't started the season all that well in terms of performances. They were fortunate at Newcastle, laboured against Fulham, impressive in the second half at Old Trafford but poor in the first half, and were beaten at Watford. All four opponents were able to create a decent number of chances against them, and you'd fancy Liverpool to do the same, though they need to be far more clinical than Newcastle and Manchester United were in particular.
If Klopp can pick up a win at the national stadium it would set the tone ahead of three consecutive home games across three competitions.
The old cliché is fitting. Liverpool need to take each game as it comes, and there will be nails bitten aplenty along the way, but this is what we're all in it for. Big games, big days and big nights.
It's up to Liverpool to prove that they are indeed big time.
"It's a fantastic time to be a Liverpool fan… I can't see any negatives. This really is what you're in it for." 🙌

🗣 Listen to this week's FREE Anfield Wrap podcast in full here 👉 https://t.co/fuxOdwWB6T pic.twitter.com/XmjhbCXUzt

— The Anfield Wrap (@TheAnfieldWrap) 10 September 2018
Recent Posts:
[rpfc_recent_posts_from_category meta="true"]
Pics: David Rawcliffe-Propaganda Photo
Like The Anfield Wrap on Facebook