LIVERPOOL v Chelsea in the third round of the League Cup. An unwanted and destined to be unloved child of a game.
We all want to win a trophy, this one even, but we don't want to have to win it now. Neither ourselves or Chelsea are in the frame of mind to be viewing this premature challenge as a means to an end.
Talk on the Liverpool FC wires is of people wanting Jürgen Klopp to pick a team of makeweights. Near none wish to see first-team mainstays risked in the midst of a seven big games in 22 days schedule. There is consensus that our away league fixture at Stamford Bridge on Saturday eclipses the midweek cup game in importance.
Klopp has the Liverpool nation as onboard as any Liverpool manager has since Kenny Dalglish, pre 1990. If there are dissenters against the current boss they are wisely keeping their fool heads down. Getting to European Cup finals, winning epicly along the journey, and then kicking off a season with seven straight wins, awards a leader a lot of buy in.
There's so much love for Klopp that it seems inconceivable that we second guess his decisions. In our heads, we're even completing his sentences for him. We're smitten, and rightly so. But I think he'll surprise many with his big decisions in the coming week.
It's all well and good fans casually dismissing the relevance of the League Cup, but it is a game Liverpool are expected to compete in. The Reds are on a roll, and it's a bandwagon that will get stronger the longer it remains in motion.
We think we're feeling good about ourselves now, imagine the power we would harness from, say, another three victories. The laws of football momentum dictate that Liverpool take the League Cup seriously. Do we want to be facing Chelsea again on Saturday having won seven but losing our last one? And that one being against Chelsea themselves?
Chelsea would take heart from that situation. It would give them a hint of a psychological advantage coming into the weekend game. The only way to negate that would be to face them in the cup with an under-23 side. Then, in assured defeat, we could claim "ah, but you didn't beat a real Liverpool team".
Klopp will not want to simply "get this one out of the way". Chelsea, the incarnation of Chelsea we will see at Anfield on Wednesday night, will represent a scalp. In his pre-match press conference the Liverpool manager spoke sincerely of his admiration for Sarri's swift and efficient revolution at Stamford Bridge.
Klopp respects his counterpart and when he respects a rival it doubles his resolve to beat him. Although Jurgen would routinely deny the media its desire to make games about manager v manager, there is no doubt he takes the big challenges personally.
Klopp has confirmed one certain change from his weekend side. Simon Mignolet will come in for Alisson Becker in goal. I'm not thrilled with that – Simon and me have issues – but I defer to the manager's wisdom.
As for other alterations, Klopp said: "There will not be the maximum amount of changes, nor will there be the minimum amount of changes. It will be a very strong team, though."
Now we know "they" always say this just before they pick half a dozen under-18 lads and a veteran who hasn't started for four years, but this time I'm inclined to take the manager at his word.
Liverpool's enhanced strength in depth – a product of the summer's fruitful work in the transfer market – means that several of the changes available to Klopp are not weakening ones, but on a like-for-like basis. Non starters last weekend – James Milner, Joe Gomez, Naby Keita – have started at other times this season. They are all likely to make the first 11 for Wednesday.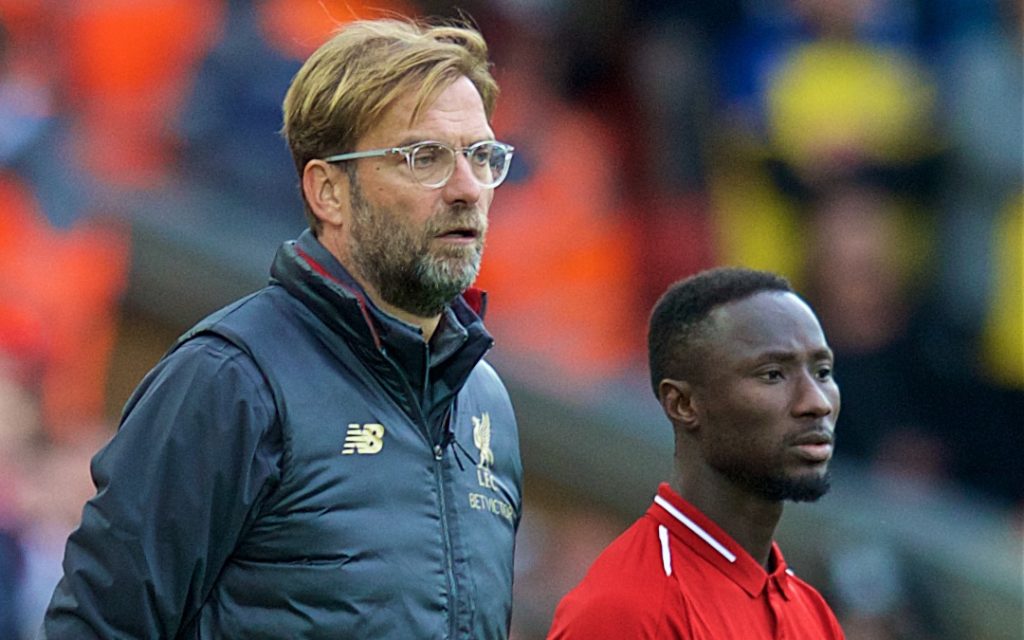 Additionally, Daniel Sturridge, Xherdan Shaqiri and Fabinho are all first-team players in waiting and will expect to be picked against Chelsea. There's five changes right there that Klopp can make without making his selection look like a second-string one. These five plus Mignolet could represent the "not the maximum, not the minimum" number of changes the manager hinted at.
Then there's a whole defence in waiting. Joel Matip, Dejan Lovren (fit again according to Klopp), Nathaniel Clyne and Alberto Moreno have lined up together in the past, alongside Mignolet, as a Liverpool first-choice back five. They may well do so again on Wednesday night, though I have a suspicion Gomez and Matip may get a chance to progress their 35-minute partnership from the weekend, with Lovren perhaps beginning his rehabilitation from the bench.
The choices and setup of the front three will attract most attention. Divock Origi is not an option (ankle injury) and Dom Solanke is only just available after three weeks out. A hunch only, but I feel Roberto Firmino may start with Sturridge and Shaqiri. He has played less football recently than Sadio Mane and Mo Salah, and Klopp should want to keep at least one of his much vaunted, first-choice three involved.
If I'm wrong, I won't be wildly out. Maybe Nat Phillips gets a go at centre back. Maybe Curtis Jones is granted a runout. Solanke could be allowed an hour before making way for Firmino. Let's see.
Ninety minutes, no extra time, straight to pens. It doesn't get more "knockout" football than this. It should be fun.
Predicted 11: Mignolet; Clyne, Matip, Gomez, Moreno; Fabinho, Milner, Keita; Shaqiri, Sturridge, Firmino
Kick off: 7.45pm, Tuesday
Referee: Kevin Friend
Odds: Liverpool 10/11, Draw 3/1, Chelsea 29-10
🎥"There was an interesting collective Van Dijk panic, the realisation that he's probably the most important player to stay fit for Liverpool…"

"Ever."

Watch for FREE: https://t.co/ZuGeUmQAAD
Subscribe to TAWPlayer for more podcasts: https://t.co/q0tg7SFik9 pic.twitter.com/RlWzbicSJJ

— The Anfield Wrap (@TheAnfieldWrap) 25 September 2018
Recent Posts:
[rpfc_recent_posts_from_category meta="true"]
Pics: David Rawcliffe-Propaganda Photo
Like The Anfield Wrap on Facebook