SUM up Jürgen Klopp's approach to football and the likelihood is you will quickly start to lean on the well-worn phrases that litter any attempt to characterise his work.
Whether it's "heavy metal football", "Gegenpressing" or the idea that a team under this manager will ruthlessly undress the opposition through lightning quick counter attacks to win its battles, there is an accepted impression of his approach in the general football psyche.
Klopp himself has added much meat to the bones on this score, saying only this year: "Entertainment is the most important part of football. There are too many serious problems in the world to make football boring too.
"I want to see happiness with my players, passion in their eyes and a desire to fight. I want to see them bursting, to surprise me, to look what's on their right, to try and make a pass to their left, that sort of thing."
And yet, while Liverpool sit pretty at the top of the Premier League with a perfect record of six wins from six games, and now two points clear after Chelsea's failure to beat West Ham, there are hints at an increasing lean on pragmatism as hopes and dreams of a successful season continue to grow.
Saturday's win over Southampton was a prime example.
For the fans in the stands, caught in the moment of a Saturday 3pm packed with positivity after a perfect start to the season, Xherdan Shaqiri had tore it up on his first start for the club. A key contribution to the first goal, an eye-popping freekick that cannoned off the bar and led to the third, and in general a willingness to get on the ball, to join in and to make things happen, led many underneath The Kop to toast his opening contributions as a first-team starter in red.
It was with some surprise then that the man that had beamed his broad smile all over L4 didn't reemerge after the break. Surely a player that had been so key to two of the goals had done enough to stay on, especially given how long he had waited for his chance from the get go?
Not for Klopp. A half-time substitution for tactical reasons was always going to upset the pros, and so it proved – the move much under the microscope as the weekend analysis poured in post match.
But while Jermaine Jenas and Danny Murphy might not approve, who of a red persuasion is even in the slightest bit bothered as the glow of top spot radiates all around?
The argument coming from the Match of the Day pundits on Saturday was the message it sends out to the man in the 23 shirt; that a player would feel slighted being treated that way by his manager; that it was seen as being "hooked" and that you had done something wrong to deserve it.
Klopp, though, is in a position to do things differently now. There doesn't need to be a sell. He doesn't have to be a salesman through his football. He just has to win. And he is. Every player wants to be a part of that.
In the second half, generally speaking, hardly a thing happened at Anfield on Saturday. Southampton – who had their moments first half – finally mustered a shot in the 91st minute, Charlie Austin's shot easily saved by Alisson Becker.
Liverpool dominated the ball, and while it wasn't Gung Ho, all energy, or high octane, it was effective in closing out the game.
Further, while many saw the introduction of James Milner for the box of tricks bagged from Stoke as a negative switch, there is evidence for the contrary.
It's Milner who has Liverpool's two efforts of note in the second half. And it's Milner who ends the game second only to Andy Robertson as the match's top contributor in terms of passes in the attacking third (21 to Robertson's 25).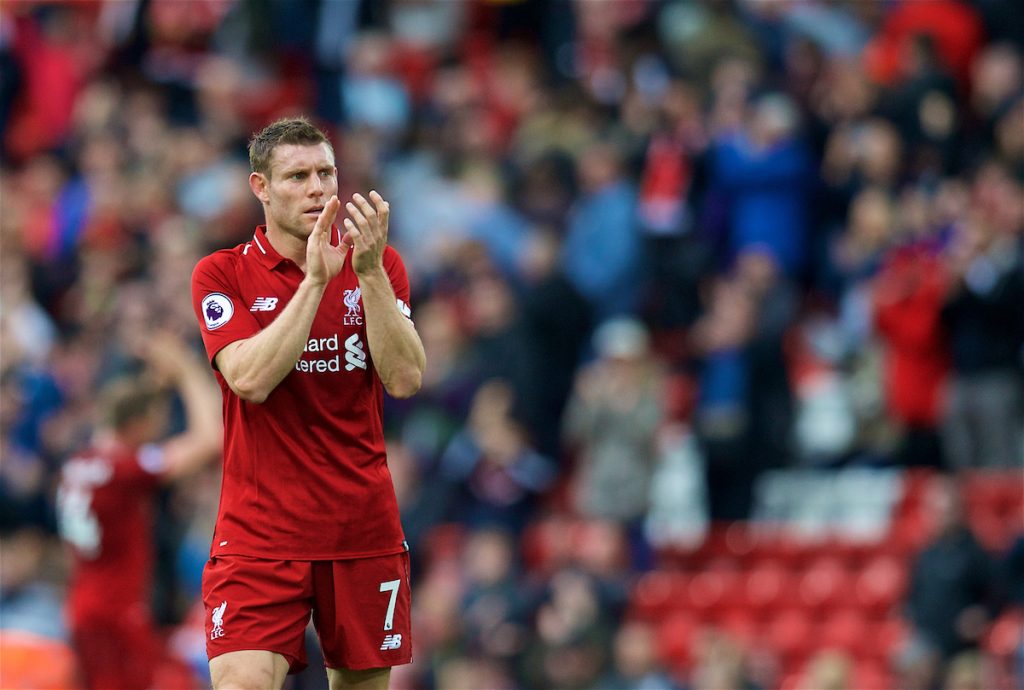 Klopp explained that it was new ground for him. That never before had he pulled a player who had contributed so clearly in the first half. He also made it clear that he explained his reasons to the player and that he was happy with them.
Ultimately, Liverpool comfortably saw out the game, clocked up another three points, and now sit top of the league – an improvement of seven points on this stage of the season last year.
And for Shaqiri, how will he feel after the supposed ignominy of a half-time substitution?
Perhaps, just maybe, he will be even more determined to deliver on what the manager wants from him. If, as some have speculated, he reneged on some of the defensive work expected of him, perhaps he works harder next time out to put that right.
It was clear Shaqiri didn't lack in any confidence on Saturday. He was all flicks, tricks, demanding of ball, an oozing of a man desperate to impress. The freekick was a genuine open-mouth moment.
This isn't a player who will sink into his shell Stewart Downing-style, and already he has shown he is comfortable in the company he is in. As his previous clubs include Bayern Munich and Inter Milan, this should really come as no surprise.
Perhaps, though, he is a player who needs reminding it is team over individual at Liverpool (now more than ever before under Klopp), the many over the few. And again – perhaps – this move from Klopp helps with all that.
Liverpool – as we are constantly reminded by some sections of those in the football media – are in the middle of a "nightmare run". The squad is now being utilised, minutes are being managed, and Shaqiri will soon get another chance, possibly on Wednesday when Chelsea come to town in the League Cup.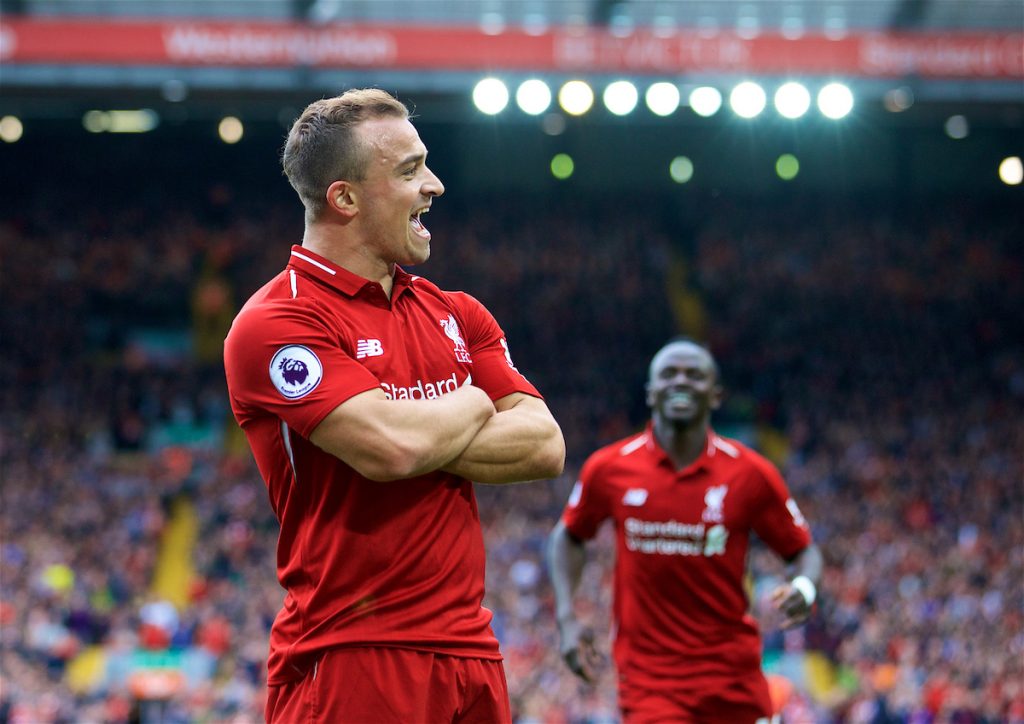 If selected, he has no choice but to try to impress again, to continue to be high energy, positive and looking to impress. And if he isn't, as he has already experienced, the manager isn't afraid to make what are perceived as being traditionally tough decisions.
Shouldn't a manager be playing expensive summer acquisitions in midfield? Why is he hooking players at half time?
Who writes the rules when you're top of the league?
Liverpool this season have look well drilled, well organised and with added steel. It comes from the top.
The manager means business, and so do The Reds. And that can only be a positive thing as the fixtures continue to flow thick and fast.
"Are they going to win forever?"

"Is it hard to imagine a time when you've been more optimistic about a Liverpool side?" 😀

Subscribe to listen to our Post Match Show: https://t.co/UlqKvwZIWy pic.twitter.com/JGCIVJlKSn

— The Anfield Wrap (@TheAnfieldWrap) 22 September 2018
Recent Posts:
[rpfc_recent_posts_from_category meta="true"]
Pics: David Rawcliffe-Propaganda Photo
Like The Anfield Wrap on Facebook