LIVERPOOL'S win at Crystal Palace last night felt significant.
Not because of the weird narrative that Sky Sports wanted to peddle. They tweeted before the game "Can @LFC exact their revenge?" referring to the infamous 3-3 between the two teams at Selhurst Park in 2014. The fixture has taken place six times since then, with Liverpool winning the last five. I'd say revenge had already been dished out a fair bit prior to last night.
It felt significant because of the other more general narrative that going to an unwelcoming arena in south London on a Monday night to play a very capable Palace side would be the sort of test that would separate the men from the boys in the title race.
I say "title race". It feels fairly ludicrous that we are two games in and every clash is being labelled as "must win". It's been hard enough to put up with the stress of "must-win" games in previous years when the realistic aim has been to challenge for the top four, which probably wouldn't take much more than 70 points.
https://twitter.com/TheAnfieldWrap/status/1031943498113724416
Now, according to the manager, Liverpool are trying to be Rocky Balboa, fiercely battling to match Ivan Drago's near perfect record. It genuinely could take over 100 points to win the Premier League title this season, and you'd fancy at least 90 will be needed to merely challenge. Therefore any dropped points will be even more impactful than they usually are, which doesn't help the stress levels when your team gives away a sloppy free kick in a dangerous area in the last two minutes when you're 1-0 up.
However, what does help is having a team who, if anything, are more likely to score from an opposition corner than their own. As Mo Salah and Sadio Mane raced the length of the pitch to make it 2-0, Reds fans watching on will have either slumped, jumped or fist-pumped with relief that the job was finally done.
It didn't feel like a vintage Liverpool performance, but then I'm not sure such a thing is even possible in games like this. You don't thrash Palace at Selhurst Park, not these days. I vaguely remember an opening day 6-1 battering of them in 1994 (which was presumably pre-revenge for 2014, eh Sky Sports?) but all five of Liverpool's recent victories there have been hard fought.
Credit to Roy Hodgson (washes fingers with soap and hot water) but he has developed quite an impressive team.
They might be overly reliant on Wilfried Zaha in attack, but they're also solid at the back, strong in midfield and fast on the counter. Their win at Fulham on the opening weekend of the season suggested they were picking up as they left off and so victory at Selhurst Park would have to be earned, it wouldn't be given.
Liverpool were professional. Very professional, and that was the key to victory.
Jürgen Klopp's men dominated the ball in the first half but struggled to create meaningful chances. Hodgson's game-plan was clear, to sit deep and not allow space for the electric front three to run into, while releasing Zaha via Christian Benteke flick-ons whenever they could. Liverpool's was to be calm, play their football and be patient in finding the breakthrough.
There was a slice of fortune in that breakthrough, firstly the deflection on James Milner's shot that took the ball straight to Roberto Firmino, then that Salah was able to draw the kick from Mamadou Sakho, and finally that Michael Oliver saw what everyone apart from Hodgson seemingly did.
It was a penalty, but it was also the kind of penalty that Liverpool would never have been awarded last season. Salah was shoved to the ground with two hands on multiple occasions last campaign and didn't get penalties. Hopefully officials have realised how "these things even themselves out over a season" very much didn't apply to The Reds last year, and having that in their sub-conscious may mean more decisions like last night. Though to stress again, it was absolutely the correct call. The delicious irony of the Palace fans who cheer on Zaha deciding they were going to boo Salah for "going down easily" was certainly not lost on me.
The second half was different. Credit again to Hodgson (cuts fingers off and starts typing with nose), his players came out and attacked, not just content with keeping the score down and continuing to counter attack. It was the first real test of the season for Liverpool's defence, and they passed with flying colours.
Alisson was asked to make saves, and he made them. His save from Luka Milivojević's free-kick was superb. It wasn't a full stretch fingertip save for the cameras, but he anticipated the shot. I was assuming for all the world that Andros Townsend was taking it given it was ideal for a left-footer and the former Newcastle man had so nearly scored from further out in the first half. However, the Brazilian moved quickly as the Serbian hit his attempt perfectly round the wall and into the near post, but Alisson got across and dealt with it while others might have been left flat-footed.
A couple of other saves were more routine, but it was Alisson's distribution that drew praise following the game – 21 out of 23 successful passes might not seem all that amazing for a goalkeeper, but when you see where the passes went, it was all the more impressive. The former most expensive stopper in world football picked out team-mates successfully on multiple occasions with passes of 50, 60 and 70 yards. It was a clear tactic to draw Palace players towards him, before pinging the ball to the wide players in open space halfway up the pitch to start attacks.
Exactly the sort of thing that led to Klopp giving the thumbs up on bringing him to Liverpool.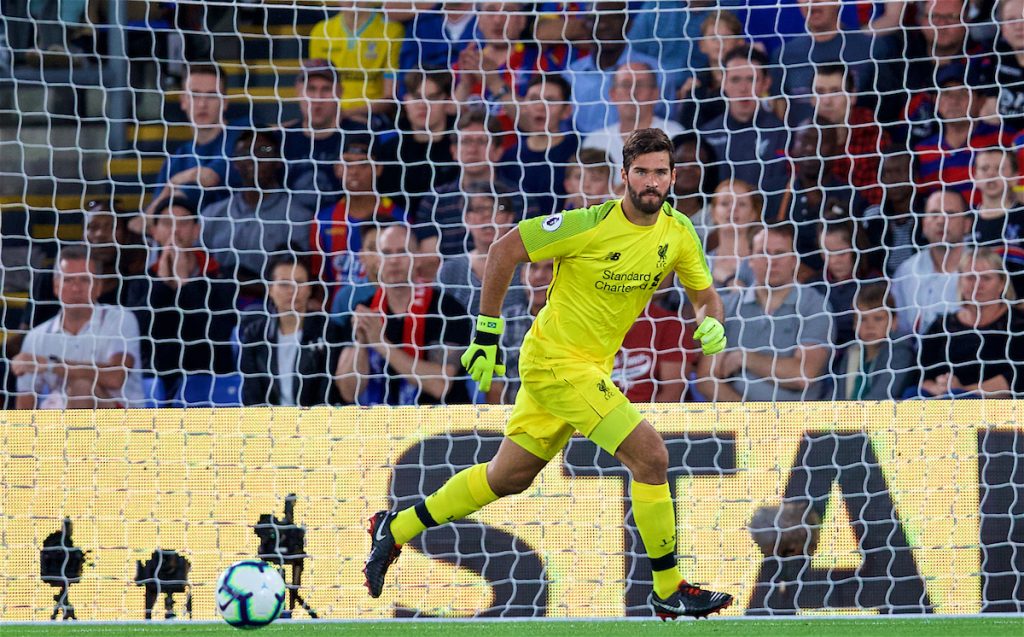 The only thing more impressive than the goalkeeper's distribution was the colossal performance from the giant Dutchman in front of him. Virgil van Dijk was rightly given man of the match after being the key tool in keeping Palace at bay. His performance was so dominant that Hodgson decided to bring Benteke off with 20 minutes to go, seeing that the big Belgian simply wouldn't get any change off the £75m man, who wasn't the only Dutchman to impress.
There were some eyebrows raised when the same midfield from the West Ham game was named, with many expecting either Jordan Henderson or Fabinho to be brought in. However, Gini Wijnaldum kept his place as the holding midfielder and he was quietly superb. He was always there to take possession, which wasn't a trait you would have associated with him a year or two ago, his passing was crisp and accurate, but perhaps most impressive was his breaking up of play.
His tackle on James McArthur in the penalty area in the second half was massive and felt like the point when the hosts realised it wouldn't be their night. He will be hard to dislodge in this form.
Now, Naby Keita's turn. Such was my reaction to it when it happened I had the neighbours banging on the wall shouting "turn that pornography down, we've got guests!" It's just nice that people are seeing why tiresome bores like myself have been going on, and on, and on, and on about Keita since the club confirmed he would be arriving. If Salah had managed to put away the chance created by the Guinean midfielder he would have already boxed off assist of the season.
As for Salah, it was a bit of an odd night. Despite his error for the penalty, I thought Sakho played very well against the Egyptian. Knowing that Salah would be cutting inside a lot, it was the Frenchman who was tasked with stopping him, and he largely did so. His block from Salah early on and his general ability to get the ball away from him in dangerous scenarios kept Liverpool's main dangerman relatively quiet.
However, even on a quiet night Salah won the penalty, forced the sending off of the otherwise brilliant Aaron Wan-Bissaka and assisted the second goal for Mane. With better finishing he could still have got at least two goals as well. There doesn't seem to be any scenario where Salah doesn't have a huge impact on a game.
Klopp was right when he told Sky Sports' Monday Night Football when asked about challenging for the title "It's very early. I couldn't care less and it's not important. We are not in a race with other Premier League teams each week saying 'wow, they've scored these goals'. I was not 100 per cent sure in the first half we'd score but you have to be a real challenger and that's what we are each week."
Two games down and 36 to go. Liverpool have so far done what a "real challenger" needs to. It's very early days but The Reds are showing all the signs of a team that can do wonderful things this season.
Last night's win is the type that will have annoyed rival fans, who would have believed Palace might have nicked something. The Eagles played well and you'd back them to take points off other top six sides this season. Not Liverpool though, who took all three points and left with a clean sheet.
Right, I don't know about you but I'm off to watch Keita's turn on a loop for the rest of the afternoon. Best warn the neighbours.
Recent Posts:
[rpfc_recent_posts_from_category meta="true"]
Pics: David Rawcliffe-Propaganda Photo
Like The Anfield Wrap on Facebook