UPON reflection, I think we can treat Brighton as a bit of a wake up call.
The best kind. The kind where you are reminded that there's work still to be done, but learn the harsh lesson while still winning. Hopefully that, in itself, is a mark of progress.
Time may come to view the Leicester City team of this era as one of the strangest sides to have ever competed in the top tier. Their achievement in winning the league title three years ago remains — as near as dammit — the greatest sporting achievement of all time. I'm not exaggerating. And I'm going back to the ancient Greeks here and assuming that, although some no-mark must have at some point emerged from the ether to star in the ancient games, that however Herculean that undertaking may have been, it could only, at best, have equalled Leicester City's crowning moment.
They'd been all but relegated the season before their title win, and after it they returned to the mediocrity that had been their default existence. As if it had all been a dream. Since, though, they have stabilised, and although they never truly convince, they have an upper half of the table resident's-like ability to find wins, as and when they need them. At the very least, they're now consistent in being label-able as "dangerous opponents".
Claude Puel's side have won three on the spin this term. None against heavyweights, and in dispatching Wolves and Southampton they required the rub of the green. Less so in beating lower league Fleetwood 4-0 in the League Cup in the week. But three wins is confidence inducing, and their feisty and now very experienced crowd will be looking forward to ruffling Liverpool's feathers, the current cocks of the north.
The face that this enigmatic Leicester show to Liverpool on Saturday is anyone's guess. Mercifully, they won't have Jamie Vardy up top. He's been something of a nemesis to us for a few years and his suspension comes at a good time. Nevertheless, ex-Manchester City forward Kelechi Iheanacho can be a handful, and although their most potent creator, Riyad Mahrez, has left to better himself at City, his replacement of sorts, James Maddison, is in a hurry to prove he has what it takes to translate his stellar form in last season's Championship to the elite level.
Much of the rest of the Leicester side resembles something of a who's who of lads linked to Liverpool over the course of the past three or four transfer windows. Left back Ben Chilwell seemed nailed on for us at one point. Centre mid Wilfred Ndidi might have entered Jürgen Klopp's thinking before Fabinho became his ultimate choice to replace Emre Can. Winger Demarai Gray and England World Cup star Harry Maguire have also apparently been on red radars for a while now. We'll probably never know the veracity of the rumours linking this group to Liverpool, but the stories alone hint at the fact that they are all players with something about them.
I'm making Leicester sound good, aren't I? They're not really. They only narrowly beat 10-man Southampton with a last-minute winner a week ago. On their day, Leicester can still muster being "a bit shit".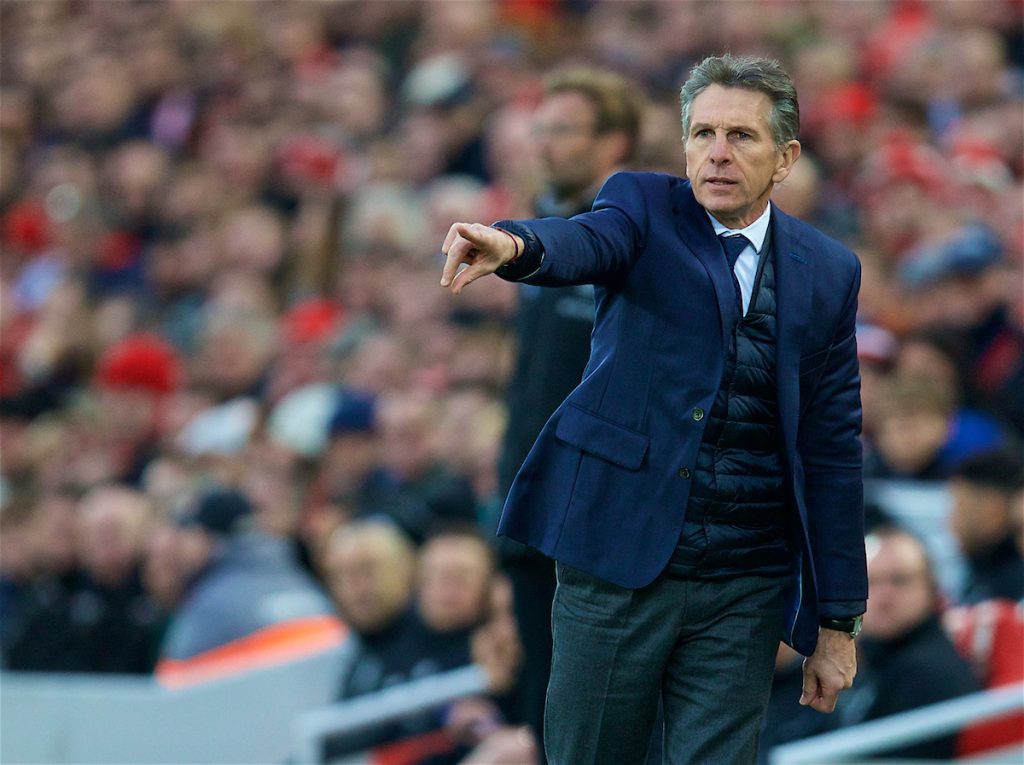 If we bring our second-half performance against Brighton then we may be in for an uncomfortable Saturday. If we can find our first-half level, we will have few problems.
Klopp worried about the fade in "intensity" in his team a week ago and hinted at a need for changes, despite the reasonably long recuperation period between games at this stage of the season. Liverpool's bench has been a sight to behold in the early phase. Such reserve riches we haven't enjoyed for a very long time. Strange then that we were unable to truly benefit from fresh resources in the second half on Saturday. Perhaps, had Liverpool not been winning and had something to protect, we might have seen more bullish, and ultimately more productive, changes.
For Leicester, Jordan Henderson looks a solid bet to start his first game of the season. Who the captain replaces is harder to gauge. Does Klopp opt for a double defensive pivot — matching Hendo with Gini Wijnaldum — with Naby Keita foraging ahead of them, or does he stick with a singular number six, and retain Milner to augment Keita's attacking tendencies?
If there's to be a surprise selection it may come in the front three. Bobby Firmino hasn't quite caught fire yet and Klopp will surely have closely observed the likes of Daniel Sturridge and Xherdan Shaqiri in training, watching for signs that they may be ready to start, and rest the Brazilian. Another possible is Adam Lallana, maybe at Milner's expense. Lallana has been all but written off by many supporters but the manager will recall that, pre injury, he had led the "press" from the front throughout the 2016-17 campaign.
The Reds' three wins on the board so far give them room for breath and, although a point at Leicester would be far from a disaster, the head of steam and confidence that winning habit brings needs to ideally be sustained.
That is if this season is not merely to be another entertaining one, but the defining one we all so crave.
Predicted 11: Alisson; Trent, Gomez, van Dijk, Robertson; Henderson, Wijnaldum, Keita; Salah, Sturridge, Mane.
Kick off: 12.30pm, Saturday
Referee: Paul Tierney
Odds: Leicester 6-1, Draw 7-2, Liverpool 5-11
Recent Posts:
[rpfc_recent_posts_from_category meta="true"]
Pics: David Rawcliffe-Propaganda Photo
Like The Anfield Wrap on Facebook