WE live in a society these days that doesn't like to admit when it's wrong.
Doubling down is the aim of the game, whether it's in politics, football management or on social media, it seems the modern person more often than not has their side and will stick to it, no matter how wildly incorrect they appear to be.
It was referenced by Anfield Wrap contributor Adam Smith on this week's free podcast, how some fans get into a mindset about certain players and just won't let them go, and it particularly rang true with me because last season I thought Gini Wijnaldum was awful.
Well, "awful" is maybe stretching it, but I didn't particularly see what he was contributing. In his first season he had been good in spurts, but the main thing of value he had previously been providing was important goals, and in 2017-18 even that had disappeared. I could no longer really see the point of him.
My main criticism was that he was a bit of a chameleon, but not in a good way. Looked the part when the whole team was playing well, but was nowhere to be seen when the going got tough. Far too often it felt like we were only reminded he had been playing when he was subbed off in the 75th minute.
When Jordan Henderson picked up a yellow card in the Champions League quarter final first leg against Manchester City, I was far more concerned than others seemed to be. I realised that it meant Wijnaldum would be leaned on a lot more than usual in the second leg, and in a game like that I had little faith that the Dutchman could rise to what would be a monumental challenge.
I was wrong. He did. He was superb. He was sensational, and more or less has been ever since. I have no explanation for how, but from that game on Wijnaldum has put in performance after performance that has left me thinking "Where has all this come from?"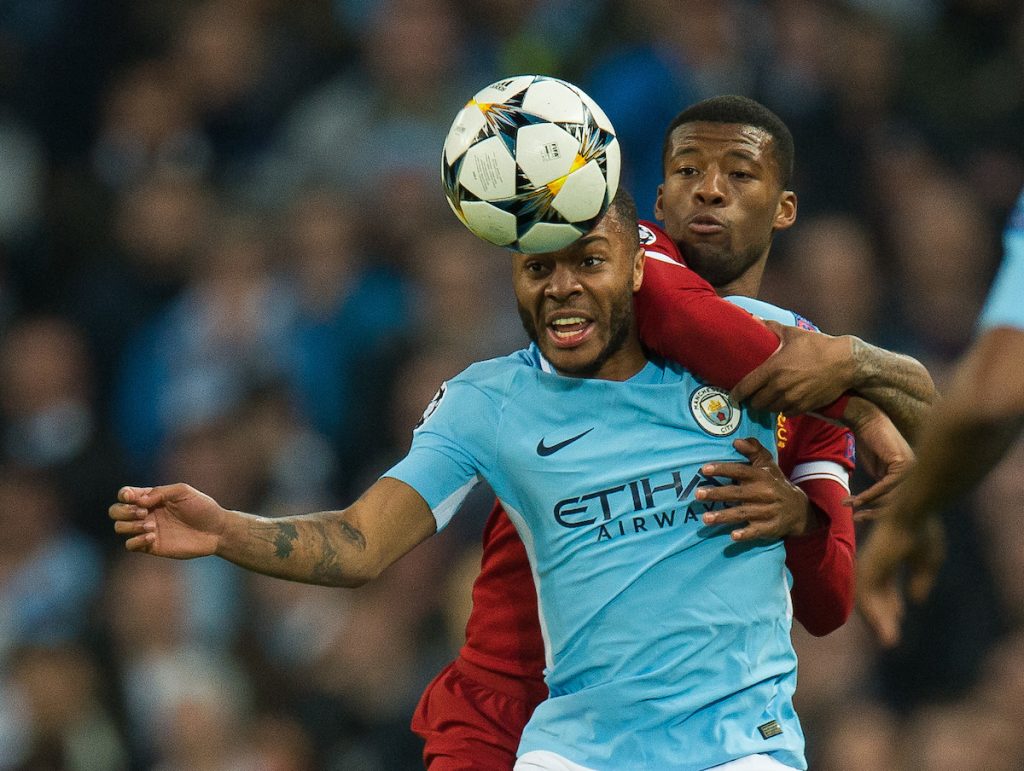 Perhaps it was always there, and my modern mind – conditioned to tell itself what it wanted to believe – decided to stick to its biased guns and ignore the good Gini was doing until it could no longer keep the dam intact, which burst at the seams following his performance at City.
The need to own up to my sins was hammered home on Saturday as Wijnaldum put in a bar-setting showing in the 1-0 win over Brighton, notable particularly because it came in a game when many of his teammates were struggling for form. There was a fair bit of sloppy play from The Reds, mainly in the second half, but Gini rose above it all and put in a near flawless performance. Exactly the sort of thing I had been telling myself he was incapable of.
Opta stats confirmed after the game that he had completed a remarkable 75 of his 76 passes, made all the more impressive as more than half of those had come in Brighton territory. He also won four fouls while not conceding any, and even found time to juggle the ball up the field with the kind of skill that, had Neymar done it, would already be pinned as a Gif to every Twitter profile with names like "Neymar4BallonDor".
It wasn't Wijnaldum's first impressive game of the campaign either. He was good in the opening weekend 4-0 rout of West Ham, and was even better at Crystal Palace last Monday; breaking up play, making the right passes and putting in a potentially game-saving tackle on James McArthur in the penalty area.
Something else that he deserves credit for is putting in these performances from the previously unfamiliar "number six" role.
When playing in the Eredivisie with Feyenoord and PSV Eindhoven, Wijnaldum was mostly deployed as a winger, and sometimes as a number 10. His dribbling ability and directness were what won him many admirers, and if you'd said back then that he would eventually be playing as the deepest of a midfield three for a Jürgen Klopp team, a quizzical Dutch eyebrow or two would have been raised.
Even after moving to England with Newcastle United, he was an attacker, scoring 11 times for the Geordies in his one season there in spite of their eventual relegation, including a sensational four goals in one game against Norwich City.
When Liverpool beat Tottenham to Wijnaldum's signature in 2016, it was a curious move from Klopp given he seemed to be well stocked in attacking areas. Little was it known that he had other ideas. The German and his scouting team had seen something in him that suggested he could thrive in a midfield role.
In his first season at the club, you could see the thinking behind it as he was tidy enough in his play and supplemented the attack with his late runs from deep as a number eight — as well as his penchant for scoring crucial goals, even if every single one of them was at Anfield.
However, those goals dried up in his second campaign, with a solitary strike against Huddersfield the only league goal he registered, though he saved the best for close to the end with a crucial headed goal in Rome to send Liverpool to the Champions League final. This was perhaps down to his role subtly changing as his duties as an eight were slowly transformed into those of a six.
Despite his improved form towards the end of last season, stories were soon emerging in the summer that he could be on his way out of the club due to potentially losing his place to the incoming Fabinho or Naby Keita. Those stories were rubbished by the man himself.
Some feared that Wijnaldum would become the forgotten man with nearly £100m of midfield talent arriving at Anfield this summer, but with the trust of his manager and a determination to prove that he belongs, the Dutchman has emerged as a key part of a Liverpool team with big ambitions.
It would have been a mistake to sell the 27-year-old, partly because his song is one of the best we have and we already lost the Ragnar Klavan one, but also because he is showing that there's a lot more to come from him than some of us previously thought.
Most people were swooning over the idea of a midfield of Fabinho, Henderson and Keita, and they were right to do so. But with only one third of that midfield starting games so far, it bodes well that Liverpool are still looking so strong in the early stages of the new season.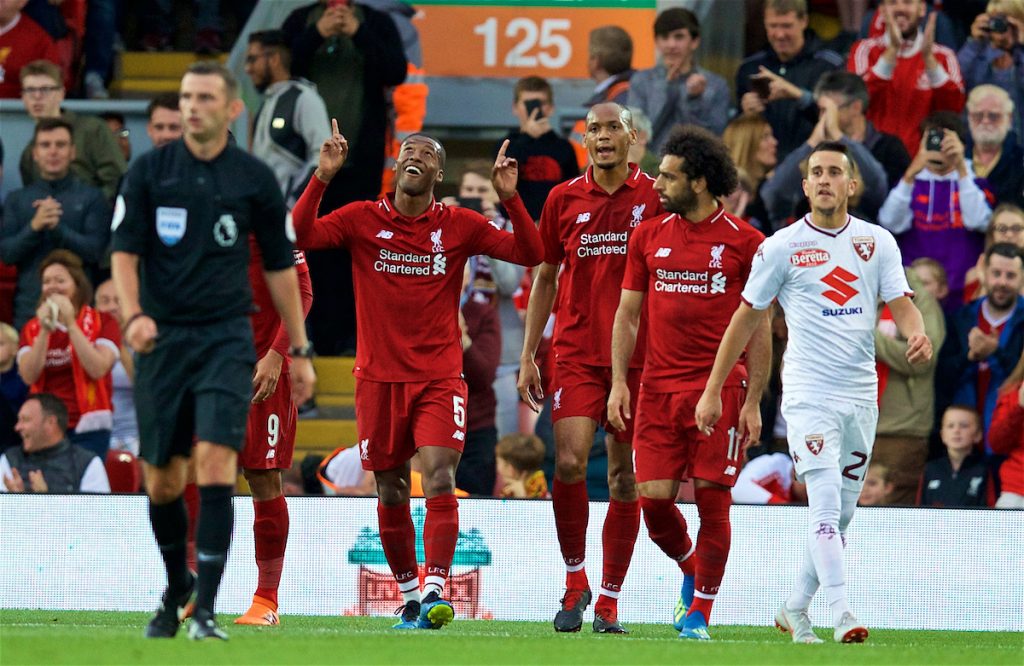 Once Henderson is fit and Fabinho is up to speed, Wijnaldum will probably find himself on the bench more often, but he is ensuring that he won't be the forgotten man of Liverpool's midfield and Klopp knows he'll be able to call on him whenever and wherever necessary.
Wijnaldum recently revealed to the club's website that Klopp had also raised concerns about his lack of influence on games last season, stating "[Klopp] said that I have to be more involved in games, and that there was too many times [last season] that I was not involved and that it was easier to play a bad game.
"But he said that's also the next step, that you can play in more positions than only one because you have the qualities to play there and you can help the team to do better.
"I speak a lot with him about it and he makes me also aware of what I have to do to become a better player or to make the next step."
Gini has shown with his early performances this season that he is ready to take the next step. That smile wouldn't half look nice reflected in a trophy come the end of the season.
Sometimes we're wrong, or at least far too extreme in our views just so we can win a fairly pointless argument. There's no need to be so nailed to your side that you become blind to reason and evidence.
I was wrong about Wijnaldum and I'm happy to say as much. He's brilliant, the best in fact. Actually he's the very best person there ever was ever. Better than Kenny. Don't @ me…
"Alisson has been here for five minutes and he's already taking the piss out of people." 🔥

🗣 Subscribe and listen to our immediate post-match reaction show after the Reds make it nine from nine 👉 https://t.co/lmNtBz4ADz pic.twitter.com/KPLC2YLr22

— The Anfield Wrap (@TheAnfieldWrap) 25 August 2018
Recent Posts:
[rpfc_recent_posts_from_category meta="true"]
Pics: David Rawcliffe-Propaganda Photo
Like The Anfield Wrap on Facebook