LIVERPOOL announced their second signing of the summer on Friday with the £13million acquisition of Xherdan Shaqiri from Stoke City,
As had been suggested before the World Cup kicked off, The Reds wrapped up the deal in swift fashion at the right time with clubs beginning to ramp up their transfer business again looking towards the new season.
It came as no surprise, given Liverpool's strong interest in Shaqiri had been made clear throughout the summer, but it was important in terms of pre-season preparations that it could be completed prior to the upcoming US tour.
It's a deal which continues a pattern which has developed over the past few years with the likes of Gini Wijnaldum, Sadio Mane and Andy Robertson all joining from lower-ranked Premier League clubs, with a considerable amount of scepticism around whether they would be of the required quality to make the step up to play for a club of Liverpool's stature.
Even the Mo Salah transfer — as absurd as it sounds now — was met with mixed reactions at the time, with concerns raised about his previous experience at Chelsea and a lack of certainty about whether he was the right calibre of player Liverpool ought to be targeting.
All of the above have turned out to be resounding success stories (Wijnaldum perhaps to a slightly lesser extent than the other three), and it's well worth bearing this context in mind with Shaqiri. On the face of it, signing a winger from a relegated Stoke side who has previously failed to live up to expectations at top European clubs like Bayern Munich and Inter Milan might not sound the most exciting prospect.
Yet the reality of Liverpool's situation is that the current front three — arguably the most potent attacking trio in Europe — are virtually impossible to upgrade upon, and the emphasis this summer was always upon ensuring better quality depth beyond Salah, Mane and Roberto Firmino.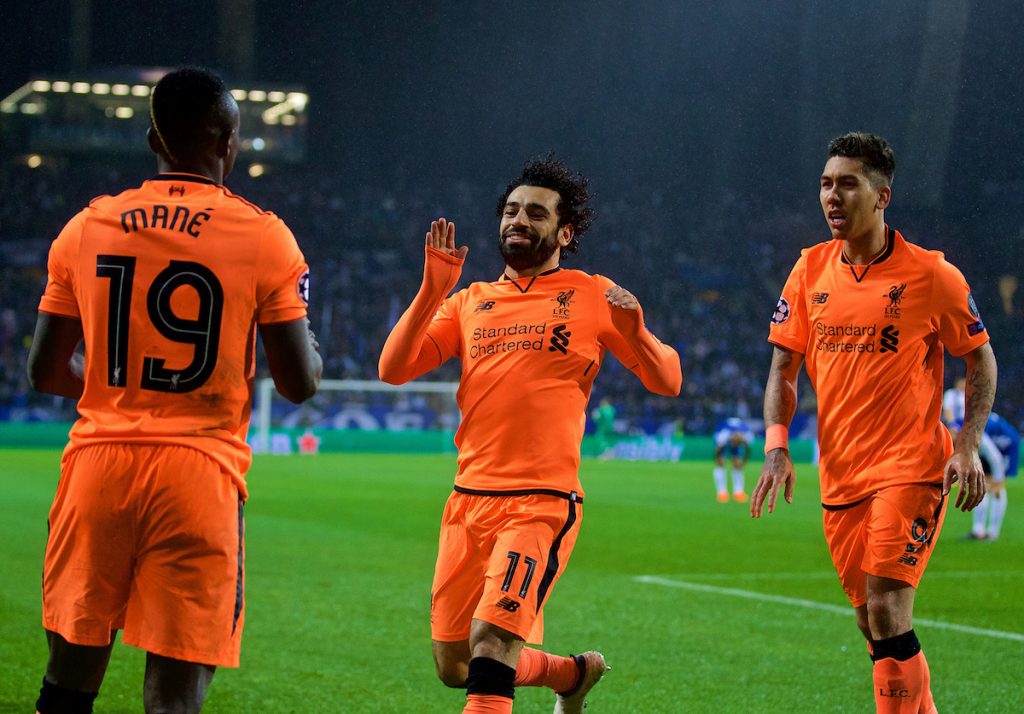 While Liverpool were hit with a spate of injuries in midfield last season, it was extremely fortunate that the front three — aside from the occasional minor layoff — went more or less unharmed for the vast majority of the season.
Liverpool cannot bank on all three staying fit for the entire season again, and the chasm in quality when Jürgen Klopp did decide to rotate and give any of them a rest was abundantly clear, particularly following Philippe Coutinho's departure which meant he no longer had the luxury of picking three players from four.
With no natural wide options in the squad, it would often be a case of shifting Firmino out wide to accommodate Dominic Solanke centrally, which had the double knock-on effect of destabilising the entire structure of Liverpool's attack, while also heavily reducing Firmino's ability to influence games.
In the Champions League final, Salah's injury ruthlessly exposed the lack of suitable alternatives to come into that front three, with Adam Lallana's lack of pace and goal threat rendering him highly ineffective in that advanced role.
To sign a high-quality player who would be happy to come in and effectively accept a backup role for that front three is a very difficult task, as any player of a level anywhere near Mane, Salah or Firmino would almost certainly rather be a guaranteed starter elsewhere.
This is where Shaqiri makes a whole lot of sense. A player of his level would never accept playing Championship football for Stoke, and the chance to prove himself at a top club once more and play for a manager like Klopp is a prospect he will surely relish, even if he knows that in all likelihood, he won't necessarily be a first-choice pick.
Having endured a frustrating spell at Bayern Munich — his first big move after emerging as a potential superstar at Basel — in which he struggled to displace Franck Ribéry and Arjen Robben, Shaqiri is a player with a point to prove, and at 26 years of age he still has plenty of time to do so and grow as a player.
Xherdan Shaqiri has signed for Liverpool… 🇨🇭

🎥 Watch our immediate reaction to the Reds' newest forward here 👉 https://t.co/36R20vvO8n

🗣 Subscribe and listen to our Shaqiri special, including a chat with Stéphane Henchoz, here 👉 https://t.co/lmNtBz4ADz pic.twitter.com/LT7RSIThLN

— The Anfield Wrap (@TheAnfieldWrap) 13 July 2018
The notion of a first-choice eleven is also something which, in reality, is often overstated, as there will nearly always be an important player unavailable or in need of a rest throughout the season. If Liverpool are to seriously challenge on all fronts next season, a bigger squad is absolutely essential and the arrival of Shaqiri significantly bolsters Klopp's attacking armoury compared to what he had before.
When Manchester City have just signed Riyad Mahrez for £60m and £200,000 a week to strengthen a frontline which already contains Sergio Aguero, Leroy Sane, Gabriel Jesus and Raheem Sterling, it shows the level Liverpool are competing against. It's not enough to just have the best front three in the league — there has to be quality beyond those first-choice positions.
With four competitions to compete in, Shaqiri gives Klopp the scope to rotate any of the front three rather than having no choice but to run them into the ground by starting them every week, given the lack of suitable alternatives. He might not start 40 games, but there's easily a scenario for Shaqiri where he starts 25+ games in all competitions and makes another 15 or so from the bench, where he can serve as a potential game changer should Liverpool need a moment of magic to break down a stubborn defence.
As we saw at the end of last season, Klopp is not wedded to one formation and used the 4-2-3-1 against Brighton at home as Liverpool secured top four on the final day, essentially playing four attackers with Firmino in a deeper role behind Solanke, flanked by Mane and Salah. With Shaqiri on the books, Klopp could potentially look to utilise a similar system, packing the attack with pace, creativity and goal threat at home against lesser opposition.
Shaqiri can play off the right flank or more centrally as a number 10 in that shape, and with time could possibly even be coached to play a slightly deeper role as the most advanced midfielder, similar to how Lallana and Alex Oxlade-Chamberlain have done so well at times, giving Klopp the flexibility of using him in different systems.
In terms of profile, Shaqiri has plenty of qualities that suit the style of football Liverpool play under Klopp, as well as experience at a high level with Bayern, and his international pedigree with 21 goals in 74 caps for Switzerland. He has pace in abundance — especially in short bursts, which is important for rapid counter-attacking transitions. He's an excellent dribbler, is physically robust for a player of such small stature, and has the ability to score from outside the box with some regularity, both from open play and set pieces.
Eight goals and seven assists for a desperately poor and defensive-minded Stoke side last season is a more than respectable return and, as Mane has demonstrated, the opportunity to play alongside much better footballers can raise a player's previous level quite considerably. There's every reason to believe that Shaqiri playing as part of Liverpool's frontline could allow him to express himself more than he ever could at Stoke, especially with Klopp's proven ability to help players maximise their potential with work on the training ground.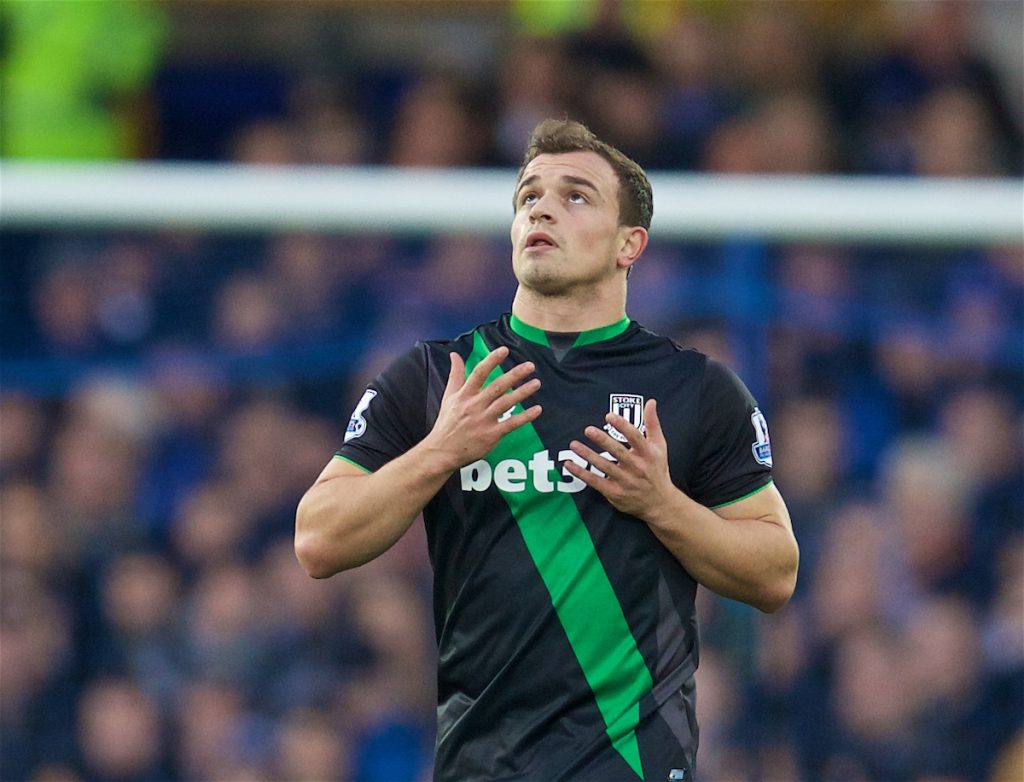 There have been doubts raised in some quarters around Shaqiri's work rate, something which he isn't generally renowned for and will undoubtedly have to buy into at Liverpool in order to meet Klopp's demands in terms of pressing and winning the ball back high up the pitch, while he also has a fairly extensive record of muscle injuries, which, given the intensity of Liverpool's play, is a potential issue (although he remained fully fit all of last season).
These factors will have all been assessed in depth by Liverpool's transfer department and the manager, however, and given the release clause of just £13m, it's a virtually risk-free deal. The value Klopp places on waiting for the right player, both in terms of skillset and personality, is well documented and he will have only sanctioned the deal because he believes Shaqiri will fit well into the squad, both on and off the pitch.
The fact that Shaqiri cut short his holiday to fly in for his medical and complete the deal in time for the US tour shows that he really wanted to make the move, and his reputation for being a confident, self-assured figure is an important mental aspect which he will need in order to handle the pressure of performing for Liverpool.
Even if, for some reason, things don't go quite to plan for Shaqiri, his transfer value would only rise over the next couple of seasons regardless — not that that scenario is necessarily likely to unfold.
Ultimately, it's a smart piece of business which makes a whole lot of sense from many angles, even if it's not one to have a party about. Not every transfer has to come with the fanfare of a Virgil van Dijk or a Naby Keita, and Shaqiri is a highly pragmatic, if somewhat unspectacular, addition.
Of course, there is still plenty more work to do in the transfer window and Shaqiri alone is not sufficient, but for such a modest fee, signing a player of his pedigree to build upon an already exceptional frontline really is a "no brainer", in the words of Klopp.
There's a chance he might even surpass expectations, too.
[wonderplugin_audio id="69″]
Recent Posts:
[rpfc_recent_posts_from_category meta="true"]
Pics: David Rawcliffe-Propaganda Photo
Like The Anfield Wrap on Facebook