I'VE written and rewritten the introduction to this piece several times so far.
That is a reflection of the difficulty I'm feeling over the discussion around Loris Karius. After the Champions League final, some are happy to declare him as completely shit and move on. That's not something that I'm particularly comfortable doing, for numerous reasons. One of the main ones is that nuance is dying in football conversations.
I would often slate Simon Mignolet with a distinct lack of nuance. Just a mention of the Belgian's name is enough to make me roll my eyes in disdain. In my own defence, Mignolet has been making mistakes for the duration of his Liverpool career and you could count on one hand the number of genuinely game-changing saves that he's made since his arrival ahead of the 2013-14 season. It was abundantly clear to most that he wasn't good enough to push The Reds to the next level, yet he's stuck around like a cockroach when it kept seeming as though his time was done.
I readily confess, therefore, that I was excited by the arrival of Karius. I didn't care about the minimal transfer fee paid for him. Besides, surely Andy Robertson has removed any question marks around the idea of a player's transfer value being any sort of reflection of their ability. I was excited because he came with a brilliant reputation from Germany and looked like exactly the sort of youthful, fresh-faced player that Jürgen Klopp was building his team around.
Then he broke a bone in his hand on Dejan Lovren.
There's a part of me that wonders, in a sliding doors moment, what would have become of the German if that had never happened. Would he have slotted straight into Liverpool's team and carried on where he'd left off at Mainz? He arrived at a time when Mignolet's stock wasn't at its highest, and perhaps many would have given him more time to settle and been more forgiving of any mistakes.
Instead, his Liverpool career had barely begun and he was already sidelined. Mignolet, as he is wont to do when he feels his place is under pressure, started the season well. Or at least, didn't make any genuine howlers. It got to the point that some were willing to forget all about his poor performances of the past and there was actually something of an outcry when he was dropped and Klopp's countryman replaced him.
When people speak of those early performances after Karius took over from Mignolet in 2016-17, you'd think he'd been unable to even so much as do up his shoelaces. The reality is that he had some impressive moments. He made some big saves and demonstrated a degree of front-foot goalkeeping that we hadn't seen in years.
Where his rival for the number one spot started to get a nosebleed if he moved off his line, Karius was happy to take a starting position that was virtually outside his own box. As a result, the defence could push much further forward and allow him to act as a sweeper keeper, which was ideal for Klopp's more attacking desires.
It's vitally important to point out that he also conceded some goals that he really should have done better with. That led to criticism from supporters and pundits, and then the manager decided to take him out of the lineup and reinstall Mignolet as our number one. In the Belgian's defence, he went on to have a decent end to the season, making some massive and impressive saves.
Inevitably though, Mignolet's form took another downward turn and Karius came back in midway through last season. At that point he looked more like the shot stopper most of us had expected when we signed him. It would be a lie to suggest that his performances were flawless, but his positioning was good, his distribution was fast and mostly accurate and he made some excellent saves.
If we'd signed him that January instead of the summer before, we'd have been convinced that The Reds had finally sorted their goalkeeper problem. Instead, his errors in his first outing meant that no one felt truly comfortable watching him. Moments that could be criticised were.
Those that are reflecting on his season in the wake of Kyiv are saying that they'd been saying he was rubbish all season, but that's a rewriting of the truth with hindsight. Whatever came later, he was partly responsible for getting us to the final in the first place, to say nothing of getting us over the line for the top four.
There's no getting away from the two huge errors that gave Real Madrid a win their open play hardly warranted. Those inclined to believe medical professionals rather than angry men and conspiracy theorists will point to the concussion that the experts have said he suffered. As the manager has pointed out, there's a difference between an excuse and a reason.
I was willing to forgive him for the errors, as these things can happen to the best of us. Just ask David de Gea about his performance against Sevilla in the Champions League at Old Trafford, or for Spain in the World Cup. Karius isn't de Gea though, and those that refused to acknowledge that he's made some excellent, occasionally game-changing saves during his time at Liverpool never felt as though his stock was high enough to forgive him or give him time to prove them wrong in their dismissal of him. I've heard many people say that they'll "never forgive him", as though if he saved a penalty to win the title next season they'd still be sat there going "shite, him".
The manager's decision to give him a chance to prove himself in pre season makes absolute sense, as far as I'm concerned. Liverpool's scouts must be looking at the goalkeeping options available this summer and feeling as though few of them are a definitive upgrade on Karius.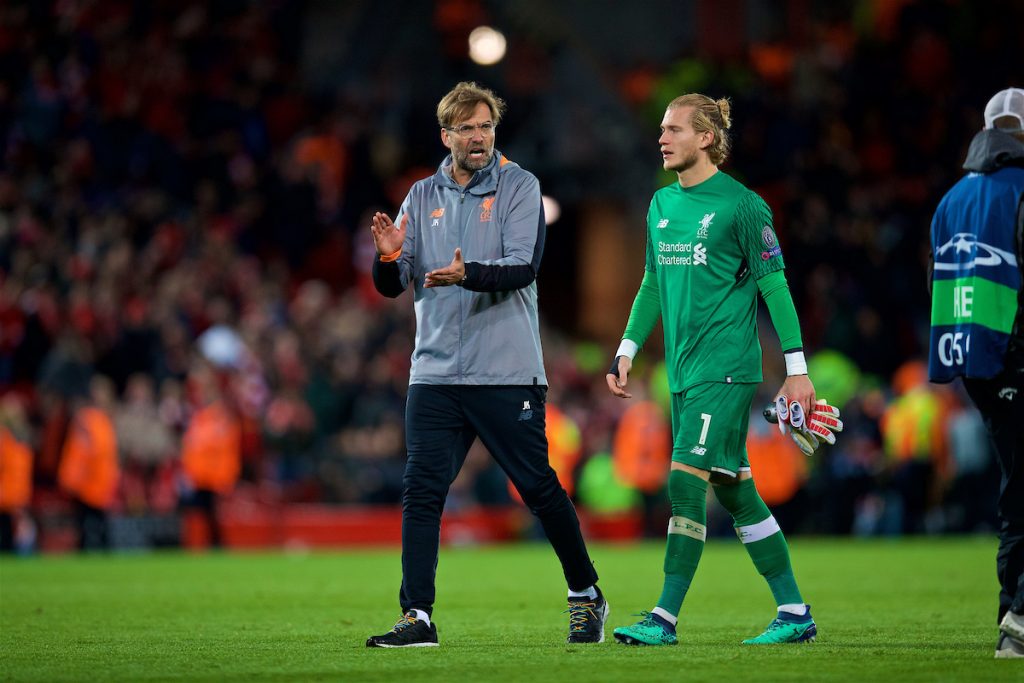 The manager must have wanted to give him the opportunity to prove himself, to show that he has the mental fortitude to bounce back after those two errors on the highest possible stage. I'm also willing to bet that Klopp couldn't give a hoot about a video posted on social media that showed the goalkeeper getting ready to return for the season and attempting to demonstrate that he's not going to let those mistakes make him cower and disappear.
The problem that Klopp has got is that Karius doesn't look like he's actually recovered from the Kyiv nightmare. That video of him in the Chester warmup, combined with the mistake he made at Tranmere, paints a picture of someone who isn't right at the moment. He might be able to bounce back, he may yet recover his career and go on to be a successful goalkeeper. My concern is that he's unlikely to do so at Liverpool and if the manager persists with playing him in pre season then the chances of a recovery are even slimmer.
Klopp has to stand by his player publicly for a whole host or reasons. Given we seem determined to declare Alisson Becker as our number one target, there comes a point at which we have to call Roma's bluff. We can't do that if the manager has told all and sundry that Karius is last and we're gonna swerve him. We might also want to get some money for him, which will be less likely if he's been publicly destroyed by a man who has made a career out of having his players' backs.
The tricky thing is, that means we'll keep seeing him in pre season unless we buy a new lad, sell him or loan him out. I would be amazed if Klopp doesn't think a new goalkeeper is a priority, but I also don't think he believes the solution is whacking out £70 million on a lad who conceded seven to us in the Champions League and didn't make a save of note in the World Cup.
I would very much like us to buy a new goalkeeper this summer. Karius can't be our number one until he's rehabilitated his image and he can't do that at Anfield, even if that's in the reserves. I also don't want to see Mignolet in goal for us again, given that he's just as guilty as Karius of being unreliable.
His Liverpool career is as good as over and, if he keeps making high-profile mistakes in public, his career in general might struggle to recover. I take no pleasure in that. If anything, I find the entire scenario rather sad. He's a young lad who messed up on the biggest stage possible, so he doesn't need supporters tweeting him or Tranmere players shouting at him telling him he's shit. He needs time away from the spotlight.
Liverpool, meanwhile, have some serious thinking to do.
"If we had a keeper who could just kick it and catch it… I think everyone would take that right now…"

🗣 Subscribe and listen to our latest 'Gutter' show, looking Liverpool's latest transfer rumours, here 👉 https://t.co/lmNtBz4ADz pic.twitter.com/zHPojrf0I7

— The Anfield Wrap (@TheAnfieldWrap) 11 July 2018
Recent Posts:
[rpfc_recent_posts_from_category meta="true"]
Pics: David Rawcliffe-Propaganda Photo
Like The Anfield Wrap on Facebook