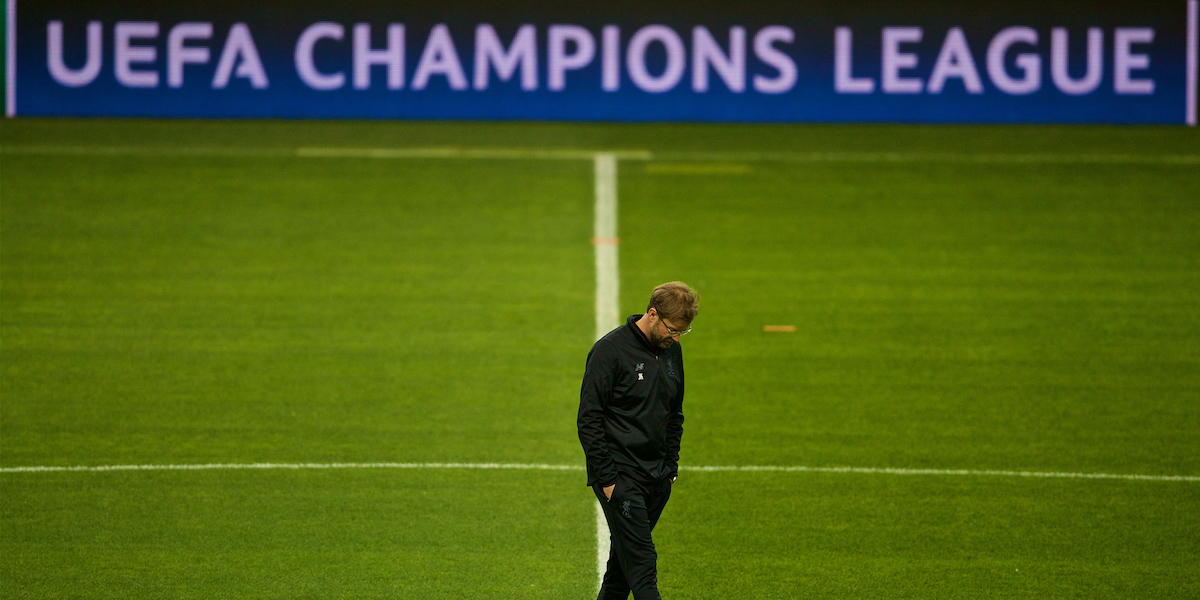 THE mornings of Champions League finals are unique days. Days when we feel special but equally full of trepidation. Like children on their birthdays or confirmations or Bar Mitzvahs.
In Liverpool there's not a stranger, a shop assistant, an acquaintance you won't communicate with who won't at some point acknowledge that you both know what each other are thinking. A silent nod here, a coy knowing smile there. Maybe some small talk, but not too much, there's serious business ahead. We want to say: "Are you ready? Are you set?"
It's an incredible thing that a person of my years can now map their life out in eras punctuated by European Cup finals. Well, it feels like something remarkable to me at any rate. I was 10 in 1977. A child. A teenager in 1984. A properly grown-up man with a family by 2005. And now, in 2018, middle-aged but still beside myself with excitement at the prospect of watching Liverpool play in the European Cup final.
I'm not religious. Quite the contrary. And I don't feel there's a need to hedge bets in case it turns out there was a deity after all. Any god, worthy of the name, will forgive a bit of ignorance about their existence when push comes to shove. But, it's hard to escape the suspicion that there's a plan for Liverpool. That there's always been a plan for Liverpool. There has to be or none of this makes much sense. I'm conflating football with religion because it was, and always, will be part and parcel of the same set of human processes.
Football can anchor us in a godless world. It is no accident that it is the sport/the opiate of the people. Kings have other pursuits and disputes to distract them. Football provides relief, often from difficult existences, sometimes from just being alive. Football binds us and divides us, but above all, renews our sense of hope, sustains in us the belief (perhaps delusion) that there will always be a better day.
As you go about your routine on Saturday May 26, but go at it with a vigour that only this kind of day can bring, take a moment to remember the more difficult days. Some of those days in our history have been more difficult than most, but there are many run of the mill disappointments to be lived through in the life of a footballist.
I'm eschewing the word fan. It's far too inadequate a label for the relationship and life we have chosen. Fandom is inherently frivolous, fickle, transient. We are about loyalty, above all else. There are too many days where football seems to be testing us. We endure them because we have faith. Remember the bad days, they are how we earn the better ones.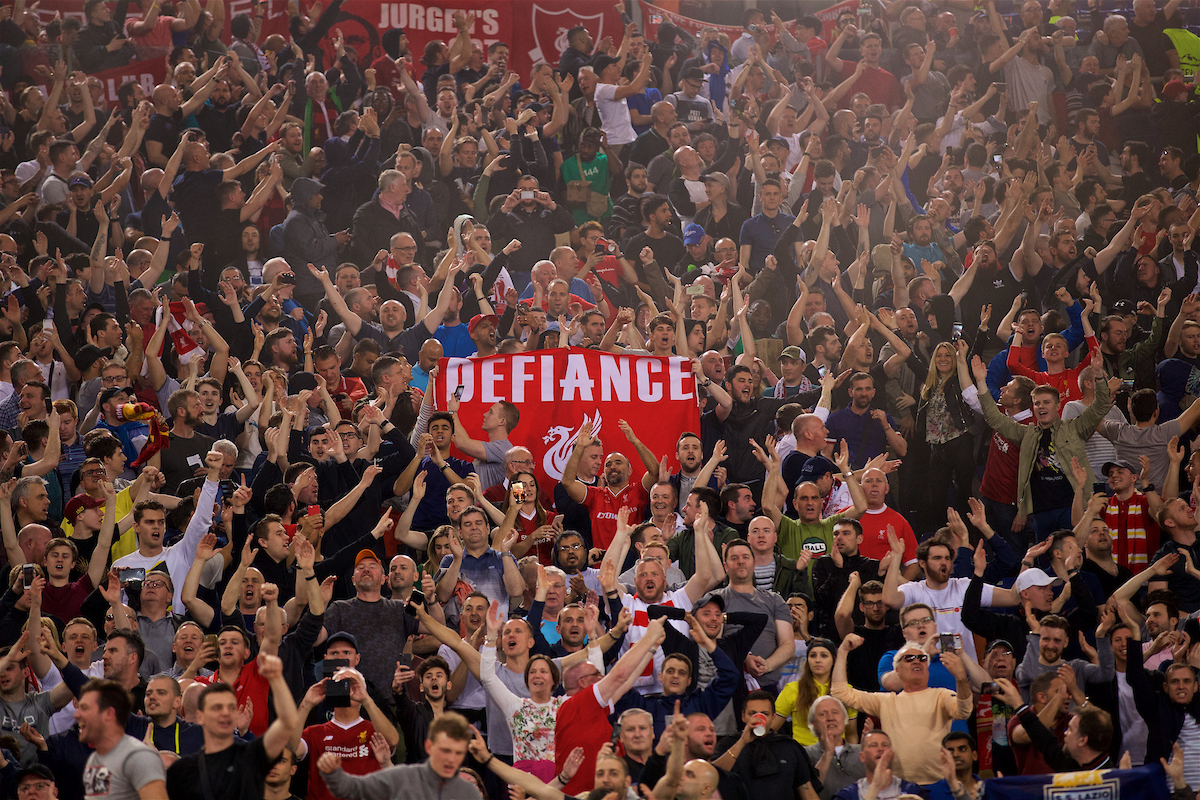 Loyalty is a quality I hold dearest in people. Maybe that's why I'm a natural football person. I can't see a more important facet of our time on earth than our ability to be loyal and equally to require reciprocation. Without loyalty our existence as social creatures is meaningless, isn't it? Loyalty isn't easy. It's a path you follow not a badge to be ascribed. It's not easy to be loyal. Loyalty is faith.
I used to have many chats over a pint or two with my brother in law about his faith. He's a committed catholic and has the wit and conviction for making a case for faith. "So what is god then?" It would always come down to that. "God is love," he'd say. Yeah, OK. I'd roll my eyes. But what's following a football team? What is Liverpool? It's just an exercise in surrender to loyalty, to faith. It confounds reason. It cannot be adequately rationalised. It just is.
Liverpool in a Champions League final just is. It feels like it's a place we've always belonged. There's a sense of relief about it. Yes, it feels like coming home.
Jürgen Klopp's a god-faring man. He wears it well. He's undoubtedly fought some demons in recent times ahead of his schism with life-long colleague and friend Zeljko Buvac. He seems like a very strong human being, so wherever he draws that from is fine with me. He has always had a knowingness about him. Like he can see what happens next. It's a thing priests do. Its obviously patronising, but it has a powerful effect. It's surely why he is a very good football manager. I'd walk over hot coals and fight sea serpents for Jürgen Klopp. Wouldn't you?
There was a desire in some quarters, earlier in the season, to frame him as very mortal. Of course he's mortal, we all know that, but it remains better to believe. Liverpool to beat Real Madrid can happen. I believe it will happen, and I think it happens because of faith. Their footballers all earn more money than our footballers. Any combined 11 will feature 10 Madridistas to one Liverpool player. By any objective analysis, they're better than us. Three Champions League trophies in four years confirms that.
Interestingly though, the betting people can't find a chasm between us, and that's informative. You hear some debates that verge on making a case for Real Madrid. "No, they can beat Liverpool y'know." It's a crazy inversion. This is testament to the force Liverpool have become. Madrid will tell themselves that they are better and need only to stay focused to win, but deep down they fear us. They are terrified of that moment when we unlock our power and become that whirling dervish of attacking football that none can live with.
Madrid's gameplan in Kiev will echo their second-leg approach against Bayern Munich. Real are about talent, craft and know how. For Bayern's purpose they chose also to be athletes. Running men. For 45 minutes at least. In that key first period they matched the Germans stride for stride. There was a determination not to be beaten simply by graft. Yes, they fell behind, but there was a desire to not be subsumed by Bayern's will.
'There are a lot of young people in these away ends who have said, 'you know what, this is ours.'" ✊

🗣 Subscribe and listen to our chat with commentator Clive Tyldesley on covering the Reds in Europe and how he thinks they will fare in Kiev 👉 https://t.co/GrPC7z97qv pic.twitter.com/5Hzck6AZnp

— The Anfield Wrap (@TheAnfieldWrap) 23 May 2018
Real's preparation will be readying themselves to resist a quick start from Liverpool. Expect their start to be quicker. They will bank on a "power play" combined with their potency in forward positions to see them take a first-half lead. If Liverpool have a stoic first 20 minutes it will stand them in good stead. We are at our best having taken a couple of token punches. It serves to lull opponents into false security. Then the red storm.
My god, I'd love to witness one of those red storms on this day of all days. There is a capacity in Liverpool to be devastatingly decisive, even on such an exalted stage. There will be much talk of experience in the run up to this game and about just how valuable Madrid's street smarts are. It's all fair comment. Liverpool will have to find a way to play in this final. A way to make it just about the joy of trying to kick the ball into the nets. The children within Bobby Firmino, Mo Salah and Sadio Mane have made them the men they have become. They must discover those boys again.
I don't want to envisage what midnight looks like on the cusp of May 27. When the deed is done. It's all too much to comprehend. We are face to face with freedom. We can't play, just sing, hope, urge and pray. They can bring their royal reputation, we will bring our loyalty and our faith.
I'd spend 90 minutes on my knees just to be lifted up at the journey's end. I'd follow any old prophet to the ends of time. Just make it all divine.
God save The Reds.
Predicted 11: Karius; Trent, Lovren, van Dijk, Robertson; Henderson, Wijnaldum, Milner; Salah, Firmino, Mane.
Kick off: 7.45pm, Saturday
Referee: Milorad Mazic (Serbia)
Odds: Real Madrid 63-50, Draw 3-1, Liverpool 56-25
"We've been to Hoffenheim and Maribor, Moscow and Seville…" 🎶

🗣 Subscribe to #TAWPlayer and listen to all of our Champions League buildup and reaction as the Reds look to make in number six 👉 https://t.co/yd76hpKGhg pic.twitter.com/SDqy0bNd8f

— The Anfield Wrap (@TheAnfieldWrap) 18 May 2018
Recent Posts:
[rpfc_recent_posts_from_category meta="true"]
Pics: David Rawcliffe-Propaganda Photo
Like The Anfield Wrap on Facebook