JÜRGEN Klopp says we must only think about Brighton this week, and that's the way it should be.
I deviated from the script. I also thought about Huddersfield and David Wagner a lot too.
Said it before, I'll say it again, but you get more for your buck at this stage of a season because other team's results can be points in the bag for you. And so it proved on Wednesday night when Wagner's braves delivered us two points at the expense of Chelsea and a huge step closer towards Champions League qualification.
I was calling mates up before the game. "Chelsea-Huddersfield on the box tonight. Big game for The Reds. Coming out to watch it?" No takers. I forced my two lads to accompany me down the boozer.
I punched thin air and leapt from my spec in ecstasy as Huddersfield scored and then again at the final whistle as the draw was secured. I could not have been more engaged or happier had it been a Liverpool match.
And yet I felt quite alone. In the pub where I watched the game — a Liverpool pub — no-one else seemed very interested in the outcome. Afterwards on social media and the like, ripples of applause for Wagner's boys but no one was celebrating. Meanwhile, I was on an open-top bus parade in my head.
Maybe I'm the weirdo. Maybe just that bit too obsessed. I love watching Liverpool play, I love being there in the flesh when Liverpool play, but mainly, well, most of all, I like knowing that Liverpool have won. This is surely everything. The cause is the cause. It shouldn't just come to life because you or I are there. Points were at stake for Liverpool in the Chelsea-Huddersfield game. It was a Liverpool game in all but billing.
I think perhaps I'm a product of a generation of fans who knew football as kids either through going the game or listening to it on the radio. Where I grew up, sometimes there wasn't even radio coverage. I remember having to find out Liverpool had clinched the 1979 league title on the news. Just think about that. The game wasn't on TV (incredible in itself), there was no national radio coverage of it, no internet, and even bloody teletext hadn't been invented then.
It was an experience that was repeated for me over and over again. It lead to me having a relationship with Liverpool FC that existed for large swathes only in my head, in my imagination. Even if there was no media coverage, I'd still make sure I was mentally "present" during the 90 minutes. I'd become one of those expectant 1950s fathers, cursed to pace hospital corridors while their wives had children in other rooms. I'd have my football "places". Rooms I would want to be in when Liverpool were playing. Walks I would go on just to think about a game being played far away in a parallel universe.
So often in those early years, the big moments I would have with my team were not about being in grounds, or celebrating goals, they would be about definitive outcomes. My first engagement with certain games would be in hearing about the result. I'm glad my kids don't have this lonely experience and relationship with the game, but it did teach me to focus on what I was in it for — the being a fan. It was to want Liverpool to win. That purity. Nothing more, nothing less. Just to love Liverpool.
I won't be going to Kiev, by the way. There's a whole load of logistical and family reasons why I'll be staying home. I'm rapidly tiring of having to explain why I'm not going to incredulous friends and acquaintances. I don't think I've met anyone in the past fortnight who won't actually be in the Ukraine on May 26. "You're not going?! I thought you'd be a cert." Well I'm not, mate, and y'know what, I'm really OK with that.
I know lads who haven't been to a game this season who are finding a way to get themselves to the final. Good. There will be plenty of you there. You won't miss me.
I only want one thing. The European Cup. I'd happily be locked in a darkened room for the two hours of the final if I could guarantee being released to find out that Liverpool had won. I don't need "the experience", just the glory.
I was talking to a teacher at one of my kids schools the other day. She's a crazy Red. So nuts she can barely bring herself to actually watch us. She told me she was so wound up ahead of the second leg against Roma that she couldn't look at her TV. She had it on but faced away, looking at the wall, just listening to it. Brilliant. Love and respect that kind of insanity.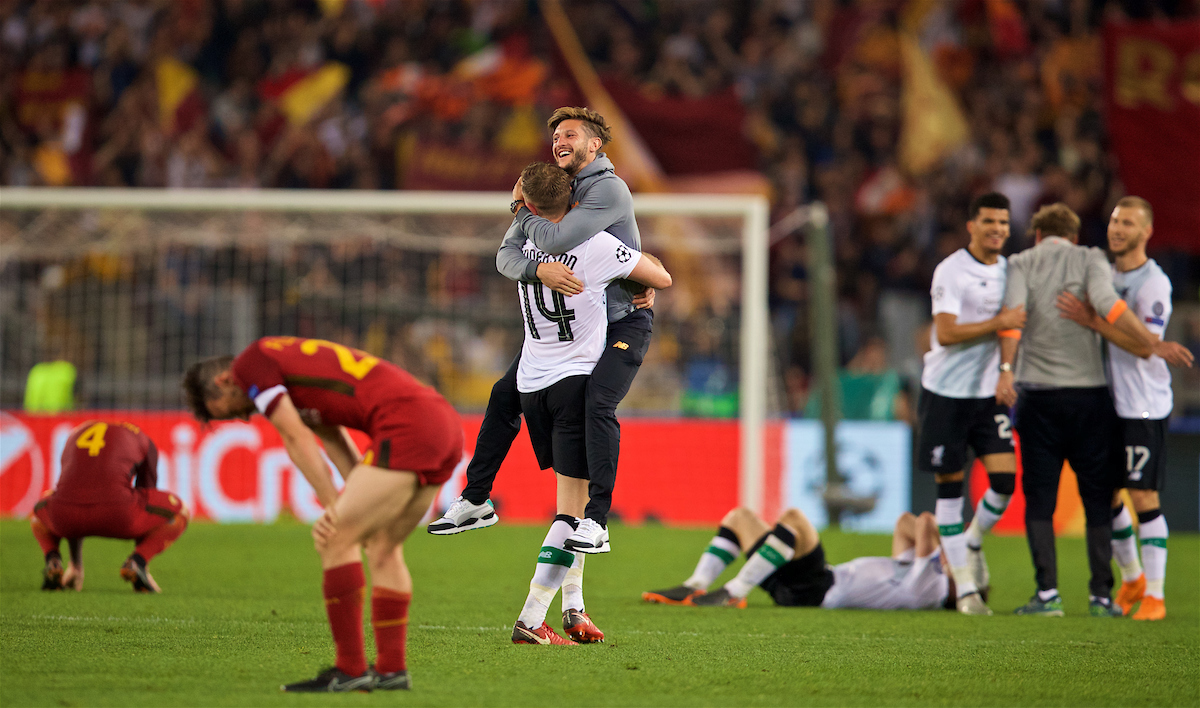 My last live appearance at a game this campaign will be at Anfield on Sunday. A routine end of season affair we all hope. Thanks to Wagner and Huddersfield clipping Chelsea's wings in the week, we need a point at most. That should be manageable. In fact, no one should try and imagine how dark things could suddenly get if we fail in this endeavour. I've taken the 20-1 offered on Brighton as a compo bet, rest assured.
The team Klopp will send out should represent his strongest 11. There's been the luxury of a full week's worth of preparation ahead of Brighton, and there will be two weeks afterwards to rest up ahead of the big final.
I hope we can all be in fine voice for Sunday. Let's whet appetites, let's send out messages. We had two main objectives in August, I think most would agree — first was to ensure requalification for world football's top tournament. We're within touching distance on that one. The second aim — a decent showing in our first season in a while back in the Champions League. I think we can safely say we've gone way beyond decent.
See you all Sunday, then. Flying our flags, singing our songs, waving our men off. Let's get Brighton sorted and then properly focus on that Madrid mob.
It's only about the results now, and I'm all in.
Predicted 11: Karius; Trent, Lovren, van Dijk, Robertson; Henderson, Wijnaldum, Milner; Salah, Firmino, Mane.
Kick off: 3pm, Sunday
Referee: Kevin Friend
Odds: Liverpool 3-14, Brighton 7-1, Brighton 18-1
"Come and sign for us and we'll work across the next three years to make you the best player in the world. That's the sell." 👊

Fekir ✅
Pulisic ✅
Dembele ✅

✍🏻Subscribe to listen to our transfer show: https://t.co/sAYhSu6Qag pic.twitter.com/74e3qnc8gh

— The Anfield Wrap (@TheAnfieldWrap) 9 May 2018
Recent Posts:
[rpfc_recent_posts_from_category meta="true"]
Pics: David Rawcliffe-Propaganda Photo
Like The Anfield Wrap on Facebook