LOOK at these men, writes CAOIMHE O'NEILL.
These men, in their red ties who have fancifully danced us into the elite ballroom of a European Cup final. Another European Cup final and it's about time. The players have fought tooth and nail to get us here, ever since an away day back in August. When a certain teenager weighed in the anchor and set us sailing to Kiev with a surprising and delightful freekick.
Look at these men who stand before you, their studs sharp and their shin pads counter-attacking low. They brought you here but you, you sang them on.
If Mo Salah is king then Trent Alexander-Arnold is prince. Forged in West Derby, his name picked out of a hat to attend an Liverpool FC Summer Camp aged six, he has played for the club ever since. To see a homegrown talent conquering Europe at 19 is what dreams are made of. To then see Trent pictured in a red bucket hat celebrating in the changing room of the Stadio Olimpico was that dream becoming reality.
Obviously, it has taken a lot of hard work and dedication to get to this level as it will to stay there. Trent has the talent and, importantly, the belief to be pulling on the red shirt for the next 10-plus seasons. Just picture a kid kicking a ball against the concrete slabs that surround Melwood, standing on a purple bin to watch the players train; now the kids do that to catch a glimpse of him.
On Sunday, he showed his maturity on and off the pitch. As an ambassador for charity An Hour For Others, Trent invited a young Liverpool fan, Louis Henry, to join him on the lap of honour. It was, I'm sure, a very special day for Louis and his family. Louis even scored at the Kop end, something Trent knows about and something he will hope to make a regular occurrence for years to come.
Trent is the epitome of Jürgen Klopp's resourceful management, belief in youth players and what can be achieved when they are given games. He is a loyal supporter, he comes from Liverpool, and he'll do everything in his power to help bring the European Cup home. Our Young Player of the Season.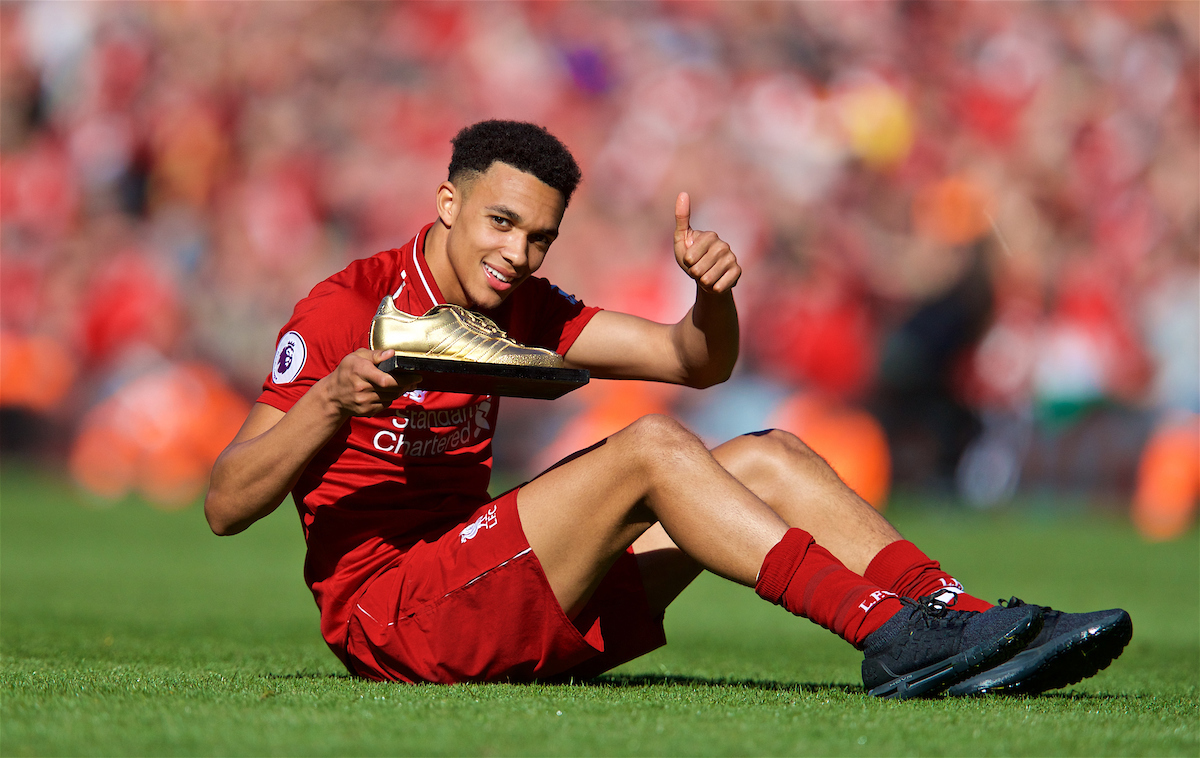 To another double-barreled idol, Alex Oxlade-Chamberlain. Our goal of the season scorer suffered an unfortunate end to his impressive debut year, when injury dashed his dream of appearing in the Champions League final as well as the World Cup. It was a sobering and bitter pill to swallow, though his confirmation of the injury via social media spoke of his character. He focused instead on sending well wishes to Sean Cox, the fan mercilessly attacked outside Anfield.
Remember when LFCTV posted the video with primary school pupils getting surprised by Philippe Coutinho, Roberto Firmino and Chamberlain at Christmas? Well, most of the kids struggled to recognise Chamberlain. He handled it in a humorous way though, with the cheeky personality we've come to know and love. I very much doubt he would be greeted by the same confused reception after the impact he's had this season.
One young lad in particular who would recognise Alex very well is young fan Bobbi Jaggar, who was lucky enough to receive Chamberlain's shirt after victory away at Manchester City. His dad Joe posted a tweet earlier this week saying that Chamberlain had heard they were struggling for final tickets, like many supporters, so he gave Bobbi and his Dad tickets to the final. This show of phenomenal kindness has gone down very well among supporters, and that side of him has no doubt helped aid his remarkable turnaround in his first season at Anfield.
Another player who has seen his fortunes change is Andy Robertson. Our feisty, passionate Glaswegian was supposed to be a squad player, he's now the club's first-choice left back. It was about time we found another Scottish gem. We've been blessed with so many braveheart Scots over the years, from players to managers. The list is long and immense, and includes Bill Shankly, Billy Liddell, Ian St John, Alan Hansen, Graeme Souness, King Kenny and Gary Mac. The first ever Liverpool team to play in 1892 was made entirely of Scotsmen so it's in our blood.
Robertson is next in line to that famous list of greats. He will be mindful too of those who failed to impress, like former Red Charlie Adam who was relegated this season with Stoke City. Robertson himself can sympathise with his international teammate. He himself sank to the Championship with Hull City last year before Klopp rescued him, at what now seems a bargain price.
The 24-year-old has overcome unemployment, playing in the Third Division of Scottish football and relegation to reach the European Cup final. It is nothing short of incredible, with a wee dram of luck thrown in.
He too is charitable and was quick to reward young Liverpool fan, Alfie Radford, who donated his pocket money to Fans Supporting Foodbanks. Robertson sent him a signed Firmino shirt in the post citing "no one wants a left back's shirt" — not realising that everybody wants this particular left back's shirt. The fact he doesn't know that makes us love him all the more. Having made us wait for his first goal, a special moment shared with all his teammates, we all hope he can repeat it on May 26.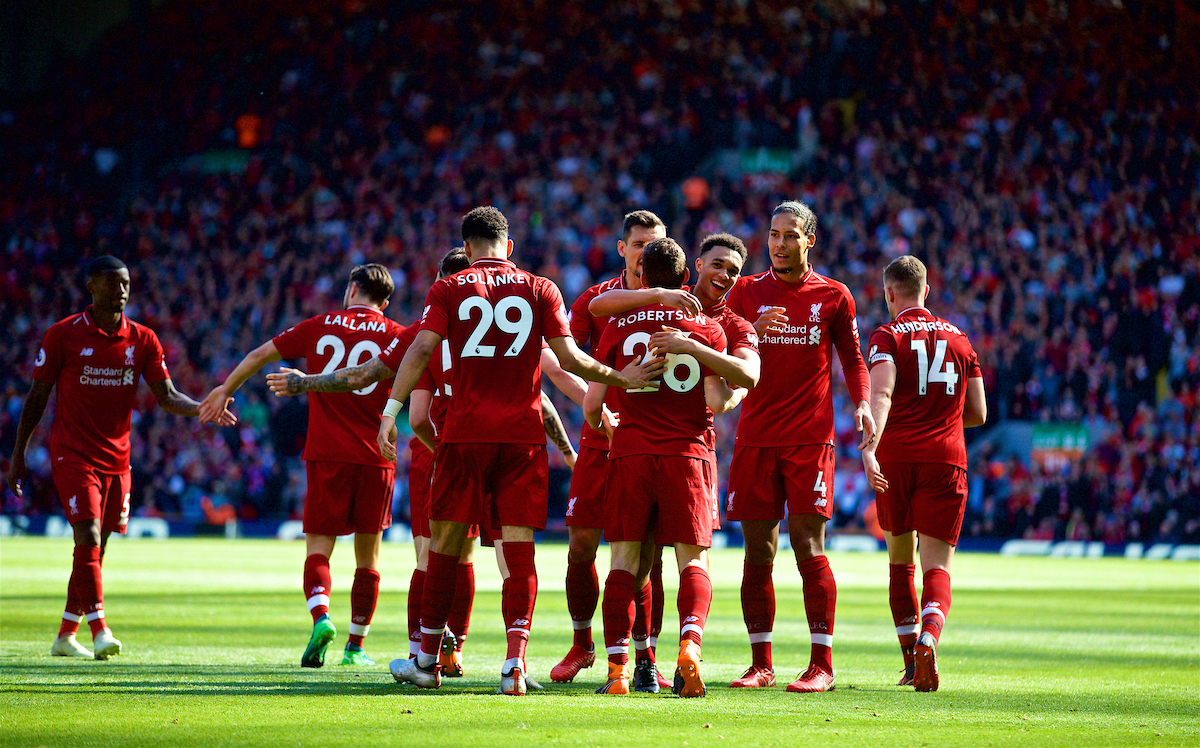 From one reformed left back to another, of a different kind. James Milner has stormed social media in recent weeks and has been a stalwart in a stretched midfield. His professionalism is second to none. With more assists (nine) than any other player in a Champions League season. The man is crease free and his experience has rallied the team. We got him for free and we'll eventually give him away, but his presence is worth a king's ransom.
Finally, Jordan Henderson, our captain. He has always been a player that divides opinion among supporters and pundits alike. This season, Hendo has shown he is a cog we cannot do without. There are those who say he isn't captain material, he's injury prone, he runs funny or he passes back too much.
When supporters sang for a team of Jamie Carraghers, it was as much in Scouse jest and affectionate as it was serious. We couldn't possibly have played with a full team of Carraghers, but give us 11 lung-busting leaders just like him any day. Players who will never give up, who battle on with cheeks as red as their tops and legs filled with cramp. A player who will pull us up by the scruff of the neck and usher us into the winner's enclosure. Workhorses are what we want and Henderson is that kind of tireless player, safety first with an attacking glint. He is the material we thought we'd lost when Ste Gerrard hung up his boots.
Henderson, a man who in 2012 was told he was surplus to requirements, didn't let that feeling beat him, he moved forward and worked harder. Eventually, he inherited the armband from Gerrard, the man who most recently made us dream. With the support and belief of Reds all over the land, Henderson could be the next captain to lift a trophy.
You should spend your days till Ukraine dreaming of this. Faces of exhaustion and joy, limbs all over the show. Not all dreams become reality, but this one has as good a chance as any. Believe in them, these men, who are climbing onto the shoulders of where giants won, carrying our hopes and dreams with them. To number six.
We will remember them as heroes no matter what happens, but we would all rather remember them as champions of Europe. Look at these men and believe in them.
"I can feel the hatred from the Manc fans in the arena." 😂

🗣 Listen to our interview with @WWEUK champion and Liverpool fan @WWESheamus in full here 👉 https://t.co/8dxs1uNKsK pic.twitter.com/IRgDl9NrXh

— The Anfield Wrap (@TheAnfieldWrap) 17 May 2018
Recent Posts:
[rpfc_recent_posts_from_category meta="true"]
Pics: David Rawcliffe-Propaganda Photo
Like The Anfield Wrap on Facebook