"FOURTH place isn't a trophy."
A common phrase used to denigrate any team that finishes fourth and has the temerity to be happy about the fact.
On an entirely related note, I'd like to wish the best of luck to Arsene Wenger in all his future endeavours. What an incredible legacy he leaves behind and it is heartening to see him finally now getting the respect he deserves.
There were some mild nerves heading into Liverpool's final day showdown with Brighton and Hove Albion. A defeat might have meant needing to win the Champions League just to make sure of qualification for next season. The hosts went into the game unbeaten at home in the league, while the visitors had the second worst away record. The very nature of Reds fans though is to hear stats like those and say "don't jinx it".
Nobody jinxed it. Liverpool were focused, professional and swept The Seagulls aside in a way that you absolutely cannot sweep real seagulls aside. Especially the ones in Brighton. Have you seen them? They're about seven-feet tall and have tattoos and beards…
Yesterday was Liverpool back to their best, cutting through Chris Hughton's team at will and they should have scored two or three before Mo Salah made history with his 32nd league goal of the campaign.
What can you say about Salah that hasn't already been said? He's a phenom. A player who supposedly failed in England with Chelsea (personally I'd say they failed him, but there we are) returning to prove a point, and boy has he proven it.
The greatest goalscorer this country has ever seen over a 38-game season, and yet just one of his 32 goals came from a penalty and he also managed double figures for assists. Even yesterday, knowing that the more orthodox/selfish Harry Kane was spending the afternoon shooting on sight against a Leicester defence that was literally going out of its way to allow Tottenham to score, Salah just kept passing to teammates.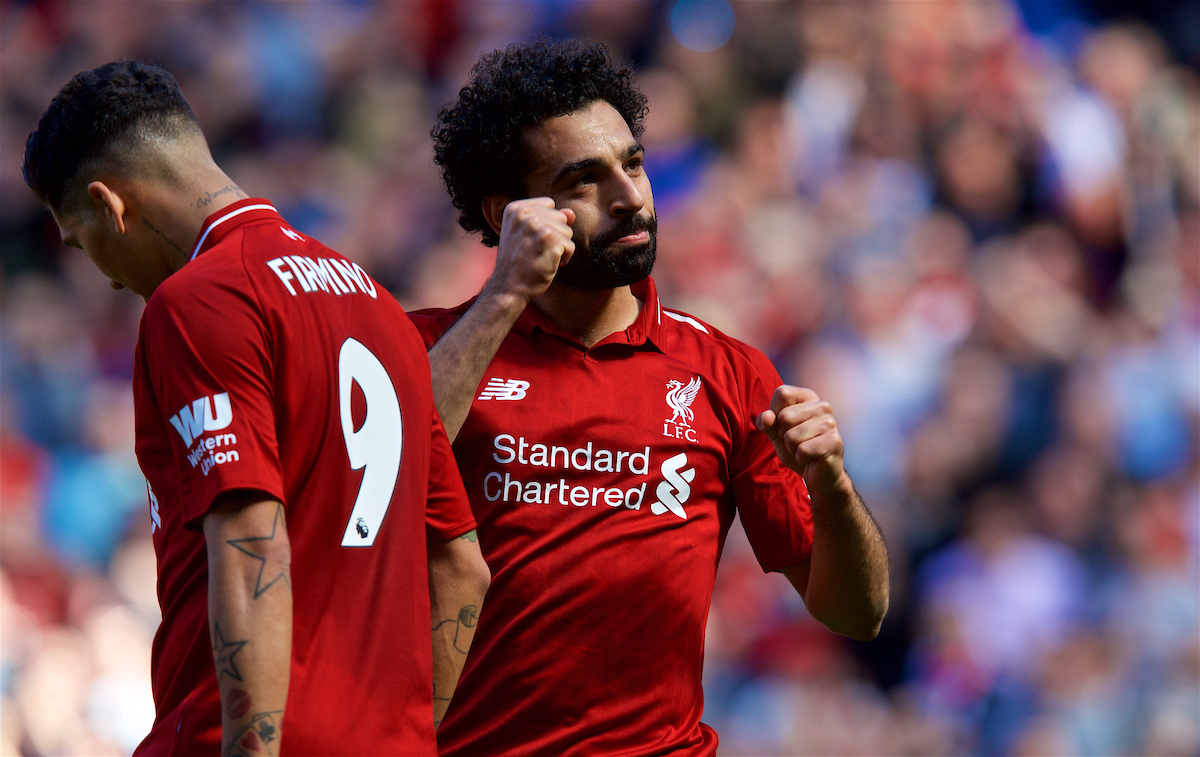 He gets his goal and then sets up Andy Robertson to cross for his big Croatian mate Dejan Lovren to score. Then he jinks past two defenders before sliding in Dominic Solanke, and has a smile just as wide after seeing the youngster bury his first goal in a red shirt as he does when collecting his well-deserved Golden Boot after the final whistle.
Imagine how many he'll score next season if the Premier League revokes this apparent rule that defenders are allowed to deck the Egyptian in the penalty area and block the ball with their arms because he's so much better than everyone else.
Salah is spectacular, but it is desperate nonsense to claim Liverpool are reliant on him. This team has strength all over the park, and showed it time and again this season. There were ups and downs, and it would have been nice to finish closer to Manchester City, and above Manchester United and Tottenham Hotspur, but fourth it was in the end for The Reds, who can be proud of that achievement.
Liverpool finished fourth last season on 76 points. This season they finished fourth on 75 points. On paper that doesn't look like progress, and I've seen some people suggest as much. However, just like Dominic Calvert-Lewin, it is an argument that falls down pretty easily.
Last season people praised Jürgen Klopp and his team for qualifying for the Champions League, but with an asterisk that they had done so without any European football as a distraction. The previous season they had finished eighth largely because of a Europa League run. That they have now managed to more or less repeat last season's league performance not only with European distractions, but a run that has gone beyond the end of the domestic season is an incredible feat.
In fact, were it not for Liverpool getting further in Europe's premier competition than any other English side, they surely would have finished at least third, if not second in the table. It's pretty clear that recent dropped points against West Brom, Stoke and Chelsea were all a result of Champions League rotation and exhaustion, made even clearer by their return to energetic and lethal ways against Brighton after a rare midweek off.
The Reds may have finished with one point less, but have improved in other areas. The second most goals in the division (84) is six more strikes than they managed 12 months earlier. The joint fourth best defence (38) is four goals less than they conceded 12 months earlier, and only two more than a Tottenham backline that regularly gets heralded as an example to follow. Five defeats is also one less than the previous campaign.
Where one obvious improvement can be made though is in the draws. Ten draws in 2016-17 seemed like too many, but this season has seen 12 games where spoils were shared and denied Liverpool 24 extra points. The particularly annoying thing about those draws was how so many of them were in games that they dominated, or were at least leading with only minutes to go. A few screw tightenings from Klopp like the ones seen already during this team's evolution, as well as some summer additions to provide better options from the bench, and there's no reason why at least half of those draws can't be turned into wins next season.
There has also been the volume and unfortunate timings of injuries to key players throughout the season. Not having Nathaniel Clyne or Adam Lallana for pretty much the whole campaign would have been a disaster in previous years, but Liverpool made it work. Losing Joel Matip, Emre Can, Joe Gomez and Alex Oxlade-Chamberlain during a time when there were Champions League knockout stage games to win and crucial league points to accrue was most unwelcome, but Liverpool again made it work (eventually).
Despite a lack of depth in the squad due to injuries and a mardy Brazilian who didn't want to win the Champions League for some reason, Klopp was able to get every last drop out of the players he had available, and as a result has led Liverpool to a second top-four finish, and in less than two weeks takes his squad to compete in the final of the Champions League against Real Madrid, having outlasted the likes of Barcelona, Bayern Munich, Paris Saint-Germain, Juventus and Manchester City.
Whatever happens in Kiev, this will have been a successful season. Liverpool have been one of the most exciting teams in Europe, and yet where they can improve seems clear. You can't really say the same about Manchester United or Tottenham. In fact, there seems a very real chance that the main man behind Spurs' progression could be about to leave them if he doesn't get the money he wants.
Klopp's bosses have already said he can have money to spend, and with rumours abound of the calibre of player he's looking to add to his squad, the mouth waters at what Liverpool could look like heading into 2018-19.
Every campaign under Klopp has seen progress of some kind. There is no reason to think that won't continue and if that is the case, Manchester City and the rest will need to go some to keep The Reds at bay next season.
A higher league position would have been nice, and very achievable if it hadn't been for some silly dropped points and inevitable Champions League hangovers, but what Liverpool have managed to achieve in the Premier League cannot be sniffed at, unless like me you have annoyingly bad hay fever at this time of year. In context, fourth place, 75 points and 84 goals is a very good showing.
That said, fourth place is indeed not a trophy.
The European Cup is though. Let's go get it.
"The Egyptian King…" 🎶👑

🎥 Watch today's Talking Reds in full here 👉 https://t.co/VfDYSxfLPh pic.twitter.com/OE7uuBhviM

— The Anfield Wrap (@TheAnfieldWrap) 14 May 2018
Recent Posts:
[rpfc_recent_posts_from_category meta="true"]
Pics: David Rawcliffe-Propaganda Photo
Like The Anfield Wrap on Facebook