I MAY burst. We may burst. This is what it's all about.
I'm just so red right now that if you cut me open you wouldn't notice the difference between my fleshless exposed innards and my crimson exterior. We – breathes – are in a European Cup final. And everything is possible once again.
S'funny, but as I grew into my football fan body and brain as a kid, I was soon burdened by the enormity of what I'd chosen to commit to. It was a path. A calling. I came to realise that I was in, and I could never envisage a day when I'd be out.
I've read memoirs – Nick Hornby's book about him and Arsenal comes to mind – where the protagonist had described periods where he'd "fallen out of love" with the game. They'd talk of becoming distracted or disillusioned. I simply don't begin to relate to this state. I went from no interest in the sport aged 10 years and one month to being obsessed with football and Liverpool FC – as intensely as I am today – within weeks.
It took me about one month to brainwash myself and to attain the constant zealot-like faith levels I have enjoyed these past four decades. I am Liverpool FC, Liverpool FC are me. We are indivisible. Their pain is mine, their triumphs belong to me.
At times this truth has been troubling. I've often caught myself feeling a tiny bit guilty at the vicarious nature of my love/support. I think something was first piqued when I was 14 and came into school beaming/bursting with pride at Liverpool having beaten some Spanish team in a European Cup final. It was 1981.
I've never been a gloater but I must've exuded something just too smug for an Arsenal-supporting lad in my class. "Yeah Liverpool have won, but you haven't. You haven't won anything. It's theirs not yours." This threw me and, sometimes, still does.
It is a bit mad, if you detach for a moment, how much we feel we own the achievements of other people. People we don't know and will never get to know. We don't put in the yards, don't have the talent, don't kick the actual ball into the actual goal. We watch. We observe. We feel the pain of the defeat and the joy of the victory. As if we'd run every last mile. But haven't actually done any of those things.
Recently I've come to a peace with this nagging doubt. And my mind has been calmed by my experiences in our latest European Cup run. We haven't had a European Cup campaign like this in over 10 years. You forget things. Your immunity level changes.
What's changed for me is witnessing and being a part of a crowd that has clicked into gear. In the team's hour of need, the collective has stepped up. Yes, we are in a European Cup final because of how brilliant Mo Salah, Sadio Mane and Bobby Firmino are, but we are also there because of us. All of us.
There are many good teams in Europe, but there is only one us. We believe we're different/special, and that may grate from the outside, but from the inside it feels good and it feels right. And it's unshakeable.
It's not 11 lads facing Real Madrid in Kiev on May 26. It's Liverpool. And "Liverpool" is not earth bound. Liverpool is a life force that binds a tribe. The team, Jürgen Klopp, Salah, they are the tip of the spear. We are its weight. We provide its momentum.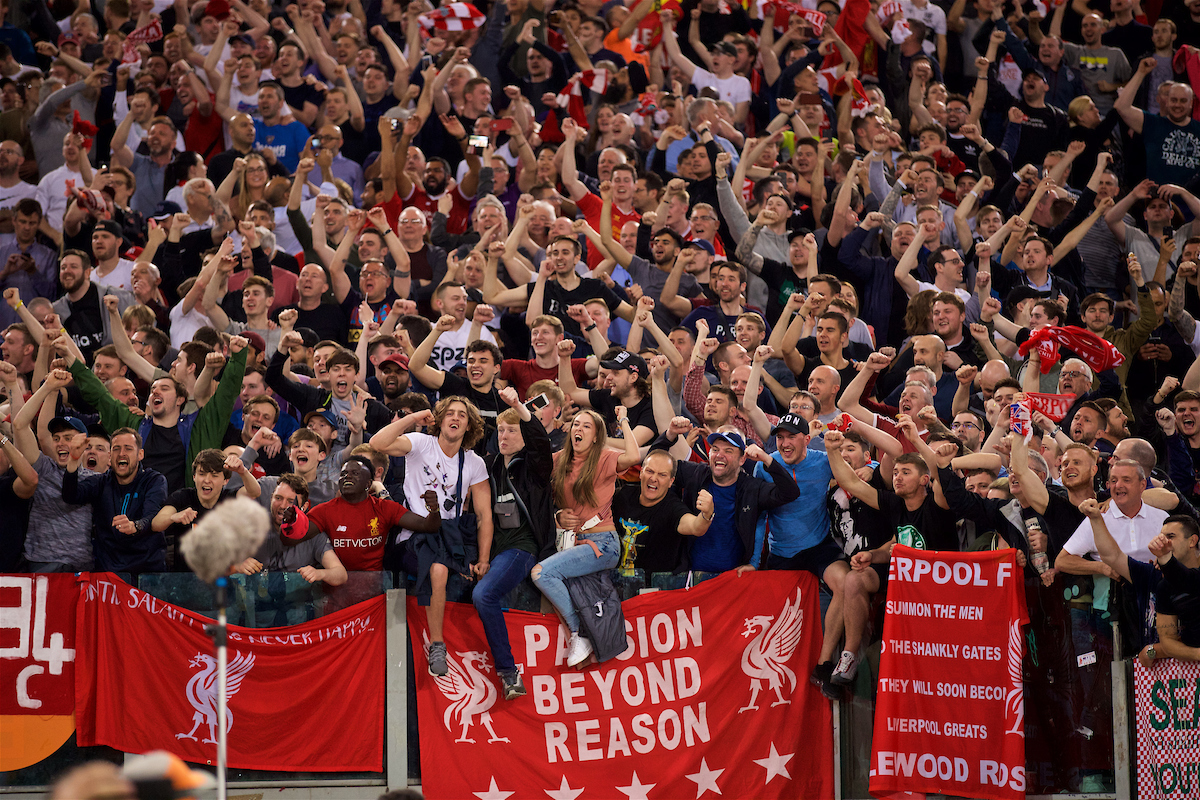 I'm getting carried away. Fuck it.
I'm going to Chelsea on Sunday. I want to be part of getting the boys over the line and safely qualified for next year's Champions League. I hope to see a relaxed and confident team. I hope to be among relaxed and happy fellow Reds.
Somebody said the other day – was it Jürgen? – that to win, you must first be prepared to lose. I like that. I'm ready for us to lose at Chelsea. It can happen.
How roadworthy a Liverpool side will represent us at Stamford Bridge remains to be seen. The manager doesn't have significant rotation options. This is also the biggest game of our league season, although no one really seems to want to acknowledge this fact.
Our heads are in the clouds, our eyes are blinded by the stars. Together forever.
Predicted 11: Karius; Clyne, Lovren, van Dijk, Robertson; Henderson, Wijnaldum, Alexander-Arnold; Salah, Firmino, Mane.
Kick off: 4.30pm, Sunday
Referee: Anthony Taylor
Odds: Chelsea 24-19, Draw 27-10, Liverpool 12-5
"I've never felt closer to a Liverpool team in my life." 🇮🇹

Subscribe now to listen to our Post Match Show from Rome: https://t.co/oFCRQeLGZi

Bear with us, we're still in the stadium! pic.twitter.com/vnXuRCYaiv

— The Anfield Wrap (@TheAnfieldWrap) 2 May 2018
Recent Posts:
[rpfc_recent_posts_from_category meta="true"]
Pics: David Rawcliffe-Propaganda Photo
Like The Anfield Wrap on Facebook