FIFTY-six minutes in at the Etihad and Mo Salah is the coolest person in the ground.
The away end had barely finished appealing for a penalty to be given for a foul on Sadio Mane when the Egyptian king deftly lifted the ball over a collapsing Nicolas Otamendi, to put the tie to bed and send the away support into raptures.
Grown men falling over seats — standing in an area deemed by the sports minister to be safer than tried and tested rail seating — celebrating Liverpool all but securing a spot in the semi finals of the Champions League.
We're lucky that there are fellas getting paid lots of money to keep their heads when we can't. To keep their cool in the vital moments. And as the ball got away from Mane amid a crowd of Manchester City defenders, there's nobody you'd rather have on the ball in that moment than Salah.
It took my mind back to Old Trafford in March of 2016. An Anthony Martial penalty had given Manchester United hope of clawing back a 2-0 first-leg deficit, before Philippe Coutinho assumed the responsibility of the coolest man on the football pitch.
That wasn't always the case with the Brazilian. While he had displayed clear talent over the course of six seasons at the club, there was always a feeling that there was more potential to be unlocked. That even at his best he had more to give.
When the team weren't at their best, Coutinho often seemed to shoulder too much responsibility to turn it around. As though he felt he was the best player on the pitch and had to react accordingly, and his teammates mostly got out of his way and watched him try to perform magic.
It occasionally worked, Stoke City away in August 2015 is one that sticks out in the memory. See also the FA Cup replays of 2015 at Bolton Wanderers and Blackburn Rovers en route to an FA Cup semi-final loss (the day talk of sending Steven Gerrard out on a high ended in abrupt disappointment). All were games in which Coutinho single handedly turned the game on its head with the team underperforming.
However, for every stubborn Championship side he managed to unlock with his magic right boot, there were players a level above who were happy to afford Coutinho possession of the ball 30 yards from goal, attempting to lead Liverpool to victory on his own. Away at Burnley at the beginning of last season, it felt like he had more wayward shots than The Reds' defenders had touches of the ball.
When the Brazilian left for Barcelona in January of this year, the glass half full among the Liverpool supporter base spoke of him not suiting Jürgen Klopp's style, and there may be some truth in that. But what it also did is free The Reds up to play within their system more, remain patient, and not throw the playbook out the window at the first sign of two stubborn banks of four.
There have been arguments made about whether The Reds play better without Coutinho, and the answer is probably yes, but that is not entirely the Brazilian's fault. He was a player who could show a complete lack of composure when the moment required the opposite, so to play through him often made no sense. But there was nobody else who could naturally step up to the plate.
Mane and Roberto Firmino are capable of great things but they're not the main attraction.
So step forward Mo Salah.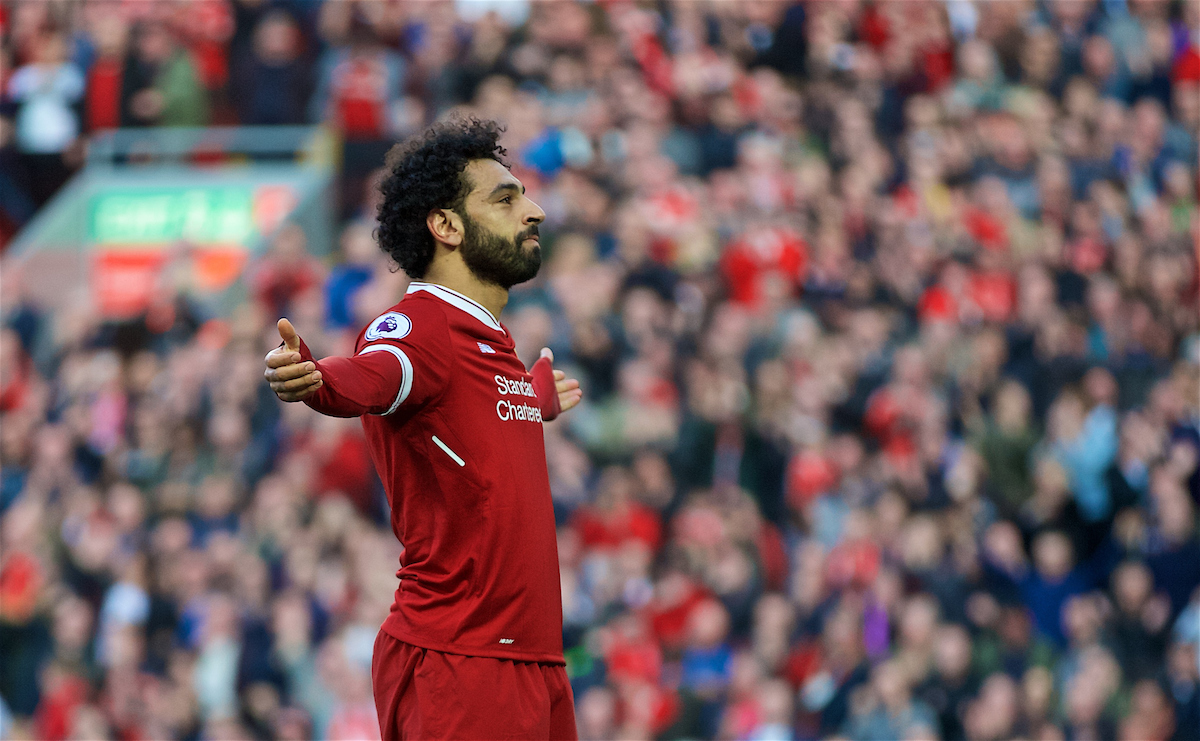 The difference between Salah and Coutinho which is crucial for Liverpool is their position and where it suits a team to have their best player. For a Tony Pulis side that mainly sit deep that might be a centre half, or for Rafa Benitez's Liverpool team that was Xabi Alonso or Steven Gerrard.
For this Liverpool team that's main purpose is to score goals, having a player with the composure and talent of Salah so high up the pitch suits the side better than Coutinho being so far from the goal.
While the prospect of Coutinho threading passes and working his magic from a deeper midfield role was an exciting one, when the game needed turning on its head he was too far away from the destination The Reds are trying to reach.
The work of Mane and Firmino this season has opened up gaps in the opposition defence, allowing Salah to take up good positions and he has become increasingly deadly from those kind of areas. The Egyptian has scored goals that matter in all types of games. It's a sign of his remarkable composure in the key moments.
If Salah scores this weekend at West Brom and on the final day at home to Brighton, he will equal a record held by Ian Wright and Robin van Persie of scoring against 17 different Premier League teams under the 20-team format. In Suarez's best season, 2013-14, he managed goals against 13 different teams and Fernando Torres netted past 15 different sides in 2007-8.
The only Premier League teams Salah won't get chance to score against this season are Swansea and Man United. And look at the amount of goals which have put Liverpool in front in games.
guess who's much less of a flat track bully and has scored more important goals pic.twitter.com/E0bDrlKerU

— oh you beauty (but also known as nate) (@natefc) 15 April 2018
While Firmino has been given the label of facilitator in attack, it is Salah who is usually on hand to open the floodgates for The Reds' attack to flow and watch the goals pour in.
He has become the go-to man for a goal and slots into Liverpool's system seamlessly. There are no question marks over Salah as there were over Coutinho, and his composure sets him apart from the Brazilian.
At the weekend against Watford — with the precursor of Harry Kane taking a goal away from teammate Christian Eriksen in a desperate attempt to bridge the gap to Salah in the Premier League's Golden Boot race — it looked at times like Salah was trying to force it, as though he was too desperate to keep distance between himself and Kane.
But then it fell to him in the right moment and suddenly the thing which isn't dead easy is made to look the opposite.
The Egyptian has found consistency at Liverpool a walk in the park in comparison to Coutinho, who at times made it look more akin to open-heart surgery.
There's obvious caveats that surround their goal returns and contributions to the team given their difference in position, but as the man to step up and turn a game on its head, Salah has already exceeded his former teammate.
Whether The Reds are better off without Coutinho in the long run remains to be seen. For now, Salah is making the Brazilian's old job look easy.
He might just make the work done by Suarez, Torres and even Ian Rush look the same.
"If i was a player, instead of thinking 'how am i going to get Mo Salah out of the team', i'm thinking look what he's done to Mo Salah." 👑

"I think that's how you sell it to a Pulisic." 👊

✍🏻Subscribe: https://t.co/eTmRQkhp95 pic.twitter.com/HIOKoIWPdD

— The Anfield Wrap (@TheAnfieldWrap) 18 April 2018
Recent Posts:
[rpfc_recent_posts_from_category meta="true"]
Pics: David Rawcliffe-Propaganda Photo
Like The Anfield Wrap on Facebook