JÜRGEN Klopp once described his grand strategy as being a process of "dragging teams down to our level, and then beating them".
He was modestly diminishing a much more sophisticated process.
This is not what his Borussia Dortmund did and not what his Liverpool do. Klopp's teams dare to imagine what it would look like if they were — even just for one day — the greatest team that's ever played the game. Some of the performances and results he gets from his sides don't make sense.
Very early in his Liverpool reign Klopp took Liverpool to Manchester City's Etihad Stadium and blew them away. Four-one. Not a soul saw it coming. Klopp doesn't try to drag opponents down, he attempts to blitz them. His Liverpool are all about the pre-emptive strike. Witness the experience of this current merciless incarnation of City at Anfield in January. Of course they would score. So Liverpool "pre equalised" with four goals. Three in a five-minute, second-half whirlwind. No team could touch City. So Liverpool barged them over.
In athletics, runners train beyond their distance. If a sprinter can master 110 metres then the 100 becomes comfortable. I am convinced that Klopp surveys any and all opponents and doesn't set his teams up to just beat them. He prepares them to win 5-0. To destroy them. A Jose Mourinho or Antonio Conte would look at a challenge against an elite opponent like City or Barcelona and plan for 1-0 and 0-0. To find a way to win. Jürgen readies his side to thrash those teams. To break them into pieces.
Liverpool will probably go out to Manchester City in this quarter-final tie. It will be no disgrace to do so. The bookies deem it thus. Manchester City are simply a very good football team. But Liverpool do not accept fate. Liverpool Football Club doesn't work to scripts. This abstract is never priced into odds.
Juventus are roundabout Liverpool's European peers. The best side in an average Italian league. Liverpool would probably win Serie A too. If Manchester City had drawn Juve though, they'd be smoking cigars. They'd respect them but know — be certain — that, barring a freak occurrence, they would surely beat them over two games.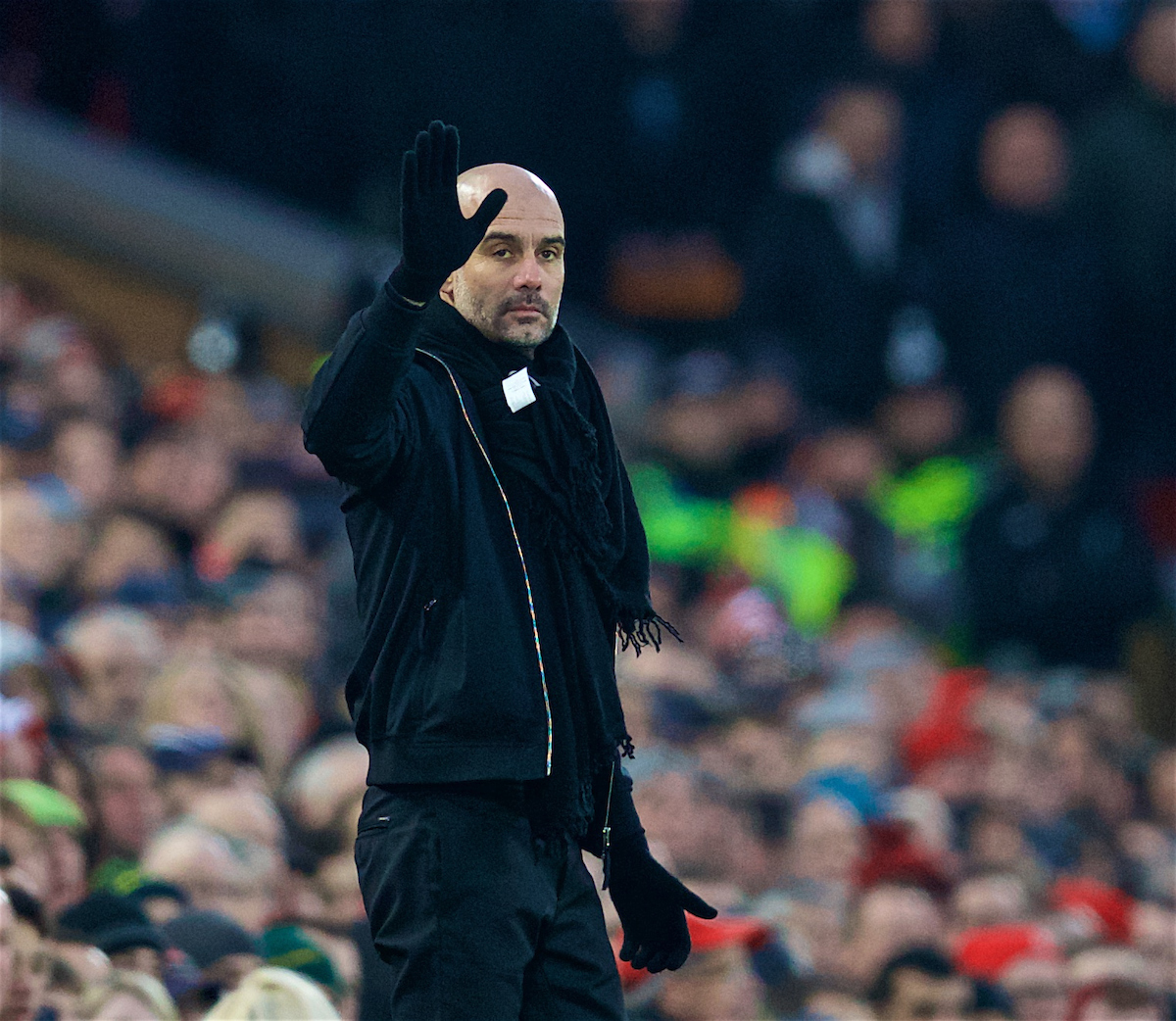 City don't feel this way about Liverpool.
City are telling themselves that Anfield and Liverpool hold no surprises, but there's this voice in the back of their heads. There's a buzz that won't quieten. It's making them nervous. It's called doubt.
Klopp has made his Liverpool a lot of team's Kryptonite. He will prepare for this momentous tie with that in mind. The plan will be to present Pep Guardiola and City with the unexpected.
It's hard to guess what that might be, but let's play virtual Klopp. I'd surprise City by going three at the back (especially if Emre Can's out injured). Our full backs don't know how to tuck in, so let them off the hook and give the centre backs another body.
Jordan Henderson's a decent midfielder but he's not the greatest number six. So take some pressure off him. I'd drop James Milner in beside Jordan with Dejan Lovren sweeping up behind as a third centre half. Encourage Joel Matip and Virgil van Dijk to express themselves and make occasional sorties forward.
Let's let our wing backs be the wingers they truly want to be, not reluctant and vulnerable full backs. We're talking about young Trent Alexander-Arnold here, more than Andy Robertson.
In recent months, Liverpool have started conceding a new kind of goal. It's the one where a full back gets caught underneath a cross-field diagonal pass. We saw a classic example of it in the buildup to Crystal Palace's goal at the weekend. We saw it happen recently at Old Trafford. It happened against Sevilla at Anfield. It happened at the Emirates. And, crucially, it happened when Liverpool played Man City in January.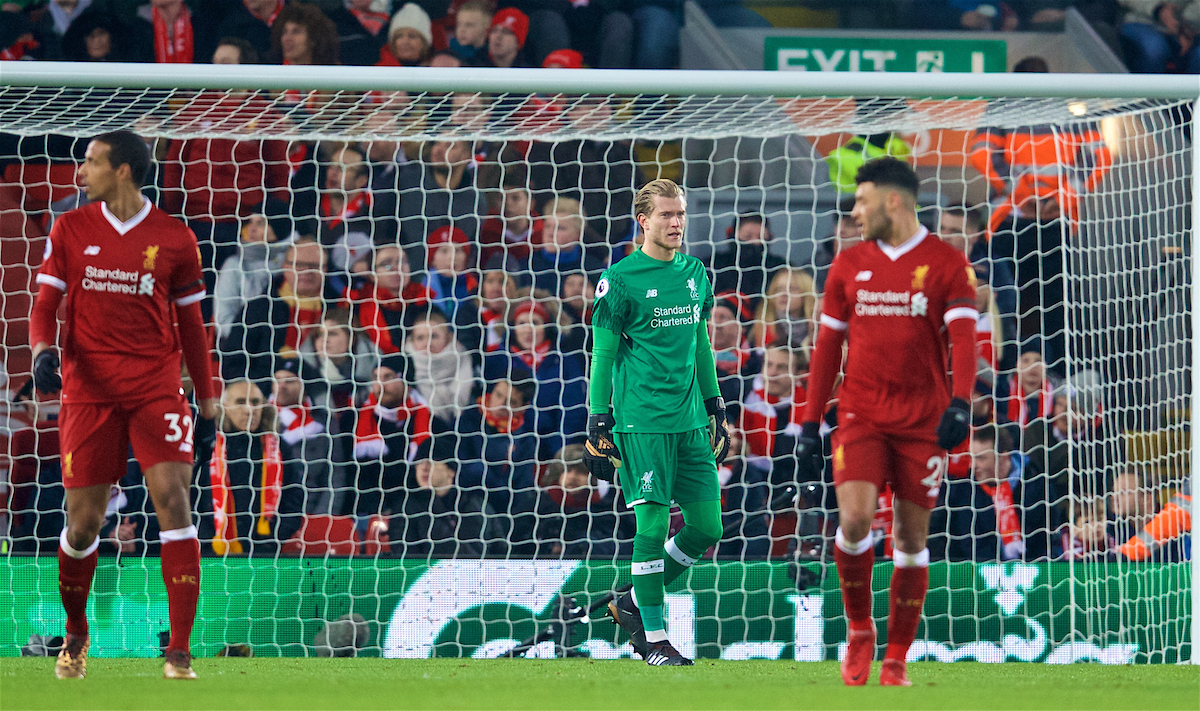 To my mind, it's recurring because of the mindset of our full backs. They are permanently on the front foot. In their heads they are always on the brink of bringing a ball away and taking it forward. Psychologically, they no longer know how to drop off a couple of yards. Their weight and balance are already half on the offensive as the danger ball is travelling their way.
I'd rather not try and work against those instincts or reimagine a system of attacking that has always productively necessitated that these players provide the team's width. This is why I think the only real solution is to add a third centre half. The wider of the back three then double as auxiliary defensive full backs and are able to plug the half-space gap between full/wing backs and central defender. Additionally, these taller, natural centre defenders are better adept at positioning themselves to deal with a high, back-post diagonals than more impish full backs.
The loss felt is further up the pitch. In effect, my third centre back takes Alex Oxlade-Chamberlain's place. I'm not concerned. I think the element of surprise, the greater defensive security, the greater licence for the full backs to attack and the opportunity for ball-playing defenders like Matip and van Dijk to step out into midfield, more than compensates.
Will Jürgen back my plan? I doubt it, but I think he'll have something new for City. It's been so very long since we as a club were at this stage of the European Cup that it will feel brand new to all of us. In our first season back at this phase of the competition in about 10 years we are already overachieving. We are already in profit and we also rest reasonably secure that we can restart this adventure again next season.
No need for nerves, wild expectations or regrets. Let's go have a disco.
Predicted 11: Karius; Alexander-Arnold, Matip, van Dijk, Robertson; Henderson, Wijnaldum, Oxlade-Chamberlain; Salah, Firmino, Mane.
Kick off: Wednesday, 7.45pm (BT Sport 2)
Referee: Felix Brych (Germany)
Odds: Liverpool 101-50, Draw 27-10, Manchester City 143-100
"That's what we're there for. The opportunity to be part of one of those nights." 🔴

"The expectation of seeing a side that can go on to lift club football's greatest prize…" 🙌

Subscribe for all our Champions League build up and reaction: https://t.co/B1RLh3MvbA pic.twitter.com/EUlUrwJ6rs

— The Anfield Wrap (@TheAnfieldWrap) 29 March 2018
Recent Posts:
[rpfc_recent_posts_from_category meta="true"]
Pics: David Rawcliffe-Propaganda Photo
Like The Anfield Wrap on Facebook