RIGHT, I know we haven't really, but this feels a bit like we've got a week off between articles full of drama and references to emojis and Cambridge Analytica, so I think it's best that we use it productively.
To that end, let's start with a bit of admin.
For those of you who have been reading my ramblings and watching my YouTube appearances on Talking Reds in recent weeks, you'll know that there have been several references to our blue neighbours, our brothers and sisters across Stanley Park, that have apparently rubbed some of them up the wrong way on various forums around the place.
For anyone who isn't aware, I've basically been doing quite a lot of talking about how Evertonians should be doing the work of Liverpudlians while we are busy drinking and celebrating Champions League wins.
Now, I haven't been told exactly why The Blues are upset with my suggestion, so I can only assume it's because I haven't been specific enough, and I want to clear up any misunderstandings and apologise formally for any offence I've caused by being flippant in my musings.
For the avoidance of any doubt, I wasn't just talking about the end of this season.
I think we should now be implementing job-sharing arrangements across the region and as far afield as possible to make sure that, wherever possible, an Evertonian is doing your work while you're off watching this wonderful Liverpool team until the end of this season and for the whole of next season, at the very least. It should be a national and, if possible, international practice for the good of society as a whole, implemented at government level.
The reality is that The Blues are an absolute bag of shite at the moment, and are likely to be for the foreseeable future, while The Reds are absolutely fucking mustard.
Now, in the spirit of solidarity, I'm sure that if the boot was on the other foot we'd all happily volunteer to look after whatever work they were doing while they were on the march to a European Cup semi final, potentially a final, and a subsequent league title push the following year.
As big Joe Anderson will tell you, a win for any club in Liverpool is a win for the region, and we should all be getting behind this charge for trophies in the same way that everyone in the city will be getting behind The Blues building a new stadium floating on water backed by our money.
Big Farhad Moshiri and his gifted money (or was it borrowed? I can never remember), will be right behind us as well, I'm certain.
In fact, I think we should get Joe and Farhad to be the patrons of the movement. I'll send Joe a tweet once I've finished this. Hopefully we'll catch him in between reporting transfer deals to the police.
We'll obviously have to work out the details of how the job share will work, but if all The Reds can start making a list of the things they'll need doing before and after the two Roma games, then again around the weekend of the final, we can at least start pulling together what's needed and how many blue hours will be required.
In fact, don't limit it to work stuff. We've all got things around the house we should really be doing, kids to be picked up from school and shopping to be done. Put it all on your list.
If all The Blues could then email me (I know you're still reading) at [email protected](again).com with a shortlist of your skills I'll get someone to do an algorithm and match it all together to save time. It'll be like Tinder but with Evertonians doing a lot of filing and babysitting instead of people who look nothing like their profile photos having sex in an alley.
We can treat the end of this season as a bit of a test and iron out all of the bugs before sorting the whole of next season out. I know we're all busy drinking and recovering from hangovers at the moment, so I'll probably get an Evertonian to sort out the schedule for next year to save us doing it.
After all, these Champions League bevvies aren't going to drink themselves, are they?
Now, if you're an Evertonian reading this and getting annoyed, all I can say is WHY DO YOU KEEP READING ARTICLES ABOUT LIVERPOOL?
(You didn't think I was really apologising at the start, did you?)
In all seriousness, I know there will be some logistical problems, but it's nothing we can't overcome if we all pull together for the greater good, so well played everyone in advance.
Anyway, now that we've got the admin boxed, we might as well have a little chat about The Reds.
They're good, aren't they?
I did the TAW Player Review show with fellow contributors Neil Atkinson and Sean Rogers on Monday and we ended up having a great little conversation about Burnley, because you literally run out of ways of describing this joyous bunch in red, so discussing how the opposition should think about taking us on can be more interesting.
I was contemplating the other day that I think these Reds are the best I've ever seen in my adult life, you know. The 2013-14 lads were great, obviously, and the 2008-9 were my heart throbs when I was a younger man. The 2004-5 scoundrels will obviously have a place right at the very forefront of my heart for obvious reasons, but I don't think they'd be offended if I said they weren't the best side I'd ever seen.
But this lot? This lot are making me weak at the knees and I'm nearly 40.
And the best bit about it is that, for once, it doesn't feel like we're putting everything we've got into running up that travelator at the end of Gladiators, only to realise two steps from the top that we're goosed and haven't got the legs to have another go, so we're going to have to throw it all away and start again, with John Fashanu putting a consoling arm around our shoulder as we cry into a towel (a niche reference there for a certain aged reader who was a fan of British Saturday night TV in the '90s).
For once, it feels like whatever happens over the next few weeks, we're going to be stronger next season.
For once, it feels like this is just the start, not the end, regardless of the climax of this campaign.
We'll keep the greatest striker in the history of the club — who wasn't even a striker before, by the way — and bring in the single most exciting signing in our lifetime who can probably win the league all by himself.
We'll have big Virgil van Dijk for an entire season and, by the looks of it, a 'keeper whose hands aren't made of smoke.
It can't be a coincidence that James Milner has won Twitter in about two weeks since joining either. Milly is a man who knows what he's doing, so I'm taking that as a sign that trophies will be arriving in the near future.
Which takes us nicely around to another chat about how we're all feeling.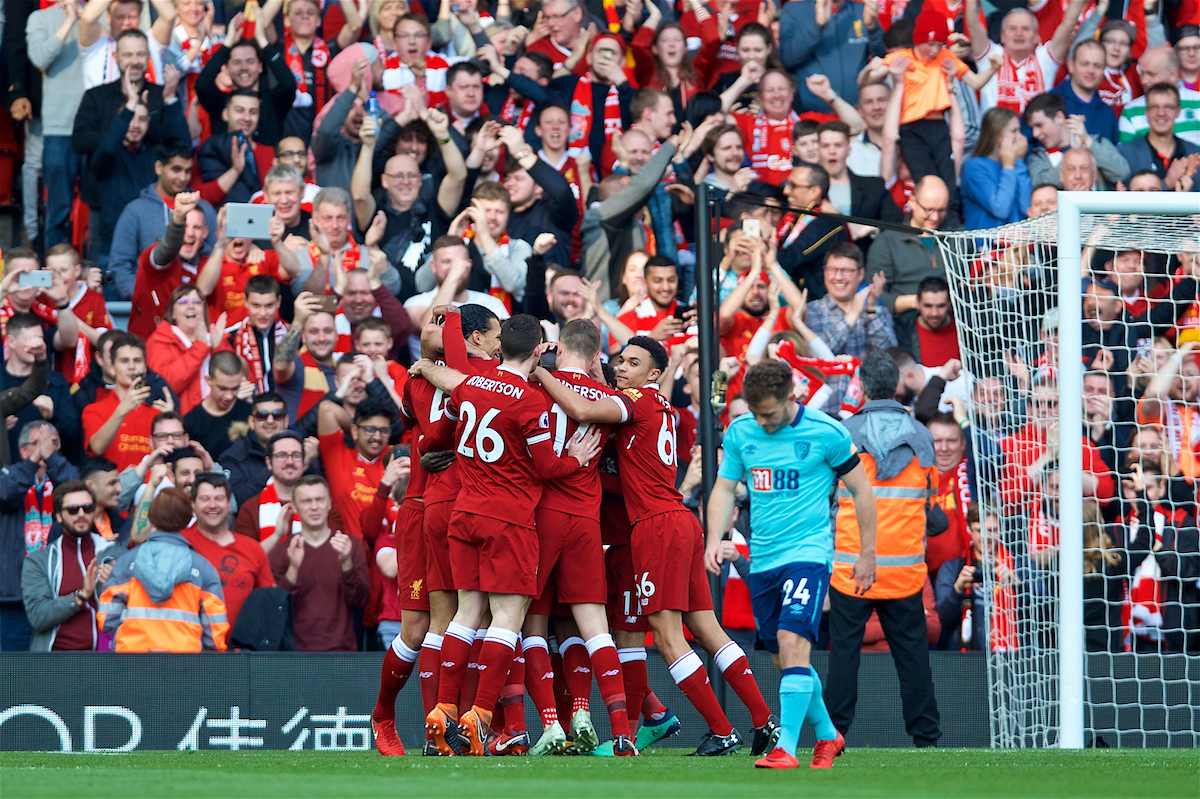 Are you well in yourself? Are you enjoying it? Are you watching these Reds and reminding your brain just how good they are?
I'm making sure I enjoy every last moment of it. I'm going to squeeze every last drop of pleasure from the whole enterprise.
I regret a little bit taking Steven Gerrard for granted. Don't get me wrong, I thought he was brilliant, but there were times when I moaned about him like everyone else seemed to.
When I look back now I feel as though we should have enjoyed him more. Players like him are rare, and most football fans only get to watch them on TV.
I promised myself after he retired that I wouldn't do that again. I promised myself that the next time a special player came around I'd savour every moment.
Just think how lucky we are to have been able to watch Gerrard through his whole career and still be confident that we'd see someone of his quality again.
That's a real privilege that we shouldn't take for granted.
Most clubs are watching the likes of Oumar Niasse run around a pitch chasing passes from a plodding Wayne Rooney.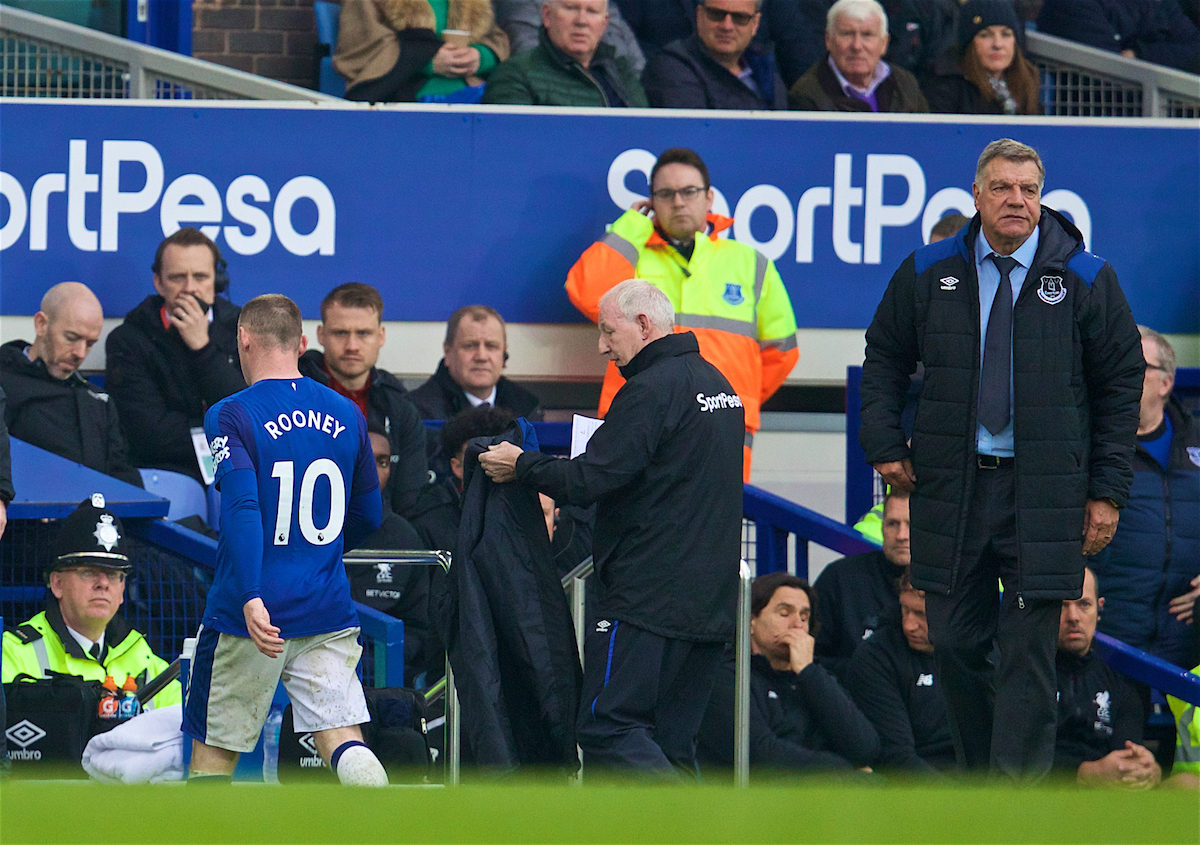 I said a few weeks ago I didn't think we'd ever see a player as good as Luis Suarez in a red shirt again, then Bobby Firmino and Mo Salah came along and I'm left dumbfounded by some of the stuff I'm watching.
Don't let them kid you that what they're doing is anything other than truly special.
Don't take for granted how good this side is.
Make sure you soak up every 3-0 home win and every superstar cross, touch and goal.
Remember that this is what we're in it for. If you find yourself leaving a 3-0 home win doing anything other than loving what you've seen, remind yourself of all of those home defeats and frustrating draws you've witnessed over the years.
This is not normal for modern era Liverpool.
This is becoming normal for Jürgen Klopp's Liverpool, and that should be celebrated at every available opportunity.
Football is meant to be fun. We're meant to have a laugh at our opponents and enjoy the good times, because they're rare, and we have plenty of times when we have to be the butt of the jokes after depressing defeats and trophyless seasons.
That's part of the fun. We have to give it and take it in equal measure.
We can have fun, but we can't guarantee that what's happening will lead to winning trophies.
Nothing can guarantee that.
In fact, the only thing we can guarantee in football, and in life, is that we will lose.
Sooner or later everyone loses. Defeat is as certain as death and taxes.
All we can do is take the losses for what they are, opportunities to learn, and keep believing that the process, the hard work and the dedication will ultimately lead to success, while enjoying it as we go.
Remember the Trent Alexander-Arnold who made costly mistakes at Old Trafford and Selhurst Park is the same lad who used those bad times as motivation to improve, enabling him to leap to the levels we've seen since.
There is a chance that this could be the greatest Liverpool team of all time which goes on to get the club's highest league points total in history next season, yet still doesn't win the title because Manchester City just keep getting better.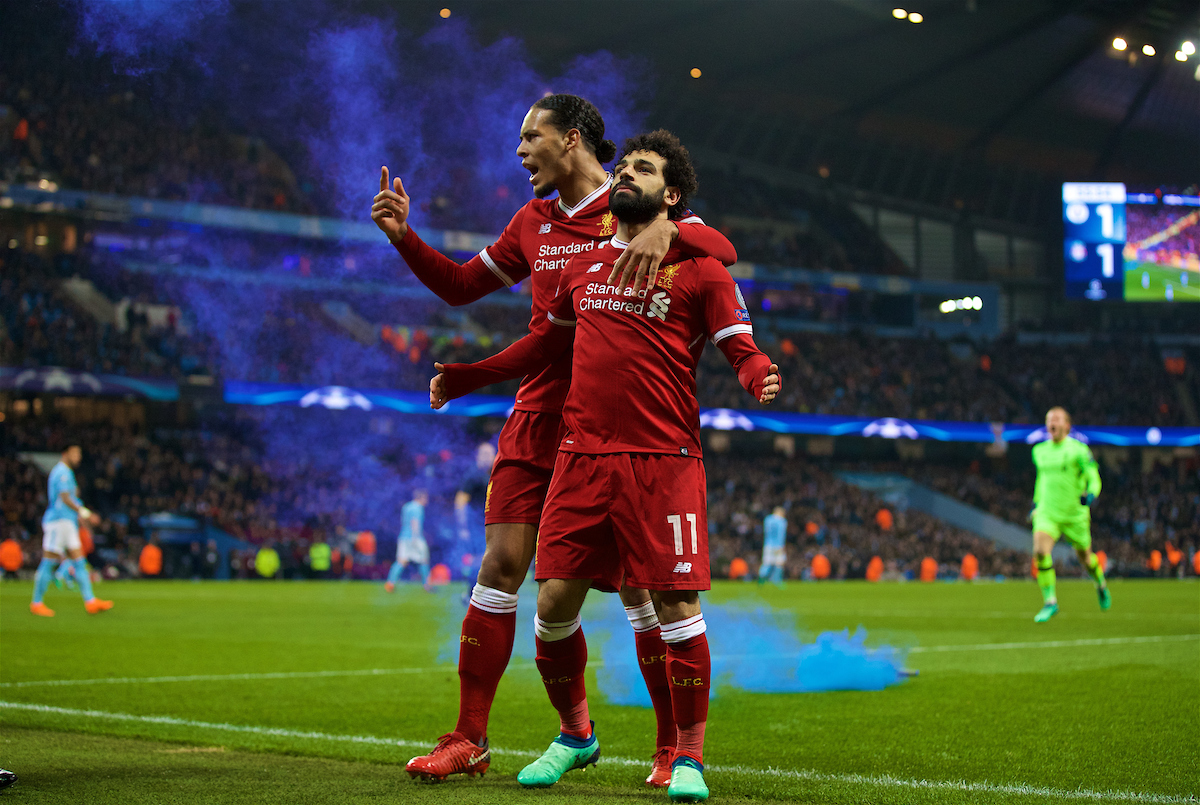 That is a possibility.
But it doesn't mean we can't hope and dream and enjoy every minute of the journey along the way.
It doesn't mean that we should worry about anything other than working out how best to make the most of this amazing team and this wonderful adventure.
West Bromwich Albion will be looking to spoil the party at the weekend, and they might well drag our beautiful artists down to their filthy level for an hour and a half, but then it will be back to our destiny. Back to a semi final of a Champions League.
I've already started writing a pre-Roma piece.
It will be an absolute fucking belter. Which is exactly what these gorgeous lads deserve.
"Big Virgil's hand signals have probably calmed the ground down as well."

"There's just a confidence that we'll get the job done." 🗣

✍🏻Subscribe now to listen: https://t.co/sAYhSu6Qag pic.twitter.com/cL5fAo6EX6

— The Anfield Wrap (@TheAnfieldWrap) 17 April 2018
Recent Posts:
[rpfc_recent_posts_from_category meta="true"]
Pics: David Rawcliffe-Propaganda Photo
Like The Anfield Wrap on Facebook