A FRIEND'S dad has made it a hobby of his to religiously run the rule over Liverpool's up-and-coming talent.
It's his bit of "me time" – when he escapes from the family and plays amateur scout for a couple of hours.
Watching the club's academy sides at Kirkby, he tries to pick out the talent early. He's often followed it up with a flutter: a wager on a certain player to win an England cap by 20, that kind of thing. The earlier he can spot a cert, the better the odds. And he's won a bit, too.
Long before Trent Alexander-Arnold pulled on a red shirt at Anfield to make his first-team debut against Tottenham in the fourth round of the League Cup in October 2016 (just two weeks after his 18th birthday) he was excitedly telling his daughter that this lad could go all the way to the top. And she was telling me in turn.
It's probably a fair bet there is a betting slip somewhere in his house in south Liverpool with Trent's name on it.
He wasn't the only one to see something early in the lad from West Derby. Steven Gerrard, referring to when he helped to coach the under 16s, wrote in his 2015 book My Story: "Trent Arnold has a terrific chance of making it as a top professional.
"He's quite leggy but he's got a lovely frame and seems to have all the attributes you need. He has the right attitude and comes from West Derby, home to Melwood. So Trent is another Scouser and apparently, just as I tried to be John Barnes and Steve McMahon, he grew up pretending to be me while playing in the Merseyside parks.
"He can play as a number six, a holding midfielder, but he's versatile and I've seen him fill various positions. I know England are all over him."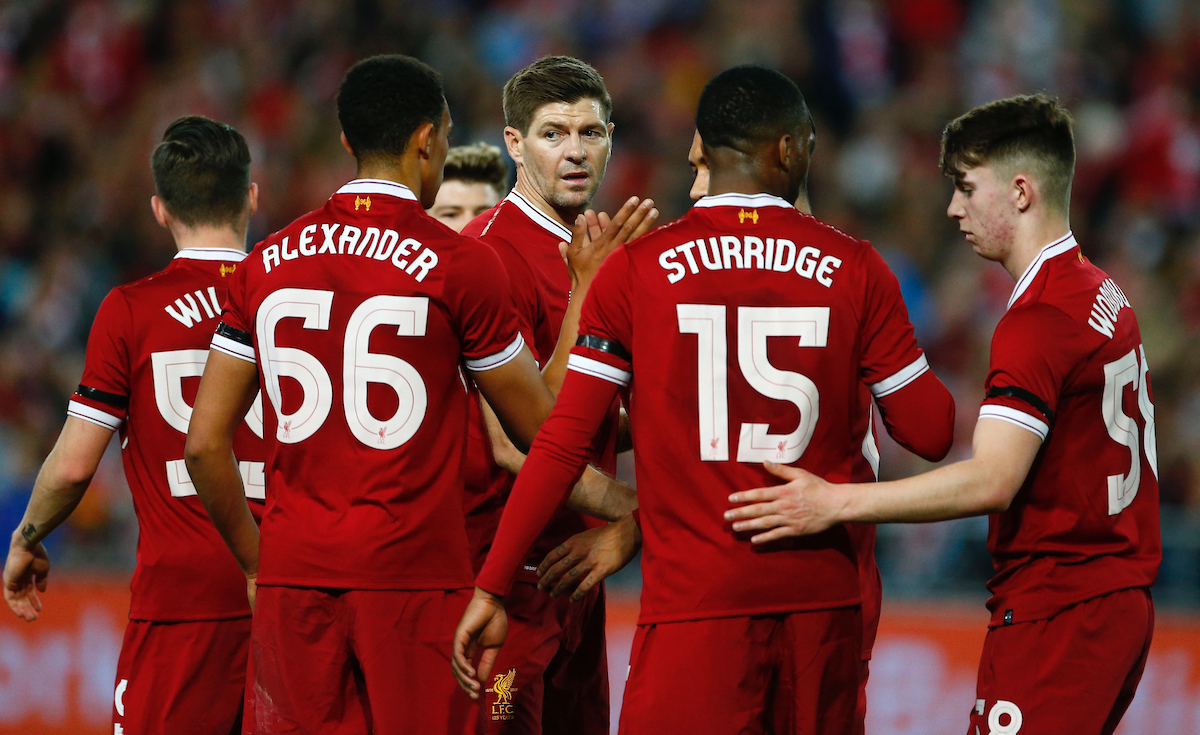 England are indeed all over him, with Trent recently training with the senior side and now being tipped as an outsider to make the cut for Gareth Southgate's World Cup squad.
Gerrard also wrote of recognising a "mean streak" in the player, something demonstrated in recent weeks.
While many would recognise the achievement of a teenager deservedly becoming a first-team regular, and choose to accentuate the positives, others pointed to Marcus Rashford's goals and some struggles with Wilfried Zaha as evidence that Trent was Liverpool's "weak spot" – and one Leroy Sane was destined to exploit over two games in the Champions League.
Two man-of-the-match performances later, with the £37million German winger suitably shackled by the youngest English player to start a Champions League quarter final, and he's everyone's hot tip to make the plane to Russia. How quickly things change.
That mean streak was in clear evidence throughout the tie. Trent clearly knew about the criticism, he undoubtedly read it, heard it and processed it. After all, he had even – unnecessarily – apologised via Instagram for his performance against Manchester United.
More encouragingly, he set about using the doubts as fuel to fire an improvement. And what an end result.
Again and again, City fed Sane – it was undoubtedly in their game plan. Again and again, Trent won the ball, aggressively, early. He was having none of it. Over the two legs he delivered the football equivalent of two fingers to those that doubted he could deliver under pressure.
In-between times, it emerged Leipzig had asked about the Scouser as part of negotiations over Naby Keita. It also came out that Trent had returned to Kirkby for advice from Alex Inglethorpe, the academy director, who helped with his transformation from midfield to right back and by his own admission chipped away at the player over and over, urging him to improve, picking up and pointing out mistakes to the point of irritation.
"Me and my brothers would do anything for a player to stop by and sign something for us." 🎥

"When they did, it made our day. Knowing now I can do that to a kid is a special feeling." 👊

Listen to our Trent Alexander-Arnold Special for FREE: https://t.co/uTOhui00KH pic.twitter.com/b0u9MuqUsm

— The Anfield Wrap (@TheAnfieldWrap) 2 April 2018
In just one newspaper report two sides to the player – his talent and his attitude; the skill, and the nous to figure out how to use it.
What is clear is that this isn't a teenager swaggering around thinking he's made it. It's a mature, focused young man desperate to improve and reach the very top of the game.
It's been quite the two weeks for him post Palace, and it continued at Anfield on Saturday.
After the highs of Liverpool securing a semi final in the Champions League for the first time in a decade, a Premier League match against Bournemouth had the cut of a comedown about it.
Nobody told Trent. Instead, like Jürgen Klopp had demanded, he "stayed angry".
As early as the third minute he had teed up Mo Salah for a presentable chance with an incisive whipped early ball – a taster for things to come.
He was on the freekicks, he was taking corners, and he was consistently teeing up the front three and driving Liverpool forward.
It was no surprise then when his wonderfully accurate curled ball cut out Nathan Ake and arrived perfectly for Salah to do the rest in the 69th minute.
After doing the defensive work decisively too when Bournemouth mustered some momentum – blocking, intercepting – a deserved man-of-the-match award followed. Again.
When Trent was briefly under the spotlight for the wrong reasons last month, some suggested that he is given an easier ride because of his birthplace.
It was a ridiculous assertion and one Klopp had already addressed. "The reason he is playing is not because he is Trent or a Scouser, it's only because of his quality," said the manager last month.
That quality has again been on display, alongside a willingness to learn, and the grit to improve, even when all around you isn't sweetness and light.
With Roma now on the horizon, Nathaniel Clyne will be desperate to play a part, just like every player at the club. Yet the right back with 14 England caps must look at the recent performances of the teenager with none and know he's got it tough.
Trent has already more than doubled his appearances of last season, playing in 12 games then and 27 this. During that time he has scored three goals, including the memorable freekick in Hoffenheim that made him the third youngest player to score on his European debut behind David Fairclough and Michael Owen
That he is enjoying the rewards for his efforts is writ large on his face. He loves it like we do, he wants it like we do. He's the fan on the pitch living our dream.
"There is a Scouse mentality," Alexander-Arnold told the club's official website recently.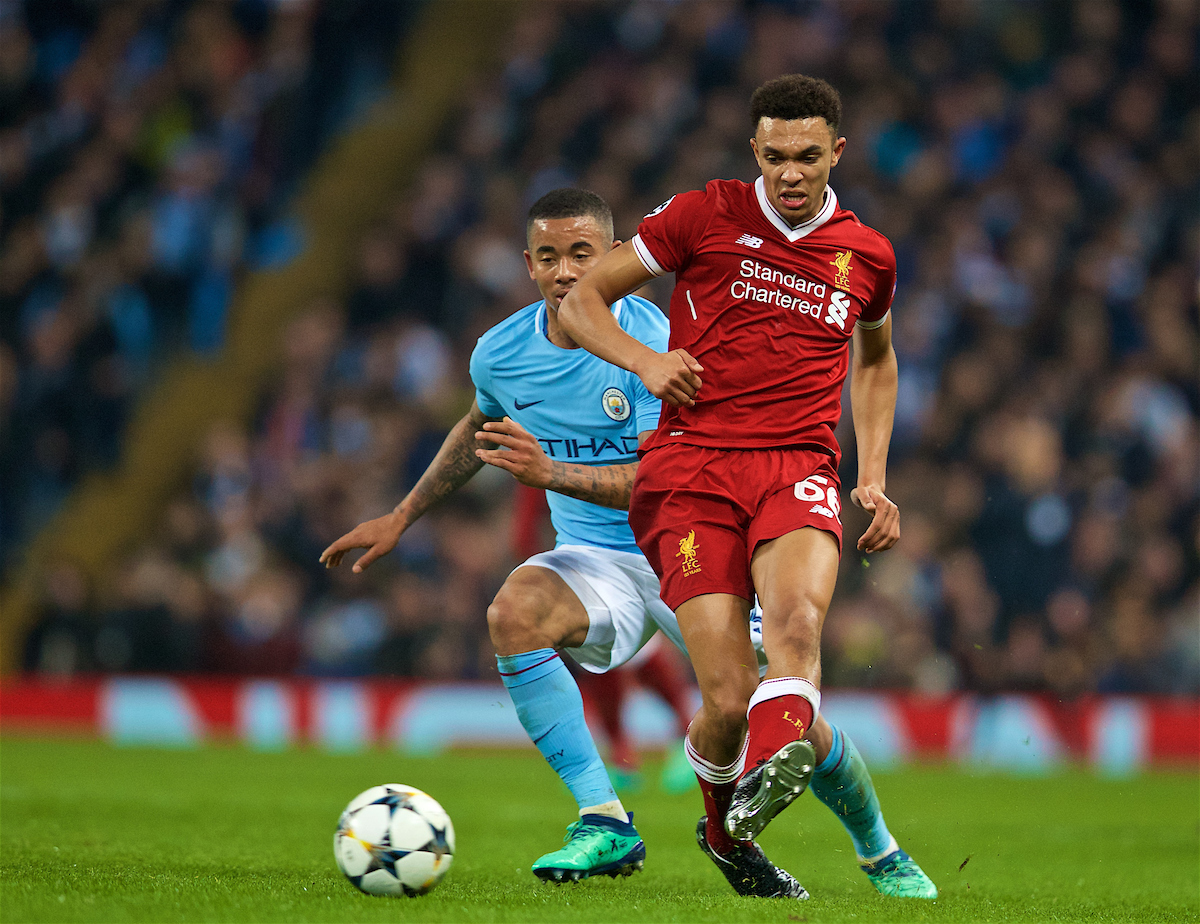 "There is a bit of aggression in there, controlled anger I would say. It's an aggressive way of playing. It's the hunger to win, you're brought up to win as a Scouser – you want to win everything. I think that might be to do with Everton and growing up playing against them.
"That will never leave me, that hunger and desire to always beat Everton, and the likes of Manchester United and Manchester City – the ones where it feels a little bit better when you come out on top."
Wherever in the world you come from, if Liverpool is your club that quote can't fail to raise a smile. That spirit can take you a long way.
Someone who knows all about that is Jamie Carragher and last week he predicted that Trent could make more appearances for Liverpool than he did. When Carra clocked up 737 games, second only to Ian Callaghan, that's quite the claim.
But who would rule it out? Many that have walked before him have burned bright and faded fast. Yet that's a path hard to picture for Trent. To play Premier League and Champions League football at 19 and do it with confidence and style, while continuing to recognise the need to work at improvement, tells you all you need to know.
Last May, Alexander-Arnold said: "I have achieved goals, but the dream is to captain Liverpool. There will be goals to achieve along the way, but until I captain Liverpool I will not be satisfied."
You wouldn't bet against that outcome. And who knows, maybe in that south Liverpool home somewhere there is a curled up slip from the bookies suggesting the very same.
"There's a real feel good factor that seems to be flowing through the whole team."

"We're on the march, who knows where this journey ends." 👊

✔️Subscribe to listen to tonight's Post Match Show: https://t.co/eTmRQkhp95 pic.twitter.com/H8tsIUaiw0

— The Anfield Wrap (@TheAnfieldWrap) 14 April 2018
Recent Posts:
[rpfc_recent_posts_from_category meta="true"]
Pics: David Rawcliffe-Propaganda Photo
Like The Anfield Wrap on Facebook