WHISPER it quietly, but there are shades of 2005 throughout all of this, writes TOM VERGHESE.
Remember 2005? Remember that palpable tension? Seeing out a 0-0 against Juventus at their place having gone in 2-1 from the home leg, playing without Xabi Alonso. Remember the backs to the wall at Anfield after Luis Garcia's goal against that formidable Chelsea side.
Well, file the first half from Tuesday night alongside them. That first half was familiarly hideous. Nail-bitingly hideous. The pundits at half time were waxing lyrical about Manchester City's performance in that first 45 and rightly so. They were magnificent.
We couldn't get near David Silva or Bernardo Silva, Fernandinho looked like he was playing three positions at once, Kevin De Bruyne was turning his man from deep and landing his passes on a sixpence, while Leroy Sane was getting it and running through us time and time again. Every turnover resulted in them coming back at us, wave after wave.
A goal down after 90 seconds. It came from the ball with the 'keeper, our centre backs splitting, our full backs bombing on, Virgil van Dijk backing himself to step his man. It came from everything this Jürgen Klopp team sets out to do and everything we stopped trying to do after that.
We lost our composure. We started lumping it up to little Mo Salah to get blasted by Nicolas Otamendi and then letting De Bruyne run through the middle of us. Fernandinho taunted us pre game labelling us a "long-ball team". We were playing into his narrative. Gini Wijnaldum looked like he had lead in his boots. It was relentless. Just get to 20 minutes still only one down. Just get to 30. Just get to half time and let Klopp get them up for this or we're in danger of going out here.
On 54, something happens. On 54, you hear the away end find their voice. On 54, Liverpool remember they're Klopp's Liverpool.
🔴🔴🔴🔴 pic.twitter.com/My4utJH7Cb

— The Anfield Wrap (@TheAnfieldWrap) 10 April 2018
On 55, Roberto Firmino wins the ball back from De Bruyne as he tries to move away from him, when you're certain he's fouling him and getting a second yellow. Twenty-two successive passes follow; sustained possession for 90 seconds. A reprieve.
On 56, Gini finally drives forward with it and breaks the line, Alex Oxlade-Chamberlain moves forward with his first touch and plays an outside of the boot pass, inch perfect. Salah bursts through, lightning feet, tic tac right to left. Sadio Mane makes the inside-out run and takes all three City centre backs out. Salah, following up on the loose ball, finishes with a dink you wish you'd tried at five a side the week before. Loris Karius, channeling the spirit of Pepe Reina, charges up to bundle in amid blue flare smoke. Everyone going wild and Salah just standing there ice cool.
There was something so special about that goal and celebration, so reminiscent of the good times under Rafa Benitez, Liverpool kicking it with the real big boys.
Make no bones about it, these Reds are a great bunch of lads.
Whatever your thoughts on him, Karius backs himself, he doesn't hide.
Trent Alexander-Arnold and Andy Robertson are brave; they ask for the ball with two men on them. They did it repeatedly on Tuesday, Robertson evading pressure by carrying the ball inside and taking men out of the play, like we've seen Andres Iniesta doing for fun over the last decade.
Yes, I just likened Andy Rob to Iniesta.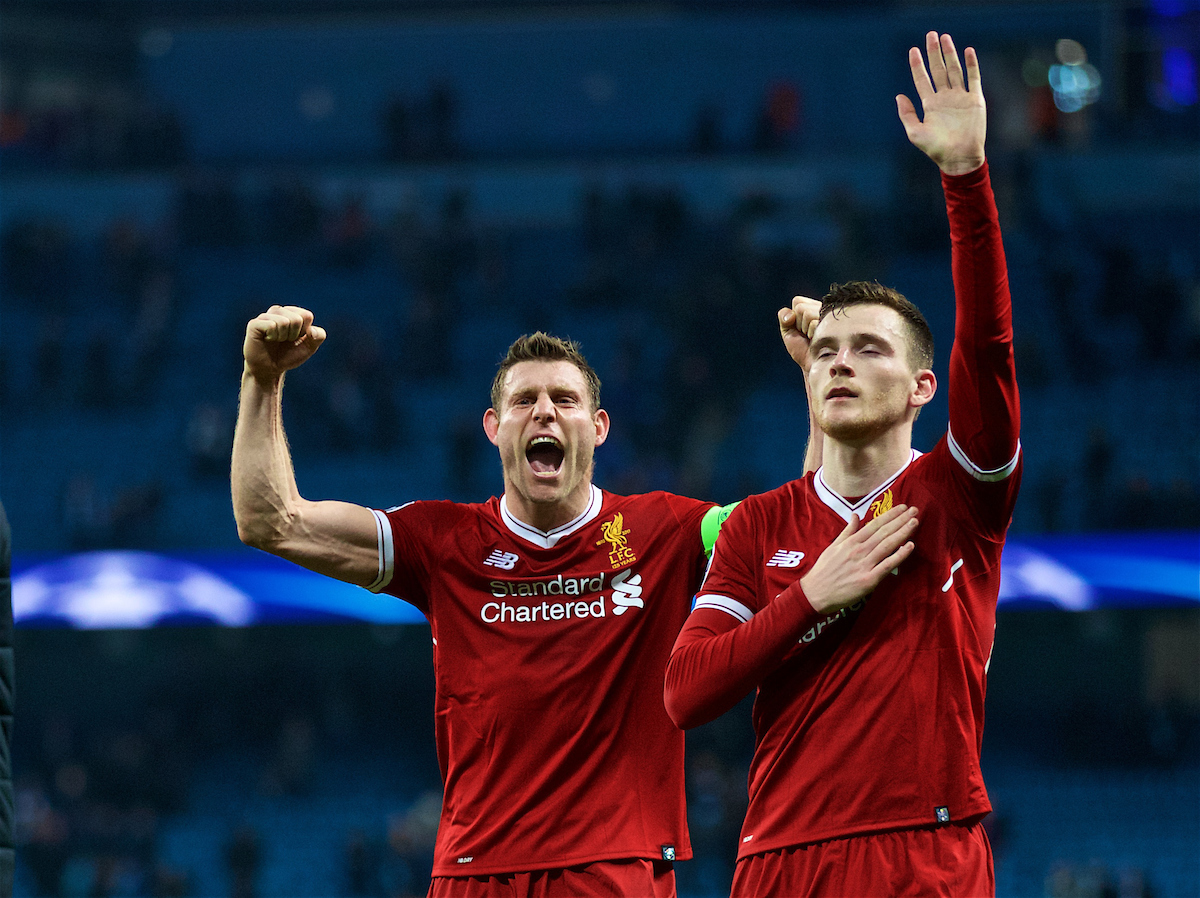 Liverpool were widely ridiculed when they bought Oxlade-Chamberlain. "Why buy another winger?" they said. "He doesn't score or create goals," they said.
Klopp has clearly identified traits in Chamberlain which he wants in that number eight position. A player who's brave in possession and can break the lines at pace with the ball at his feet. A player who runs ahead of the ball and makes intelligent runs into the box. A player who can, and will, shoot on sight.
The move and the management have rejuvenated him. I was among his biggest doubters, having been underwhelmed by the discrepancy between his evident talent and his output.
Now you're looking at a game changer, likely to make an impact at the World Cup. I'm watching Chamberlain's goal from the first leg on repeat. I'm saving the image of him giving a kid his shirt at the end of the second. Fuck it, I'm buying Little Mix's next single.
When we sold Philippe Coutinho, we were told we needed a player who can replace him in the wide-forward role and also in the left-sided midfield position.
The cryarses were out in force when we didn't splash £90million on Thomas Lemar.
Well, I'm sticking my neck out and saying that Mane has the characteristics from both areas to suit this type of play in a way that Coutinho never did.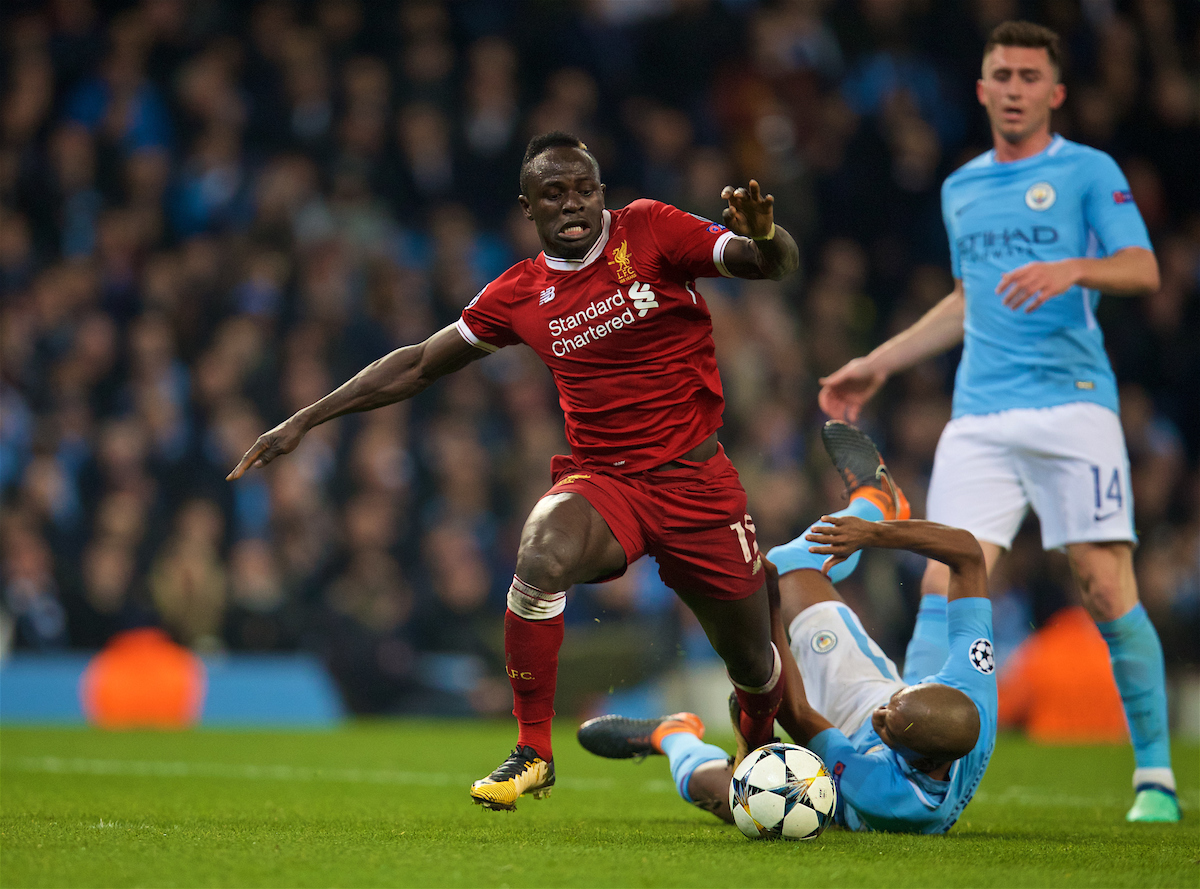 He comes between the lines with more pace and purpose, and protects the ball under pressure every bit as well. Crucially, he runs ahead of the ball with an instinctive, goal-hungry focus. The inside-out run he makes for the first goal is proper wide-forward football, tying their back three in knots (and taking all three of them out in one move).
Mane didn't fancy himself one v one against Kyle Walker whatsoever over the two legs, so Klopp switched Firmino onto the left for most of the second leg, when we couldn't keep the ball for love or money.
What Firmino lacked in pace over Walker, he bettered England's right back in terms of nous and fleet of thought. He was our man to put his foot on it, calm everyone down, open up the play and bring others in — playing in the half spaces which City were leaving us all over the park.
His goal was vintage Firmino. Smelling blood, pouncing on Otamendi's alehouse first touch and stroking it in. He bloody loves football and he's bloody good at it.
I could go through every player who has contributed and highlight what worked, but what underlines it all is how Klopp has galvanised them.
Whatever happens in the Champions League, this has been quite some ride. Savour the Instagram pictures of the team in the changing rooms, of them celebrating the goals, celebrating the wins.
Klopp's out there with the fans. He gets it. He's one of us and these boys in red would go to war for him.
"We weren't this good in 2005, we weren't going away and beating the best side in Europe." 👏

🗣 Subscribe and listen to our immediate post-match reaction show 👉 https://t.co/Z8JVyOQDO5 pic.twitter.com/eoTG88JiA1

— The Anfield Wrap (@TheAnfieldWrap) 11 April 2018
Recent Posts:
[rpfc_recent_posts_from_category meta="true"]
Pics: David Rawcliffe-Propaganda Photo
Like The Anfield Wrap on Facebook