WHAT a strange week of football that was.
Manchester United beating Manchester City with a second-half turnaround, Roma coming back from 4-1 down to beat Barcelona, Juventus nearly doing similar to Real Madrid, Red Bull Salzburg coming from 5-2 down on aggregate with 35 minutes left to overcome Lazio, and then City clinching the Premier League title after United were beaten at home by the worst team in the top flight.
By comparison, Liverpool's week has been fairly routine.
I would like to start with a sincere congratulations to Manchester City. There have been some bumps in the road recently for Pep Guardiola and his men, but across the campaign there is no denying that not only have City been the best team in the country, but they've been an absolute pleasure to watch while doing it. There is no definitive "right way" to play football – it is a game of opinions, after all – but if you want to marry success with entertainment then City are as close to perfection as we've seen in this country for some time.
Which brings me neatly to another team who could receive similar praise in the not too distant future (once the success bit is sorted). Liverpool showed in the Champions League that they can be more than a match for City and, having vanquished The Sky Blues in three of their four clashes this season, will be confident of running City closer in 2018-19 than anyone managed this season.
After the unbridled joy of Tuesday night at the Etihad Stadium, it was back to business as usual, as The Reds dispatched Bournemouth with relative ease on Saturday evening. The Cherries have been a thorn in the balls before now to Liverpool, and a 3-0 win against Chelsea at Stamford Bridge in late January will have given them some hope of upsetting another big gun away from home. But it wasn't to be as a competent home showing saw Jürgen Klopp's men score three on a day they could have bagged far more, again.
Goals from the dynamic trio of Sadio Mane, Mohamed Salah and Roberto Firmino got the number boffins more excited than an Algebra party at Rachel Riley's house. It took the season total to 82 for the three lads, with Salah bagging his 40th and Firmino his 25th. It also took The Reds to the 300-goal mark since Klopp took charge.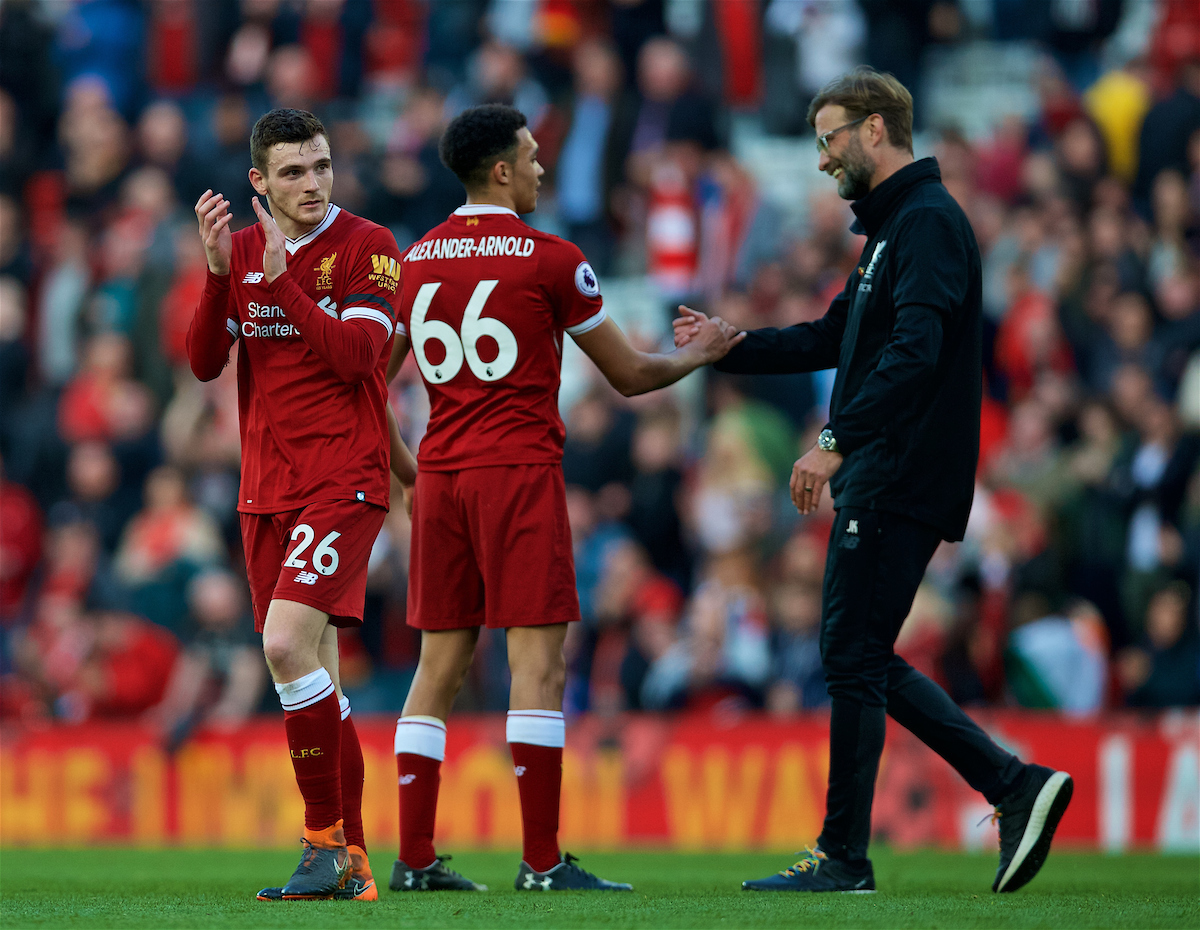 It might not seem all that surprising given the goal frenzy that The Reds have been on, particularly this season, but if you'd said that Liverpool would score that many goals in the two and a half seasons following the point when Brendan Rodgers left and the German arrived, an eyebrow or several would have been raised.
The Reds were struggling to bother the net in Rodgers' latter days, and scored just three goals in Klopp's first four games, and those had come from the unlikely sources of Emre Can, Christian Benteke and Nathaniel Clyne. Ironically, Clyne's goal also came at Anfield against Bournemouth, which was Klopp's first win as Liverpool manager.
That night was a bit of a haggard affair and, aside from Clyne's goal, the most notable thing about it was that it was arguably the first time Firmino had shown his then new club what he was capable of, putting in a superb performance to help knock the south-coast club out of the League Cup. Two and a half years later and it was Firmino scoring the 300th goal of the Klopp reign, his 48th under the bespectacled boss (thanks again @BassTunedToRed).
Saturday's victory was yet another in what is becoming a long line of routine and comfortable wins for Liverpool at Anfield. They are unbeaten at home in the Premier League this season, but have drawn too many to be higher up the table. However, most of those points dropped came earlier in the campaign and, since the three home draws in a row against Chelsea, Everton and West Brom near the end of 2017, Liverpool have played eight league games at Anfield, won seven and drawn one, the draw coming against Tottenham where it took a last minute penalty to deny The Reds a win. Those eight games have seen Liverpool score 27 goals and concede just seven, with five of those coming against Manchester City and Tottenham.
There is no playing down the importance of home form when it comes to challenging for a league title, and being able to pick up win after win in front of your own fans is not a given. Just look at City, who lost their unbeaten home record against Basel in the Champions League, and have been beaten again twice at the Etihad since then.
Manchester United, like Liverpool in the FA Cup in fairness, weren't even able to avoid defeat to an incredibly poor West Brom side (though The Baggies were impressive in both games at Anfield and Old Trafford).
If Klopp's side can avoid defeat to Stoke and Brighton then they will have gone the whole league season without a loss at Anfield, a tremendous base from which to build on next year.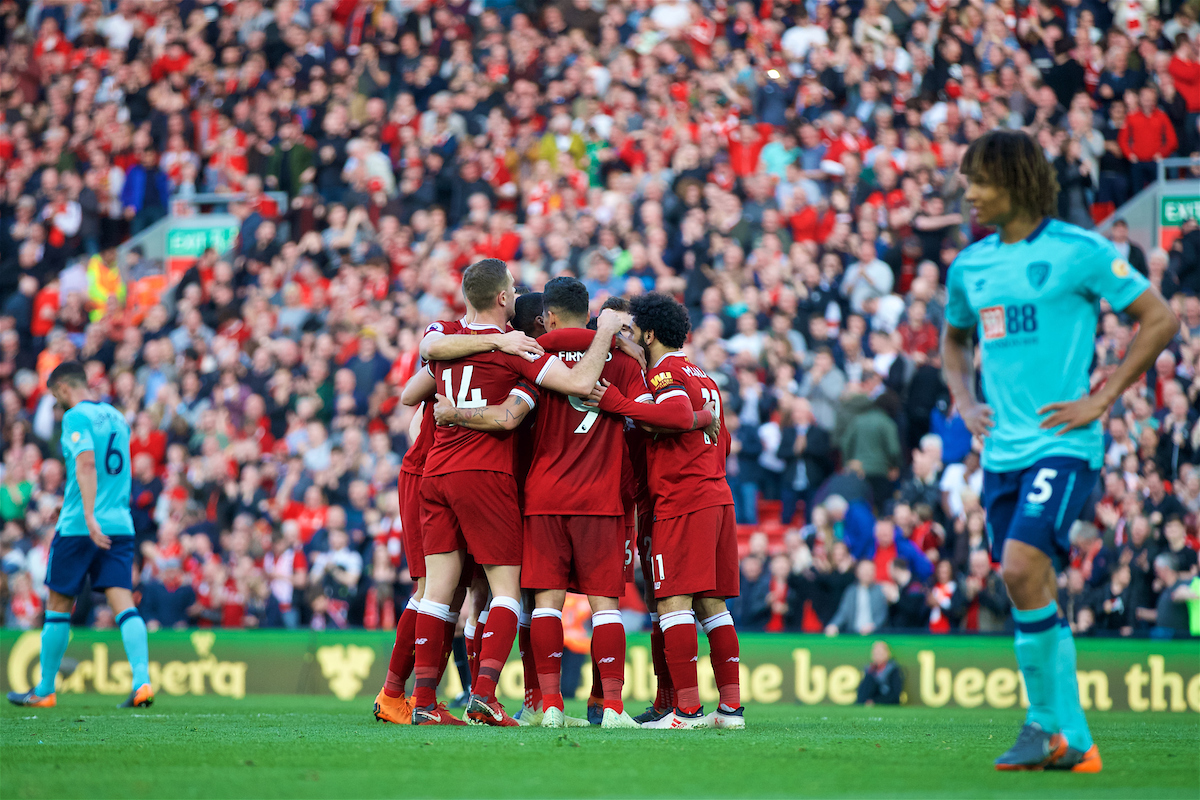 It has also given a boost to those attending games in L4, with a recent poll of over 4,000 followers of Premier League teams, former players and managers, conducted by Barclays and YouGov, finding that Reds fans are the loudest in England. The vote also determined that the 4-3 success over the new Champions in January was the game where fan effect had been most apparent. Had there been a Champions League vote along similar lines then the other home win over City would surely have featured.
There have been questions asked even in the recent past of what it will take to make Anfield loud and intimidating on a regular basis. It almost seemed too obvious an answer that it would simply take Liverpool being ferociously excellent at football, and sure enough it's worked.
Given the way this team plays away from home as well – arguably the most dangerous side in Europe on the counter attack – if it can also be a rock at home then there's no reason why a concerted challenge to City's throne cannot be a possibility next season.
Then of course there's how much the famous ground will be rocking a week on Tuesday for the visit of Roma, but that's an article for next Monday.
Up the home sweet home Reds.
"There's a real feel good factor that seems to be flowing through the whole team."

"We're on the march, who knows where this journey ends." 👊

✔️Subscribe to listen to tonight's Post Match Show: https://t.co/eTmRQkhp95 pic.twitter.com/H8tsIUaiw0

— The Anfield Wrap (@TheAnfieldWrap) 14 April 2018
Recent Posts:
[rpfc_recent_posts_from_category meta="true"]
Pics: David Rawcliffe-Propaganda Photo
Like The Anfield Wrap on Facebook