"I have the self-confidence to say that my qualities are sufficient to play in a very big club next season." Emre Can, Liverpool FC footballer, March 21, 2018.
Say what you want about our handsome midfielder but, for all of his weaknesses, a lack of self-belief isn't one.
I'll be honest, I've read the article in the Liverpool Echo in which the above was reported and not much else. Reading things on the internet generally just makes me sigh these days, because most of it is a load of nonsense (it's ironic that I'm saying that while writing a load of nonsense on the internet, I know).
What I'd guess, though, is that there's been some form of explanation given as to what he said not being disrespectful to Liverpool, or how it's been lost in translation or that he didn't really mean anything by it, given that he basically named every league in Europe and said how great they all are, even including France in the list despite it still being a tin-pot division, just in case Paris St Germain decide that they need a good-looking lad who often has the turning circle of a tank in their midfield.
Why scupper any chances of playing for one of the super-rich clubs, eh Emre?
There has no doubt already been a load of reaction from fans around the world saying everything from why we should just sack and how he should never play in a red shirt again, to it's not his fault that the club hasn't tied him down to a long-term contract by succumbing to whatever demands he and his agent have made, and everything in between.
Am I close?
6 – Emre Can has scored six goals in all competitions for Liverpool this season, his best tally for the club in a single campaign. Rise. pic.twitter.com/H0SKn81mnY

— OptaJoe (@OptaJoe) February 24, 2018
I've touched on this before, but I'd challenge anyone to try to go more than a month without completely changing their mind about what size and type of contract Can should be given. When he scored an overhead-kick winner against Watford at the end of last season, many were queueing up to proclaim how he should be given £150,000 a week and whatever buy-out clause he wants.
A month into the new season and a good chunk of those same supporters were saying he wasn't worth a carrot. Bearing in mind he's not as young as we might think any more — 24 for the record — he still has the ability to completely switch off away at Old Trafford and generally slow down play at times, while clearly having the potential to become a truly world-class player.
The point being, the contract stand-off obviously wasn't easy to resolve, especially given the club's apparent refusal to give anyone a release clause. A policy which I, for one, am happy that the club is not prepared to bend for a very good, but not world-class, midfielder.
So, where do Emre's most recent comments leave him for the remainder of the season?
My first reaction is that all players should be made to swear an oath before they go off on international duty that they will just keep their mouths shut. It's rare that something will be said that pleases the hordes back home, while the risk of uttering something seemingly innocent which sets the mob free with pitch forks and flaming torches is pretty high.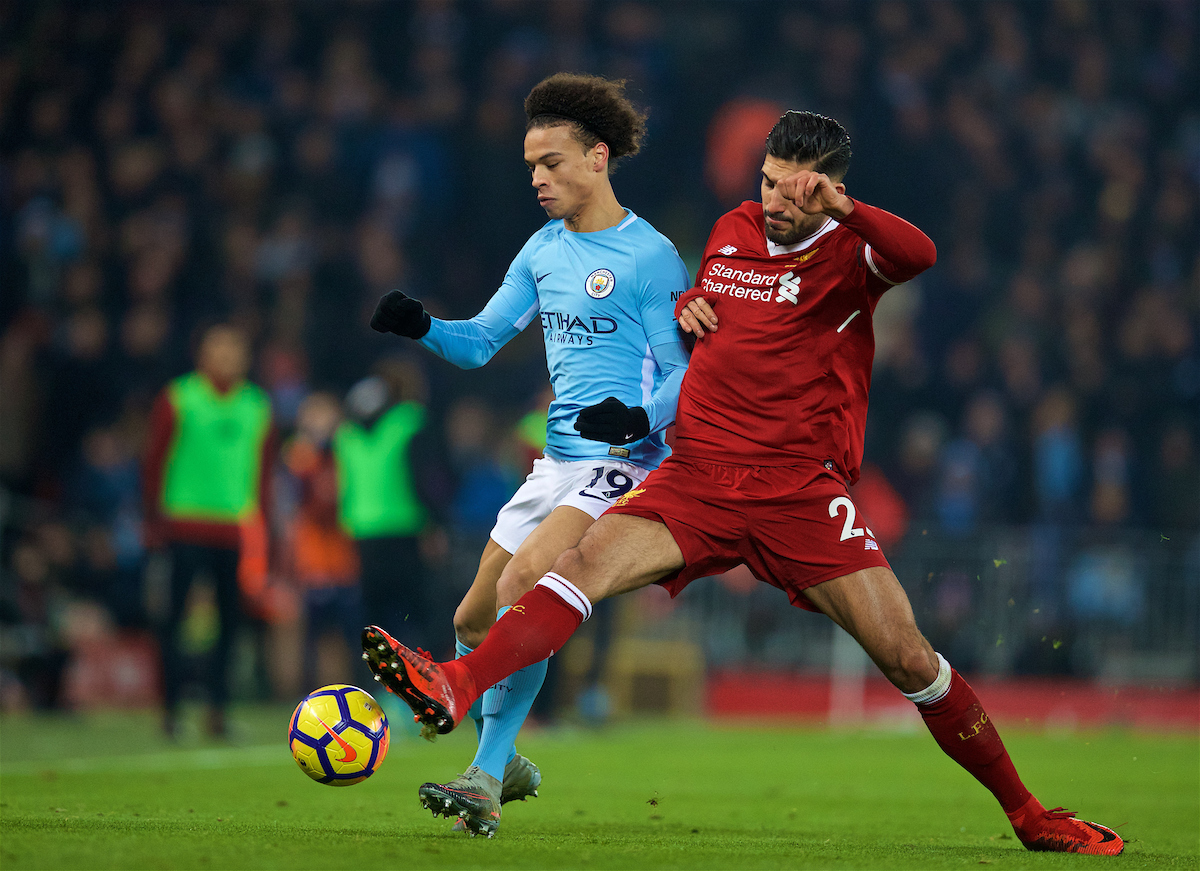 On the presumption that at least one person at the club is already doing that job and some players clearly take the opportunity to ignore the guidance and instead do a bit of self-promotion while they're away from mum and dad for the night and think they might be able to get away with having a quick smoke without the risk of anyone finding out, it all ultimately comes down to whether we actually give a shit about what footballers say, whether at home or abroad.
In fairness to the ex-Bayern Munich man, who has already exploited a contract for the benefit of career development (to our club's advantage), he doesn't actually say that he's not already at a very big club, and his comments about challenging for honours don't necessarily exclude us. His words could well have been carefully chosen to make sure that his agent receives as many offers as possible from as many top clubs as possible, before he decides what he wants to do.
Given his open invitation to every rich Tom, Dick and Harry to make him an offer he can't refuse, I'd imagine that those Juventus fans who have been watching video reels of his goals and best passes set to a Euro dance soundtrack (while excluding those cumbersome three-point turns and chewing of the ball in midfield, obviously) would be on the list of disgruntled supporters together with those of us of a red persuasion.
While he might not have committed his future to us, he clearly also hasn't pledged his heart to Massimiliano Allegri's striped champions. Maybe he watched the Netflix documentary and decided against a move to Turin, or maybe he just thinks he's better than both legendary clubs and it's just that Bayern Munich and Manchester City needed more of a nudge to invite him to a Whatsapp group for new recruits.
A big question, though, is whether it's such a bad thing to have a player with so much self-belief that he will only settle for playing for one of the biggest and best clubs in the world.
Isn't that what we want?
I'm on record a number of times of saying that a pre-requisite of a great Liverpool player should be an unyielding belief in his own ability and the desire to dominate opponents to such an extent that they generally decide that it's not worthwhile getting involved in a battle and, instead, opt to roll over and have their bellies tickled while conserving energy for more evenly-matched contests that lie ahead.
There's a brilliant clip circulating on social media this week about an upcoming documentary in which the line "you need eyes in the back of your head if you were playing Graeme [Souness]. He wanted to do you damage if he could."
"You needed eyes in the back of your head if you were playing against Graeme."

"When English Football Ruled Europe" – coming to ITV4 on 29th & 30th March pic.twitter.com/CVsaUULybx

— ITV Football (@itvfootball) March 20, 2018
Aside from anything else, it made me laugh to myself when I heard it, considering all the talk we hear these days of professionals not intentionally going out to hurt each other. They might not admit to it anymore, but once upon a time no-one was pretending.
One thing was for sure though, Graeme Souness and his mates were winners, and winners only want to play for the very best teams in the world. Souness did that at Liverpool before deciding to move on to expand his horizons in Italy – leaving having won a European Cup final – as have many of our greatest players in the past.
While Emre doesn't deserve to be mentioned alongside those legends at this stage, his desire and self-belief is something we'll need in our players going forward if we're going to win the silverware we all hope for and believe that Jurgen and his team can deliver.
So, isn't the key that we should, as a club, be convincing any player, Emre Can included, that Liverpool Football Club might have been living on its reputation for a while, but it's now firmly back among the "very big clubs" in world football?
While we can all romantically say that we've never been away, I doubt many players born from 1990 onwards would think of us as a modern day great (short spells under Gerard Houllier and Rafa Benitez notwithstanding), so our return to the Champions League quarter-finals following our Europa League final appearance a couple of seasons ago will hopefully be part of an ongoing campaign to demonstrate to everyone around the world that we deserve to be talked about again in the same breath as Bayern Munich, Juventus, Real Madrid and Barcelona.
It will be interesting to see whether Can decides by the end of the season that he doesn't actually have any better options than staying with a manager from his motherland who clearly loves and believes in him, as part of a football journey that would excite even the coldest of hearts. When we knock Manchester City then Barcelona out of the Champions League on the way to beating Real Madrid in the final, he might just realise that he's already at the very biggest of the very big clubs, and if he stays around long enough one day someone might be talking about him in the same way they talk about Souness.
But, if he doesn't and instead decides to hop on an Easyjet flight to one of our European neighbours, he can fuck right off. He wasn't that good anyway and we're better off without anyone who doesn't believe that Klopp's Reds are going right to the very top of the game, whether they leave on a free or for all of the tea in China.
He can even save the £20 airfare and catch a lift from one of people offering to drive him there themselves.
Recent Posts:
[rpfc_recent_posts_from_category meta="true"]
Pics: David Rawcliffe-Propaganda Photo
Like The Anfield Wrap on Facebook