A CHAMPIONS League semi-final berth has exceeded all our pre-season expectations, hasn't it?
To paraphrase The Anfield Wrap's Neil Atkinson, what a time for Liverpool Football Club, what a time to be a Red.
Not only have Liverpool secured a Champions League semi-final place but they did so with a win at The Etihad. A win with a psychological impact greater than can be imagined both with regard to the rest of the Champions League campaign and next season as a whole.
Consider if Liverpool had got through to face, say, Borussia Dortmund, who had, let's imagine, just beaten Bayern Munich home and away. What would we be thinking about our semi-final opponents?
A marker has undoubtedly been laid down by The Reds.
But let's go back to pre the second leg against City. Despite the 3-0 advantage there were many among Liverpool's fan base who feared the worst in the return. My perception in the days leading up to the second leg that getting through the tie narrowly on aggregate was perceived by many to be the best we could hope for.
Given those pre-match expectations, the come-from-behind win was huge. There can be no possibility of any lingering doubts around Liverpool's semi-final credentials.
And all that got me thinking…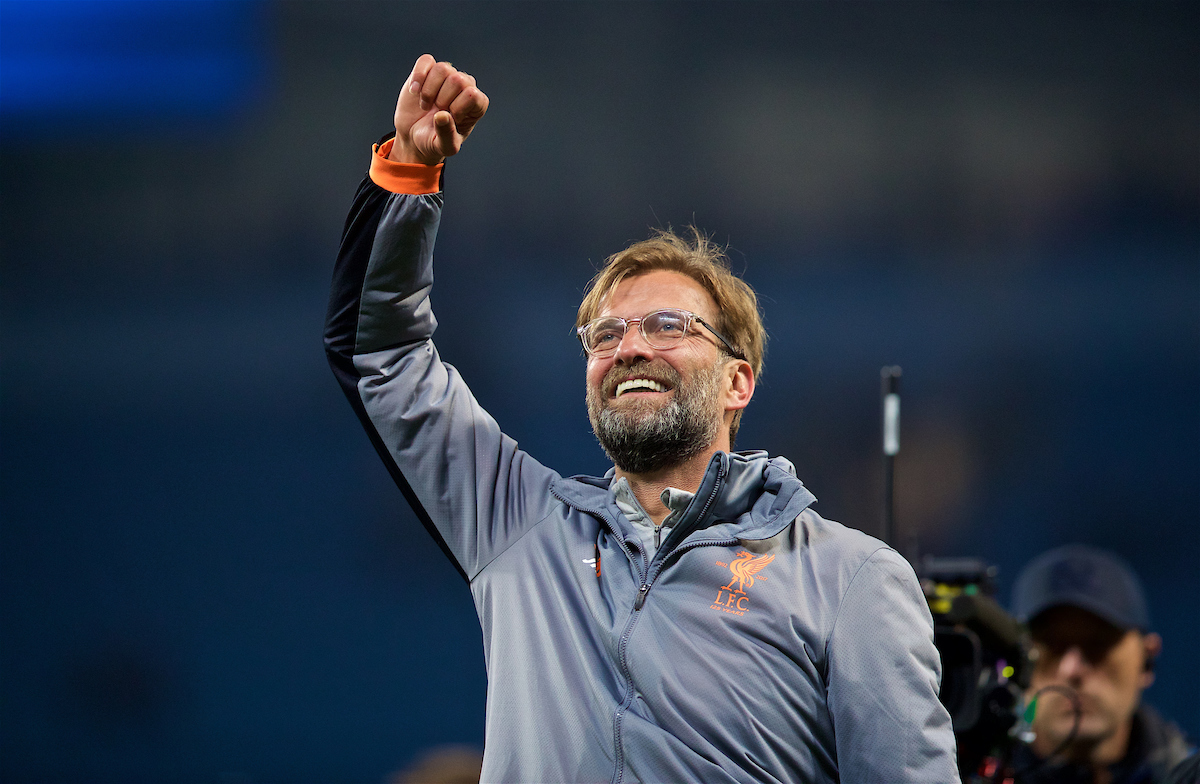 It had occurred to me after recording last month's Overview show that I need a bit of perspective to fully appreciate how good these Reds are at the moment. We need to take a mental step back to remember where each and every one of us was in terms of expectations for The Reds' Champions League campaign in August.
This time last year I was saying to anyone who would listen (a pretty select bunch…) that it was about the top three, not top four. My concern with finishing fourth was the prospect of not getting through the qualifying round and ending up in the Thursday night dead end of the Europa League. A fear that was realised when Liverpool were drawn to face Hoffenheim in the final qualifying round of the Champions League.
I'll be completely honest here, at that time I would have settled for making the group stage (bitten your hand off in all probability) and no more. With hindsight that was probably a case of my "chimp" getting the better of me. More realistically and objectively, I would say that if Liverpool made it to the knock out I'd be satisfied.
So I ask you all to ask yourselves that same question. What would have, in your mind, been a reasonable target for The Reds in Europe this season? Would you have been happy with the last 16? Quarter finals? Or would you have wanted better?
If you answer that question with "at least the semis" then you are being unrealistic.
Let's look at this another way. Let's imagine that the 32 teams that made up the group stage were seeded just like in all the major tennis championships. Where do you think Liverpool should have been in such a ranking?
Clearly not in the top four (semi finalists and beyond).
Probably not the top eight (to include the losing quarter finalists).
"We came down for the team meeting and [Houllier] was there." 🗣

"That's one of those ones that people don't remember as much but you think 'what a night that was'." 🔴

✍🏻Subscribe to listen to our Jamie Carragher Champions League Special: https://t.co/sAYhSu6Qag pic.twitter.com/thXS2F0ADE

— The Anfield Wrap (@TheAnfieldWrap) 23 April 2018
In all likelihood somewhere around 10 – losing in the last 16.
Before you answer, consider the teams that were in the competition at that stage and considered good bets to get out of their respective groups. In addition to the other four English teams, you had; Barca, Real and Atletico Madrid, PSG, Bayern Munich, Dortmund, Roma, Leipzig and Sevilla.
I can make a pretty strong argument for eight of those being seeded above Liverpool before the group games kicked off.
So, while I fully accept that as I write this (before the first leg of the semi final) we are all dreaming of number six. Let's take a few moments to rejoice in what Jürgen Klopp's free-flowing, top-scoring, thrill-inducing Reds have achieved.
There is no doubt that getting to the semi finals is, to use the golfing vernacular, under par. To do so in the style and with the goal difference they have is even better.
My expectations are now that Kiev is reasonably achievable. Something I did not even consider until the final whistle at The Etihad. On August 23 I would have taken getting to the group stages as a decent outcome. How perceptions change.
Klopp and his team deserve huge credit for what they have achieved, whatever happens over the next week.
Let's get behind these Reds.
"Every single day I wake up I think about Kiev." 🏆

🗣 Subscribe to #TAWPlayer and listen to all of our Champions League coverage as the Reds look to make it number six 👉 https://t.co/rsl3LeA1dd pic.twitter.com/RxvERQHLwZ

— The Anfield Wrap (@TheAnfieldWrap) 23 April 2018

Recent Posts:
[rpfc_recent_posts_from_category meta="true"]
Pics: David Rawcliffe-Propaganda Photo
Like The Anfield Wrap on Facebook