I AM a man on the move.
Ever since I was fortunate enough to be offered a season ticket in my own name at the beginning of the 2016-17 season, due to some admirable initiative as a 13-year-old, I have lacked a true feeling of home.
A debut season at the Kop corner flag of the lower Kenny Dalglish Stand wasn't for me. Trying desperately to rationalise anything that happened near the Anfield Road end while simultaneously having to manage my sheer mortification for the middle-aged guy next to me, who felt the compulsion to stand up and raise his shirt above his head while slapping his distending midriff every time the ball went out of play near us, was enough for me to seek change.
Also a special mention for the lower Kenny concourse, which I'm now certain is basically a combination of the inside of some fourth-dimensional spaceport and that house Homer builds for Flanders in The Simpsons. I was always convinced I'd emerge from there at half time one day to find the current game I had come to see being played in one half of the pitch, and a 2-1 win over Wolverhampton from May 1948 in the other.
This season saw me take up my residence in the new and modernised Main Stand lower tier. I can't really have many complaints about this spot. I have enjoyed the company, high fives and hugs of the lovely man and lady next to me, not to mention the ample legroom given.
I have had a more centralised view of the pitch and, most importantly, I have been able to enviously gaze at the plethora of majestic calves on show from substitutes far and wide who warm up right in front of me. If I had to judge whose were the best? I could tell you that it would be another award for Mo Salah to add to the increasing list of accolades he will undoubtedly receive at the end of this season.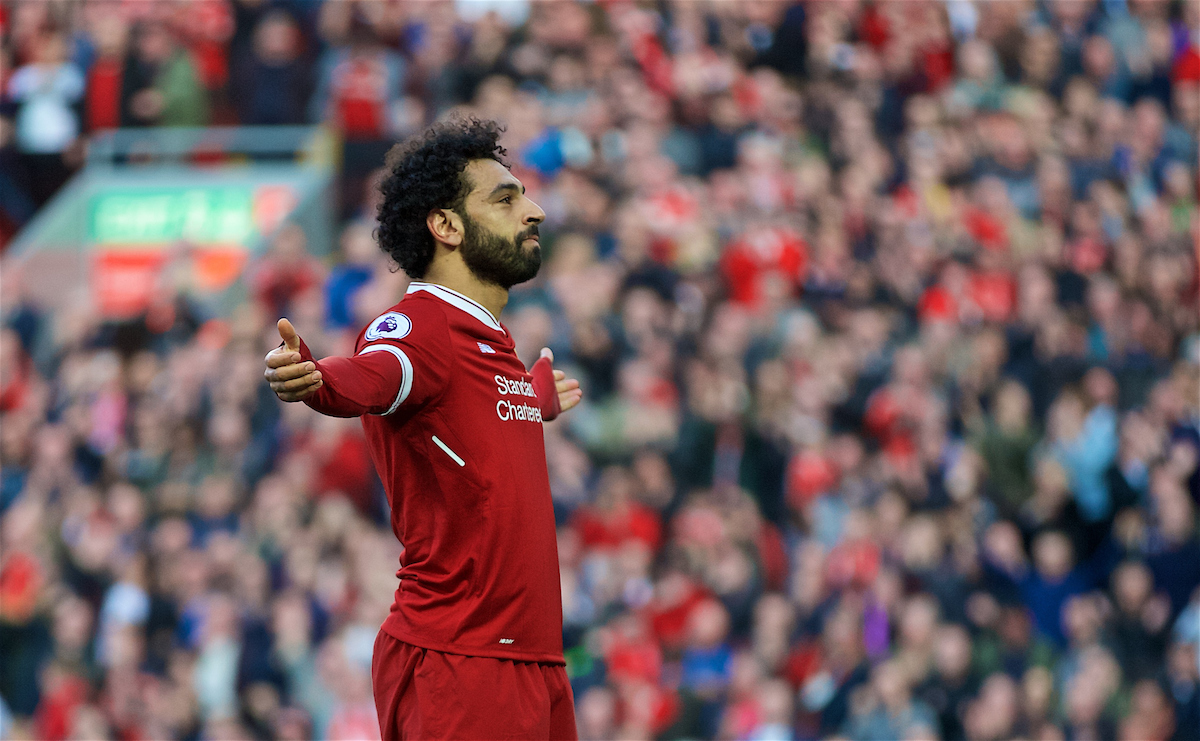 I'm so convinced this would be his best and most august achievement of the lot this term, that I'm considering making some kind of "silver sock" to accompany his impending Golden Samba for Brighton at home.
Despite the positives of my current locality, there is still something missing. I just don't feel at home. The urge to scream, sing and cajole Liverpool through a game when I feel the need is just not an option where I am. It is not the done thing. Therefore, I had to remain true and honest to myself and acknowledge the fact that, when I look to my right and see the mass of colour and noise coming from The Kop during games, I know that is where I truly want to be.
So last week I attended the ticket office to renew and was lucky enough to be offered a seat in block 104, just a mere eight rows down from my brother and significantly cheaper than the Main Stand, which we all know helps.
To further add to my good feeling, I was in The Kop last Saturday against Bournemouth and, while carrying out a covert reconnaissance of my future abode at half time, was able to observe my seat unoccupied, therefore seizing the opportunity to sample and familiarise myself with it in preparation for the 2018-19 campaign, and all that it holds.
My view was perfect, the adorning Anfield stadium and a sea of red shirts on the pitch raining down in front of me. I still had enough legroom for my usually intrusive knees and, most importantly, I was free to bounce, jump, fist pump and "allez, allez, allez" until my little heart was content.
For 20 minutes it was heavenly, and I was full of self acclaim. This was the best decision I had made since I booked into an over-priced Holiday Inn suite at New Delhi airport after five days in a Himalayan prison cell.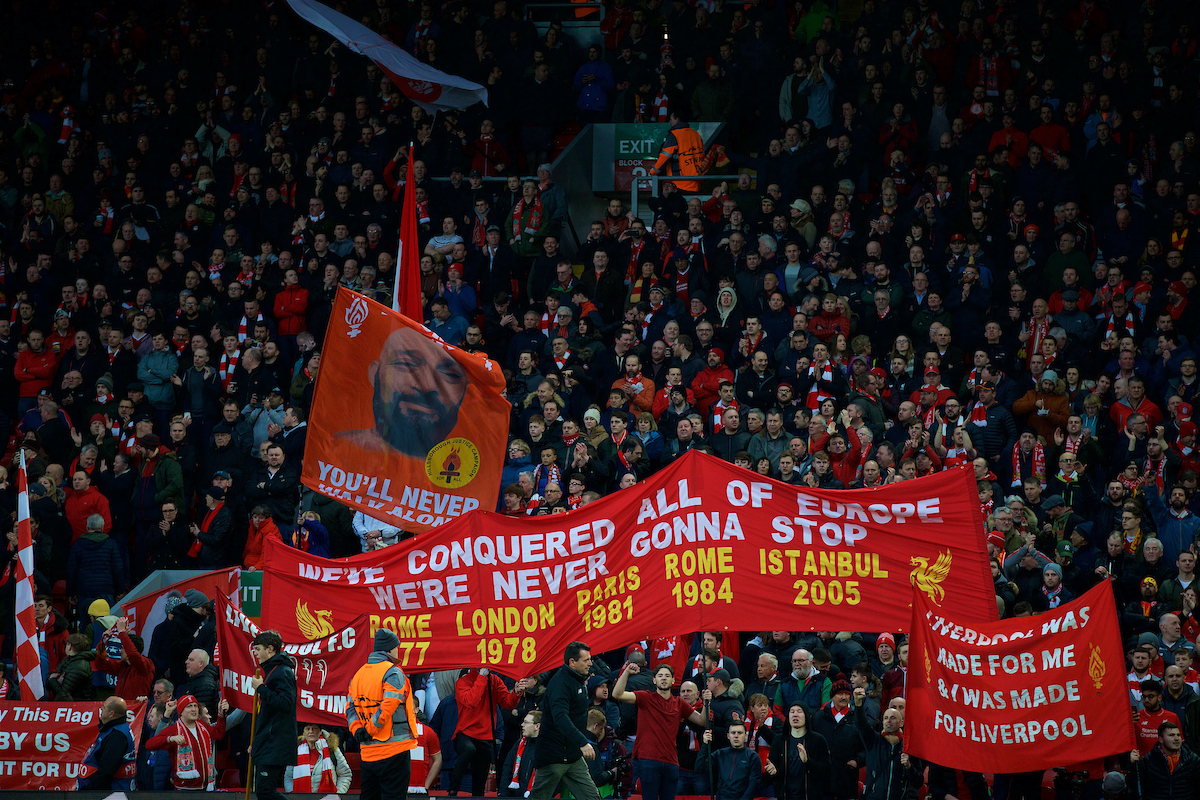 For 20 minutes I could not believe my luck, and then it started:
"He can't be getting beat there, Trent."
"What is Henderson doing with that pass? He's so careless and stupid all the time."
"Bobby, that's shit. Why didn't he take it first time? He's been awful today, him."
Liverpool were 2-0 up. This was two or three guys behind me, I initially hoped this was in isolation as I'd not really heard or taken notice of them until now. Unfortunately, the cathartic and feverish nature of their critique suggested it was a regular occurrence.
My passive aggression took over almost automatically. I was like a boxer backed into a corner who knows the only way out is to swing in hope of a connection. With every menial piece of play that any of the above referenced players conducted I overzealously encouraged, like a myopic father at his son's under-eight's game.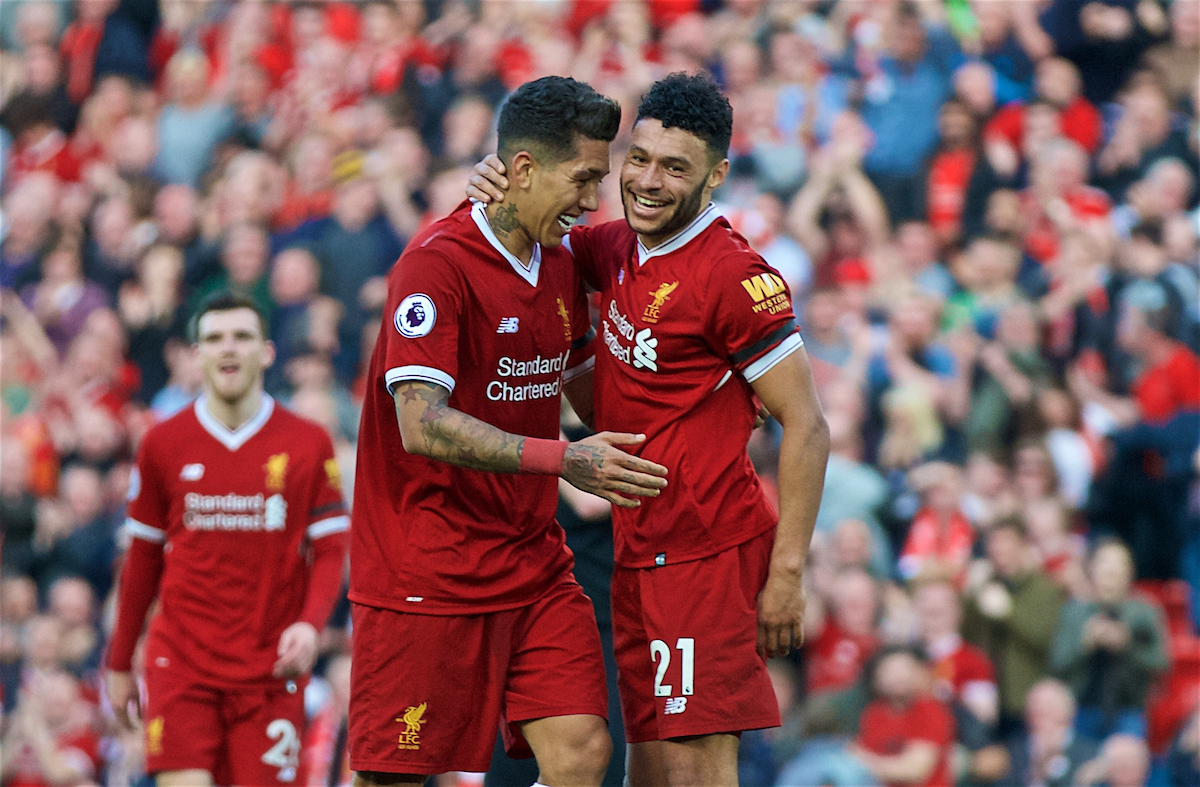 "Well done, lad."
"Brilliant, lad."
"Fucking running the show, lad."
While frantically clapping alone like a performing carnivorous mammal on the sideline of a Russian third division football match.
When Roberto Firmino scored Liverpool's third on the stroke of injury time, I turned around with a fist pump and "fuck off" in the direction of these complete strangers who had caused me such angst. This was only drowned out by the roar of The Kop and their complete lack of interest and awareness of me, due to them being too busy congratulating each other on how their negativity somehow resulted in our brilliant Brazilian rectifying the non-existent flaws they had identified in his performance.
I left the ground angry and frustrated. I have since had time to relax, reflect and look at the wider context. The notion of evolvement and process feels hugely relevant to all of this, and it keeps coming back to me whenever I think of last Saturday.
For the team and manager, it really feels like the penny is dropping. You feel that the message Jürgen Klopp has been ramming home since the beginning of the 2016-17 season, the real beginning of the journey he's taking these players on, is finally hitting home.
Watching this team now, most notably the attacking spearhead of it, is truly a thing to behold. Watching them come alive with every broken down attack, block, save or tackle is something I have never seen before and am not taking for granted. I have never been so excited at the thought of a loose ball or an opposition player in possession.
Two years ago, I could give you an idea of what I believed Gegenpressing to be; yet until you witness it in all its spiteful brilliance week in, week out, you have no clue. These players are living and breathing a process that is becoming automated to them, yet so alien to everyone they face. Witnessing how one action results in another already pre-formatted one is at times defying of logic. Yet in many ways, it's the most meticulous and algorithmic playing format I've seen while supporting the club. And I evolved in an era of managers as stringent on detail as Gerard Houllier and Rafael Benitez.
This evolvement is taking place off the pitch, as well as on it. All of Klopp's rallying cries and, at times, his bemusement about our outlook as fans is starting to resonate and change us for the better. You can really understand his need for togetherness both on and off the pitch to help him achieve his ambitions for this club.
You get the feeling that something changed among the fan base and inside Anfield around the time of Leicester and Manchester City at home at the turn of the year. It really felt like we got our anger back as a crowd and that has brought, for the most part, more patience, more enjoyment and, most importantly, more support.
It is always easier to watch a team that is performing well and picking up points, not to mention exceeding expectation in Europe, yet think back to the beginning of Klopp's reign.
The thought of leaving the ground on 75 minutes after conceding from a corner to Crystal Palace and holding the opinion that the game is over seems like a very long time ago.
We have, for the majority, slowly learnt to trust football and our footballers again. We've learnt not to be consumed by mortality at the thought of meagrely conceding a goal or having to be perfect in every situation. Anyone still holding on to these agitations is wasting energy, and is still expanding their negativity on to those around them.
My new home for next season may well endure a rocky settling in period. I hope not, but if so I'm ready to stand my ground for the sake of supporting and encouraging this hugely exciting football team. The truth is, I know no other way.
In the meantime, the biggest period of the past 10 years awaits us this week. With the opportunity to create another night that only this club can truly create. Today and right now, these are the times of our lives, grab it with both hands and take it all in.
Any of us who are still finding ways not to do just that are truly not doing this right.
"He's completely aware of what he does best to make this team win games." 👑

"He's a remarkable player, Salah. He doesn't waste a single moment on things that don't matter." 🇪🇬

Subscribe to listen to our West Brom previews: https://t.co/sAYhSu6Qag pic.twitter.com/2n1rAO2h45

— The Anfield Wrap (@TheAnfieldWrap) 20 April 2018
Recent Posts:
[rpfc_recent_posts_from_category meta="true"]
Pics: David Rawcliffe-Propaganda Photo
Like The Anfield Wrap on Facebook