THERE are times during our lives when the steady ebb and flow of events seem to lead almost inextricably to defining moments or decisions, as if the wheels have been set in motion by divine intervention, writes GEORGE BEVAN.
As Liverpool fans, this kind of romanticism has always appealed to us; a sense of destiny if you will. Perhaps it lives subconsciously in Liverpudlians, the beating cultural heart of the city reminding us that, as with music and art, sometimes in sport the intangibles and the ability to dream are what continue to draw us in. It seems again that The Reds' trajectory, matched with a Champions League quarter final against Manchester City has begun to stir feelings of serendipity in many of us.
As my own fume towards the lack of a "sexy" quarter-final clash with longstanding European royalty died down I began to think that just maybe we will look back on this tie as part of a narrative that will run deeper than the two-legged affair we face in the coming weeks.
Let's be clear, Manchester City are the best side in the country, if not Europe, at the moment and as much as we hate to countenance the thought, they are very capable of beating us over two legs. Liverpool, despite their scintillating form this calendar year save for an Old Trafford lapse, will be underdogs even accounting for the cauldron that City players will face at Anfield on April 4.
City go into the tie streaks ahead in the league and seemingly further forward with their own plan of European domination thanks largely to an innovative, world-class manager backed by an exceedingly wealthy, but increasingly contentious, owner. Meanwhile, the second leg of the tie could see City already crowned champions going into perhaps their biggest game of the season.
Hang on, this seems incredibly familiar, haven't we been here before? The Reds have also been defeated in a closely fought and ultimately agonising League Cup final by the same side (admittedly in City's case prior to the tenure of their current manager) for what would have been a first trophy under The Reds' boss at the time. For Manchester City now, read mid/late-2000s Chelsea; well we love an omen, don't we?
That's not to suggest the outcome of the upcoming tie will mirror that of the momentous semi final of May 2005 (although I'm very tempted to from time to time), it does seem that the gravity of the occasion is beginning to dawn on us in a way that that fixture also did in the weeks leading up to the balmy second leg of May 3.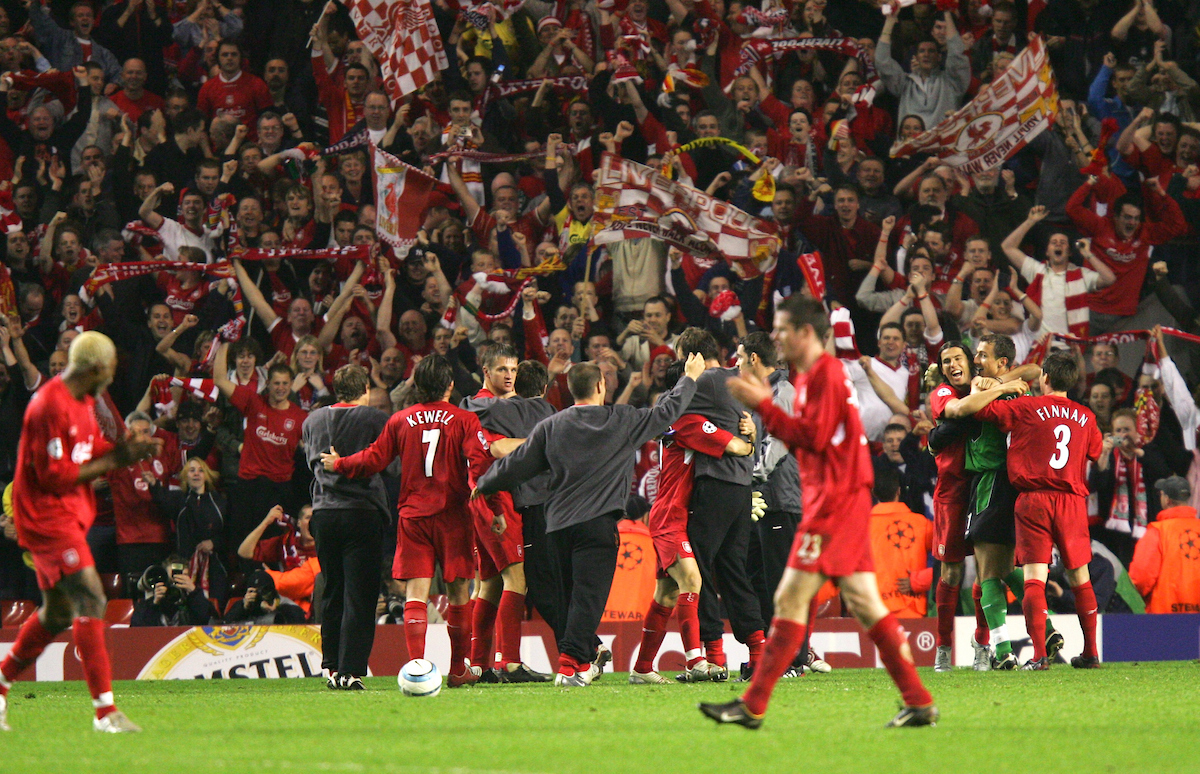 Similarly, I am tempted to believe that April's games will solidify what will come to be a struggle between two sides for major honours in the upcoming seasons. Of course the other Mancs down the M62 will have something to say about that but as we stand right now it seems it is our Reds and the blue half of Manchester that are the two sides with the highest ceilings who will be able to go toe to toe consistently for the highest honours.
Indulging myself a little here and revisiting the mid/late 2000s for a moment, while both Rafa Benitez and Jose Mourinho based their successes upon tactical masterstrokes and at times ruthless pragmatism, both Jürgen Klopp and Pep Guardiola emphasise the importance of expression and fluidity in attack in teams designed to blow the opposition away.
It would be remiss to say that Benitez or Mourinho couldn't be expansive when the time called, or that Klopp and Guardiola disregard tactical precision. Rather that the footballing essence of what the current managerial incumbents believe in is different to that of the past.
Interestingly though, as with the clashes of the mid/late 2000s, the frequent matchups I predict will occur over the coming years will pit two managers of a certain mould against each other in constant struggles for superiority.
Klopp and Guardiola have previous for this and, as has been mentioned in recent TAW Player podcasts, they will both be acutely aware of the trajectory their opposite number has achieved in the Bundesliga — and, in Guardiola's case, La Liga too.
More than this, I would suggest there is no reason why Manchester City can't be as devastating in the league next season as they have been this campaign, meaning anybody with designs on challenging them must be nigh on flawless by default.
Klopp's devastating style of play seems the most well suited to relentlessly collecting the amount of points needed over the course of a season in a competitive league to keep the pace with City, and it is no surprise that most progressive managers across Europe believe in this style of play too.
Rafa's Liverpool side took a little longer to build towards a title challenge by which time Mourinho had flown his Chelsea nest leaving what would come to be a trademark shitshow of a dressing room (more parallels?). This left the constant battles with Chelsea to be largely essential in the context of knockout football. Currently however, all the signs point towards The Reds being able to mount at the least some serious competition to City in the league giving the guaranteed two fixtures a season huge importance.
While it will be astounding if Liverpool clock up as many games against City in a similar period as the 24 played between The Reds and Chelsea between January 2005 and October 2009 (seven of which came in 2005 alone), the prowess of both sides in recent cup competitions suggests that further meetings will most probably be just around the corner.
During Klopp's two-and-a-half season reign while the frustrating wait for a trophy remains The Reds have been to two finals (League Cup and Europa League), a further semi final in the League Cup and this season a Champions League quarter final (so far).
Pep meanwhile in a two-year spell (both time periods correct as of the end of this season) has led his side to an FA Cup semi final, a League Cup win and a Champions League quarter final. With both sides going from strength to strength it seems inevitable that the two will meet again a few more times before either's tenure comes to an end.
As Manchester City's project of becoming a global footballing superpower churns on Pep is also aware of the need for the club to develop a sense of identity in the modern era. Guardiola has repeatedly stated the need for trophies to be considered a "big club", however what has gone a little under the radar is the way Guardiola is trying to build a long-lasting ethos for a club that has had on-field success thrust upon it in the years following Arab investment.
Guardiola is quoted by the official City website as being influential in the decision for his side to kick towards the Etihad's South Stand in the second half of games in a bid to improve home advantage. Pep's absolute attention to detail in this regard leaves me in little doubt that he is aware of the importance of creating a winning mindset within the club that can only be fostered through overcoming challenges such as the upcoming quarter final against Liverpool.
Pep will be well aware that an intense rivalry punctuated by high-stakes matches with not only their Manchester neighbours but also Liverpool, a club with the highest European pedigree, will quickly build their own new image and help them to grow their supporter base and brand throughout the world.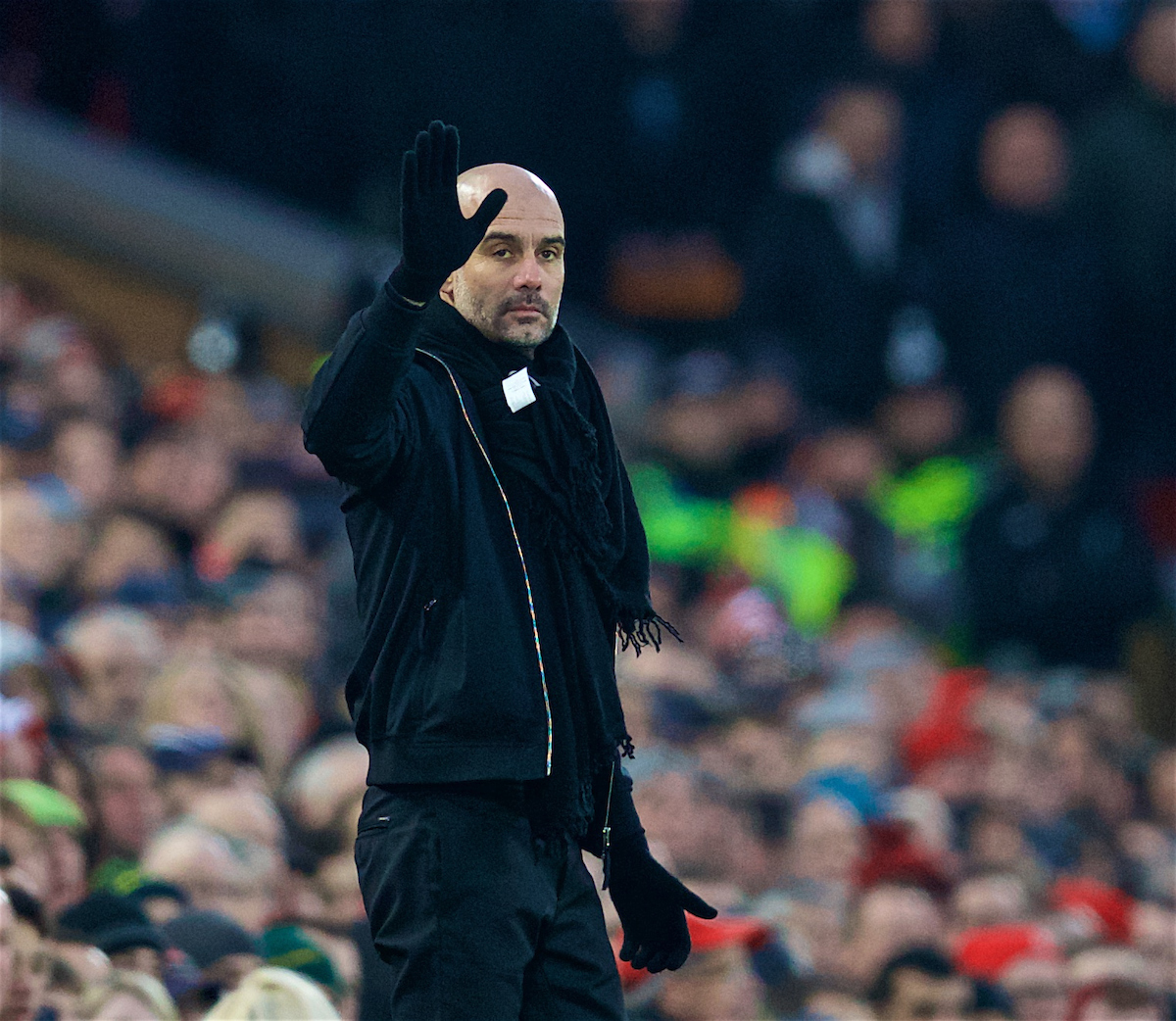 To me, our own storyline and that of Manchester City seem destined to lock horns, perhaps I am falling victim to the lure of romanticism once again but looking at the most recent encounters of the two sides there are already signs that a memorable matchup is emerging.
The away fixture at the Etihad was a disaster for The Reds but the major talking point following the game was of course Sadio Mane's controversial red card with the game still on a knife edge. The return fixture was an explosion of free-flowing football played in a raucous Anfield with so many glorious moments recall; Roberto Firmino's Robbie Fowler impersonation, Mane's rocket and Andy Robbo's rampage.
Memorable moments are of course the essence of football itself, but there is always context that gives them that added bit of spice. Would Tiago's punched handball or Frank Lampard's horror tackle on Xabi Alonso be entrenched in our memories without Luis Garcia's ghost goal or the subsequent years of Mourinho whining? They, as well as many more in that era, cannot be separated as they are all entwined as part of the story of two sides who, over a period of time, had axes to grind, markers to put down, things to win.
The Reds are on the up and new stories are beginning to be told and maybe, just maybe, Manchester City and Pep Guardiola will be a big part of them. Needless to say things can happen, players can get injured and all can come undone but now isn't the time to be considering that, now is the time for dreams and the prospect of battles yet to come.
Whatever happens, Reds, I don't think my heart can take another Eidur Gudjohnsen moment, can't you tell you've left your mark? Okay go on then, so long as we get the job done.
Allez les Rouges.
"Getting to the final, and winning it, is where we belong as a club." ✊

🎥 Watch today's Talking Reds, featuring @trentaa98, in full here 👉 https://t.co/bXSkoPLWmW

🗣 Subscribe and listen to all of our Champions League coverage 👉 https://t.co/ZjTBNf5vDf pic.twitter.com/qLNraKJTEX

— The Anfield Wrap (@TheAnfieldWrap) 3 April 2018
Recent Posts:
[rpfc_recent_posts_from_category meta="true"]
Pics: David Rawcliffe-Propaganda Photo
Like The Anfield Wrap on Facebook